Onegin by Amiel Gladstone and Veda Hille Belfry Theatre October 17-November 12 2017. A review.
As rich and luxurious as the plush red velvet curtains draping the stage, Onegin, book, music and lyrics  by Amiel Gladstone and Veda Hille, based on Pushkin's revered novel-in-verse and Tchaikovsky's opera, is a marvel of complexity—replete with glorious costumes (Jacqueline Firkins and Alaia Hamer), inspired gypsy-jazz-Eastern European choreography (Tracey Power and Amanda Testini), and catchy indie rock music (Chris Tsujiujchi—piano & keyboards, Barry Mirochnick—drums & guitar, Jennifer Moersch—cello).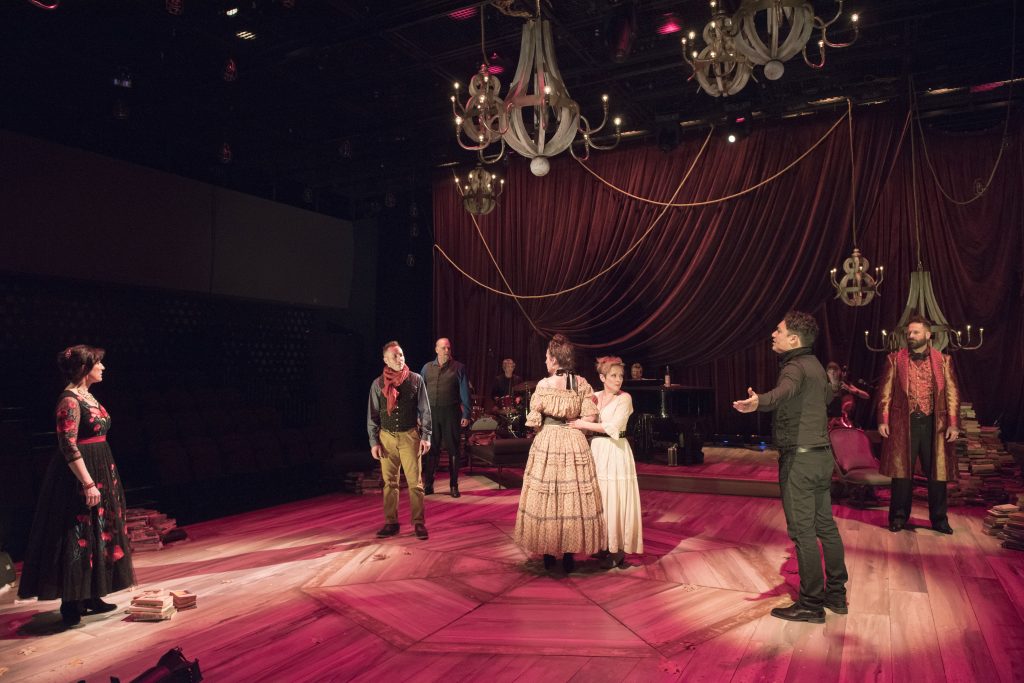 Onegin Cast. Photo: David Cooper
The titular character (Alessandro Juliani) is a nihilistic cad, handsome and cruel, habituated to trifling with women and bored with life—a state Juliani conveys with haughty imperiousness.  Upon the death of his uncle, he flees the capital St Petersburg for the country estate he's inherited, and at the invitation of his young friend, the romantic poet Vladimir Lensky (Josh Epstein), is persuaded to visit the Larin household.  Lensky loves Olga (Lauren Jackson) the younger daughter.  Tatiana the elder (Meg Roe) lives through books and the fantasies they inspire.
A glance across the room has Tatiana falling—hard—for the stand-offish rake.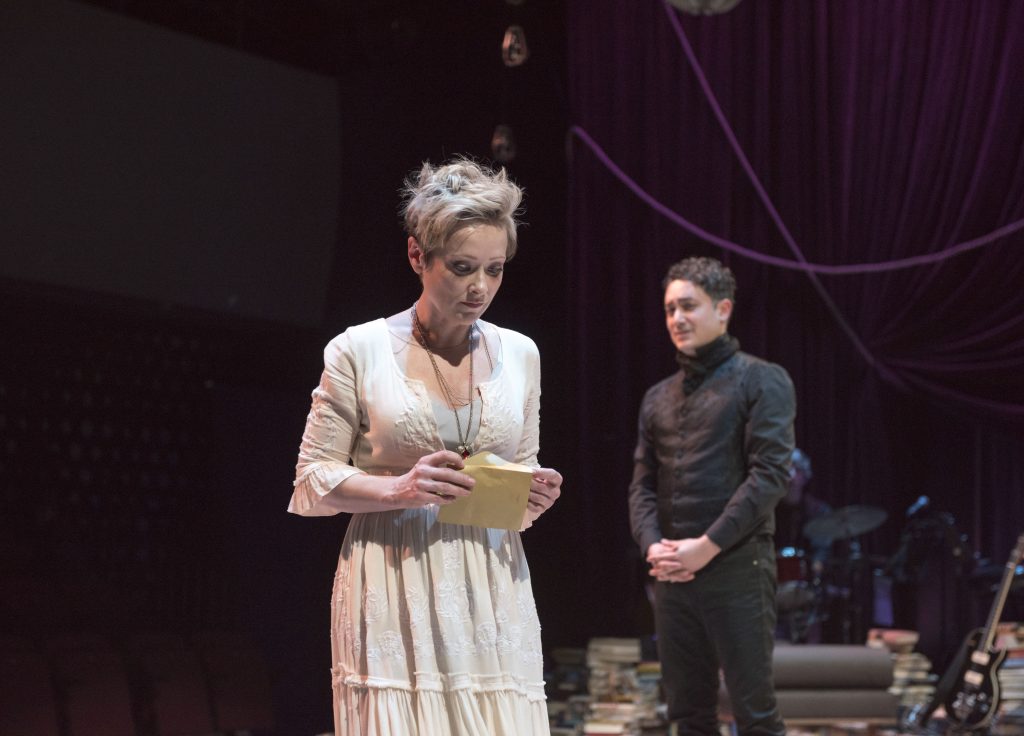 Meg Roe and Alessandro Juliani. Photo: David Cooper
Pushin's grand themes of true love, unrequited love, and the rigidity of social convention are preserved yet upended with a modern sensibility. Neither the creators nor the players take themselves too seriously, opening the show with the minor key A Love Song, engaging directly with the audience and proposing a drinking game. Oh Dear Father, performed by the ensemble (sans Onegin), is a comic ode to the weariness of small town living—with a hint of the danger people could stir up simply to alleviate the feeling of ennui.
High energy hi-jinks and symbolic winks and allusions couple with a set design (Drew Facey) that drips desuetude to create a self-referential sense of importance sure to jive with today's audiences, perhaps unacquainted with the great Russian author.  John Webber's atmospheric and moody lighting design furthers this esthetic. Compacting the tale (which took Nabokov four volumes to adequately translate into English) into a dense two hours is a feat unto itself.  Intermingling pointed and humourous dialogue with a vast array of musical styles renders this adaptation extremely accessible.
Most of the action revolves around the main characters—Tatyana, Onegin, Lensky and Olga, with the remaining cast members—Caitriona Murphy, Andrew Wheeler and Andrew McNee—playing not only "others" as described in the program, but various musical instruments as well.  Murphy's turn as Zaretsky, the duelling master, is chilling; McNee pulls out all the stops as a campy Monsieur Triquet, invited to sing at Tatyana's name-day celebration (Queen of Tonight)
Epstein is earnestness and rectitude personified—his touching proposal to Olga one of the most sincere moments of the show.  When Olga, longing for a taste of the wild life, kicks up her heels and dances seductively with Onegin his heartbreak is palpable.
As a love-struck Tatyana, Roe is luminous, standing in the pale blue moonlight, dreaming of future possibilities, ignited to the power of love (Let Me Die). Spurned by Onegin she disappears to return triumphant six years later, strong in spirit and determined in her position—no longer the naïve young girl, now married and settled.  Andrew Wheeler as Prince Gremin, her husband, is full of wonder and amazement at his good fortune (Age Doesn't Matter to Love).
Juliani and Roe make sparks fly in the finale (Once More, Onegin), as Tatyana and Onegin engage in a steely, tense and conflicted battle of wills.
Director Amiel Gladstone grazes, ever so slightly, the surface of pent-up and hidden emotion, dipping occasionally below the surface to provide glimpses of the depths (as mentioned above). Ultimately Onegin's fate and not Lensky's death is the great tragedy of lost potential.
Onegin is a unique riff on a classic, a multi-faceted delight sure to ignite both spirited discussion around Tatyana's final decision, and a desire to attend again to soak in the atmosphere and music.
Onegin – book, music and lyrics by Amiel Gladstone and Veda Hille
Belfry Theatre, 1291 Gladstone Avenue, Victoria BC
October 17-November 12, 2017
Tickets $20 to $53 (plus GST) available at 250-385-6815 or online at tickets.belfry.bc.ca. Prices are subject to change.
Performance Schedule (October 17 – November 12)
Tuesdays – Thursdays at 7:30 pm
Fridays and Saturdays at 8 pm
Wednesday Matinees at 1 pm (October 25 and November 1 & 8)
Saturday Matinees at 4 pm
Sunday Matinees at 2 pm
Cast & Artists
Josh Epstein Vladimir Lensky
Lauren Jackson Olga Larin
Alessandro Juliani Evgeni Onegin
Andrew McNee Many Others
Caitriona Murphy Madame Larin and others
Meg Roe Tatyana Larin
Andrew Wheeler Prince Gremin and others
Chris Tsujiuchi Pianist
Barry Mirochnick Drums and Guitar
Jennifer Moersch Cello
Amiel Gladstone Creator / Director
Veda Hille Creator / Musical Director
Rachel Ditor Dramaturg
Tracey Power Choreographer
Drew Facey Set Designer
Jacqueline Firkins Costume Designer
John Webber Lighting Designer
Bradley Danyluk Sound Designer
Amanda Testini Assistant Choreographer
Alaia Hamer Associate Costume Designer
Sara Smith Assistant Lighting Designer
Allison Spearin Stage Manager
Sandra Drag Assistant Stage Manager
A Love Song
Oh Dear Father
Three Horses
Two Sisters
Lensky's Proposal
Let Me Die
Little Kisses
Onegin's Refusal
It's Russia, It's Winter
Queen of Tonight
In Your House
Good Evening, Bonne Soiree
Olga Will You Weep
My Dearest Comrade
Age Doesn't Matter To Love
St Petersburg
The Signal
Once More, Onegin
Disclaimer: I was provided complimentary tickets to attend opening night of Onegin.