I Think I'm Fallin'–The Songs of Joni Mitchell at the Belfry Theatre November 8-December 4, 2016. A Review.
A dark and sombre mood hangs in the air—it's November, season of grey skies and rain; south- of-the-border politics infiltrate every discussion, Remembrance Day is around the corner and, Leonard Cohen, troubadour to a nation, has just died.
It falls to the artists of I Think I'm Fallin' to lift the audience out of a collective malaise, to wring every soupçon of meaning from the work of acclaimed Canadian singer/songwriter Joni Mitchell—the angelic voice that defined an era and a generation.
Michael Shamata (director/concept) and Tobin Stokes (music director) have parsed each line and melody from an astonishing discography (34 albums)—cutting and stitching, re-assembling and overlaying—to produce a thematic narrative of love, loss and longing that ends with a rocking anthem of redemption and belonging.  Of the seventeen songs in I Think I'm Fallin' most fall within the "glory" years of the 1960s and 1970s—hits familiar to the boomer generation as well as their children, given the number of Mitchell's songs covered by other younger artists.
Cory Sincennes' set wraps the stage in high walls–some sleek and glossy, others covered in slatted wood–with a raised portion to the back, and steps down to the forestage.  Two leafy green trees sit on either side, surrounded by planters.  The only other furniture is a bench and a couple of boxes (that perform double duty as percussion instruments).  A grand piano takes pride of place and there is also a keyboard.  Guitars, electric and acoustic, hang from pegs on the walls.  Lighting (Allan Brodie) tends to icy tones of grey and blue. The esthetic is stark.  Costumes in monochromatic black and grey (also Sincennes)—with the exception of a white pantsuit ensemble for Linda Kidder, representing Mitchell's older, wiser, more reflective side—complete the design.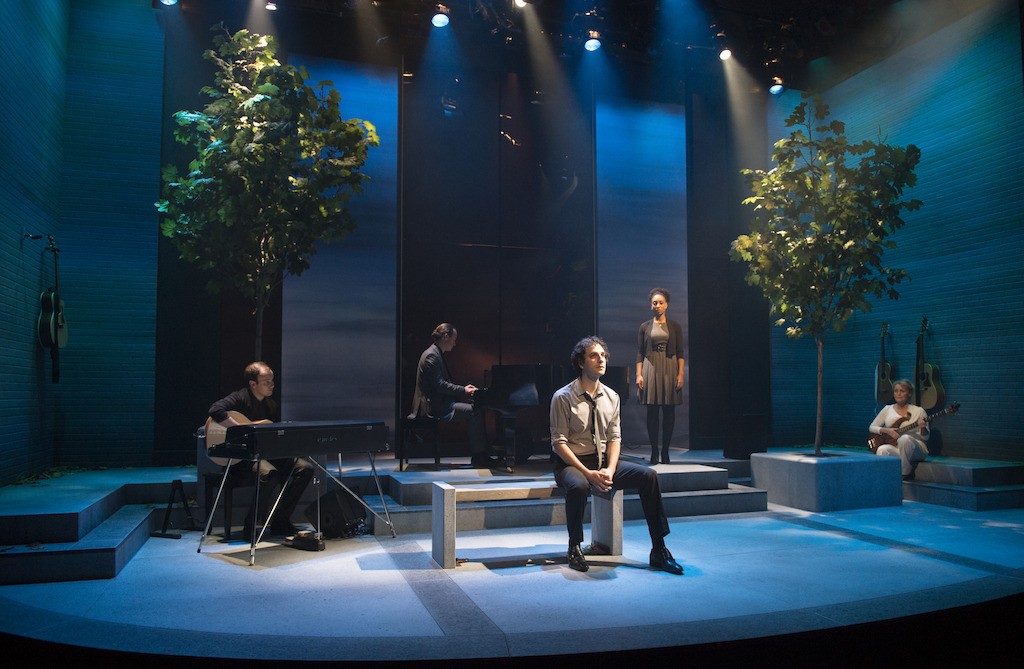 Anton Lipovetsky, Brent Jarvis, Jonathan Gould, Evangelia Kambites, Linda Kidder. Photo: David Cooper

I Think I'm Fallin' is a juke box musical—comprised entirely of Mitchell's music, and absent dialogue. Opening with the title song, the tone is evocative, as Kidder (an award-winning bassist who has toured with k.d. lang, Gary Fjellgaard and George Jones) muses to local jazz pianist Brent Jarvis' stylings.  Cast members Jonathan Gould, Evangelia Kambites and Anton Lipovetsky, heard first offstage, quickly join her for a slow rendition of Woodstock before Kambites launches into surreal swoops of sound on Night Ride Home, accompanied by Kidder finger picking and Lipovetsky on percussions.   Gould quickly establishes himself as the man who will win her heart with a cheeky You Turn Me On I'm a Radio.  Notes of discord and anger electrify Lipovetsky's rendition of Sex Kills—he's a whirling dervish–punctuating the space with kicks that bring the lights to life–bashing on the piano. Amelia, featuring Kambites, is an introspective and tender ode to the questing wanderer.  Gould and Lipovetsky pull out all the comic touches in Twisted—a jazzy number that had the audience chuckling at their two-headed routine.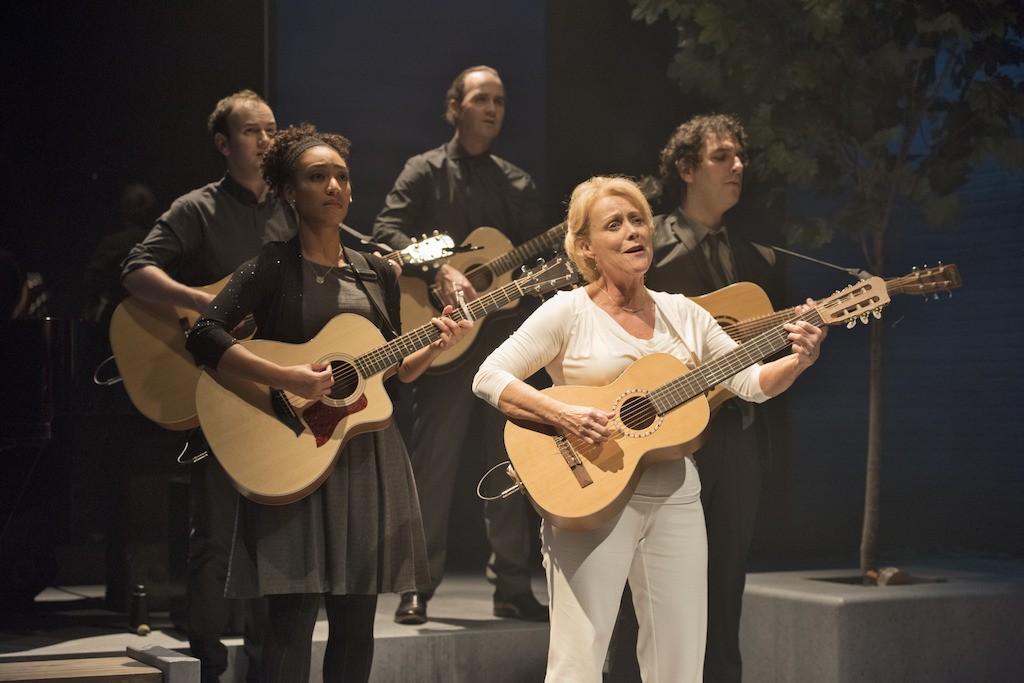 Anton Lipovetsky, Evangelia Kambites, Brent Jarvis, Linda Kidder, Jonathan Gould. Photo: David Cooper
There were several points during the evening when every cast member was playing guitar—an impressive feat of musicianship—and the a cappella harmonies that ended many of the songs left a lasting and sweet impression.  Of course, no musical of this nature would be complete without recognizing Mitchell's concern for the environment—the prophetic Big Yellow Taxi features duelling guitars, piano, shakers and beats; on If I Had a Heart Lipovetsky's voice fades into nothingness with the words  "too little air"—a chilling reminder. Whether pining for the open road (Night Ride Home), mourning lost love (River), revelling in freedom (Cactus Tree) or realizing the passage of time (Circle Game)—each well-placed line, lyric and melody advances the narrative arc. A rocking version of Come In From The Cold reminds us all of a deep desire for love; a mournful Case of You of a deep capacity to wound.
Despite Mitchell's injunction that "we can't return", for a brief moment, sitting in the Belfry Theatre, letting the words and music of I Think  I'm Fallin'–The Songs of Joni Mitchell wash away the years—we do.
Thank you for a memorable journey.
Joni Mitchell's contributions to the world of music are legendary – she's crossed folk, pop and jazz borders, working and recording with some of the best in each genre.

A romantic musical event built around the songs of Joni Mitchell. With hits like Big Yellow Taxi, Chelsea Morning, Both Sides Now and You Turn Me On I'm a Radio, Joni Mitchell continues to inspire artists ranging from Crosby, Stills, Nash and Young to Kanye West; from James Taylor to Sarah McLachlan.
I Think I'm Fallin' – The Songs of Joni Mitchell
Belfry Theatre, 1291 Gladstone Avenue, Victoria BC
November 8-December 4, 2016
Tickets: $20.00-$57.75 online, by phone 250 385 6815 or in person at the Box Office
Creative Team
Michael Shamata (Concept / Director)
Tobin Stokes (Musical Director)
Cory Sincennes (Designer)
Alan Brodie (Lighting Designer)
Laura Krewski (Choreographer)
Deborah Williams (Assistant Director)
Anton Lipovetsky (Assistant Musical Director)
Paul Tedeschini (Sound Designer)
Amy Jewell (Stage Manager)
Christopher Sibbald (Assistant Stage Manager)
Cast
Jonathan Gould
Brent Jarvis (Piano)
Evangelia Kambites
Linda Kidder
Anton Lipovetsky.
Audience Advice: the show is approximately 95 minutes long, including the intermission, and contains the use of stage haze.
Disclaimer: I was offered complimentary tickets to attend I Think I'm Fallin'

Live Events
Throughout I Think I'm Fallin' – The Songs of Joni Mitchell we'll host a number of events that will deepen our audience's experience.
B4PLAY
Saturday, November 5 at 11 am
Belfry Theatre, Studio A, 1291 Gladstone Avenue
Free Event. Join us in Studio A for a live talk show hosted by CBC Radio's Gregor Craigie, featuring creators Michael Shamata and Tobin Stokes, actor Evangelia Kambites, teacher and musician Robert Holliston and singer / songwriter Kathryn Calder.
AFTERPLAY
Facilitated discussions – audience member to audience member – following every evening Mainstage performance of I Think I'm Fallin' – The Songs of Joni Mitchell (except Opening Night and Talkback Thursday). These are a great opportunity to share your thoughts and hear how fellow patrons reacted to the show.
TALKBACK THURSDAY
Thursday, November 17
Meet the actors from I Think I'm Fallin' – The Songs of Joni Mitchell post-performance when they return to the stage to answer questions and provide insight into the play.
VOCALEYE
Sunday, November 27 at 2 pm
For our patrons with low or no vision, we'll offer a VocalEye performance during I Think I'm Fallin' – The Songs of Joni Mitchell. Trained Audio Describers provide descriptions of the visual elements of the show, allowing people with low vision to enjoy the theatrical experience without missing any of the details.