The Children's Republic by Hannah Moscovitch. Belfry Theatre September 12-October 8 2017. A review.
This version of The Children's Republic has been a long time coming.  Originally co-commissioned and co-developed (over a two-year period) by Great Canadian Theatre Company and The Ottawa School of Speech & Drama, first produced in 2009, then remounted at the Tarragon Theatre in 2011, it has been workshopped extensively at the Belfry Theatre in 2016 to open the 2017-2018 season.
Central character Janusz Korczak (Paul Rainville) was a Polish paediatrician and child's rights advocate, who, by the time the Warsaw ghetto was walled off, had been working tirelessly with orphans for almost 30 years—his unconventional methods more in line with contemporary mores than those of a time when children were expected to be seen and not heard.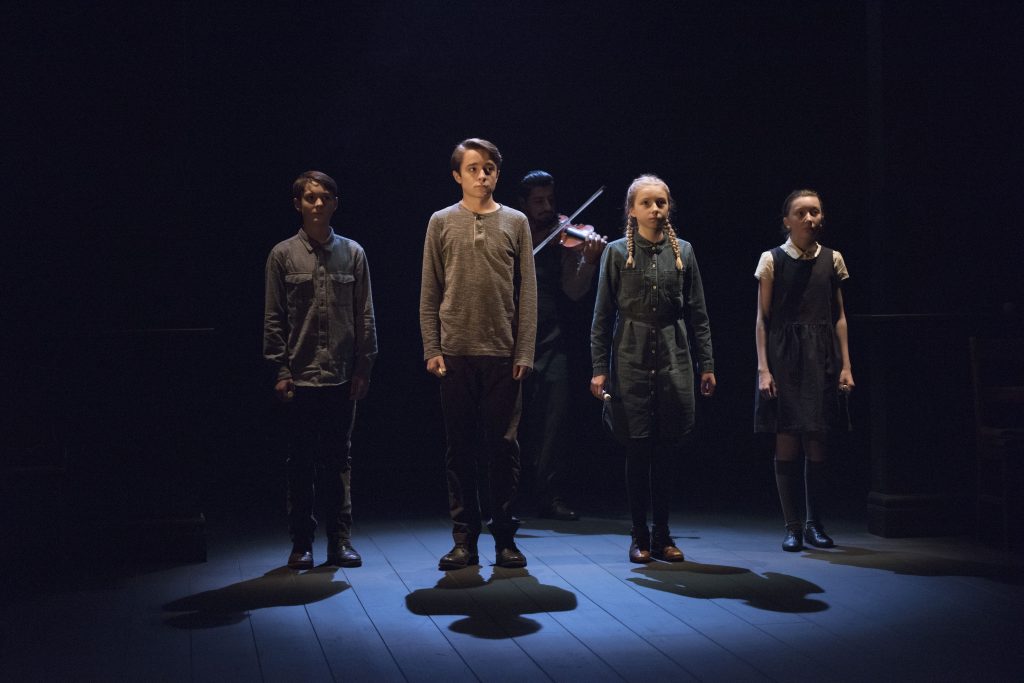 Simeon Sanford Blades, Zander Eke, Sari Alesh (in background) Lily Cave and Sophia Irene Coopman. Photo: David Cooper
Focusing on the lives of four of his charges—bossy and strident Mettye (Lily Cave—last seen at the Belfry in A Christmas Carol), fragile and studious Misha (Simeon Sanford Blades–Tiny Tim in A Christmas Carol), shell-shocked violin prodigy Sara (Sophia Irene Coopman) and rebellious, world-wise and sullen Israel (Zander Eke)—and introducing one other adult, his faithful right-hand Stefa Wilczynska (Kerry Sandomirsky), The Children's Republic reduces, with laser-like intensity, the terrors of the Holocaust to a series of interactions that highlight the horrific personal cost and everyday heroism.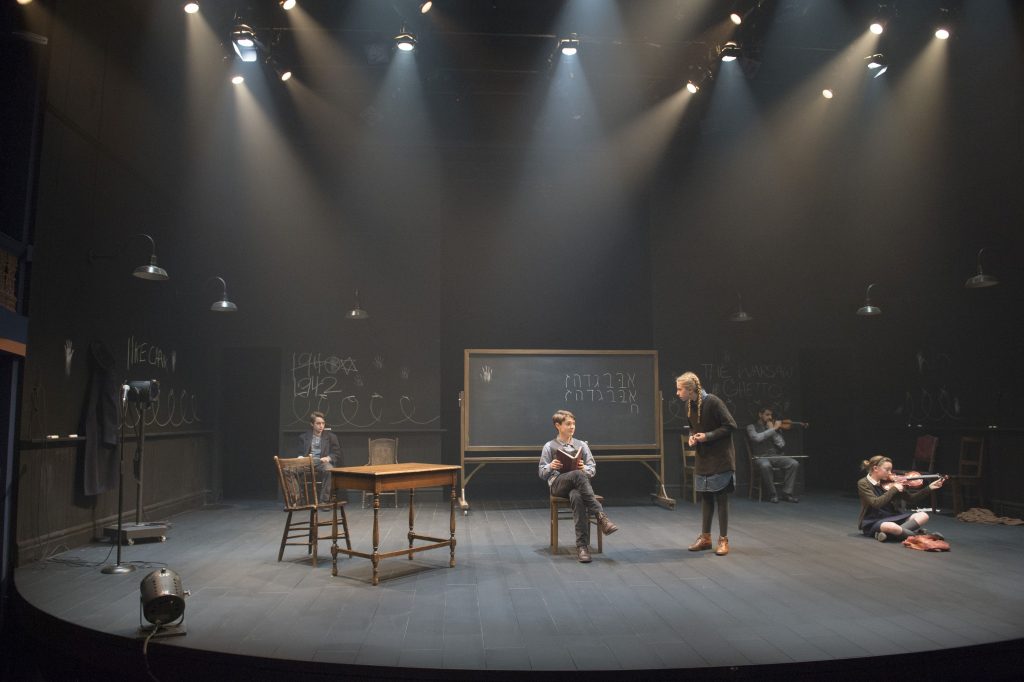 Zander Eke, Simeon Sanford Blades, Lily Cave, Sari Alesh and Sophia Irene Coopman. Photo: David Cooper
Camellia Koo's stark set—a central dark doorway reminiscent of the maw of hell, and of the impending doom to come—with chairs and gooseneck lamps carefully aligned along the walls, and moveable blackboards—and monochromatic and simple costumes, further hone the attention of the audience. Lighting Designer Kaitlin Hickey works with hand-held spotlights, fixtures that drop from the ceiling, and murky tones to depict increasingly dingy and distressed circumstances. Haunting refrains and sound effects by violinist Sari Alesh underscore the dialogue. While at times Alesh is hidden from view, some of the most effective staging occurred when young Sara stood, almost immobile and inscrutably traumatized, her music channelled through his playing.
Scribbling furiously on the walls, the children set the stage—it's 1940 and the ghetto houses 400,000 Jews.  Mettye transcribes a word in Hebrew (the audience is never told what it means—it remains a puzzle). Through snippets the main characters are revealed. Rainville and Sandomirsky bicker and kvetch like an old couple, hiding their deep respect of, and worry for, one another behind familiar routines—thus allowing Moscovitch to leaven this deliberate and slow drama with touches of humour.  Rainville marvellously portrays a man who is constantly looking for the teachable moment, convinced of the children's ability to have agency over their lives—he empathizes with Mettye who cannot keep her wild bird, somehow reaches deep to connect with delinquent Israel, encourages Mischa's study of the Torah and manages to finally draw Sara out of her shell. Sandomirsky is his stoic foil.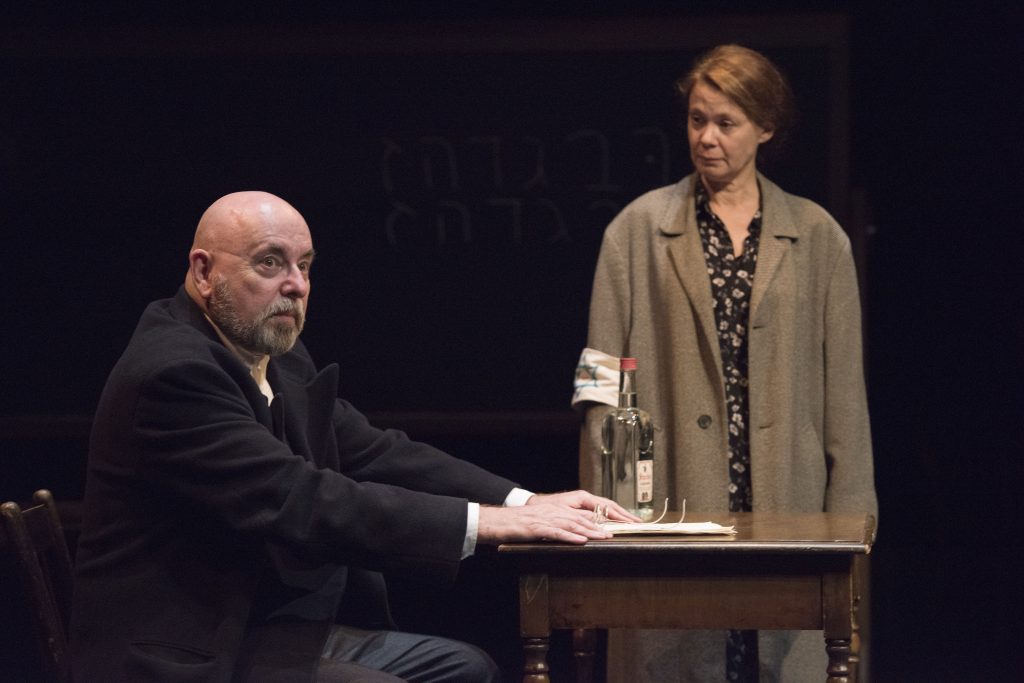 Paul Rainville and Kerry Sandomirsky. Photo: David Cooper
It's not often that central characters written for children and teens are actually played by actors of an appropriate age—it's a treat to experience the different emotional ranges between them and the adults.  The young cast brings incredible purity and vulnerability to these demanding roles, with each being given their own moment to shine. Cave is particularly fine as the insufferably annoying Mettye, constantly pushing to be noticed, while Eke's Israel moves through the most complete arc from hoodlum, living by his wits on the street when discovered by Korczak, to trusted confidante and helper, providing for the needs of the others as starvation approaches. Sanford Blades finds the perfect note of forgiveness to absolve his former tormentor. Coopman is heartbreaking in her desire to remain with the others, even when given the chance at freedom.
As the situation worsens, against a backdrop of typhus and thousands of deaths, through hunger and strife, this intrepid band of individuals manages to hold onto their humanity against all odds. The end is inevitable. Their reactions are not.
Director Christian Barry presents a moral tale, with searing simplicity; there is nothing superfluous in the telling, leaving the audience to ponder—faced with this reality, how would we fare, and, what are the lessons we can apply in the world today?
The Children's Republic by Hannah Moscovitch
Directed by Christian Barry
Belfry Theatre
September 12-October 8, 2017
Tickets $20-$53 depending on time/day. Rush seats may be available.
Cast & Artists
Sari Alesh Violinist
Simeon Sanford Blades Misha
Lily Cave Mettye
Sophia Irene Coopman Sara
Zander Eke Israel
Paul Rainville Janusz Korczak
Kerry Sandomirsky Stefa Wilczynska
Hannah Moscovitch Playwright
Christian Barry Director
Camellia Koo Designer
Kaitlin Hickey Lighting Designer
Jennifer Swan Stage Manager
Sadie Fox Assistant Stage Manager
Disclaimer: I was provided with complimentary tickets to attend opening night of The Children's Republic.
Live & Outreach Events during The Children's Republic
B4PLAY
Saturday, September 9 at 11 am
Belfry Theatre, Studio A, 1291 Gladstone Avenue
Free Event. A live talk show hosted by CBC Radio's Gregor Craigie, with guests including playwright Hannah Moscovitch, director Christian Barry, Dr. Kristin Semmens and retired child psychologist Dr. Robert Oppenheimer.
B4Play is streamed live on Facebook and also podcast on our website and at soundcloud.com/belfrytheatre.
AFTERPLAY
Facilitated discussions – audience member to audience member – will follow every evening Mainstage performance of The Children's Republic (except Opening Night and Talkback Thursday). A great opportunity to share your thoughts and hear fellow patrons' reactions to the production and the ideas it presents.
TALKBACK THURSDAY
Thursday, September 21
Meet some of the actors post-performance when they return to the stage to answer questions and provide insight into the play.
BOOKSMACK!
Monday, October 2 at 7:30 pm
Librarians go head-to-head as they race against the clock to speed review their favourite books in these fun and competitive events, co-presented with the Greater Victoria Public Library.
VOCALEYE
Sunday, October 1 at 2 pm
For our patrons with low or no vision, we offer this VocalEye performance during The Children's Republic. Trained Audio Describers provide descriptions of the visual elements of the show, allowing people with low vision to enjoy the theatrical experience without missing any of the details.
The Flame
Monday, September 25 at 7 pm
Join host Deborah Williams for an unforgettable evening of true tales at Victoria's preeminent true storytelling series. The Flame is a storytelling series that features real people, sharing their personal true stories in front of a live audience. The Lobby will be set up cabaret-style; seating is first-come, first-served — those arriving later may find standing room only. Lobby opens at 6pm. Tickets are $15 Adults and $9.50 Students, plus tax.
Show Sponsors
The Children's Republic is generously supported by Chateau Victoria.
Season Sponsors
The Belfry is generously supported by The Times Colonist and Helijet.
Public Funders
The Belfry is funded by the Canada Council for the Arts, the Province of BC, BC Arts Council, CRD Arts Development and the City of Victoria.
Ticket Information
Tickets for The Children's Republic range from $20 to $53 (plus GST). Tickets are available at 250-385-6815 or online at tickets.belfry.bc.ca. Prices are subject to change.
Rush Tickets
For our weekday evening performances we offer a limited number of last minute rush tickets at a discount. Rush tickets are:
> available at the Box Office 30 minutes before each evening performance (Tuesday to Friday),
> in person only,
> subject to availability, and
> 40% off our regular Zone 2 (Yellow Section) and Zone 3 (Red Section) ticket prices.
Ticket Discounts
High School Students – 50%
University / College / Post Secondary Students – 25%
Seniors – 10%
Members of the Military – 25%
Groups (10 or more) – 10%
Performance Schedule (September 12 – October 8)
Tuesdays – Thursdays at 7:30 pm
Fridays and Saturdays at 8 pm
Wednesday Matinees at 1 pm (September 20 + 27, October 4)
Saturday Matinees at 4 pm
Sunday Matinees at 2 pm