Pericles the Hopeful Mariner at the Greater Victoria Shakespeare Festival 2018. A review.
Can anything compare to a beautiful summer evening, seated warm and cozy under the towering Garry Oaks of Camosun College's Lansdowne campus, to hear the immortal words of the Bard of Avon?  It's one of my favourite theatrical experiences—one shared by many, whether fervent Shakespeare aficionados or newcomers. It's easy to imagine, when the narrator of Pericles, John Gower (Cam Culham is both mischievous and paternal in this role of "explainer"), enjoins us as "gentles", being groundlings at the Globe Theatre in the early 1600s.
Pericles is one of Shakespeare's last plays, and by now, most scholars have accepted that it was written with a collaborator, George Wilkins who wrote the first two acts, leaving Shakespeare the third and final act. My research tells me it is rarely performed (Bard on the Beach staged it in 2003 and 2016, Stratford most recently in 2003 and 2015 and the Greater Victoria Shakespeare Festival in 2006). The version for this run is an adaptation by Director, and Bard on the Beach co-founder, Christopher Weddell—at a little over two hours it proceeds apace in a lively manner, carefully balancing the many adventurous episodes as Pericles (Jack Hayes) wends his way around the Mediterranean, with the human dramas of the characters.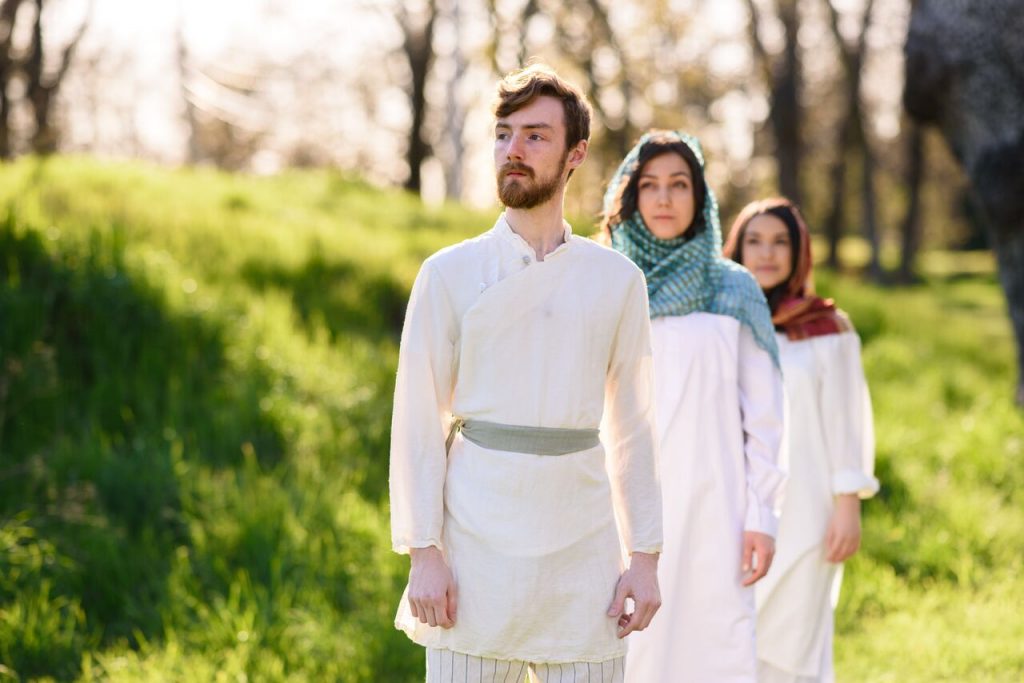 Jack Hayes as Pericles, Nicole Bartosinski as Thaisa, and Lara Hamburg as Marina. Photo: Lara Eichhorn
Pericles, in the beginning is a youth, trying—like many others—to win the hand of the daughter of Antiochus (Trevor Hinton). What begins as sport turns deadly, for having guessed a horrible secret he is forced to flee for his life. Buffeted thither and yon, suffering many shipwrecks, his travels take him back to Tyre and then on to Tarsus, Pentapolis, Mytilene and Ephesus.  Along the way he exhibits great goodness, falls in love with Thaisa (Nicole Bartosinski) only to lose her in childbirth, leaves his daughter Marina behind and eventually is reunited with his family.  This epic tale covers almost two decades of his life—the former youth, bound for glory, turns melancholic as one disaster after another befalls him.  Hayes moves from fiery determination to great joy and then utter devastation in this fraught journey—his emotional state mirroring the many tragedies.
The company benefits once again from the wisdom and insight of Weddell, a Shakespeare expert who often teaches workshops on technique and interpretation.  Speaking iambic pentameter as if it were prose, with precise enunciation and wonderful projection (an absolute necessity in this vast outdoor space where actors vie with noise from traffic and overhead planes), every cast member clearly displays a visceral understanding of the text and its meaning.  Gower's further explanations make it even more exciting and relatable.
Any fan of adventure and action movies will be well served. The play is replete with furious storms, dastardly pirates, hardy mariners, a virtuous maiden (Lara Hamburg's Marina is quietly assured and spirited), evil stepmother (Wendy Magahay is both charming and vile as Dionyza who has promised to bring up Marina only to fall prey to jealousy and plot to have her killed), loyal servants and treacherous villains (Candace Woodland as Pander—the bawdy house keeper who buys Marina and Taylor Lewis as Boult, her servant—are particularly nasty), as well as romantic interludes, feasts and swordplay.
The company is robust, with most members of the cast playing multiple roles—mentor actor Richard Stroh impresses with his regal bearing and command of the language—first as Cleon, governor of Tarsus and then as Lysimachus, governor of Mytilene who is smitten with Marina. Likewise Trevor Hinton moves from king to pirate to loyal retainer with ease and a decided spirit of collaboration.
Carole Klemm, assisted by Colleen Blunt has costumed the cast with a thematic approach that clearly delineates the many cities on Pericles' journey and the station of the characters—a favourite interlude was in Pentapolis with its middle Eastern clothing, music (Finn Letourneau, musical director) and dance (choreography—Nicole Bartosinski). It's easy to understand how Pericles could be bewitched by Thaisa in this exotic environment—the love between Hayes and Bartosinski grows with a slow burn—and to comprehend his utter devastation at her death.
Letourneau channels wind, rain and frantic drum beats to create furious storms, as sailors struggle with the mast and sails perched on the rocky hill above the stage (production design Carole Klemm).
Stout-hearted players remind us that even in the most horrible of circumstances, it is possible to find good people—Lychordia the nurse (Frankie Mulder) remains faithful to Marina until the end of her life, Cerimon (Hilary Wheeler) manages to bring Thaisa back from the dead, Leonine (Douglas Peerless) sent to murder Marina, has a change of heart.
With a collective sigh of relief the audience sees this loving family finally reunited—all the travails and vicissitudes of life are shucked off in one collective embrace. Pericles is book-ended by the cast, standing here and there on the grounds, singing Wayfaring Stranger—a perfect haunting theme for this epic tale of love, loss and hope.
With the repertory model firmly in place, the Greater Victoria Shakespeare Festival continues to grow from strength to strength, providing shows that are beautiful, entertaining and challenging.  Pericles is the latest in a string of wonderful successes.
Shakespeare's Pericles, Prince of Tyre, launches onto the high seas of the Mediterranean, full of music, magic, and pirates. Both fugitive and castaway, Pericles' fate depends on an ultimate test of faith: before he can reclaim his family, his kingdom, and even the favor of a Goddess, he must endure the death of those he holds most dear.

PLEASE NOTE: This production contains mature themes and sexual content. Audience discretion is advised.
Further reading:
http://www.sparknotes.com/shakespeare/pericles/
Pericles, the Hopeful Mariner, adapted and directed by Christopher Weddell
Greater Victoria Shakespeare Festival
Lansdowne campus of Camosun College, parking lot P1 ($3.50) off Lansdowne
Tuesdays, Thursdays and Saturdays at 7:30pm
July 5 through July 28
Tickets are $26, and $21 for students and seniors 65+. Festival passes are available. Children 12 and under are free.
Creative team:
Christopher Weddell* Director, Pericles
Carole Klemm Production Designer
Emily Lindstrom Production Stage Manager
Carolyn Moon Production Coordinator
Colleen Blunt Costume Team Leader
Frankie Mulder Assistant Director, Pericles
Cierrah Gibbs Assistant Stage Manager
Finn Letourneau Music Director
Nicole Bartosinski Movement Director
Siena Shepard Lighting Design
Cast:
Nicole Bartosinski Thaisa/Ensemble
Cam Culham Gower/Simonides
Kaden Fleming-Holmes Fan/Ensemble
Lara Hamburg Marina
Jack Hayes Pericles
Trevor Hinton* Antiochus/Helicanus/Alex/Pirate
Richard Stroh* Cleon/Lysimachus
Finn Letourneau Daughter/Philoten/Nurse
Taylor Lewis Boult/Thespis/Ensemble
Olivia Macdonald Nurse/Olivia/Ensemble
Wendy Magahay Dionyza
Emil Mogensen Thaliard/Sparta/Pirate
Frankie Mulder Lychorida/Diana/Pirate/Fan
Chris Perrins Messenger/Pilch/Trick
Douglas Peerless Antony/Leonine/Ensemble
Daniel Saretsky Patchbreech/Ensemble
Hilary Wheeler Cerimon/Ensemble
Candace Woodland Bawd/Ensemble
*The participation of this Artist is arranged by the permission of Canadian Actors' Equity Association under the provisions of the Dance Opera Theatre Policy.
Festival staff:
Karen Lee Pickett Artistic Director
Brian Quakenbush General Manager
Candace Woodland General Manager
Cierrah Gibbs Assistant Producer
Holly Lam Front of House Manager, Volunteer Coordinator
Liam Volke Box Office Assistant
Kierra Moseman Production Assistant
Disclaimer: I received a complimentary ticket to attend a preview performance of Pericles.