Proof at Langham Court Theatre June 7-24, 2017. A review.
Probing family relationships and the psychology of brilliance, Proof (currently at Langham Court Theatre until June 24th) is spell-binding in the interplay between four characters—Catherine (Melissa Taylor) the daughter who stayed behind to become caregiver to her mathematician father Robert (Jon Scheer) as his faculties declined, Claire (Melissa Blank) who jets in from her high-powered New York life for a quick visit and Hal (Liam McDonald) Robert's former student.
Proof is a play of ideas and conversations, occurring over the course of several days (in the present and past), beginning on the eve of Catherine's birthday, and staged on the porch of the family home.  Long-simmering family tension is exposed with humour, skill and a light touch under the careful examination of director Dick Stille, who surely brings his past training as a clinical psychologist to this very human treatment of mental illness.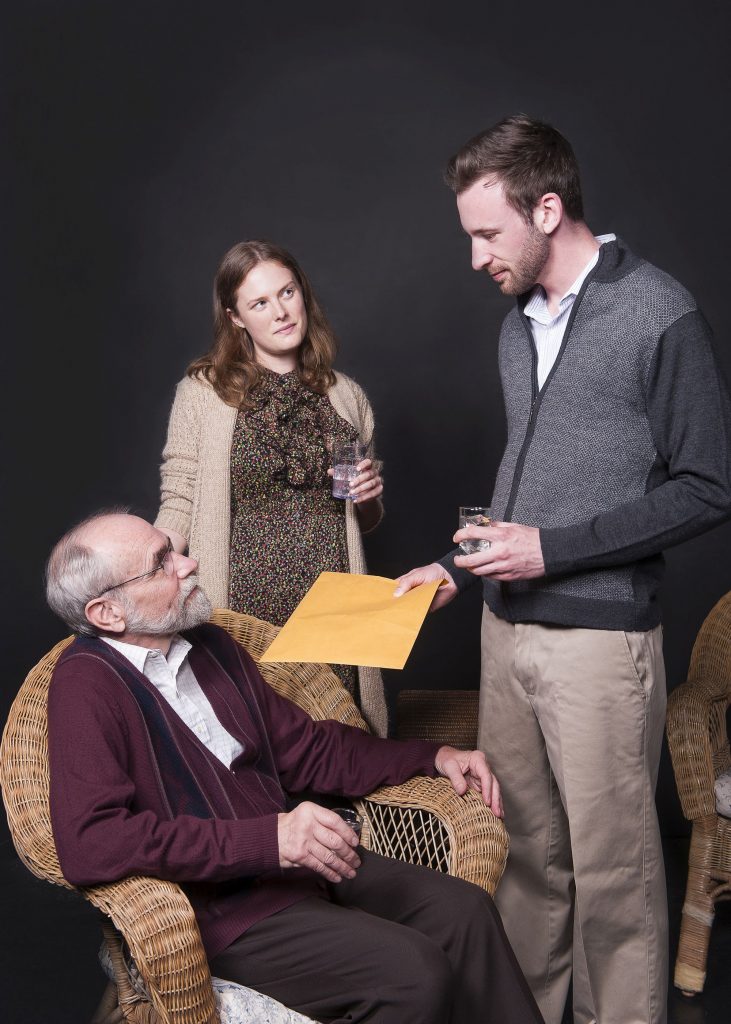 Jon Scheer (Robert), Melissa Taylor (Catherine) and Liam McDonald (Hall). Photo: David Lowes
Set designer Dick Newson imagines a well-worn brick exterior, with decks leading into the garden, a screen door that slams with that very particular thwack, and glimpses into interior spaces. Set décor (Jean De Cartier) and props (Virginia Landucci) provide all the creature comforts of an academic's life—wicker furniture, café curtains, a well-stocked drinks tray.  Projections of leafy tree-lined streets and the dappled lighting designs of Carol-Anne Moore's late evening further emphasize the mood.  Dream-like music floats through the air (sound designer Kevin Stinson). It's easy to see how Catherine would feel ensconced, protected and at-ease in this familiar environment, and why she would be loath to leave despite Claire's insistence.
Costume designs by Colleen Maguire provide a contemporary anchoring—with rumpled sweats and housecoats for the dead of the night, Claire's crisp professional look, Hal's leather elbow patches, Catherine's elegant funeral dress, Robert's comfortable pants and sweater outfits.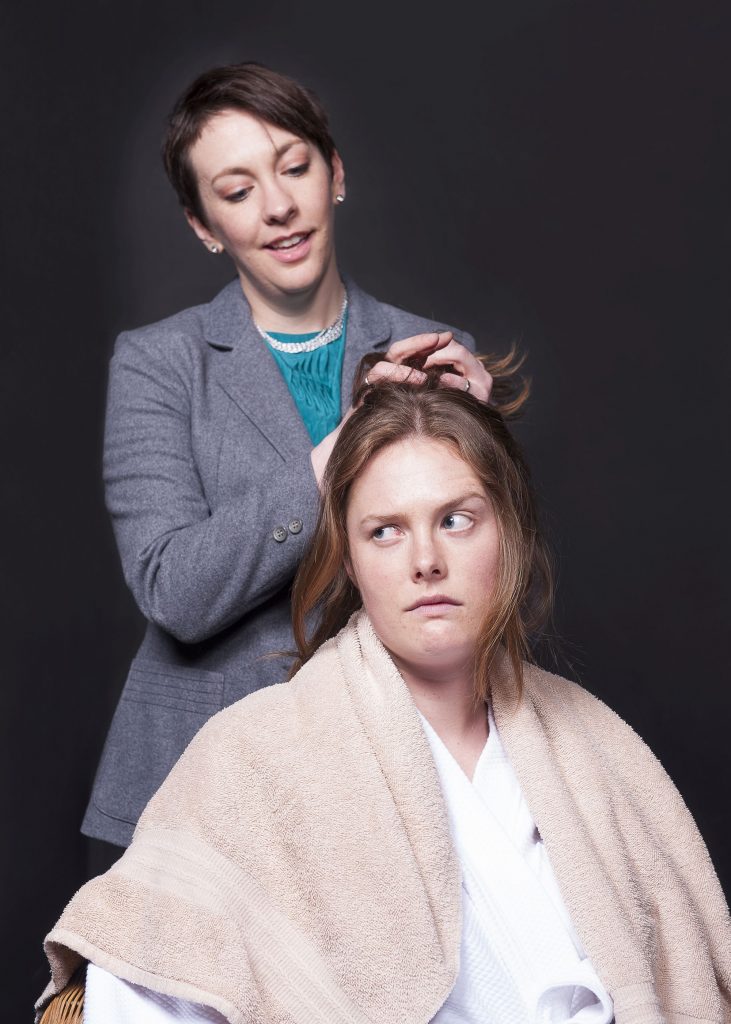 Melissa Blank (Claire) and Melissa Taylor (Catherine). Photo: David Lowes
Melissa Taylor as Catherine is caring and tender, wise and profane, prickly and loving, her pithy, droll and intelligent one-liners making it amply evident she doesn't suffer fools easily, and more than shares her father's brilliance. In the unenviable role of the protector older-sister Claire, Melissa Blank manages to elicit sympathy in a difficult and untenable situation, even as she nags and cajoles with her grating and hyper-organized manner.  As Robert, Scheer alternates between moments of lucidity and befuddled bewilderment.  McDonald brings warmth and a lovely awkwardness to the role of math geek Hal; despite his attempts to manipulate Catherine he remains a sympathetic character. Throughout there is the sense of interpersonal connection, and people muddling through in the best fashion they can.
Providing a glimpse in the world of high mathematics and academia, Proof should not scare off the numerically challenged—the script alludes to more than it enters into this world; there's a constant sense of the unproven, the unsaid. At the end, the issue of the notebook, and the ownership of the proof, remains ambiguous.
Theatre-goers who appreciate fine and complex drama, leavened with wit and intrigue, will appreciate the nuances in this wonderfully rendered play.  As Hal and Catherine buried their heads over the notebook in conspiratorial discussion, one could only hope life would be kind and they would flourish.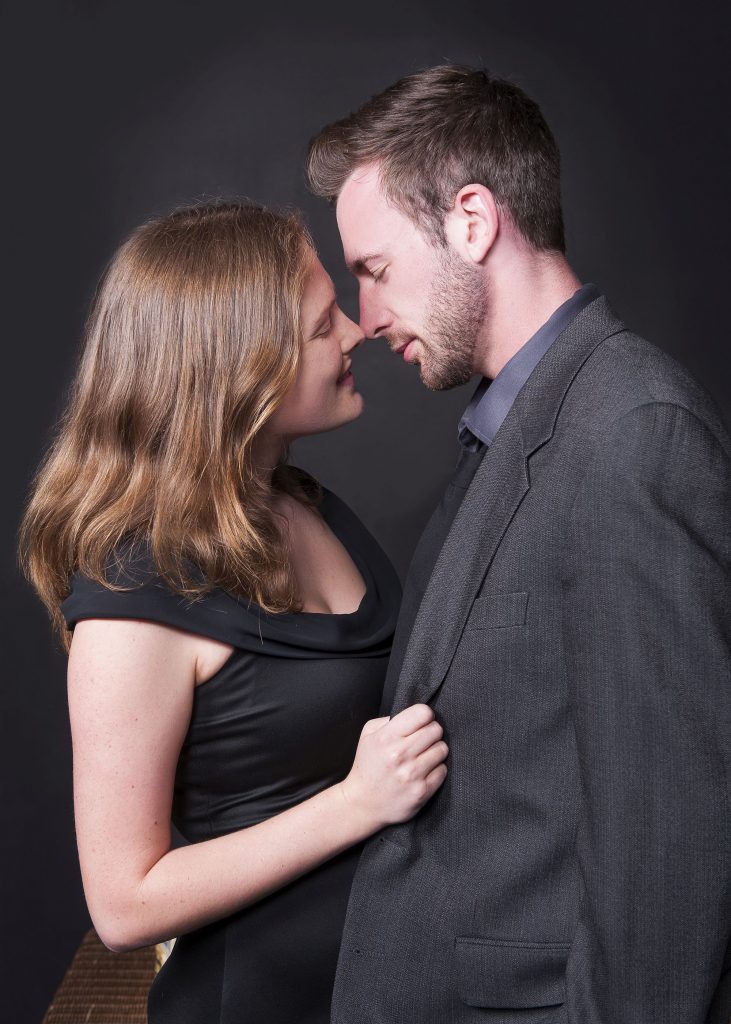 Melissa Taylor (Catherine) and Liam McDonald (Hal). Photo: David Lowes
Can a young woman whose primary education at advanced mathematics comes from caring for her "bughouse crazy" father be the author of a brilliant mathematical proof? Delving into the caring, sacrificing and often hilarious nature of family relationships, this engaging drama explores the depths of love and the mystery of brilliance. Winner of three Tony Awards and the Pulitzer Prize in 2001.  Proof is a play that explores the depths of love as much as the mystery of brilliance with some intriguing conclusions you will not want to miss.

What is the nature of "proof" and which has more value for our lives, proof or trust?

What is the value of trust in human relationships?

Proof was awarded the 2001 Tony Award (beating out, among others, Tom Stoppard's The Invention of Love,
the 2001 Pulitzer Prize for drama and was made into a movie in 2005, directed by J ohn Madden and starring Gwyneth Paltrow and Anthony Hopkins.
Proof by David Auburn, directed by Dick Stille
Langham Court Theatre, 805 Langham Court
June 7-24 2017
Tickets $22 adults, $16 student, $20 senior–online or at the Box Office, in person or by phone 250.384.2142 (Monday noon-4pm, Tuesday-Saturday noon-4pm and 6-8pm).
(previews 2 for $20, and Tuesdays 2 for $30)
Creative Team
Dick Stille (Director)
Julie Newson (Producer)
Dick Newson (Set Designer)
Colleen Maguire (Costume Designer)
Carol-Anne Moore (Lighting Designer)
Kevin Stinson (Sound Designer)
Gloria Snider (Stage Manager)
Cast
Jon Scheer (Robert)
Melissa Taylor (Catherine)
Melissa Blank (Claire)
Liam McDonald (Hal)
Disclaimer: I was provided complimentary tickets to attend the opening of Proof.