A Queer Trial by Dr Jennifer Wise. April 13-14 2017 in Bastion Square, Victoria BC.
I don't miss much when it comes to local theatre, but regrettably and unavoidably, I did miss theatre historian Dr. Jennifer Wise's last production, the historical play Girl Rabbi of the Golden West, staged for the 150th anniversary of Congregation Emanu-El in 2013.  When a note was posted to a local Facebook group informing students in the UVic Theatre Department that THEA 311 would be bringing her newest work—A Queer Trial—to life as a site-specific piece, I paid attention.  Dr. Wise graciously and enthusiastically agreed to a chat.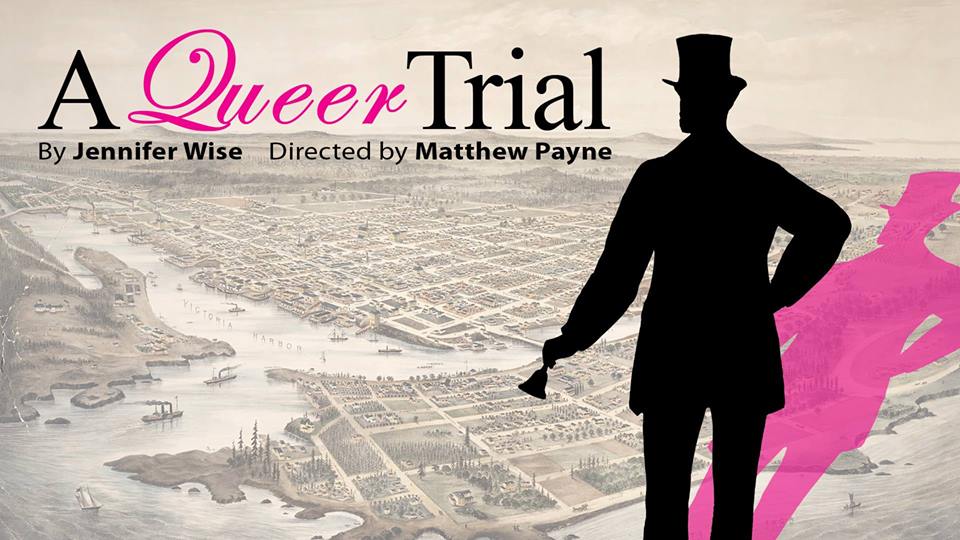 Wise has spent the last 25 years teaching, first at Malaspina College (now Vancouver Island University) and then at the University of Victoria; her record as a playwright and scholar is impressive with 15 plays that exist in one form or another and multiple books including the Broadview Anthology of Drama, a widely-adopted textbook. More information on her achievements can be found here.
During the period when she was researching Girl Rabbi of the Golden West, Wise stumbled upon the astonishing and sensational tale that forms the basis for A Queer Trial—an openly gay man, the town crier John Butt, was tried—and acquitted—of sodomy, by not only one, but two juries, in 1860, in Victoria.  One jury chose to spend a night in jail rather than find him guilty.
To piece together the unfathomable, the story of a LGBTQ hero in mid-19th century Victoria, she turned to the BC Archives, court documents and newspapers—much of the dialogue is verbatim. After her experience producing Girl Rabbi at the synagogue, where Ray Frank would have officiated, Wise wanted to produce A Queer Trial in Bastion Square, site of the law courts of the day.  The University of Victoria office of Community Engagement agreed to fund the creation of a course in site-specific theatre—THEA 311—and the project became part of the 50th anniversary celebrations for the theatre department.
Wise chose UVic alumnus Matthew Payne of Theatre SKAM–a skilled, celebrated and ground-breaking practitioner of site-specific theatre–to direct.  The cast is comprised of twelve individuals, UVic students and community members, who take on sixteen roles.
Situated in Chancery Court (between the Maritime Museum and Burns House) in front of the doorway and window of a shop front (passing for the jail) the audience will view the play as if they were part of the action, inside the jail looking out.
A Queer Trial is a musical play and the ensemble had the opportunity to experience the euphoria of creating a melody together; a wide variety of instruments are used. Lindsay Robinson (Summer and Smoke, Three Penny Opera) and Hailey Fowler are the musical directors.
In 1860, Victoria was an incredibly multi-cultural town—there was, as yet, no dominant race, language, culture or religion. Captain John, chief of the Haida encampment was in prison at the same time as John Butt, and is featured as a character in A Queer Trial.  Another juror of note was Peter Lester, business partner to Mifflin Gibbs who became only the second black official elected in Canada six years later.
Wise sees theatre as a political and inextricably local art form.  Through the dramatization of history, she believes it is possible to piece together how this extraordinary story came about.
A Queer Trial is a gift to the community—there is no admission to attend. The preview is April 13th at 6pm with performances April 14th at 2pm and 4pm.  Meet in Bastion Square near the entrance to the former Maritime Museum. Space is limited. For further information contact the Department of Theatre at (250) 721-7991.