Red Hot Cole at Blue Bridge Repertory Theatre. Interview with director Darcy Evans.
Director Darcy Evans created a Cole Porter work-out playlist to immerse himself in the acclaimed composer and lyricist's music as he arranged the tunes for Blue Bridge Repertory Theatre's upcoming Red, Hot Cole! (August 2-13, 2017).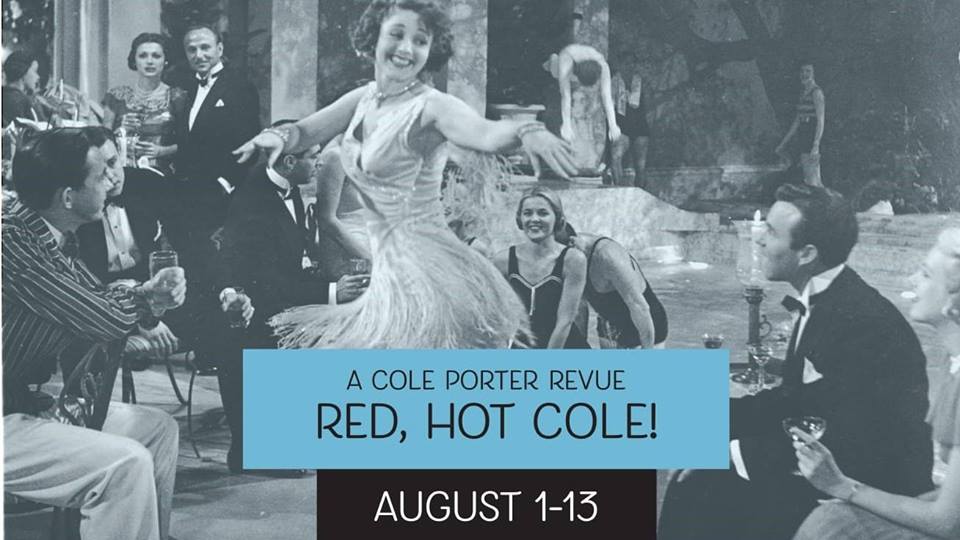 Evans, who graduated from the University of Victoria Phoenix Theatre, and began his theatre career in Spirit of a Nation, Jacques Lemay and Janis Dunning's precursor to the Canadian College of Performing Arts (CCPA), is known to local audiences for his appearances as guest director at CCPA, most recently with Twelfth Night, Lord of the Flies and Grapes of Wrath.  His career spans nine seasons at the Stratford Festival (where he now resides) as well as stints on Broadway; his appearance with Blue Bridge comes as a result of a conversation with Artistic Director Brian Richmond four years ago.  "When Brian called to propose the Cole Porter revue, it was a perfect match for a slot in my schedule" he says.
For Red,Hot Cole! he's conceived an intimate immersive experience, converting the Roxy Theatre into an onstage cabaret and bar with the help of design team Brian Ball (set), Graham McMonagle (costumes), Eryn Griffiths (lights) and Paul Tedeschini (sound).
"The audience has the potential to see themselves onstage (and some will have the opportunity to sit there); the show is filled with unexpected fun moments" states Evan.
It's a contemporary take on the salons of Cole Porter's time that is fitting for the work of an artist who has been covered by everyone from Canadian jazz wunderkind Nikki Yanovsky to U2 (for the AIDS benefit album Red, Hot + Blue).
Since so many of the songs centre around the theme of love, Evans has created a story through-line to accompany the songs.  "It's a fun set-up; we're going to tell a new love story" he states. "It's also something for the actors to hold their objectives and has definitely lifted the delivery of the songs".
Blue Bridge audiences will remember Sara-Jeanne Hosie and Khobly Wardell from their performances together in Little Shop of Horrors (August 2012). In addition Hosie has performed as Patsy Cline and directed My Fair Lady for the company.  Wardell is well-known locally for his role as Noel Gruber in Atomic Vaudeville's Ride the Cyclone—a role he reprised recently in an off-Broadway run and which he is scheduled to perform as part of Seattle's 5th Avenue Theatre's 2017-2018 season.
Rounding out the cast are the young music theatre phenomenons Jennifer Gillis (best known her for performance in Sir Andrew Lloyd Webber's TV reality show Over the Rainbow) and Jacob Woike, singing such classics as You Do Something to Me and It's Too Darn Hot. Leading the three piece band that will interpret the Porter songbook will be Music Director Brad L'?cuyer on piano with Rainer Roth on reeds and Jonathan Eng on percussion.
"The vocal performances are superlative; Porter's word play is sophisticated and funny" says Evans.  "There truly is something for everyone; it's even suitable for (some) teenagers".
"I really want the audience to feel the power of Porter's music up close and Brian and I agreed that the best way to achieve this was to change the audience/performance relationship. I think the people of Victoria are going to be thrilled."
Red Hot Cole! – A Cole Porter Revue runs from August 1-13, 2017 at the Roxy Theatre, 2657 Quadra St., Victoria. Tickets range from $ 25 – $ 52 and can be obtained online at bluebridgetheatre.ca or in person between 12 and 4 pm Tuesday to Saturday at the Roxy Box Office or by calling 250-382-3370.