Salt Baby by Falen Johnson at the Belfry Theatre. A review.
Girl meets boy, falls in love and lives happily ever after. Not if you're Salt Baby (Dakota Ray Hebert) the titular character in Falen Johnson's story of indigenous identity and belonging, Salt Baby (currently at the Belfry Theatre April 17-May 13, 2018); it's brim-full of questions and the awkward sense of constantly checking one's assumptions. Salt Baby is brash, bold and conflicted, unafraid on one hand of firing back when her hapless potential paramour Al (Nathan Howe in a deliciously geeky role) opens conversation with "just how Indian are you?" but at the same time, not sure if she measures up. She's obviously heard it all before, due to the light colour of her skin, and struggles with the answer.
Part personal journey, part coming-of-age romance, Salt Baby explores deep issues with many oblique references to the Indian Act, Bill C-31, the American Indian Movement, traditions, spirituality and blood quantum, doing so with a light touch and plentiful humour.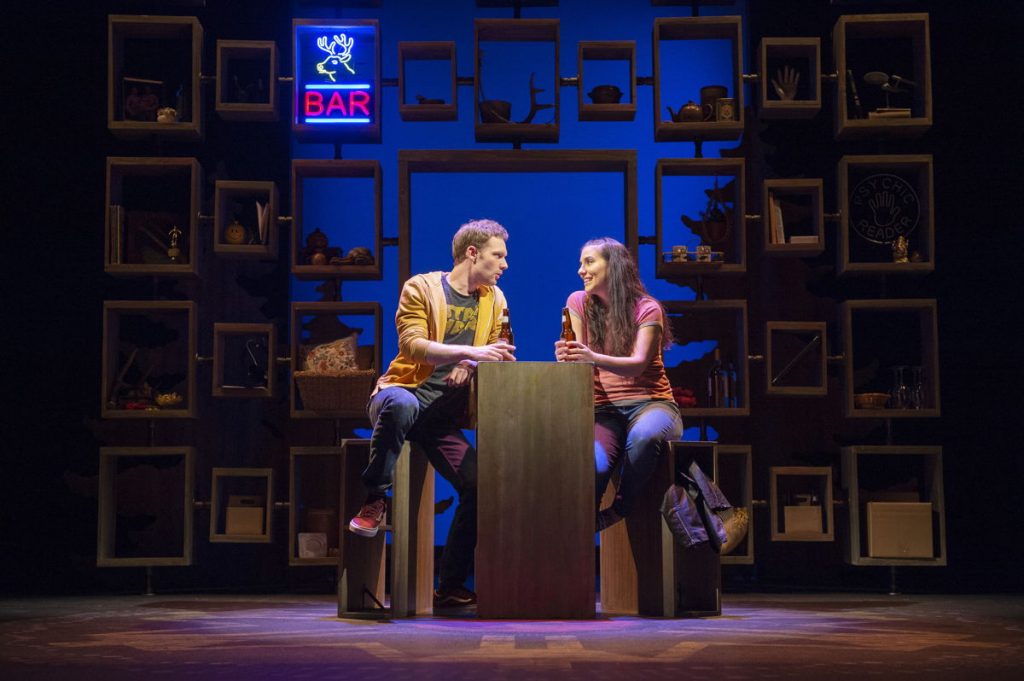 Nathan Howe (Alligator) and Dakota Ray Hebert (Salt Baby). Photo: David Cooper
The ensemble displays wonderful synergy onstage; Herbert and fellow cast members Howe and Colin Dingwall were part of the debut at the Shumacher Sandbox Series stage in 2015 and returned for the premiere at the Globe Theatre in Regina (2017).  Joining them is Timothy L. Hill in the role of Dad/Terry.  This familiarity with the material has produced performances that can easily move from comedy to magical realism and tense drama with ease. Dingwall excels in his many roles ranging from Grandfather to Psychic, including moments as Al's dyspeptic mom Cheryl and a First Nations spiritual advisor—at times there is a profound sense of the weight of tradition (Grandfather), at others—sheer zaniness (Psychic); some are played straight while some are hilariously over-the-top.
One of the keys to Johnson's style, not only in the writing but also a director (Salt Baby is her first major production) —is confidently melding humour with deft touches of drama.  Scenes between Hebert and Hill are filled with emotional depth and a profound sense of the magnitude of her struggle to find her place, while vignettes with Dingwall as her Grandfather are marked with deep respect. The chemistry between Hebert and Howe is palpable—an attraction that tiptoes carefully into full-blown relationship, complete with its tricky negotiations.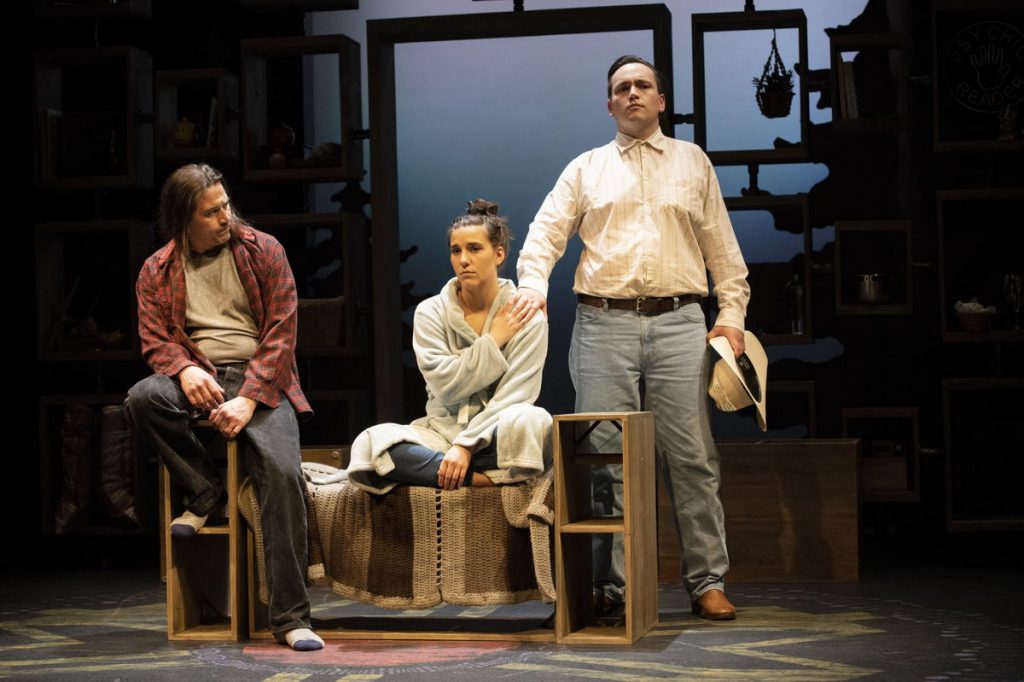 Timothy L. Hill (Dad), Dakota Ray Hebert (Salt Baby) and Colin Dingwall (Grandfather). Photo: David Cooper
Anyone who has ever been part of a couple can attest to the nerve wracking "meet-the-parents" encounter; now, imagine it with a cross-cultural twist. Salt Baby's dad deliberately slaughters a deer prior to greeting Al—a vegetarian, and Al's parents Terry and Cheryl are at one another's throats when the young couple comes for dinner—there is much laughter to be found in both. It's interesting to note that Terry and Cheryl are played as caricatures—in opposition to Salt Baby's more realistic and down-to-earth Dad.
Tamara Marie Kucheran's ingenious and stylish set design incorporates a 1970s-inspired wall unit with open shelving perfect for displaying objects related to the characters—the audience is sure to spend time searching for clues among dream catchers, Indian dolls, memorabilia and signs. A variety of moveable wooden boxes quickly become furniture or even wood to be stacked.
Malcolm Dow's sound design conveys the racket of a busy bar with its forward rhythms and syncopated beats as easily as the quiet of "the rez", reaching a powerful crescendo set to chants when cheekily introducing Philip (Howe)–the new date and "uber Indian".
Lighting design by Alan Brodie moves from urban to rural environments with clear blue skies and sparkling stars, then comes alive in a series of crashing lights mimicking the action in a video game.
In a perfect world, Salt Baby and Al would be united by their mutual love of Star Trek, able to surmount the challenges of navigating their two different cultures. Johnson strives for a more complex story—one that tugs at heartstrings and yet, remains hopeful.  Salt Baby, bound by love to her family and her ancestors, is capable of finding her way.
In a modern Canada where citizenship and identity can be complicated, Salt Baby's story resonates with many while simultaneously illuminating a reality unknown to others.  Thank you to the Belfry Theatre for the gifts of this show.
Salt Baby is a modern comedy about finding out who you really are. A Six Nations woman, Salt Baby's light skin sets her apart from her relatives, both on the rez and in the city. She's a fish out of water and, accompanied by her Caucasian boyfriend, Alligator, she's determined to discover how she fits into her two very different worlds.
Salt Baby by Falen Johnson
Belfry Theatre, 1291 Gladstone Avenue, Victoria BC
April 17-May 13, 2018
Tickets: $20-$53 (plus GST) available at 250-385-6815 or online at tickets.belfry.bc.ca. Prices are subject to change.
Cast (in alphabetical order)
Colin Dingwall Grandfather, Clara, Doctor, Psychic, Cheryl, Wanda B, Advisor
Dakota Ray Hebert Salt Baby
Timothy L. Hill Dad, Terry
Nathan Howe Alligator, Philip

Creative Team
Falen Johnson – Playwright & Director
Tamara Marie Kucheran – Set & Costume Designer
Alan Brodie – Lighting Designer
Malcolm Dow – Sound Designer
Jennifer Swan– Stage Manager
Sadie Fox – Assistant Stage Manager
Disclaimer: I was provided with a comp ticket to attend Salt Baby.
Further reading:
DNA testing:
https://geneticliteracyproject.org/2016/10/06/native-americans-fear-potential-exploitation-dna/
https://www.nytimes.com/2010/04/22/us/22dna.html?pagewanted=all&_r=1&
https://www.newscientist.com/article/mg22129554-400-there-is-no-dna-test-to-prove-youre-native-american/
Bill C-31
http://indigenousfoundations.arts.ubc.ca/bill_c-31/
The Indian Act
https://www.ictinc.ca/blog/21-things-you-may-not-have-known-about-the-indian-act-
AIM (the American Indian Movement)
https://aimovement.org/
Oka Crisis
https://warriorpublications.wordpress.com/2014/06/11/oka-crisis-1990/
History of the Six Nations
http://sndevcorp.ca/history-of-six-nations/
Live & Outreach Events during Salt Baby

B4Play
Saturday, April 14 at 11 am
Belfry Theatre, Studio A, 1291 Gladstone Avenue

Free Event. A live talk show hosted by CBC Radio's Gregor Craigie and featuring Falen Johnson (Playwright and Director) and Dakota Ray Hebert (Actor) from Salt Baby, along with experts from the community.

B4Play is streamed live on Facebook. Our podcast of B4Play is available at belfry.bc.ca/podcasts.

Afterplay
Facilitated discussions – audience member to audience member – will follow every evening Mainstage performance of Salt Baby (except Opening Night and Talkback Thursday). These are a great opportunity to share your thoughts and hear fellow patrons' reactions to the production and the ideas it presents.

Talkback Thursday
Thursday, April 26

Meet some of the actors post-performance when they return to the stage to answer questions and provide insight into the play.

VocalEye Performance
Sunday, May 6 at 2 pm

For our patrons with low or no vision, we offer this VocalEye performance during Salt Baby. Trained Audio Describers provide descriptions of the visual elements of the show, allowing people with low vision to enjoy the theatrical experience without missing any of the details.