Sense and Sensibility at Langham Court Theatre. A review.
Sense and Sensibility at Langham Court Theatre (February 28-March 17, 2018) is a delightful and zany romp through Jane Austen's Regency world. Filled with the author's signature wit and sharp observation, Kate Hamill's script focuses on relationships between the characters, and accentuates the role of gossip in that period's society.  In our modern world, people take for granted information at our fingertips. Then, knowledge was spread through conversation, gossip, rumour and innuendo.  Reputation was everything, and particularly for women. To defy social convention amounted to ruination.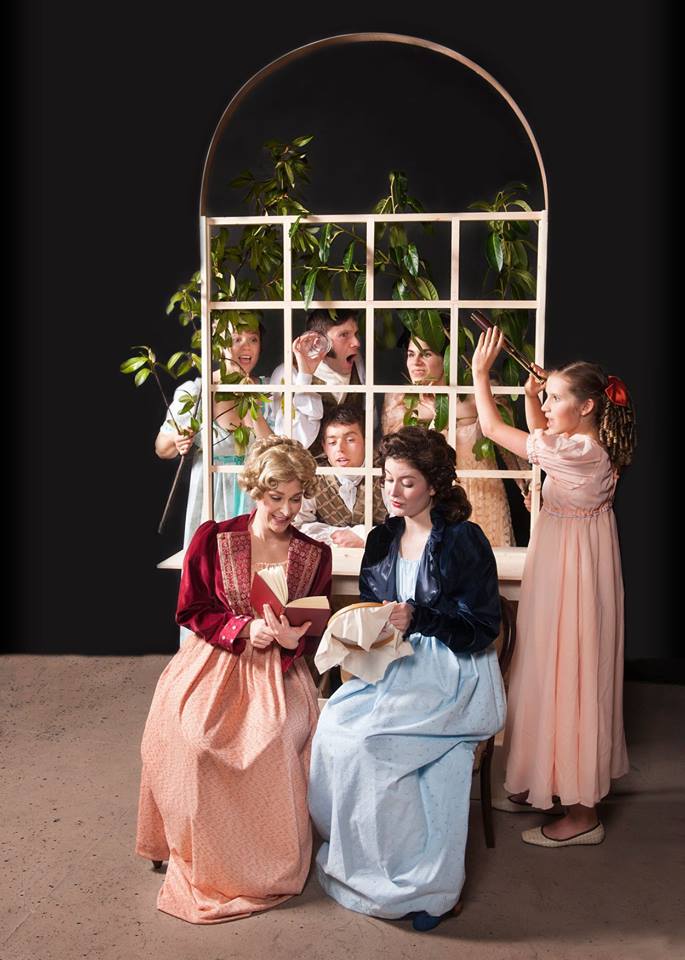 Staging is included in Hamill's script and makes use of representative architectural elements and furniture—most of it on castors—manipulated by the actors (set design Chris Clarke; properties and set décor Linda MacNaughton). Roles are often doubled.  Fantastical elements like puppets appear.
The large ensemble cast under the direction of Langham Court veterans Keith Digby and Cynthia Pronick is quick on its feet, sharp of tongue, playful, bold and vigourous.  The directors have ensured all the shenanigans do not detract from Austen's insightful messages.
Sense and Sensibility is essentially a romantic comedy. Having fallen on hard times after the death of the senior Mr Dashwood, disinherited in favour of the remaining male family member, conniving half-brother John (Brian Quakenbush who very capably also plays the dual role of the scoundrel Willoughby) and his mean-spirited wife Fanny (Katt Campbell), sweet-natured Mrs Dashwood (Ursula Szkolak) and her daughters, "sensible" Elinor (Helena Descoteau), spunky Marianne (Michelle Mitchell) and young Margaret (Juliana Monk) are forced to depart the ancestral home for a small cottage on land owned by Sir John Middleton (Kevin Stinson).  Before leaving, the Dashwoods are introduced to an eligible young bachelor, Fanny's brother Edward Ferrars (James Johnson captures the spirit of a bashful young man unused to spouting fine words).  Upon arriving at the Middletons they meet two other men—the upright stickler Colonel Brandon (Carl Powell is the height of propriety and moral rectitude) and the seemingly solid Willoughby.
As in all romantic comedies, hearts are meant to be broken, people are not what they seem to be, alliances become entangled, villains try to keep the lovers apart and, finally, the right couplings can be celebrated.
With the design scaled back to a few essentials, the action of the play owes much to solid direction and the craft of the actors—who solidly embrace silliness—manipulating puppet dogs as they surround an overwhelmed Mrs Jennings (De Roger); peering through frames as if portraits on the wall; carrying shrubbery as landscape; balancing other actors acrobatically as the coach jostles its way to the ball—while slowly unfolding the motivations and developing the personality of the characters.
Helena Descoteau as Elinor is wise beyond her years (eighteen in Austen's novel) while Michelle Mitchell is the quintessential impetuous individual who feels deeply and isn't afraid to voice her emotions.  Juliana Monk sparkles as the young favourite, teetering on the edge of childhood, desiring to play among the adults.  Katt Campbell is dastardly and conniving, whether playing Fannie Dashwood or Lucy Steele as she tries to assert her claim to Edward. Jei Legh's Anne Steele is wonderfully dim, and completely out of her league.  De Roger delights as a kind but meddling Mrs. Jennings. Kevin Stinson is the perfect and jocular country gentleman.  John Bidner is versatile and handily manages roles as Thomas the Dashwood's manservant and Lady Middleton.
There are magical moments, created with the slightest of devices—actors wave fabric in undulating patterns around Marianne, lost in the forest during a fierce storm (choreography Sylvia Hosie).  Time passing is signalled by means of a rotating sun and moon held by one of the characters. Dappled light (Paul Hilton) surrounds the sisters as they engage in a heart to heart one evening.
Throughout Jon Scheer's elegant and cultured sound design echoes the era while Hana Ruzesky-Bashford's costumes have us longing for the period of knee boots, britches, cutaway coats and Empire-waisted dresses.
Happily, it is not necessary to be familiar with Austen's work to enjoy this fast-paced frolic; theatre-goers raised on sketch comedy and Fringe theatre will appreciate the verbal interplay and many comedic characters while serious Janeites will be pleased this great classic is being introduced to a wider audience. From the enthusiastic response at preview, Langham Court Theatre has produced, once again, another multi-generational crowd-pleaser.
You've never seen Austen like this! As the "greatest stage adaptation of this novel in history," this rollicking, ingeniously-staged new adaptation follows the adventures (and misadventures) of the Dashwood sisters – sensible Elinor and hypersensitive Marianne – after their sudden loss of fortune. Bursting with humour, emotion, and bold theatricality, Sense and Sensibility asks: when reputation is everything, how do you follow your heart?
Sense and Sensibility Based on the novel by Jane Austen Adapted by Kate Hamil
Directed by Keith Digby and Cynthia Pronick
Langham Court Theatre
February 28–March 17, 2018
Tickets:   $17-23
Online or through the Box Office by phone 250 384 2142 or at the Theatre: 805 Langham Court, 12:00 noon to 4:00 pm Monday to Friday and 6:00 to 8:00 pm on performance days
Detailed Performance Schedule (February 28 to March 17, 2018):
February 28 – Wednesday PREVIEW, 8:00 pm
March 1 – Thursday PREVIEW, 8:00 pm
March 2 – Friday OPENING, 8:00 pm
March 3 – Saturday, 2:00 pm (NEW this year)
March 6 – March 17 – Tuesday thru Saturday nightly, 8:00 pm
March 10 and 17 – Saturday matinees, 2:00 pm
This play is suitable for all ages.
PRODUCTION TEAM
Directors Keith Digby & Cynthia Pronick
Producer Michael Gosselin
Stage Manager Sylvia Lindstrom
Costume Designer Hana Ruzesky-Bashford
Lighting Designer Paul Hilton
Properties/Set Décor Linda MacNaughton
Set Designer Chris Clarke
Sound Designer Jon Scheer
Choreographer Sylvia Hosie
Assistant Stage Managers Ariel Glidden & Barry Putz
CAST
Ursula Szkolak Mrs. Dashwood
Michelle Mitchell Marianne Dashwood
Helena Descoteau Elinor Dashwood
Juliana Monk Margaret Dashwood
De Roger Mrs. Jennings
Kevin Stinson Sir John Middleton
Katt Campbell Fanny Dashwood/Lucy Steele
Jei Legh Anne Steele
James Johnson Edward/Robert Ferrars
Carl Powell Col. Brandon
John Bidner Lady Middleton
Barry Putz Gossip
Disclaimer: I was provided with complimentary tickets to attend the preview of Sense and Sensibility.