Shop Talk by Theatre SKAM October 13-23. Realtor saves production from cancellation. Media release.

October 6, 2016: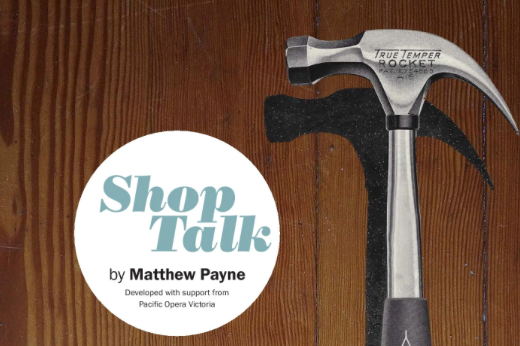 Theatre SKAM's next performance nearly didn't happen at all. Thanks to a generous landlord and some quick work by Cushman and Wakefield's Elizabeth Jane Mears, the show ?Shop? Talk will go on- in Quadra Village.
Originally slated to occur inside a 10,000 square foot scene shop, the show will now occur inside a commercial warehouse space with a mezzanine located at 2713 Quadra Street. Actors portraying carpenters operate power tools and hand tools as they shoot the breeze and try not to get caught standing around. The audience watches safely from an elevated viewing area, wearing headphones that pick up the voices of the performers.
"We were very, very close to cancelling this production." says Artistic Producer Matthew Payne "Elizabeth Mears has saved a $70,000 production from folding. On behalf of the 20-plus other artists depending upon this production for our livelihoods, we thank Elizabeth and her colleagues at Cushman and Wakefield for their assistance in locating a fantastic venue."
Mears has a connection to the arts production industry, having worked as a high rigger at Save on Foods Memorial arena with Payne and others involved in the production.
Theatre SKAM is not quite out of the woods yet. Much of the show is being rewritten for the new space, and there still remains the task of constructing a scene shop inside 2713 Quadra Street in just days.
Director Chelsea Haberlin, Set Designer Patricia Reilly, and the rest of the SKAMartists are up for the challenge.
"In the history of Theatre SKAM, I'm not sure we've thrown more new information at writer, director, designers and actors in the course of creation. It's either going to soar or go down in flames. Either way you want to say you were there. Nightly occupancy is low. Get in on this one before it sells out."
Written by Payne and directed by Vancouver's Chelsea Haberlin (Itsazoo,? Neworld) ?Shop Talk features a killer ensemble of Victoria and Vancouver talent: ?Jennifer Ault?, Sarah?Carle, ?Sarah Cashin,? Jay Clift, Stefanie Dolan, Geoffrey Ewert, Kelly Hudson, ?Grace Le,? ?Connie McConnell,? Diana Nielsen, ?Amelia Petscheleit,? Karen Lee Pickett, and ?Jess Amy Shead.? The stellar design team is James Insell (Costumes), Carolyn Moon (Sound), Patricia Reilly (Set and Props). The stage manager is Claire Friedrich.
At its heart the play tackles the larger themes of sexism and politics in the workplace as the characters skewer Canada's Prime Ministerial power couple, U.S. presidential candidates, Walmart, and the opposite gender.
Performances run 7:30 PM Tuesdays to Saturdays and at 2:00 PM on Sundays from October 13 to 23, 2016.
As Shop Talk is full of coarse and offensive language, it is recommended for a mature audience seeking a fun experience.
Seating is ?very?limited at 25 tickets nightly. Some nights are already sold out.
To purchase an entire evening's performance, or single tickets, or for more info visit SKAM.ca
Support for this production is provided by Victoria Foundation, Vancouver Foundation and Hamber Foundation. Ongoing support for Theatre SKAM comes from the CRD Arts Service, the Canada Council for the Arts and the Province of British Columbia.
Theatre SKAM's Shop Talk by Matthew Payne
2713 Quadra Street (at Hillside Ave)
October 13 to 23
7:30pm nightly EXCEPT Sundays 2pm (No show Oct 17)
Tickets $20-25 at https://www.eventbrite.ca/e/shop-talk-tickets-27478003448