SKAMpede by Theatre SKAM returns July 8-10, 2016.  Media release

New HUB location offers more space for performances and festivities
When SKAMpede returns for the eighth annual festival of original short outdoor performances, audiences will be welcomed to a new home base with more space, a greater range of activities and a larger variety of music and performances. Held along the Galloping Goose Trail, SKAMpede is a series of short performances offering drama, dance, comedy, improvisational theatre and more in an outdoor setting. Each is an original piece crafted for specific sites along the trail.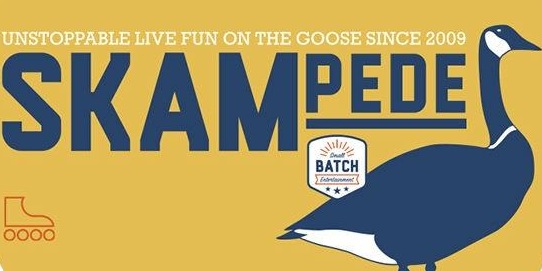 SKAMpede's HUB, a performance venue and also the place where audiences depart from to see shows on the trail, has moved to 360 Harbour Road. Harbour Road will be closed and audiences will have more space to line up for tours (a series of performances) as well as to enjoy a variety of performances. A bike decorating station and bicycle rentals will also be offered at the HUB.
For the first time there will be a licensed area at the HUB offering a selection of Phillips beer as well as a gourmet hot dog barbecue featuring The Whole Beast and Fry's Bakery and coffee  by Caffe Fantastico.
Hub performances are free and open to everyone. Roaming artists will present interactive entertainment. Live music runs 3 PM to 6 PM with The Mand, a Mandolin band covering 80's and 90's tunes, and The New Groovement performing Saturday. The Mand and Bucan Bucan perform on Sunday. The hot dog barbecue and beer garden are also open to the general public.
SKAMpede shows are grouped into four tours of three shows each. Twelve shows are presented along the Galloping Goose Trail and three are presented on rotation at the HUB. To make the performances even more accessible to audiences, prices have bee reduced to $10 for adults for a one day pass and children 13 and younger are welcome at no charge.
"Due to some great support from sponsors as well as organizations that support the arts we were able to offer the same high calibre of SKAMpede shows at a lower price," says Matthew Payne, Theatre SKAM's Artistic Producer. "SKAMpede is a great introduction for the theatre-phobic. The shows are short and there is such a great variety audiences are guaranteed to love at least one. Usually it's more than one."
The audience is able to travel to the shows using any transportation method acceptable on the Galloping Goose. Initially focusing on cycling this now includes walking, skateboarding and electric scooter. Similar transportation modes travel together so the audience can stay as a group on the tours.
Friday Night Feast returns July 8 beginning at 5 PM. Held at the new HUB location on Harbour Road, Feast guests will enjoy a three course dinner designed by Jennifer Danter. Before and during the meal guests will see 12 SKAMpede shows. Friday Night Feast is licensed, offering a variety of beers from Phillips Brewery and a selection of wine from BC Wine Guys.
Shows on July 9 and 10 run continuously from noon with the last tour departure at 6 PM. Barbecue runs noon to 7:00 pm. The beer garden will operate from 2:00 pm to 7:00 pm. Cash or credit card payments are accepted at the Hub.
Tickets for SKAMpede and the Friday Night Feast are available at skam.ca. Tickets for Saturday and Sunday can also be purchased from the SKAMpede box office at the HUB. Updates and meet the performer videos will be posted on the Theatre SKAM FaceBook page.
Theatre SKAM has a number of things planned for their upcoming season including Pop-Up Theatre presentations throughout the summer, Shop Talk in October and Joan in March, 2017
SKAMpede 2016 performances
July 8, 9, 10, 2016
2 Dope Boys in a Cadillac, Victoria
Banning Butterflies from Poetry
Proposing to ban butterflies from poetry this double-hander explores the disappearance of the Propertius Duskywing Butterfly from the Garry Oak ecosystem, opening the audience's eyes to the attack of urbanization on city parks. The same "progressions" that are attracting visitors to the park are killing off the butterflies that have lived there for years. Will these two artists find a way to ban butterflies?
First N Last Productions, Victoria
Where's Tori?
Never swim alone. Tori finds this out the hard way when she decides to go for a solo late night swim… Her two friends frantically search for her in this humorous show about the importance of water safety.
Foolish Operations, Vancouver
Tricoter
Re-creating the spirit of a knitting circle; Tricoter weaves its way around the audience exploring memories of family while creating a beautifully choreographed dance with the audience.
The Giant Heads Collective, Victoria
Death Takes a Holiday
Inspired by Commedia DellArte, Death Takes a Holiday shows us what would happen if we did not fear death and the risks we might take; but you can't cheat death forever.
Half Baked Theatre Co., Victoria
The Tour de Farce
It's difficult to be an athlete when you're always clowning around; this is shown in Tour de Farce when our two athletes are competing in a Tour de France style race, each bumbling athlete wanting to win more than the other. Will either make it to the finish line?
John G. Boehme with Beauregard Boehme , Victoria
Making Performance Art
This father son team has travelled all across Australia with performances that highlighted their experiences in both ballet and rugby.They are interested in western society's less considered compulsions. This duo will be Making Performance Art for SKAMpede.
Jo Leslie, Victoria
The Four Daughters
What is a mother to do if a Dark Knight steals her daughters? Join the Mother on her quest to destroy the Knight and reclaim her lost children. Through storytelling and physicality the audience is taken on a journey to find The Mother's lost daughters and learn of their unusual captivity in the Knight's Castle.
Jo Leslie, Victoria
The Gazoo Returns
This year in the Hub we have the pleasure of welcoming back the wonderful Gazoo! Gentle, innovative and musical with 2 heads, 2 arms and 4 legs; Gazoo will be milling around the Hub entertaining our audience. Don't be shy- Gazoo likes to dance, to pose and be photographed with our audience members!
Kelly McInnes, Vancouver
Ree-wahyld
Ree-wahyld is an outdoor specific work that explores the shedding of our social etiquette, as a sort of ritual, to indulge in our sensations through nature. Four businesswomen find themselves in a natural environment where the surroundings prompt their heightened sensitivities. What if we spent more time connecting with our bodies, connecting with nature, our earth? Would we feel personally invested in protecting our environment?
Gordon Tootoosis N?k?n?win Theatre, Saskatoon
Immemorial
Performed by Curtis Peeteetuce, Cree from the Beardy's & Okemasis First Nation Immemorial is a story telling piece that takes viewers from the beginning of time to the present-day. Told from a Cree cultural and historical perspective.
Ottawa Stilt Union, Ottawa
ArborAmor
Told through dance, physical comedy, and music, ArborAmor is a work of tango-flavoured physical theatre that tells the story of a solitary tree who learns to dance.
Story Theatre Company, Victoria
Stories from the Trail
Story Theatre brings to SKAMpede Stories from the Trail, a collection of stories brought from different collaborating artists will be performed through storytelling and physical theatre, leading the audience along the trail as they go.
Two Little Theatre, Edmonton
Emily Etterson's Economically Eco-Friendly Water Service (For Charity!)
Emily Etterson is here for three simple reasons: 1) keep people hydrated in the park, 2) eliminate single use water bottles, and 3) save the planet. Unfortunately, the harder Emily tries to save the world, the more her own world seems to fall apart, especially when it comes to her relationship with Todd, her only employee and best friend. Can Emily remain true to mother nature and herself?
HUB Shows: Jo Leslie's The Gazoo Returns, Jane Bee and Emma Zabloski