SKAMpede celebrates 10 years July 13-15 2018 in Victoria BC
SKAMpede (originally known as Bike Ride) is Theatre SKAM's 10th annual outdoor live performance festival along the Galloping Goose in Victoria BC.  And, for the very first time, and in celebration of ten years–it is FREE.
Audiences gather at the HUB 360 Harbour Road, and take off in small groups to see up to 16 different mini shows (this can take up to four hours), ranging from dance to song, and theatre to spoken word. Each show is site-specific, designed for folks of all ages, and accessible by any legal Galloping Goose transportation.
Described and ASL Interpreted tours are available during the festival and audiences requiring such services are encouraged to contact Theatre SKAM at skam.ca.
SKAMpede will be offering special events during the festival including an opening ceremony hosted by Lekwungen Traditional dancers, a 10th Birthday party, a happy hour silent auction, and a ritzy sneak preview called Friday Night Feast.
Friday July 13th, 5-10pm Friday Night Feast—3 course dinner and performances. Tickets $66
Saturday July 14th, noon Opening Ceremonies featuring the Lekwungen Traditional Dancers
Saturday July 14th, 5-7pm, Happy Hour Silent Auction
Sunday July 15th, noon-12:30pm, Birthday Party
free performances run noon-5pm both Saturday and Sunday

SKAMpede 2018 Artists
Bragi Theatre (Victoria, BC) KID VIKING
Eight-year-old Vígdís, the youngest seeress in North America, invites you to attend the traditional (albeit scaled-down) Viking funeral of her dear hamster, Broddi, and to witness her oath of eternal vengeance against the girls of Ms. Costie's three-four split, who bear responsibility for his untimely death.
Playwright/Director – Nicholas Guerreiro
Performer – Shea O'Connor
Costume Design – Corina Fischer
Company/Artist Bio
Named after the Norse god of Poetry, Bragi Theatre is a Victoria-based company that produces pathfinding theatre dares to sail beyond the confines of genre. Last summer, Bragi Theatre produced Rural Ravaillac for SKAMpede and O, Come All Ye Faithful on the Victoria Fringe.
Copper Forks Collective (Toronto, ON) BEE AND THE WISHING TREE
Bee is a wise woman living deep in the forest, tasked with guardianship of the Wishing Tree. Today, many will bravely seek the Tree, placing their wish among those that have come before. When the sun is highest in the sky, the worthiest's wishes will be granted.
Playwright, Producer & Artist (Bee) – Hannah Harper
Artist (Ki) – Flavia Martin
Company/Artist Bio 
Copper Forks Collective seeks to create collaborative based, new works. Eliminating traditional structures of theatrical creation, the company seeks to establish an process-driven environment, where body-based performance is key; as well as inviting audience members to become active participants, allowing them ownership of their experience.
DANCE Berserker DANCE (Victoria, BC) ALL HAPPY FAMILIES
We all have that family member who causes trouble, is super annoying and doesn't share the popcorn. All Happy Families is a comedic and physical representation of the relationships between siblings and the family unit as a support system.
Concept & choreography – Kelly Hobson
Company/Artist Bio
Dance Berserker Dance is Victoria's newest contemporary dance company. With concept and choreography by Artistic Director Kelly Hobson and video design by Alex Wlasenko, this captivating new company creates innovative and unforgettable work through a dynamic fusion of contemporary dance, theatre, and animation.
VSCDANCE.COM INSTAGRAM FACEBOOK
Embrace Arts Foundation (Victoria, BC) CREATURE CASTE
Creature Caste is a mixed ability dance piece that explores the social hierarchy in a group of gremlins. This comedic piece follows these creatures as they fight to come out on top (quite literally).
Performers – Claire Bruce, Luka Garvin, Acacia Scott
Director – Tiffany Tjosvold
Company/Artist Bio
Embrace Arts Foundation is an organization devoted to creating meaningful artistic opportunities for individuals of all abilities. We run inclusive dance, theatre, and music programming throughout the CRD. We are excited to be creating new works after spending our last season focused on creating more accessible training opportunities in Victoria.
EMBRACEARTS.ORG INSTAGRAM FACEBOOK
Embrace Theatre (Saskatoon, SK)  LOST AND ALONE: A CLOWN'S ORDEAL
A clown stumbles through the forest, completely lost. He can't read his map. He didn't pack survival gear… but he is far too much of a man to reach out for help!
This piece is an excerpt from a larger, multi-disciplinary exploration of contemporary masculinity called Many Fires.
Creator & Performer – Charlie Peters
Company/Artist Bio
Founded in 2013 and nominated for SAT Awards every year of its' eligibility, Embrace Theatre has produced half a dozen works in a huge variety of styles. Founder, creator, and performer Charlie Peters is a Saskatoon-based stage director, actor, lighting designer, playwright, dramaturge, poet, and clown.
Hush Money (Victoria, BC)  COMMUNITY OUTREACH
A bedraggled man, collecting bottles and cans.  A weary new mother, collecting herself. They have more in common than meets the eye.
This is a comedy about assumptions, unexpected community and the kindness of strangers, featuring exactly the sort of riffraff you'd expect to find along the Galloping Goose Trail.
Playwright & Director – Pamela Bethel
Actor – Sarah Wilson
Company/Artist Bio
Pamela Bethel is an emerging playwright/director living in Victoria BC. She's inspired and fascinated by the "in-between" times of life that challenge and evolve us – usually in painful and hilarious ways. This is a remount of the first play she ever wrote, shortly after producing her first human. The show debuted at Bike Ride 2013.
Impulse Theatre (Victoria, BC) THE FAMILY
A grotesque family that doesn't belong outside is startled by the bustle of the city and the light of day. The father, mother, and child must make sense of this brand new world, and hope to find a path back to their precious routine.
Performers – Anna Marie Anderson, Luciana Fernandes, and Ciaron Volke
Director – Andrew Barrett
Company/Artist Bio
Impulse Theatre is a multidisciplinary theatre company. The company has made over fifteen new works since 2010 and been presented in Uno Fest, rEvolver Theatre Festival, Spark Festival, and more. It runs PEEK-FEST, a festival dedicated to the development of local work and artists. This is the company's fourth SKAMpede. OMG.
IMPULSETHEATRE.CA FACEBOOK INSTAGRAM
Kai Taddei (Victoria, BC) THE REAL SK8ER BOI
Jay is a seventeen-year old who has always fulfilled the stereotype of Avril Lavigne's 2002 hit, "Sk8r Boi." But what they really want is to make their own music – and for people to stop using their dead name all the freaking time. THE REAL SK8R BOI explores both the bravado and bravery of a newly out trans-masc kid.
Playwright & Performer – Kai Taddei
Director – Karin Saari
Company/Artist Bio
Kai Taddei is a Transgender playwright, performer and educator. They are a two-time recipient of the Victoria Fringe's "Favourite New Play" award. Kai has a BFA in Writing from UVic.
Karin Saari is a local director and graduate of UVic's Phoenix Theatre. Recent credits include: Bulb Duet (rEvolver Festival), Scorch (Puente Theatre) and open face beholding (Intrepid Theatre YOU Show).
other works
VINO BUONO PRODUCTIONS FACEBOOK
Launch Pad Theatre (Victoria, BC) RAINFOREST ROSE AND THE FATE OF THE PHANTOM ORCHID
In a province with no laws protecting endangered wildlife, one woman battles to protect the unprotected; defending Marmots and Monarch Butterflies, fighting for Peregrine Falcons and Pussytoes… she is Rainforest Rose – Gentlewoman adventurer, friend to all species at risk, and relentless enemy to all who oppose her dream of endangered wildlife legislation.
Christina Patterson & David Radford
Company/Artist Bio
SKAMpede fans will remember Launch Pad's: Pine BeetleMania, Transition City, Dial M for Mer-Murder, Chain Drive, and Crude Dark Matters. They are the creators of Tara Firm, Watch 4 Bones, and; Dracula, Arkenham Abbey, RED DEATH, and Bard in the Ballroom at Craigdarroch Castle. Up next: Nautilus at Nine!
LAUNCHPADTHEATRE.COM FACEBOOK TWITTER INSTAGRAM
Lisa C. Ravensbergen (Kingston, ON) TBA
Company/Artist Bio
Lisa C. Ravensburgen is a, "tawny mix of Ojibway/ Swampy Cree and English/ Irish, Lisa is a multi-hypenate theatre artist based in Vancouver on unceded Coast Salish territory. A play-maker, Jessie nominated actor, dramaturge, writer, director, and sometimes dancer, she supplements her eclectic practice with the joys of motherhood and the delights of self-produced works.
She is an Associate Artist with Full Circle: First Nations Performance, as well as a former Dramaturge in Residence and Associate Playwright at Playwrights Theatre Centre in Vancovuer. She is a member of Literary Managers and Dramaturgs of the Americas (LMDA) and a graduate of Trinity Western University and Simon Fraser University's School for the Contemporary Arts."
MOMS (Coquitlam, BC)  ASKING ALICE
Asking Alice is a one on one interactive experience, dealing with mental health and self-identity. You are taken into the mind of teenaged Alice, who, since returning from Wonderland, is trying to figure out who she is. Was Wonderland real, or was it just a really bad trip? Inspired by creator Madelyn Osborne's real-life struggle with addiction and depression, Alice leads you to answering the question, "Who are you?" (Child friendly version available!)
Producer & Performer – Madelyn Osborne
Dramaturg & Director – Michael David Stewart
Designer – Shelby Wyminga
Production Designer & Builder – Thomas van Kalken
Company/Artist Bio
MOMS is a performance art collective that focuses on interactive community building that pushes participants out of their comfort zones. Formed by Madelyn Osborne and Michael
MADELYNOSBORNE.COM MICHAELDAVIDSTEWART.COM INSTAGRAM
Story Theatre (Victoria, BC) THE HONEYMOON
Story Theatre presents Denise Read storyteller and teacher and her performance of 'The Honeymoon', a west coast camping adventure is the perfect honeymoon for the newlyweds but for one small problem.
Creator & Performer – Denise Read
Producer & Performer – David MacPherson
Performer – Victoria Stolting
Company/Artist Bio
Story Theatre has worked with Denise Read for about three years now.  Denise is guiding the company in incorporating American Sign Language into our shows.  Denise also creates ASL versions of nursery rhymes and has developed a workshop called Flash ASL which introduces participants to ASL and to Deaf Culture.
STORYTHEATRE.CA FACEBOOK TWITTER INSTAGRAM
The Only Animal (Gibsons, BC)  TYPING POOL
Part of The Only Animal's Year of the Typewriter, the Typing Pool is an audience-immersive experience in translating the narrative of place. You the audience members take a seat and a typewriter and look out. Before you is a story writ in landscape–it could be the harbor and woods, a cloudscape, a garbage barge, a stream of Victorians along the Trail, or fabulously priced harbour-front real estate. You listen and you take the dictation. What is this place trying to tell you?
Kendra Fanconi & Caroline Syniatynski
Company/Artist Bio
The Only Animal creates, cultivates, and inspires theatre work that arises from a deep engagement with place.  The elemental identity of our west coast home is often the inspiration of our site-specific work.
THEONLYANIMAL.COM FACEBOOK TWITTER
Theatre Nutshell (Victoria, BC) PROP
On a ten-minute work break, two fast-food employees discover that history is written by those with the props.
Writer – Sara Cassidy
Actor – Grace Le
Actor – Lili Michaelis-Martin
Director – Andrew Wheeler
Dramaturg – David Geary
Company/Artist Bio
Theatre Nutshell is grateful to work on unceded Coast Salish territories, and thrilled to again be part of SKAMpede.  Last year's play, Leechtown, spanned 160 years, starting with a 19th-century gold miner (Alex Judd) on his way the site of a gold rush, the actual, short-lived Leechtown at the end of the Galloping Goose.The miner morphs by play's end into a present-day drifter hitching to Alberta to work in the oil sands. This year's Prop is also directed by Andrew Wheeler and stars Grace Le. It is in real time, but dives deep. Lili Michaelis-Martin joins Nutshell for 2018.
SARACASSIDY.COM THEATRENUTSHELL.COM
Zopyra Theatre (Toronto, ON)  AFTER DEATH DO US PARTY
Funerals are for the living.  Parties are for the dead! Come sing, dance, and make merry as we welcome the newest arrival to our afterlife community.
Who's bringing the punch?
Creator/Performer – Emma Zabloski
Musician/Performer – Kate Romain
Company/Artist Bio
Zopyra Theatre has been creating playful, interactive, and site-specific theatre across Canada for over 10 years.  Zopyra's work has appeared at the Belfry Theatre, SKAMpede Festival, Firehall Arts Centre, UnoFest, and on the Fringe Festival circuit.  We are pleased as punch to be a part of SKAMpede Numero 10. Huzzah!
Michele Hibbins and Ingrid Moore (Victoria, BC)  CURIOUS LEMONADE
A Sweet Roadside Attraction
Thirsty for something different? Visit "Curious Lemonade" for citrus served with a side of quirk! Order an experience like no other, make a serendipitous reservation for a Limited Edition feature, or trade your talent for free refreshment!
Lemonistas – Michele Hibbins and Ingrid Moore
Company/Artist Bio
Michele Hibbins has produced interdisciplinary art with lanterns, tree houses, yoga poses, string, Second City and SoundBody.  Ingrid Moore is a Victoria based actor, singer, and writer. She has performed across Western Canada and is a founding member of Salty Broad Productions.  Both are previous SKAMpede artists.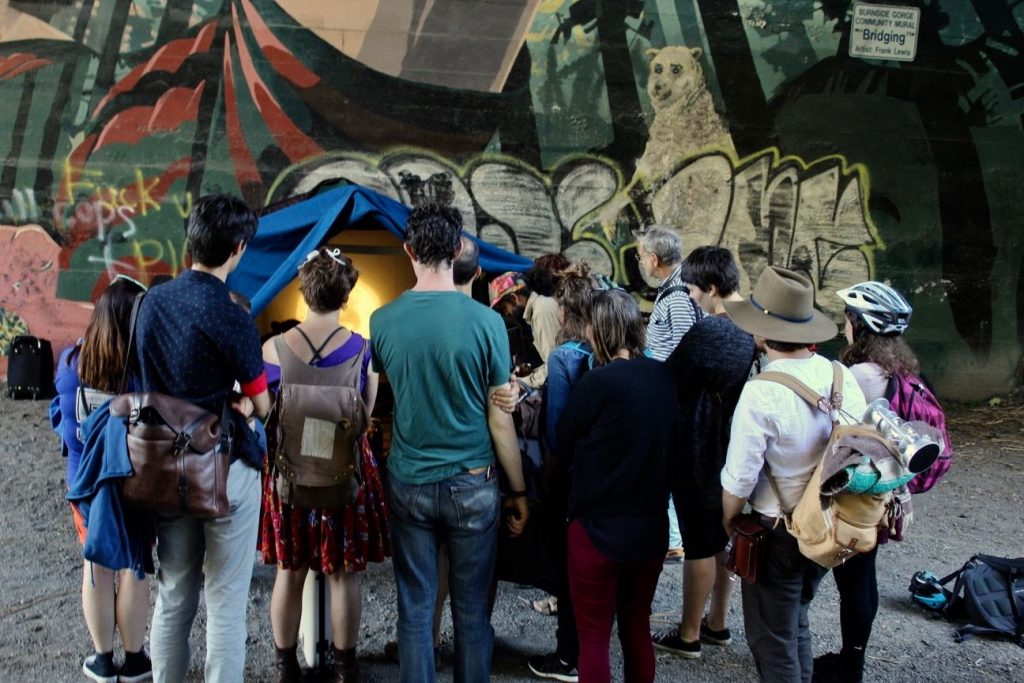 SKAMpede 2017, under the Cecelia Ravine Bridge