Theatre SKAM presents SKAMpede July 14-16 2017
One of my favourite summer-time experiences is Theatre SKAM's SKAMpede.  I love the feeling of the wind in my hair as I zip from show to show.
Now in its ninth year this summer festival (formerly known as Bike Ride) introduces audiences to a mobile feast of short works along the Galloping Goose Trail.  Originally meant for audiences who meandered by bike from venue to venue along a series of four routes, the festival has expanded to include people who walk, scooter or use mobility aids.  Since 2016 the Main Hub is situated on Harbour Road and has roving performers, a concession, drinks, bands and more!
The weekend begins with the optional Friday Night Feast—an evening full of performance art, fine dining and delicious drinks. Take in all SKAMpede shows before anyone else on the specially tailored tours.
Combining performance art and a love for outdoor adventure, SKAMpede is a rare breed of festival! With 3 trails and 15 shows the audience is invited to walk or ride along the Galloping Goose Trail and take in sets of short performances before returning to the HUB.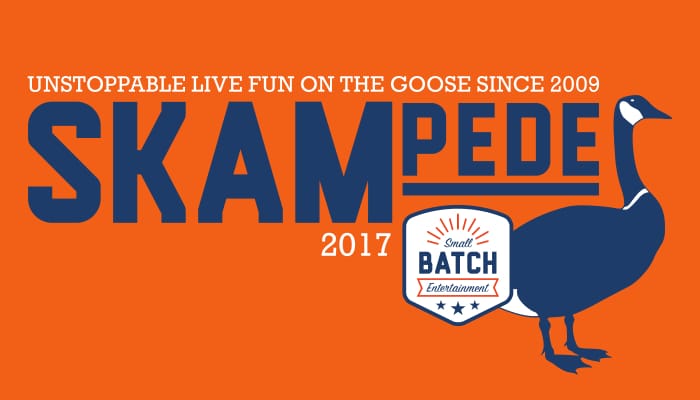 How does SKAMpede work?
Buy tickets online or at the box office at the entrance of our Hub.
Line up for your tour — Tours leave when there are between 8 and 12 people ready to go.
See 3 – 6 mini performances along your route.
Return to the Hub to relax, refresh and be entertained.
Line up for another tour of performances.
Have fun!
Trail shows:
ARTICLE 11 | A Buck and a Half | Edmonton
All Bodies Dance Project | Verbatim | Vancouver
Bragi Theatre | Rural Ravaillac | Victoria
charm / strange theatre | Scatter | Edmonton
The Click | Cowabunga | Victoria
Eloi Homier | La End | Vancouver
Harold Hejazi | Swimming in the Gorge | Victoria
Johanna Nutter | Tree Hug | Montreal
Keep Good (Theatre) Company | Babes | Halifax
Kerri Flannigan | Blue Crush | Victoria
Running in Heels Productions | Winnie Gertske, Champion Off Ice | Edmonton
Theatre Nutshell | Leechtown | Victoria
Hub shows:
CSTA Dance Collective | Sharing Patterns and Good Vibrations | Victoria
Garry Greenspoon | Magic Lantern | Victoria
Isabelle Kirouac | Habitats | Vancouver
Jane Bee | Butterfly | Victoria
Monkey C Interactive | Registroid | Victoria
Nebula Company Theatre | My Other Half | Vancouver
July 15th and 16th, 2017
12 to 6pm
Main HUB: 360 Harbour Road
$10 (Regular) / Free (16 and under)