Space Hippo by Mochinosha, the Wishes Mystical Puppet Company at the Victoria Fringe 2016. Media release.
I try really hard to be objective and impartial in my coverage of the Victoria Fringe Festival–however, there is one exception this year–Space Hippo by Mochinosha, the Wishes Mystical Puppet Company.  I have a particular love of everything shadow puppet related–whether it be intricate and exquisite cut-outs (as in Space Hippo, and previously Oni and Hitodama), object manipulation or simple beams of light.  When Mochinosha (Daniel Wishes and Seri Yanai) first appeared at the Victoria Fringe in 2014, I was drawn to their cheeky and subversive humour and admired their command of their craft–appearing as they do in front of the audience, in full view, where any mishaps are brutally evident.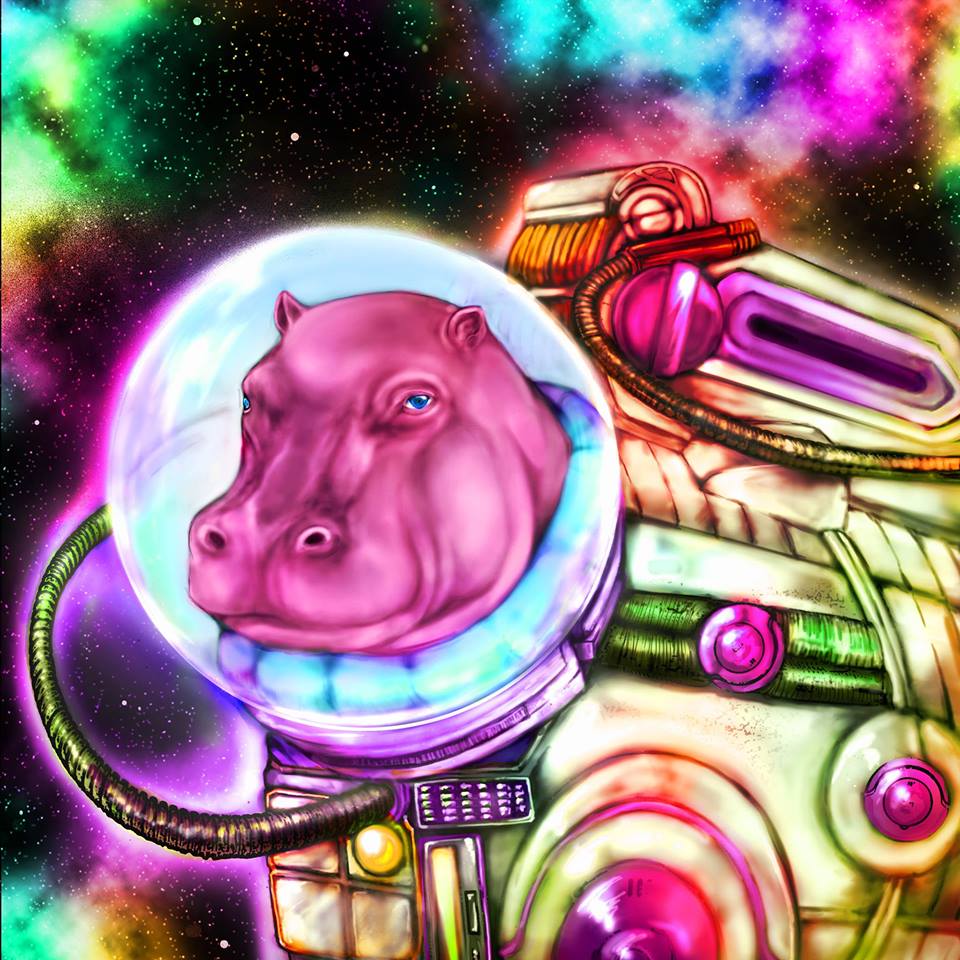 Promotional Artwork by Ryoko Kishida
Then, my son Elliott Loran (actor, musician, performer) met Daniel and Seri in 2015 at the Winnipeg Fringe while they were touring respective shows (Snack Music–Elliott and Oni–Mochinosha) and somehow (I'm hazy on the details) the idea of a collaboration came about.  Elliott was tapped to write the 24-song score for this "epic sci-fi adventure-comedy shadow show about an ordinary Hippo that is sent on an adventure across the Universe to save the planet Earth".  Technology played a big part–Seri lives in Tokyo, Daniel in Winnipeg and Elliott in Toronto.  After marathon Skype sessions, there was an intense week in Toronto where over 200 intricate and highly detailled shadow puppets were carefully cut, the music was recorded and Space Hippo previewed to a small select audience.
Since then it has toured to the Winnipeg Fringe to rave reviews, and now arrives in Victoria before heading to Vancouver and the Aichi Trienalle Festival in Nagoya Japan.
The complete sound track is available from Band Camp.  Have a listen–you will soon be humming.
Please note: Space Hippo is rated 14+ for adult themes and violence.
Space Hippo at the Victoria Fringe Festival , venue 7, the Roxy Theatre, 2657 Quadra Street
Mochinosha, the Wishes Mystical Puppet Company
Written by Daniel Wishes; Directed by Seri Yanai; Original Score by Elliott Loran; Promotional Artwork by Ryoko Kishida
Tickets through Ticket Rocket or on-site one hour in advance
Fri Aug 26 – 10:30pm
Sat Aug 27 – 5:30pm
Mon Aug 29 – 9:30pm
Tue Aug 30 – 6:00pm
Sat Sep 3 – 8:00pm
Sun Sep 4 – 9:15pm