SPIN by Evalyn Parry at the Belfry Theatre SPARK Festival 2017. A review.
Musical love poem, feminist manifesto and history lesson, all rolled into one, SPIN by Evalyn Parry (Belfry Theatre SPARK Festival March 14-18, 2017) is a life-affirming, joy-filled celebration of the bicycle.
SPIN is a polished performance piece—incorporating spoken word, projections and video (design: Beth Kates), songs (as well as an amazing percussion bicycle) and wry observations—, honed by years of touring throughout North America since its debut in 2012.
Dressed in the garb of a ringmaster, Parry takes the audience on a journey through personal story, and the history of the concurrent rise of the bicycle and the women's suffrage movement.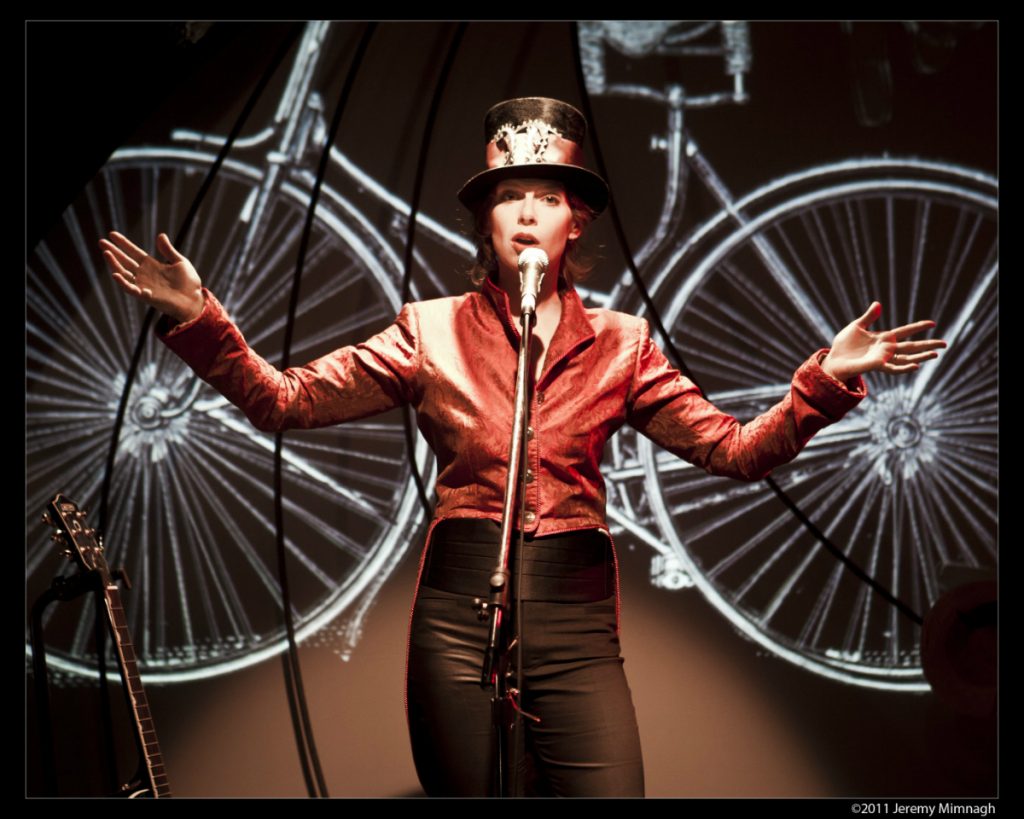 Evalyn Parry in SPIN. Photo: Jeremy Mimnagh
Who has not experienced a frisson when setting feet to pedals for the first time?  Who doesn't remember the freedom to go wherever, and whenever—gobbling up the miles, wind flowing through hair? SPIN takes a circumspect look at the technology that made this possibility a reality when advances in bicycle design saw the advent of the "safety"—or what is most commonly seen as today's bike—as opposed to the "ordinary" or Penny Farthing. Women embraced this new invention as a revolutionary act. SPIN introduces us to three—Frances Willard, an early suffragette; Amelia Bloomer, for whom the undergarment was named and Annie Londonderry, the first woman to ride solo around the world (in 1895!).
Accompanied by beat-boxing percussionist Brad Hart, Parry weaves fact and conjecture as she exposes her hypothesis, and explains the darker side of the technology—the assembly line (seized upon by Ford for the manufacture of the automobile) and even, advertising and consumerism.  It's delightful, educational and entertaining to follow the careful meanderings of Parry's mind—not one moment is wasted; there is a constant sense of anticipation, waiting for the next nugget to be introduced.  And, when it is, to think "why didn't I know about this?" and "why have I never thought about this before?"  In a short 120 years, the collective erasure of the history of women's rights deserves notice.  Rather than preach, SPIN reveals, ever so gently.
SPIN packs a large amount of information into a 70 minute show; direction by Ruth Madoc-Jones ensures this is accomplished with clarity, flair and showmanship. The Belfry is a small intimate space; technical direction by George Scott provides the audience with an amplified experience that is precise and appropriate for the room.
In a world seemingly overcome by the automobile and threatened by global warming, where cyclists and drivers are often at odds, SPIN is a sober reminder that the personal is indeed political.
SPIN, written and performed by Evalyn Parry
OutSpoke Productions (Toronto, ON)
March 14-18, 2017
Belfry Theatre SPARK Festival, 1291 Gladstone Avenue
Tickets $30 online, in person or by phone 250 385-6835
SPIN is approximately one hour and 10 minutes in length with no intermission.
Featuring Brad Hart, on the bicycle
Director Ruth Madoc-Jones
Video & Projection Design Beth Kates
Technical Director George Scott
Disclaimer: I received complimentary tickets to attend SPIN.