Swan Song and Other Farces at Blue Bridge Repertory Theatre. A review
Swan Song and Other Farces (currently at Blue Bridge Repertory Theatre April 24-May 6, 2018) combines four of Chekhov's short farces into one continuous and riotous ninety minute frolic to begin the company's 10th anniversary season.  Director Jacob Richmond has an unquestionable grasp of the genre, a talent he has honed for over a decade as the founder and one of the main writers and directors behind legendary local cabaret troupe Atomic Vaudeville. Transitions from one story are seamless; they are bound together by an interesting theatrical device—the notion of a travelling troupe of thespians and musicians presenting a series of vignettes to an enthusiastic audience.
Joining him for this merry romp through the Russian countryside and the lives of rural landowners, academics and actors, are long time Atomic Vaudeville collaborators Treena Stubel, Celine Stubel and Rod Peter Jr in addition to RJ Peters, Wes Tritter and petite dynamo Noa Paster with whom he has worked for Blue Bridge.
In his début as Music Director Grayson Walker weaves songs with an Eastern European folk sensibility, arranged for mandolin (Peters), clarinet (Treena Stubel), fiddle and harp (Paster), himself accompanying on the accordion. The music closely follows the storylines—at times jaunty, at others filled with mournful melancholy.  Paster, who played Zuzu in Blue Bridge's radio play It's A Wonderful Life, is, despite her young years, an accomplished musician with a flair for the dramatic. Seated at a toy piano for the opening sequence, her haughty composure and imperious nature had everyone tittering.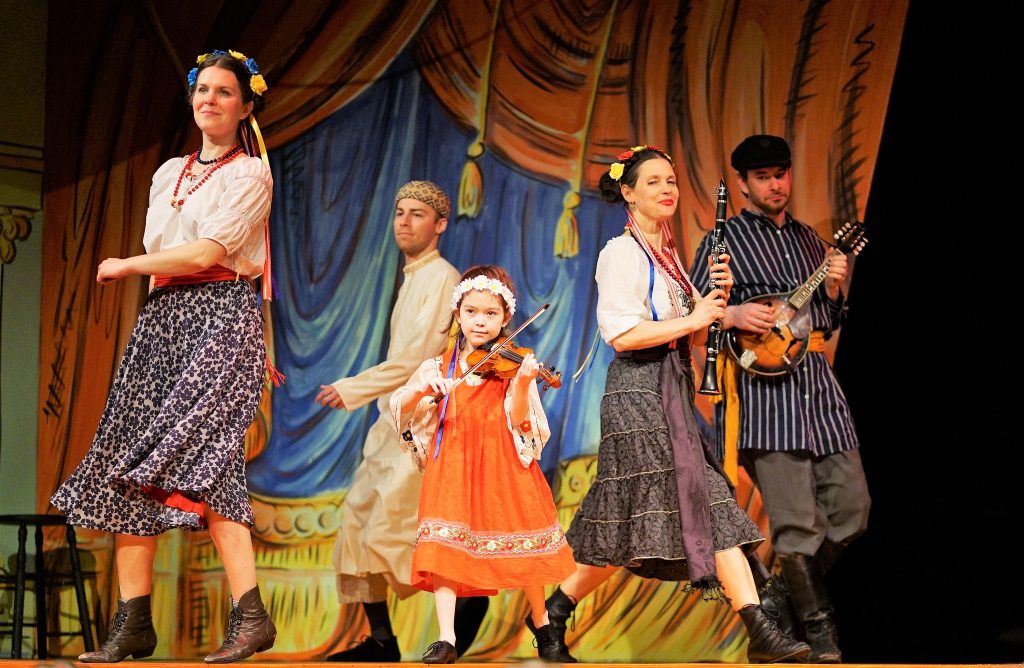 Celine Stubel, Rod Peter Jr, Noa Paster, Treena Stubel and RJ Peters.
Brian Ball's set emphasizes a faded rococo elegance in décor filled with flourishes and curves.  In the muted lighting (Rebekah Johnson) before the show the proscenium arch appears washed in antique blue, shifting to green in daylight.  The backdrop is fanciful and full of rich colour and texture.  Beautiful velvet curtains, manipulated by ropes, curtain the stage. One imagines a theatre slightly past its glory.
For the women, Jacqueline Gilchrist's costumes convey a bohemian chic inspired by folklore, with petticoats, floral crowns, embroidery and lace. The men are rumpled and often constrained by clothing that is ill-fitting and uncomfortable—they claw at tight collars and throw off coats in fits of pique.  This physical representation of emotional state by the manipulation of garments is highly comedic—in On the Dangers of Tobacco, RJ Peters as Ivan Ivanovich Nyuhin stomps on his overcoat in a rage; in The Bear, Treena Stubel as Elena Ivanovna Popova, a widow, sashays and flounces her skirts, throwing her veil on and off as she seduces Gregory Stepanovich Smirnov (Peters).
Richmond has crafted a storyline that entices, beginning with On the Dangers of Tobacco—a lecture that descends into furious indictment—before moving to the high comedy of The Proposal, the exaggerated camp of The Bear and finishing with the sweet poignancy of Swan Song.
The accomplished ensemble doesn't hesitate to dive into the absurdities presented. Peters is splendid as the poor down trodden Ivan spewing vindictive against a wife of thirty-three years in On the Dangers of Tobacco.  Neighbouring landowners Celine Stubel (Natalya) and Rod Peter Jr (Ivan) hurl insults at one in The Proposal. Peter's heart murmur paroxysms and physical comedy are reminiscent of great masters of the genre like Charlie Chaplin and Laurel and Hardy while Stubel is outstanding as Natalya, miffed over a question of land ownership that begins in matter-of-fact fashion to descend into an outrageous shouting match filled with sturm and drang. Even the jolly father Stepan (Wes Tritter) loses his composure in the pitched battle.
From beginning to end, The Bear is outlandish.  Treena Stubel as Elena, a widow, will have nothing to do with the world after the death of her husband. Cossetted by her ancient retainer Luka (Celine Stubel is amazingly rickety and doddering), she at first refuses to meet Gregory (RJ Peters) who has come to claim a debt, then swiftly succumbs to his charms.  The ensuing raunchy and smoldering tango displays incredible feats of balance and dexterity (choreography Treena Stubel).
Wes Tritter as Vassili, the old actor who awakens after the show is over in an empty theatre, closes the evening out with Swan Song, a sweet sad tale filled with regret and verity, as he attempts to justify his life.  His musings hint at the true difficulty of the theatrical life.  Peter is tender and solicitous as Nikita, the prompter. Tritter is triumphant in this role—it's a fine tribute to the profession written by a master with obvious love for those who bring his words to life.
Heralded by warmer weather, spring has finally arrived in Victoria—this light and highly entertaining confection is the perfect theatrical tonic to begin the new season. Above all, Swan Song and Other Farces is fun with a capital F.  Congratulations to Blue Bridge Repertory Theatre on their 10th anniversary.
Swan Song (and other farces) by Anton Chekov, directed by Jacob Richmond
April 24-May 6 2018
Blue Bridge Repertory Theatre at the Roxy (in Quadra Village)
Tickets $ 20- $ 47, online at bluebridgetheatre.ca or in person between 12 and 4 pm Tuesday to Saturday at the Roxy box office (2657 Quadra Street) or by calling 250-385-4462.
Creative Team:
Director Jacob Richmond
Music Director Grayson Walker
Choreographer Treena Stubel
Set Designer Brian Ball
Costume Designer Jacqueline Gilchrist
Lighting Designer Rebekah Johnson
Stage Manager Leah Hiscock
Assistant Stage Manager Kristen Iversen and Svea Türlings
Cast (alphabetically)
Noa Paster
Rod Peter Jr
RJ Peters
Celine Stubel
Treena Stubel
Wes Tritter
Disclaimer: I attended the preview of Swan Song and Other Farces as a guest of Blue Bridge Repertory Theatre.