The Drawer Boy at Blue Bridge Repertory Theatre July 3-15,2018. Cast interview.
First a note—it's draw-er boy, a boy who draws, not drawer boy, a boy in a drawer as I imagined it to be.
"¨Perhaps the most successful play in Canadian theatre history and produced world-wide since its premier (at Theatre Passe Muraille) in 1999, this touching comic drama about Southern Ontario rural life explores the power of storytelling in creating and interpreting reality".
Written by Michael Healey the play is an homage to an earlier theatrical experiment in 1972, The Farm Show, where young theatre students and practitioners descended on Ontario farming heartland to elicit stories from townsfolk and then produce a play. It was early years for Canadian theatre, an exciting time.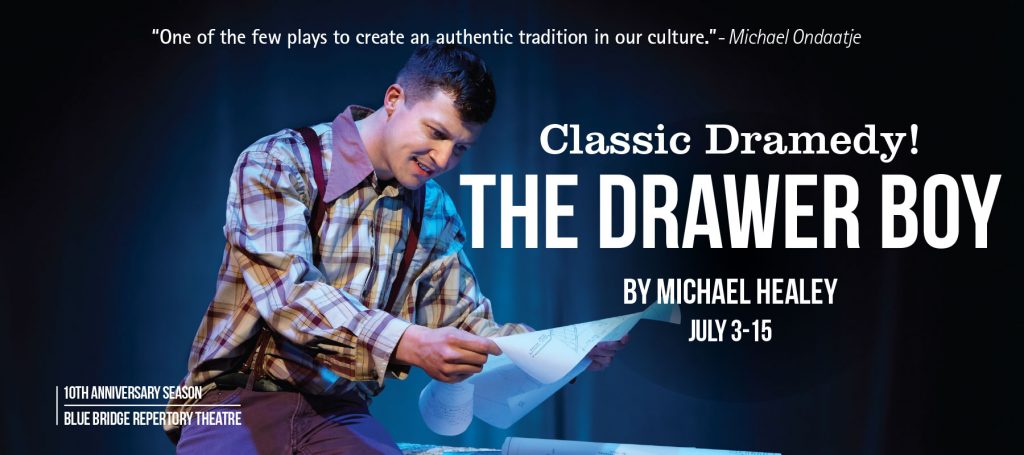 In The Drawer Boy, Miles (Griffin Lea) a young actor, travels to the country to the farm of Morgan (Michael Armstrong) and Angus (Gary Farmer) who have been friends for over thirty years. In the process of interviewing them, he uncovers stories beneath the stories they've been telling themselves.
Armstrong and Farmer have worked together before for Blue Bridge Repertory Theatre, on Of Mice and Men and last season's Our Town.  With a cast of three, it's been possible for the men to build strong relationships as they tackle the significant work of learning the text. Armstrong, who played Dr. Jim Bayliss in All My Sons, came to rehearsals already off-book.  Farmer says "the role of Angus is challenging—he has brain damage from the bombing of London during the war—he's constantly recycling his words, and each time, a little more information is revealed".
As an early career actor, Lea is "in awe of what they (Armstrong and Farmer) bring to the table, how defined their characters were at the outset. When you sit back and watch them work, you can see the thirty-year relationship that the characters have."
For the three actors, it's interesting to observe the character of Miles and how the lines of theatre and life are blurred in The Drawer Boy.  "The layers are peeled back slowly to get to the "true" story" says Lea. "But, in reality, what is truth?  The Drawer Boy is about the impact storytelling can have in our own lives."
Farmer points out that "there are laughs in the script; it's a very character driven script with a rural point of view. It's entertaining as well as moving."
For Armstrong The Drawer Boy brings back many memories of what it meant to be a young actor in the 70s—"doing improv on the sidewalks and other crazy stuff." Farmer adds his memory of "performing with (the illustrious actor) Graeme Greene—the two of us had a piece of blue cloth we had to move up and down, we had to be the river—for James Reaney (one of the grandfathers of Canadian theatre)."  Thereafter whenever they were unhappy with an assigned task the standard line became "I don't want to be the river."
The Drawer Boy is "an intimate story of two men who have had a borderline life—it's a glimpse into farming life, and the life of caregiver to a person with a disability" says Armstrong.
Directed by Jacob Richmond (Swan Songs and Other Farces, the Caretaker, Animal Crackers, Waiting for Godot) with designs by Patricia Reilly, Pauline Stynes and Alex Wasenko, The Drawer Boy previews July 3rd and 4th, opens July 5th and runs to July 15th at Blue Bridge Repertory Theatre at the Roxy in Quadra Village. Tickets through the Box Office.
Come and experience a true classic of Canadian theatre.  The Drawer Boy was recently made into a feature film and performed in conjunction with the film's release at Theatre Passe Muraille in February 2018 to mark the theatre's fiftieth anniversary.
The Drawer Boy by Michael Healey, directed by Jacob Richmond
Blue Bridge Repertory Theatre at the Roxy 2657 Quadra Street (in Quadra Village)
July 3-15, 2108
Tickets: $20 previews, matinees and weekdays $37, First Friday and Saturday of the run $30, Friday and Saturday night $42 online, by phone 250 382 3370 or in person at the box office (Wednesday-Saturday noon-1pm).
Cast:
Michael Armstrong Morgan
Gary Farmer Angus
Griffin Lea Miles
Designed by Patricia Reilly, Pauline Stynes and Alex Wasenko