Our Town by Thornton Wilder at Blue Bridge Repertory Theatre. Interview with Gary Farmer.
When Blue Bridge Artistic Director Brian Richmond set about the mammoth task of assembling the team and cast for Thornton Wilder's sweeping classic Our Town, one of the first people he thought of was veteran First Nations actor, activist and musician Gary Farmer (last seen here as Lenny in Of Mice and Men in 2012) in the demanding role of the Stage Manager who both narrates and engages with the audience to add richness and complexity.  The concept of a narrator who breaks the fourth wall was ground-breaking at the time.
"Gary has incredible emotional power and a stillness than I am thrilled to hear applied to the great words of Wilder" says Richmond.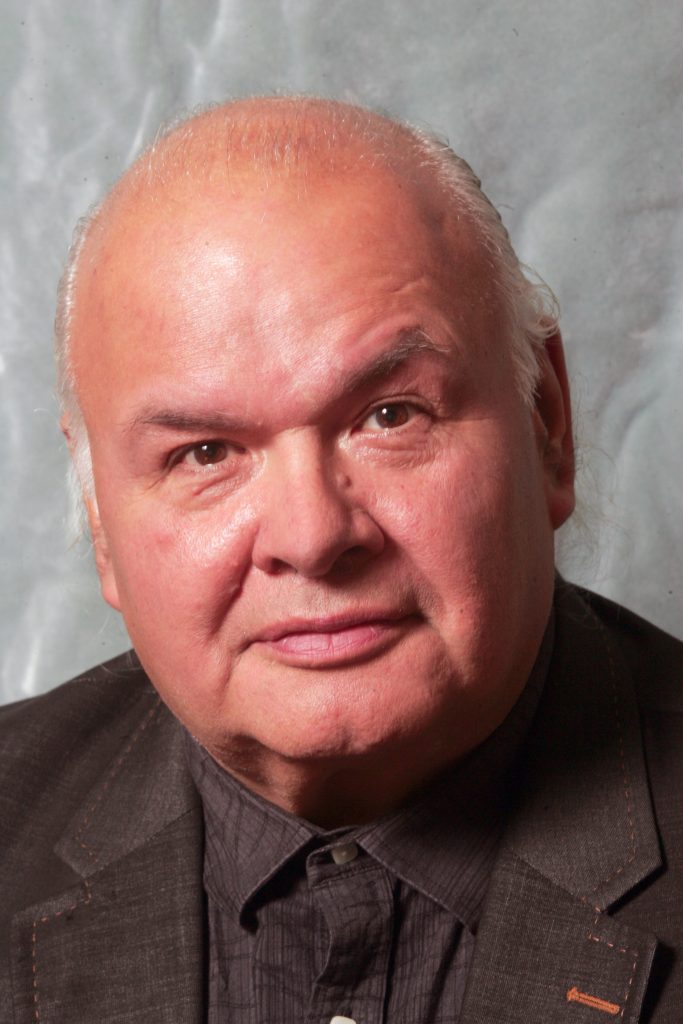 Our Town premiered in 1938 and was awarded the Pulitzer Prize for drama.  The play's focus on the ordinary lives of people has enshrined it in the North American cannon, and its large cast of nineteen characters has made it a mainstay of university, college and community productions.  Victoria audiences are fortunate to see it in a professional production with both veteran and early career performers.
Farmer is well known to mainstream audiences for his role as Nobody opposite Johnny Depp in Jim Jarmusch's iconic film Dead Man, and has appeared in hundreds of films and TV shows.  In addition, he is the founder of Aboriginal Voices magazine and has advocated tirelessly for aboriginal people across North America for decades, helping to launch the Aboriginal Voices Radio Network in 2002.  He was involved in NDWT (the Ne'er Do Well Thespians) from which came Native Earth Performing Arts, Canada's oldest professional Indigenous theatre company (34 years) dedicated to 'creating, developing and producing professional artistic expressions of the Indigenous experience in Canada".
"I've always loved classical theatre, but have often been in the box of 'the Indian guy'" he states.
He brings a unique perspective to the role of Stage Manager. During our interview, he mentions the fact that there is scarcely any acknowledgement of aboriginal people in the script, although the genocide of First Peoples is recounted in the Professor's opening speech.  Farmer says there are several times that an indigenous perspective is reflected—"Wilder has some understanding of the ancestors that are all around us" he states, "and when the Stage Manager says 'It's like what one of those European fellas said: every child born into the world is nature's attempt to make a perfect human being' this is definitely a native point of view; it's ingrained into our culture that a child is the gift of life."
He applauds Blue Bridge Theatre's mission to offer opportunities to early career artists. "It makes it fresh and keeps theatre alive by introducing young artists and young audiences to the scene".
For Farmer, Our Town is "a total snapshot of a hundred years ago and a literary history lesson, providing an understanding of what's gone on before. It's good to look at the past in order to tell into the future".  His role as the Stage Manager is to find the subtext and expose it for the audience, which leads to an even deeper experience.  "There's power in Wilder's simple language; people will be lost in the action and appreciate how well written it is".
Set in the fictional town of Grover's Corners, New Hampshire, Thornton Wilder's classic Our Town is, quite possibly, the most widely produced American play of the 20th century. Chronicling the joys and anguishes of small town life from the cradle to the grave, since its premiere in 1938 this hauntingly poetic celebration of all things human has thrilled audiences the world over. Its simple yet profound message that even apparently insignificant events hold meaning for us all has never failed to move audiences time and time again.
Read more about Our Town http://www.sparknotes.com/lit/ourtown/
Our Town by Thornton Wilder, directed by Brian Richmond
Blue Bridge Repertory Theatre at the Roxy (in Quadra Village)
July 4-16, 2017
Tickets $ 20- $ 42, online at bluebridgetheatre.ca or in person between 12 and 4 pm Tuesday to Saturday at the Roxy box office (2657 Quadra Street) or by calling 250-385-4462.
Directed by Brian Richmond
Music Direction by Sarah Tradewell
Choreography Treena Stubel
Costume and Set Design Patricia Reilly
Lighting Design Giles Hogya
Sound and Projection Design Jason King
Dialect Coaching Iris MacGregor Bannerman
Starring Grace Vukovic as Emily Webb, Julien Bruce as George Gibbs, and Gary Farmer as the Stage Manager; joined by Brian Linds and Cyllene Richmond as Dr. and Mrs. Gibbs; Michael Armstrong and Shauna Baird as Mr. and Mrs. Webb; with Jack Harris Bruce, Julian Cervello,  Ellis Frank,  Sheldon Graham, Malcolm Harvey, Chase Hiebert, Dean Ifill, Jana Morrison,  RJ Peters, Jacob Richmond and Lucy Sharples.