The Prisoner of Second Avenue by Bema Productions January 7-28 2018. A review.
Now in their fourth season, and operating from the community space, turned black box theatre, at Congregation Emanu-El, Bema Productions continues to impress with their insightful interpretations of classic and often little-known comedies, beginning 2018 with The Prisoner of Second Avenue (playing Saturdays and Sundays January 7-28).
Artistic director Zelda Dean may be a more recent transplant to Victoria but her long history in the Calgary arts scene where she founded the city's first professional dinner theatre, commissioning and developing new plays, ensures the highest calibre of work, as Victoria Pick of the Fringe awards and continuous sold-out houses attest.
Dean has a knack for measuring the zeitgeist of her audience.  With close ties to the local Jewish community—her involvement in 2013 with 150th anniversary celebrations led to the eventual creation of Bema—her selections often reflect Jewish (particularly New York) sensibilities. However, there is an undeniable universality to the themes presented.
The Prisoner of Second Avenue is one of Neil Simon's earlier works.  Written in 1971 it has lost none of its punch particularly due to a focus on interpersonal relationships and existential questions.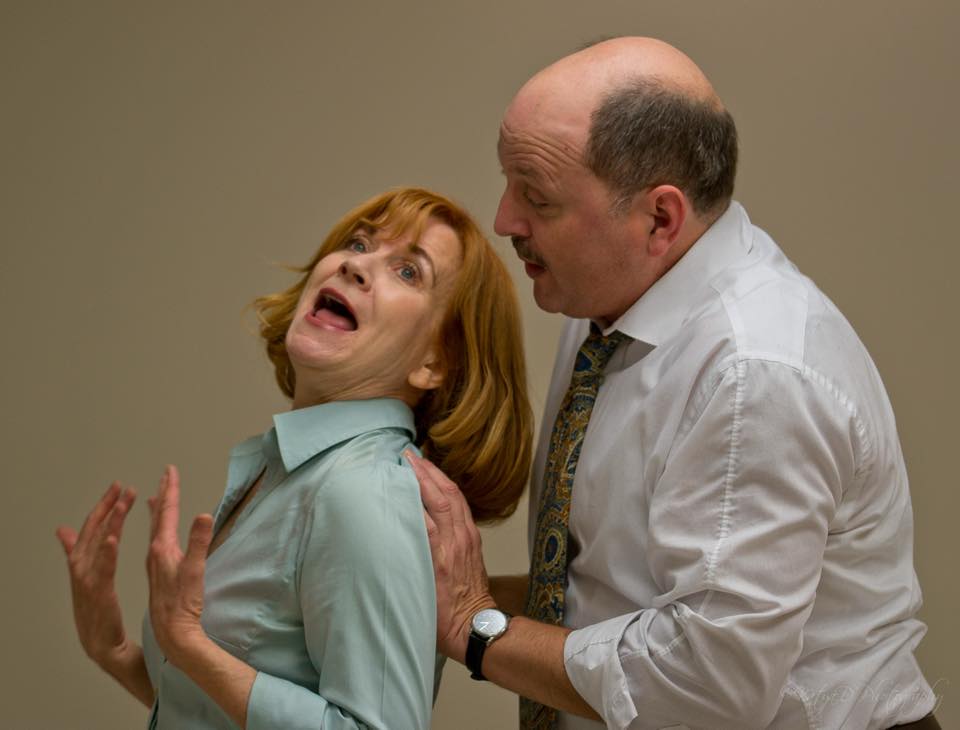 Christine Upright as Edna and Cam Culham as Mel. Photo: Katya Delancey.
Poor Mel (Cam Culham), victim of insomnia and a malfunctioning air conditioner—his bellicose and petulant manner hiding much deeper insecurities.  At 47 during the looming financial crisis he can sense the impending doom of lay-offs.  But, for now, he harangues his loyal and steadfast wife Edna (Christine Upright is a firecracker who never backs down from her husband's hectoring demands), pounds on the wall to silence the partying stewardesses next door, and shouts out his window at barking dogs, incurring the wrath of the building's other residents.
Laughter at Culham and Upright's brisk interplay is borne of sympathy for the situation; as anyone who has paced the floor at night longing for sleep knows, thoughts take on a peculiar crazed direction, inflating the seriousness of the situation.  Upright gives a nuanced performance as the wife who must, at least metaphorically, talk her husband down from a ledge, jollying him along while applying the right amount of pressure to allow him to see the situation for what it is.  Culham, wide-eyed, vacillates between morose and caustic.
When the inevitable pink slip arrives, and Edna returns to work to keep the family afloat, Mel indulges in a breakdown and mopes about the apartment.  Yearning for some assistance with the situation, in the second act she calls in reinforcements—Mel's older siblings, Pearl (Angela Henry), Pauline (Lynda Raino), Jessie (Katya Delancey) and Harry (Michael Rodgers).  As they banter back and forth, clues to Mel's behaviour and long-standing family animosities are revealed.  This foursome knows how to push one another's buttons—a fact any member of a large family is only too familiar with.
Costumes by Merry Hallsor are elegant, crisp and timeless, conveying a sense, particularly for the older siblings, of financial ease.  The visual through line is reinforced by Joyce Kline and Alf Small's sleek, sophisticated set, complete with a Juliet balcony overlooking the courtyard while Chris Rudram's sound design is the epitome of cool city living. In her lighting design Annie Weeks renders beautifully muted middle-of-the-night light and the blue hued radiance of falling snow.
As a director, Dean is masterful at teasing out the human element of situational comedy, and imbuing what could be hackneyed in lesser hands with deep truth and resonance. Upright, a regular of many seasons of Sin City improvised theatre, is particularly nimble.  Culham, often seen playing the buffoon for the Greater Victoria Shakespeare Festival, brings great sensibility and depth to the character of Mel—allowing the audience to identify with a man in full mid-life crisis.
Over 45 years after it was first written, The Prisoner of Second Avenue still contains relevant messages about loyalty and the bedrock of family in an ever-shifting and precarious world.
Mel Edison is a well-paid executive with a high-end Manhattan firm which suddenly hits the skids and Mel gets the ax. His wife Edna takes a job but she's soon sacked. Then he's robbed and his psychiatrist dies, and Mel does the only thing left for him to do – he has a nervous breakdown and it's the best thing that's ever happened to him…. One of Neil Simon's best scripts.
The Prisoner of Second Avenue a comedy by Neil Simon
Bema Productions
Congregation Emanu-El Synagogue, 1461 Blanshard Street
Satuday evenings at 7:30 pm January 13, 20, 27
Sunday matinees at 2:30 pm January 7, 14, 21, 28
Tickets: $20 through Ticket Rocket
http://www.ticketrocket.co/event/details/102642/the-prisoner-of-second-avenue-by-neil-simon
Cast
Cam Culham Mel
Christine Upright Edna
Angela Henry Pearl
Lynda Raino Pauline
Katya Delancey Jessie
Michael Rodgers Harry
Production Team

Zelda Dean Director
Joyce Kline Set Design and Set Dressing
Alf Small Set Design and Construction
Merry Hallsor Costume Design
Annie Weeks Graphic and Lighting Design
Chris Rudram Sound Design
Susan Holtz Stage Manager
Lori Garcia-Meredith Assistant Stage Manager
Sharon Fitch Production Assistant
Frances Aknai Publicity
Paul Hilton Lighting Technician
Amber Woods Properties
Jill Swartz Front of House
Gordon Alexander Set Construction Assistant
Katya Delancey Photography
Disclaimer: I was provided with a complimentary ticket to attend the preview of The Prisoner of Second Avenue.