Horowitz and Mrs Washington by Bema Productions. Victoria Fringe 2017. An interview.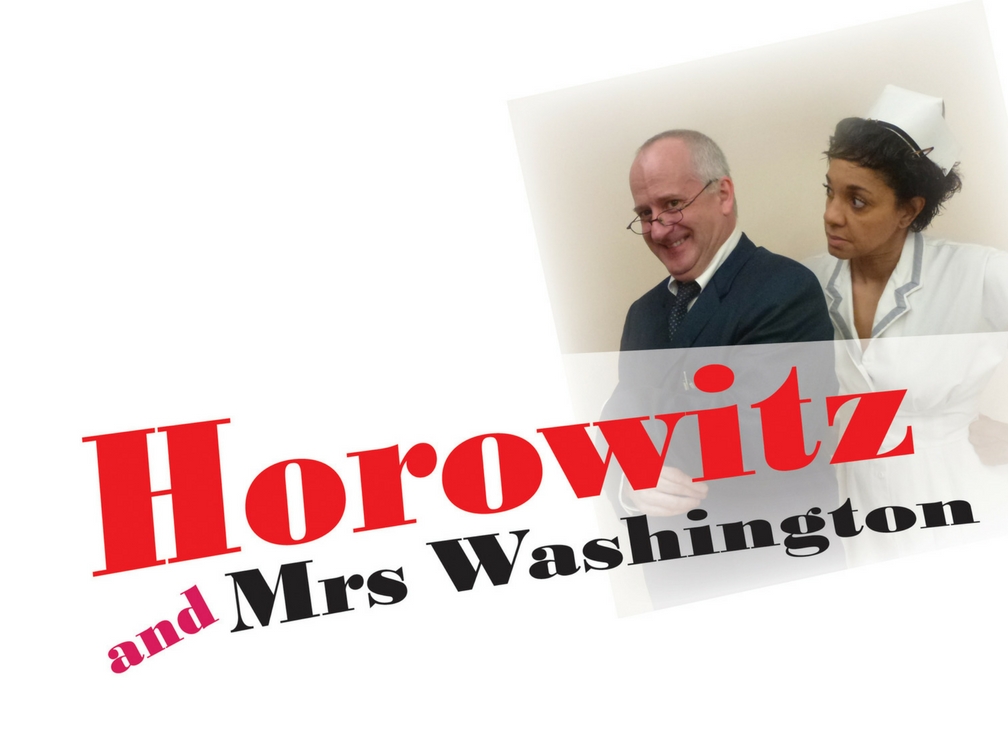 Bema Productions, winners of Best Drama at the 2016 Victoria Fringe for Old Ladies Survival Guide return with another human drama.
How long have you been producing work on the Fringe circuit?  As an artist/company?
Hard to believe I presented a one-woman show in the very first Victoria Fringe Festival.  Guess that makes me really "mature".  This is Bema's third Fringe show.  We started with The Best Meal You Ever Ate and won best drama last year with The Old Ladies Guide to Survival. I guess we are hooked on Fringe.
Have you been (or will you be) taking the show to other Fringes?
We were invited to the Gabriola Theatre Festival and are excited to be schlepping everything there for a performance on August 18th.  Our black box only seats 80 so it will be fun to be performing for over 200 in a great big tent.
Is your show a new work, or has it been performed elsewhere?
I bought this script in the 80's cause I really liked it.  But there was no way I could cast Mrs. Washington at that time in Calgary with its then non-existent diversity.  We are thankfully past those days and I found the very perfect actress to play her right here in Victoria.
Significant awards or accolades? (not just on the Fringe circuit)
I am building a scrap book of wonderful compliments on the work that we are doing at Bema. Folks are not only telling us they like the quality of our shows, but loving what Bema is doing in helping so many charities in town with their fundraising.  Our mainstage show in January is being offered to 8 local non-for-profits to make some money through us.
Can you speak to the creation process of this work?
Horowitz & Mrs. Washington takes place in New York just before the blackout and terrible riots of the 70's.  Most of the folks involved did not really know much about this awful period in NY history and we collectively did lots of research.  Fortunately the cast had not experienced the kind of racism that existed then and it was an emotional journey for everyone to become familiar with it and build it into their characters.  I am Jewish and unfortunately was exposed to too much anti-Semitism for quite a few of my younger years in Alberta.  The cast appreciated me sharing some of these stories to again help them grasp how people acted and felt.  The show also addresses Horowitz's right to decide where he wants to live notwithstanding what his family want him to do.  That topic is still too current.
Who will your show appeal to?
Anyone over 18.
What would you say to entice a potential audience member to come?
They should definitely attend if they like to laugh and also if they would like a peek into a time so different from what we enjoy.
What do you hope to inspire in your audience?
I hope it will inspire our patrons to review their own conceptions and misconceptions and maybe even think about how they will address the wants/needs of aging family
Is there anything I've missed asking you, or that you would like to comment on?
We are a small theatre and seem to be selling out quickly so if you want to see this gem, buy early.
Bema Productions presents
HOROWITZ AND MRS WASHINGTON by Henry Denker
Site B: Congregation Emanu-El, 1461 Blanshard Street, Victoria, BC
Tickets: $11/$9 through Ticket Rocket online or at the door
Duration: 90 minutes
Genre: Comedy
Rating: Adults only
Thursday August 24 – 7 pm
Sunday August 27 – 2 pm
Monday August 28 – 7 pm
Tuesday August 29 – 7 pm
Wednesday August 30 – 7 pm
Thursday August 31 – 7 pm
Sunday September 3 – 2 pm

FACEBOOK https://www.facebook.com/bemaproductionsvic/
https://www.facebook.com/events/235600900292317/
Bema Productions is thrilled to present their third Victoria Fringe Festival production, the comedy "Horowitz and Mrs. Washington" by Henry Denker. Directed by Zelda Dean and Angela Henry.

Performed by David MacPherson, Rosemary Jeffery, Christine Upright, Alf Small, Cole Deo and Graham Croft.

It is the 70s and Mrs. Washington, a black caregiver, is hired to nurse Sam Horowitz, a bigoted old Jewish widower who has been mugged and is a stroke patient. She is a determined tyrant, puts up with his racial attitudes and bullies the insulting Horowitz through rehab and into a stormy but mutually beneficial relationship. When Sam's daughter tries to move him from his home, the two of them must prevail. The play is a period piece reflecting the racial attitudes of the 70s and addresses the struggle many seniors still face in maintaining the right to make their own decisions in their later years.

Horowitz and Mrs. Washington) "The laughter on opening night roared through Broadway . . . at hurricane force." – Time Magazine

(From Door to Door, Fall 2016)

"Once again, Bema Productions illuminates the power to be found in ordinary" lives. – Janis La Couvée

"Congregation Emanu-El delivers a smart, funny play. Many assume good theatre is staged only by established companies. Yet worthwhile art can be found anywhere, as a new production of From Door to Door attests." – Adrian Chamberlain, Times Colonist

Born during Congregation Emanu-el's 2013 Arts Festival, Bema Productions is now in its fourth successful season. Winner of the Best Drama Award at Victoria's 2016 Fringe Festival, Bema believes both in the power of theatre and in helping Victoria's community by supporting other non-profit organizations. To this purpose, Bema offers productions of its main stage play each year to Victoria non-profit groups in support of their fundraising efforts.