The Rocky Horror Show, produced by Atomic Vaudeville, October 18-29, 2017. A review.
The Rocky Horror Show, now in its fourth year (on until October 29th at the Metro Studio Theatre), has become an annual theatrical tradition in Victoria.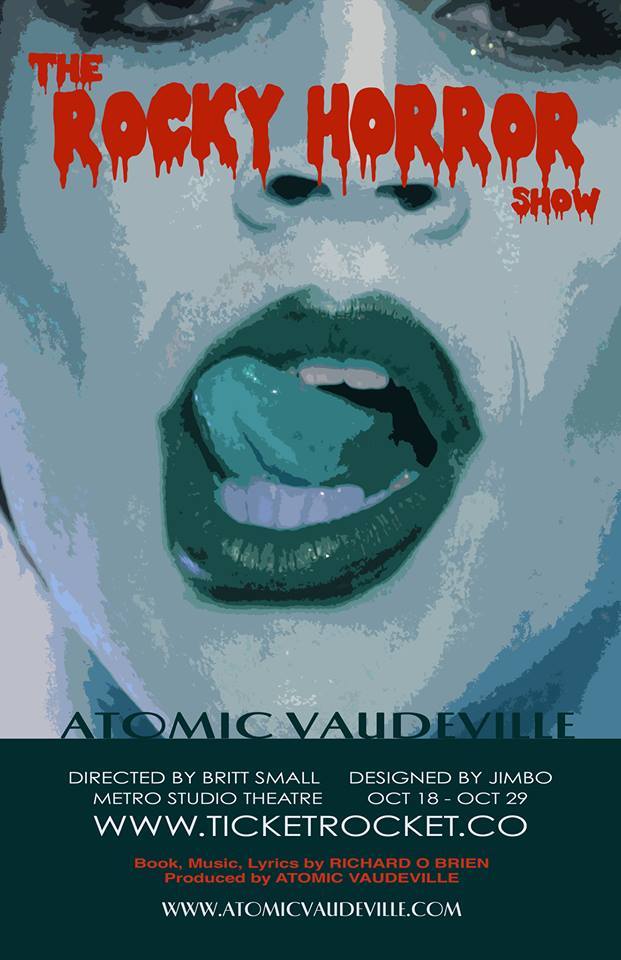 For decades people made a point of travelling to the Roxy Theatre (then a movie house) to view the Rocky Horror Picture Show at midnight on Hallowe'en—many perhaps not even realizing that the musical by Richard O'Brien came first, in 1973.  (Film fans can still get their fix at The Vic Theatre).
After a very successful fundraiser for Kaleidoscope Theatre in 2013, several young artists involved founded RKO Productions and produced The Rocky Horror Show Live in 2014 and 2015, before passing it to Atomic Vaudeville, under the guidance of Britt Small who had directed the RKO shows.
Once again, Griffin Lea takes the stage as a sexy, sultry Frank N' Furter—in a role that seems tailor-made.  Sarah Murphy (also the choreographer) returns as a wide-eyed and naïve Janet Weiss. Joining her as dorky fiancé Brad Majors is Toronto performer Jeff Insell. The juxtaposition of the sweet young lovers with the debauched transvestite is delightful to watch as they move from innocence to awakening under his tutelage.
J McLaughlin as the Narrator rides herd on any potential rowdiness—her years of hosting Logan's Hootenanny and performing with burlesque divas make her the perfect person for stern warnings and suggestive nuances. Menacing clowns are this year's Creeps (Eddi Wilson and Paul Shortt) hiding in the crowd before the show, adding emphasis to the Narrator's speeches and even becoming Brad and Janet's car.
Under the musical direction of John Han, the band (Charles Graham-guitar, Deleina Lloyd-bass, Blair Hansen-drums, Jeff Poynter-keys) rocks, contributing a tight set before the show even begins, and continuing the beat throughout.
With a cast comprised of many Canadian College of Performing Arts alumni, audiences can rest assured that the singing and dancing is top-notch.  The major minions—Riff Raff Amber Landry, Magenta Ingrid Moore, Columbia Madeleine Humeny—are nasty and droll, with sardonic undercurrents sure to guarantee laughs, and powerful voices for the signature Time Warp. Newcomer Michael Wren breaks hearts as the doomed Eddi in a rousing Hot Patootie and returns as Dr Scott.  Gabriel McDonald is a dim-witted but loyal Rocky.
The Phantoms (Alita Powell, Jesse Deutscher, Julie Mombourquette and Emilee Nimetz) slither and slink about, providing wonderful background support with key stylistic moments in Over at the Frankenstein Place and Rose Tint My World.
Designer Jimbo has unified this year's costume designs into a predominantly black and white theme, punctuated with red accents to make the effect pop.  Crazy wigs (Brady Taylor) combine with oodles of lace, crinolines, ruffles and ruffs, corsets and striped stockings.
The set (also Insell) features the signature Rocky arch way—prominent and lascivious mouth–(later used for some wild projections during the seduction scenes) and a lab to make any geek's heart flutter, complete with dials and gadgets galore. Lighting designer Rebekah Johnson plays with fog and shadow to create the spooky, shiver-inducing mood.
Britt Small's direction is fast-paced, campy and humourous, pulling out the nuances between the unsophisticated youngsters and the decadent Frank N' Furter, producing a show that is bawdy and filled with the bravado fans have come to expect.
As it gets closer and closer to Hallowe'en theatre goers are sure to embrace the ethos of the occasion, donning their best Rocky attire of fish nets, corsets and cut-away coats.  Official prop bags are available for purchase (no outside props are allowed).
For a fun night out you can't go wrong with The Rocky Horror Show Live.
Please note: This production ends October 29th.  For further Hallowe'en fun, be sure to check out Atomic Vaudeville's Hallowe'en Cabaret: Gimme Back My Haircut at the Victoria Event Centre (October 27/28/31).
Newly engaged sweethearts Brad and Janet become stranded with a flat tire during a storm – their only ray of light coming from the mansion of mad scientist Dr. Frank-N-Furter. As their innocence is tested, they meet a houseful of wild characters. Directed by Atomic Vaudeville's Britt Small, and featuring some of Victoria's best performance and design talent, this show is a high energy cult-classic that has to be experienced.
The Rocky Horror Show by Richard O'Brien, directed by Britt Small
Presented by Atomic Vaudeville
October 18-29, 2016 NOTE:  There is NO Hallowe'en show
Metro Studio Theatre (Quadra at Johnson)
Tickets $32 and $37 with prop kit via Ticket Rocket online, in person (101-804 Broughton Street Mon-Friday 10am-5pm) or by phone (250) 590-6291
Please note:
No cell phones, no recording, no outside props, no throwing props at the stage.
Failure to comply will result in immediate removal from the theatre.
References and further reading:
Rocky Horror Show script and lyrics http://www.rockymusic.org/showdoc/rhs-1999-script.php
Rocky Horror Show costume information http://www.rockyhorrorcostumelist.info/
Disclaimer: I was graciously provided a complimentary ticket to attend The Rocky Horror Show.