The Secrets of Naming Clouds Intrepid Theatre Uno Fest 2017. Interview with Kerri Flanagan.
What sparked the creation of this show?
I heard a radio program about a symbol-based language, Blissymbols, and the utopic inspirations of the man, Charles Bliss, who created this language. Growing up in my family we used a symbol-based language to communicate with my sibling, Heather, who mostly communicates non-verbally. I heard this radio program and thought that these Blissymbols were the symbols we had used in my family and this began an exploration to find out if we had used these symbols and what exactly there utopic potential was, and generally thinking about idealizations about communication and language, were what became the catalysts for this performance.
Formally, I come from a background in making stop-motion animation, and writing stories and had done a few performative lectures in the past when I collaborated with a friend and dancer, Claire Lyke, for a performance at the Buddies in Bad Times Theatre in Toronto. Claire told me she wanted to collaborate by dancing with my projections, and so we created large white cut-outs for her to interact with my projections. I got really into these live interactions with the videos, and started to myself also experiment with performing with them, and this performance is the first result of this process.
 Is this your first one person show?
I have performed one-person shows before in the context of performative lectures, mostly in spaces like artist-run centers. I would be behind the scenes narrating and projecting animations that I had made. This is my first one-person show where I am actually physically present in the performance.
When did you debut the show (or is this its debut), and how has it changed since the debut?
This is the debut show.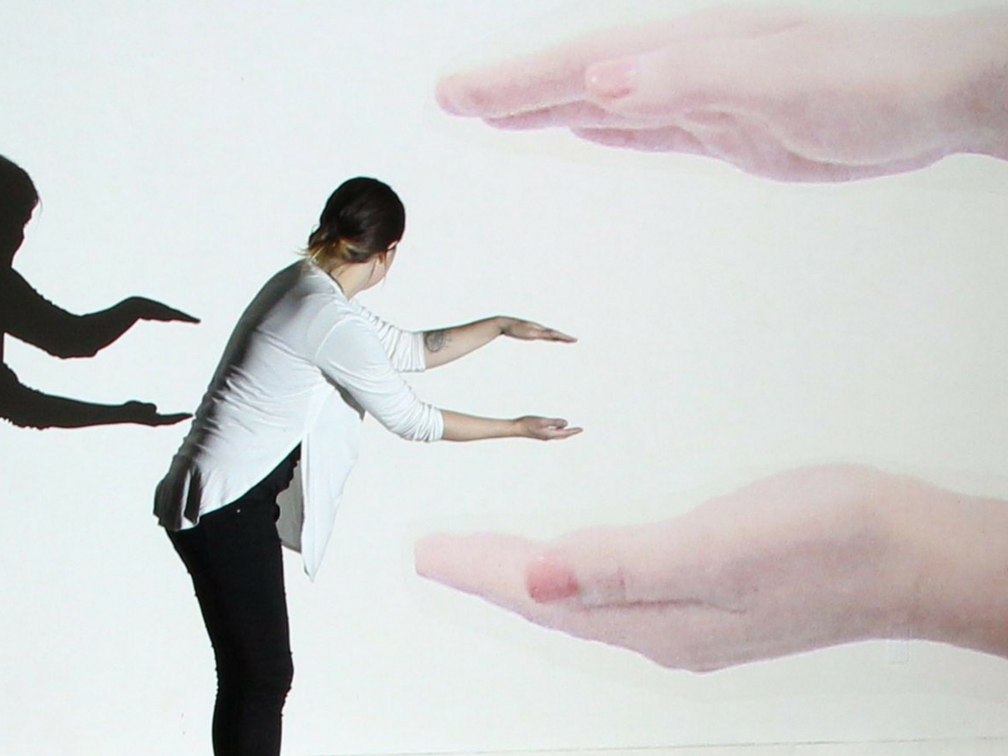 Can you comment on the design aspect of your show, its aesthetic?
In this performance I use my body as a cut-out, I narrate, dance, operate equipment and re-arrange the 'stage' collapsing roles between front and back stage, performer and technician. I use video, animated images, drawings and performance to investigate the narratives within the performance. These experimentations will collage various forms of found and original imagery, simple drawings and shadow/light. Props such as paper, rolls of paper, sheets, and mirrors are used improvisionally in the performance in order to draw out, activate and play with aspects of the video projection.
The sound for this performance was developed by Saturniid. Saturniid is a project by my talented friends in Montreal Estraven Lupino-Smith and James Goddard.
https://www.youtube.com/watch?v=3skETmocFig
What do you hope to inspire in your audience?
I hope to be able to engage with audience members around idealizations around communication, all the things we hope language can do and the many ways that language lets us down, looking at spoken language, symbol-based language and body language. I do this through exploring my own coming of age longings as a shy/introverted person to communicate more openly both in and outside of my family, and through looking at constructed languages. I research Blissymbols, a language where creator Charles Bliss believed he could create world peace by eliminating miscommunication through his symbol-based language, and Láadan, a feminist language created by science fiction author Suzette Elgin designed to eradicate the patriarchy.
Another exploration of the performance is reflections on my own coming of age experiences of sexuality and grappling with matters of language and consent and rape culture. When I was writing this performance I was really affected by the sheer volume of people publicly telling their stories about sexual assault, such as all the women who came forward against Jian Ghomeshi, or like Emma Sulkowicz, a Columbia university student, who created a protest/performance where she carried her mattress around (Carry That Weight) in a much publicized art piece about rape, to the conversations I had been having with my own friends as well. And some of the stories and themes that emerge in this performance are my attempt to contribute to these conversations as well.
Who will be interested as a potential audience member?  What would you say to entice someone to come?
I would say anyone interested in experimental video and projection, and/or anyone interested in the themes around communication, constructed languages, body language, consent, and family of origin dynamics.
What's next?
I will be continuing to live in Victoria, doing support work, singing in choir and organizing with the Ministry of Casual Living. My upcoming projects are a six-month residency at Open Space starting in July developing new work and workshops, a stop-motion animation workshop at the Vancouver Island School of Art, also in July, and continuing to develop a new performance, Blue Crush.
Significant accolades or awards?
I have received funding from BC, Quebec, and Canada Council.
At UVic I received a SSHRC grant to help develop this work.
Last year I was runner-up for the Philip B. Lind award.
I was Montréal Exozine's Best English Zine recipient in 2011 and 2014.
Is there anything I haven't asked you that it would be important to know?
This work was developed during my MFA at UVic.
This work was developed as part of Project M45 a two-year interdisciplinary writers unit at Playwrights' Workshop Montreal. I also worked with Sarah Elkashef (who was coordinating this unit) as a dramaturge.
Project M45 – http://www.projectm45.com/dramaturgy/
Would you also like to comment on your new video-based performance work, Blue Crush, which premieres this summer in Victoria?
Blue Crush is a new work in progress that I am currently at a residence at the Klondike Institute of Art and Culture developing this work. I will be debuting a 10-20 minute excerpt this summer in Victoria and Toronto. I hope to have the full-length performance developed for the following summer of 2018.
In Blue Crush I continue to pursue my interest in exploring forms of non-verbal communication, silence and bodily communication. This performance will explore themes of metamorphoses that result in people losing their voice, both metaphorically and in actuality; I look at transformations found in mythology, in 20th century aquatic musicals and in personal narratives.
The Secrets of Naming Clouds is a performance accompanied by moving image work, projections, sound and live-narration. Kerri Flannigan's creation draws on utopic universal languages such as Blissymbols, an 'anti-word' language designed to eradicate miscommunication and Láadan, a feminist language created to end patriarchy. These idealized forms of communication are interwoven with coming of age stories; home videos and choreographed dances, dating bans, classroom conversations on consent, teen-girl vigilantes and a family trip to LA in pursuit of minor celebrity Adam Sessler, Kerri's sister's crush.
The Secrets of Naming Clouds created and performed by Kerri Flanagan
May 25 at 7pm and May 27th at 4:30pm
Intrepid Theatre Club, #2-1609 Blanshard Street (at Fisgard)
Tickets $18 via Ticket Rocket online, by phone at 1-855-842-7575, or in person at 101-804 Broughton Street.
May 25th is Pay What You Can