The Tempest at the Greater Victoria Shakespeare Festival 2018. A review.
Under a lowering sky, brimming with the promise of pent-up rain, a feral being (an impressive Trevor Hinton as Caliban), clothed in rags and tatters, galumphs across a dry and rocky landscape—then, quickly seizing upon a small furry creature, proceeds to kill and eat it—raw. Welcome to The Tempest at the Greater Victoria Shakespeare Festival.
Director Chelsea Haberlin returns to her roots in this wondrous adaptation of one of Shakespeare's most-oft performed plays (three times alone before this at the festval). While still a student at the University of Victoria, she and partner Sebastien Archibald created Itsazoo Productions and adapted fairy tales to be performed outdoors in Victoria's many parks.  Familiar with the vast expanse of Mount Doug, the transition to Camosun College's knolls, hillocks and grassy fields was an easy one. In a twinkling, the audience can conjure Prospera's island in their mind's eye.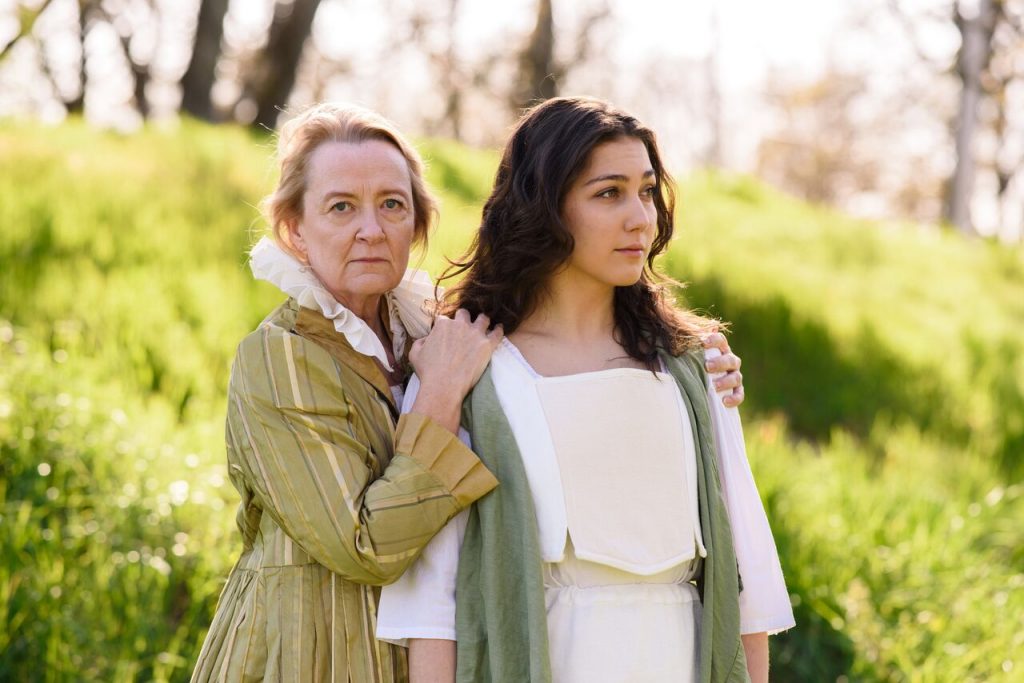 Wendy Magahay as Prospera and Nicole Bartosinski as Miranda. Photo: Lara Eichhorn.
As a furious storm breaks the chorus struggles mightily with sails in an effort to save a ship carrying a small compliment of fine gentlemen—their station discernible from their rich clothing with elaborate ruffs, feathered caps, breeches and great coats (costume design Carole Klemm). Who they are will only be revealed later.  Pitched to the deck and upended, on the advice of the Boatswain (Ted Angeo Ngkaion) the company abandons ship, each to his own devices. The keening effect of violin (Finn Letourneau) and bold pounding of drum (Hilary Wheeler) creates cacophony and uncertainty.
From shore Prospera (Wendy Magahay) and her daughter (Nicole Bartosinski) observe the sea's fury and ponder the fate of the men.  Slowly Prospera narrates the story of how they came to this desolate place, and how her enemies—Alonso, King of Naples (Richard Stroh), his brother Sebastian (Mary Van den Bossche), lord Antonio (Frankie Mulder)—came within her grasp. How will she exact her revenge?
Magahay imbues the character of Prospera with a sense of deep and deliberate calm; she is as capable of great and tender love towards her cherished daughter—the interactions between the two filled with an exceptional sweetness— as potent fury towards those who have wronged her, or her underling, Caliban.  The role requires a strong ability to narrate and weave, not only spells, but stories—painting clear pictures for the audience who hangs on every word to understand the convoluted plot points.
As mentioned in my Pericles review, the strength of the Greater Victoria Shakespeare Festival shows over the years since forming the repertory company is in the clarity of speech, the complete understanding of the Shakespearean language which allows actors to fully embody it, making Elizabethan vernacular as natural as today's. This is absolutely crucial for plays with long stretches of exposition.  Judicious trimming of the text makes for a story that moves along quickly, yet allows for delicious surprises like the bawdy and drunken scenes between Stephano (Taylor Lewis) a butler, Trinculo the jester (Daniel Saretsky) and Caliban.  Lewis, an Atomic Vaudeville regular, has the habit of playing outrageous characters and brings all his comedic skills to the role—balanced with the peevishness of Saretsky and the incredulity and posturing of Hinton their interactions provoked unrestrained laughter.
Hinton, with his superb physical conditioning and agility, is a commanding presence as he vacillates between defiance of his master Prospera and abject grief at his loss—dethroned from ownership of the island by the latter.  Whether standing his ground or slavering at the feet of Lewis who he imagines to be a great lord, there is a compelling electricity that emanates from him.
Likewise, Lara Hamburg impresses with her quick and nimble interpretation of the spirit Ariel—her zest for life and desire to please evident in the bounce to her step and speedy arrivals and exits, signalled by signature tunes on the violin (Finn Letourneau) and flute (Grace Martin). Despite being bound to Prospera in recompense for having been rescued from a spell, she is eager and willing to accomplish everything set before her.
No tale is complete without love—here the young Ferdinand (Douglas Peerless), son and heir to Alonso, is separated from the others, to wash up alone on the shore where Miranda watches—amazed, having only known her mother.  Smitten one with the other, the romance that develops is pure innocence—Peerless and Bartosinski are bewitching to watch as their mutual attraction erupts.
The nobles are quickly revealed for their true characters—Alonso inconsolable over the loss of his son and regretful over the role he played in Prospera's overthrow, Antonio and Sebastian greedy and power-hungry.  Only the good and faithful Gonzalo is spared from approbation.
A chorus of the island's spirits bedevils the men; in a powerful scene filled with thunder, noise and amplified voice, Ariel appears as a ferocious harpy.  The young company (William Gao, Grace Martin, Olivia Macdonald, Kai Merriam, Emil Mogenson, Juliana Monk, Ted Angeo Ngkaion) is used to terrifying effect—jerky movements signalling the other-world nature of their beings, vicious barking provoking fear. Here again, as in Prospera's cloak, Klemm's costuming skills create magic.
Eventually, after much bedevilment, Prospera has a profound change of heart, abandoning vengeance for forgiveness.  The Boatswain, asleep during the entire proceedings, returns as the story concludes.  It remains for Prospera to plead for the goodwill of the audience.
All the breadth and range of human emotion is contained in The Tempest—Haberlin has, with discernment, shaped a story that is clear for everyone, whether new to Shakespeare's work or fervent fan.  Accessible and detailed, filled with magic, power and marvel, this Tempest is sure to please—Prospera can rest easy.
Further reading:
http://www.sparknotes.com/shakespeare/tempest/
After twelve years of exile on a remote island, Prospera, a powerful sorceress and once Duchess of Milan, brings her enemies – including schemers, bumbling clowns, old friends and new love — to the isle with a mighty storm. What revenge will she take? The Tempest, Shakespeare's last play, is a stirring fairy tale about vengeance, the power of love, and the quest for forgiveness.

This production is suitable for the whole family!
The Tempest, directed by Chelsea Haberlin
Greater Victoria Shakespeare Festival
Lansdowne campus of Camosun College, parking lot P1 ($3.50) off Lansdowne
July 5th-28th
Wednesday & Friday @ 7:30pm and Saturday @ 1:30pm
Tickets are $26, and $21 for students and seniors 65+. Festival passes are available. Children 12 and under are free.
Special performances of The Tempest at Saxe Point Park in Esquimalt, August 2nd-4th
Creative team:
Chelsea Haberlin* Director, The Tempest
Carole Klemm Production Designer
Emily Lindstrom Production Stage Manager
Carolyn Moon Production Coordinator
Colleen Blunt Costume Team Leader
Frankie Mulder Assistant Director, Pericles
Cierrah Gibbs Assistant Stage Manager
Finn Letourneau Music Director
Nicole Bartosinski Movement Director
Siena Shepard Lighting Design
Cast:
Nicole Bartosinski Miranda
Cam Culham Gonzalo
William Gao Mariner/Spirit
Wendy Magahay Prospera
Lara Hamburg Ariel
Trevor Hinton* Caliban
Finn Letourneau Violin/Spirit
Taylor Lewis Stephano
Grace Martin Nymph/Mariner/Spirit/Flute
Olivia Macdonald Ceres/Mariner/Spirit
Kai Merriam Cerimon/Ensemble
Emil Mogenson Iris/Mariner/Spirit
Juliana Monk Nymph/Mariner/Spirit
Frankie Mulder Antonio
Ted Angeo Ngkaion Boatswain/Juno/Spirit
Douglas Peerless Ferdinand
Daniel Saretsky Trinculo
Richard Stroh* Alonso
Mary Van Den Bossche Sebastian
Hilary Wheeler Percussion/Spirit
*The participation of this Artist is arranged by the permission of Canadian Actors' Equity Association under the provisions of the Dance Opera Theatre Policy.
Festival staff:
Karen Lee Pickett Artistic Director
Brian Quakenbush General Manager
Candace Woodland General Manager
Cierrah Gibbs Assistant Producer
Holly Lam Front of House Manager, Volunteer Coordinator
Liam Volke Box Office Assistant
Kierra Moseman Production Assistant
Disclaimer: I was offered a complimentary ticket to attend the preview of The Tempest.