This Is Not A Conversation at the Belfry Theatre SPARK Festival 2017. A review.
Not a conversation—rather, a theatrical exploration—and, an uncomfortable one, at that. What happens when two people—one an Israeli-Canadian, the other, a Kuwaiti-Lebanese-Canadian whose family is part of the Palestinian diaspora initiated in 1948—begin to explore their mutual heritage, to ask the uncomfortable questions about land, race, ethnicity, religion and personal experience? The result is a riveting 60 minutes that educates, entertains and then circles back to put the focus on the Canadian audience.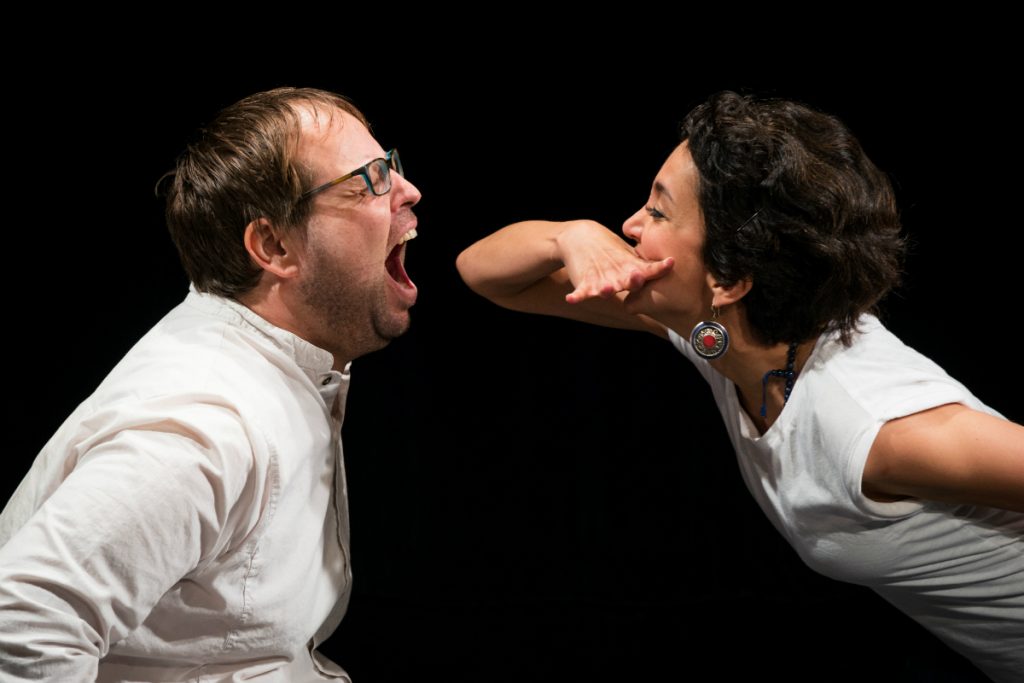 Itai Erdal and Dima Alansari. Photo: Natasha Wheatley
Itai Erdal (How to Disappear Completely) is a well-respected lighting designer and actor, founder of The Elbow Theatre; Dima Alansari is a performer and media artist.  Beginning with wordless physical movements—clearly those of children—Erdal and Alansari segue to the retelling of dreams, trying to ponder their meaning, and then begin "the game"—wherein they ask one another a series of questions, scripted and improvised, –"true or false", "on a scale of 1 to 10". Some are easy—"tea or coffee?" and many more, disquieting—"Osama bin Laden or Saddam Hussein?" As they seek clarification of the answers from one another, details are slowly revealed.  Despite the fact they didn't know one another before beginning this project (the original idea is Erdal's) this slow unravelling demonstrates how closely they are connected—heart-breakingly so in many cases.
The movement sequences, repeated several times throughout—silent, with words in Arabic and Hebrew, then finally in English—provide structure to the narrative, and, by the slow unfolding explanation, destabilize the audience to some extent.  The very fact the meaning is unclear can be seen as a metaphor for the situation in Israel. The territory is murky, the two actors try to come to some understanding, with a clear conclusion remaining illusive.
Set in the black box space of the Belfry's Studio A, with audience on two sides at stage level, the production has, at times, a sense of magical realism—the sound design (Jeremy Therrien) evokes the freedom of childhood explorations—waves lapping on the shore, birds twittering gently—while lighting design by Erdal is by turns dreamlike and harsh (as if under an unrelenting desert sun). Under the direction of Ker Wells, Alansari and Erdal give performances that are often naturalistic—as if two friends in conversation—before taking on characters (especially evident in the scenes where they imagine themselves, alternatively, as soldiers and citizens at a check point).
The shift to questions about Canada is profoundly unsettling—as an outsider to the central conflict between Israel and Palestine, it is definitely easier to sit in judgement, or ignorance, but when people who have immigrated begin to avow their status as settlers, and recognize Canada as a colonial power, the focus crystallizes.  There is much to think about in This Is Not A Conversation and the questions are likely to nag at a perceptive audience for a very long time.  Theatre can be more than distraction and entertainment—This Is Not A Conversation is a bold reminder.
This Is Not A Conversation by Itai Erdal, Dima Alansari and Ker Wells
The Elbow Theatre (Vancouver, BC) in collaboration with Salish Sea Productions and Hopscotch
Belfry Theatre SPARK Festival, 1291 Gladstone Avenue
March 14-19, 2017
Tickets: $30, online, in person or by phone

This Is Not A Conversation is approximately 70 minutes in length with no intermission.
Creator/Performer/Lighting Designer             Itai Erdal
Creator/Performer                                           Dima Alansari
Creator/Director                                              Ker Wells
Sound Designer                                              Jeremy Therrien
Stage Manager                                                Jethelo Cabilete
Disclaimer: I received a complimentary ticket to attend This Is Not A Conversation.