Alice vs Wonderland. Blue Bridge at the Roxy November 25-December 14, 2014. A review.
Whether you are familiar with the 1951 Disney animated version of Alice in Wonderland or Alice Through The Looking Glass adapted by Canadian playwright James Reaney in 1994, and staged again to avid audiences at the Stratford Festival this summer—you'll be surprised at Blue Bridge Repertory Theatre's fresh take—which owes much to the aesthetic of music videos and is based on Brendan Shea's script, originally performed at the American Repertory Theatre in 2010—on this classic of children's literature.
It's important to remember that the Alice adventures (In Wonderland, Through the Looking Glass) are nonsensical to the highest degree. Rather than expecting a logical story arc, audiences are encouraged to view Alice vs Wonderland scene by scene, and surrender to the delights the talented design team and enthusiastic actors and musicians—many of them teens themselves, thanks to an innovative alliance Artistic Director Brian Richmond has formed with the independent learning network Self Design—have prepared.
Billed as "Lewis Carroll meets Lady Gaga", this re-mix borrows heavily from current pop-culture and sets Alice (Grace Vukovic-last seen in Gaslight) as a You Tube star in her mid-teens.  Her counter-part, Mary Ann (Molly Lydon), lives in Wonderland, and toils at the Wonderland Café, with a Rabbit (Shauna Baird) for boss, while yearning to trade places with Alice. Director Sara-Jeanne Hosie (who also choreographed the up-tempo dance numbers) imagines the "rabbit hole" as the world of the internet where not all is as it seems, and anyone can have multiple identities.  This device works well with the multiple Alices envisioned by the playwright (6 in the original version and 7 here).
Against Brian Ball's set—a blank canvas of futurist geodesic domes—Bryan Kenney (lighting and projections) paints improbable and fantastical worlds—with some visual highlights being Alice's encounters with the Black Dahlia (Gabrielle Rutman)—in an exuberant garden laden with jungle-like foliage—, and the Red Queen (Jacob Richmond)—as the white roses transform to red, thanks to a red sweat-suited crew of graffiti artists (Shauna Baird, Amy Martin, Gabrielle Rutman). Costumes (also by Ball) are contemporary for the young women (each Alice is a slight variation of the "original"), and gorgeously zany for the storybook characters. There was loud laughter for the hippie-inspired take on the scene with the smoking Caterpillars (Jacob Richmond, Shauna Baird, Khalil Tuff, Molly Lydon, Amy Martin, Gabrielle Rutman).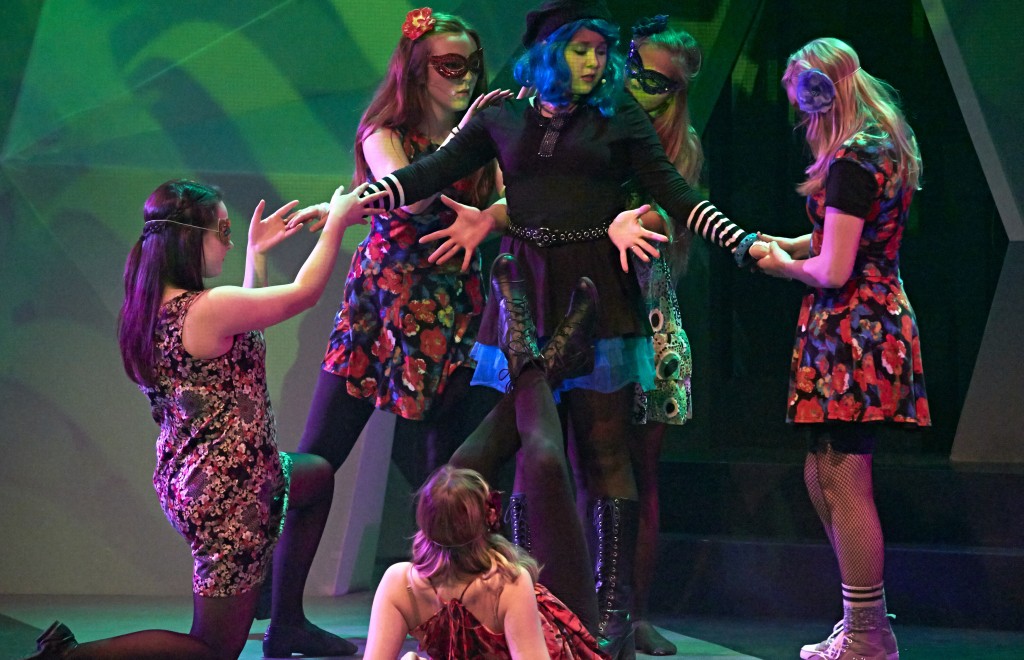 The Cast of Alice. Photo: Ilijc Albanese
Careening from adventure to adventure Alice drinks the potion, eats the cake, and sets off in search of herself—encountering along the way, all the characters made famous by Carroll's books—the Rabbit, Doormouse, Red Queen, White Rabbit, Tweedle Dee and Tweedle Dum, King of Hearts, Caterpillar, Cheshire Cat, March Hare and Mad Hatter.
These vignettes are punctuated and interspersed with popular songs that speak of love, longing and a desire to find oneself, and will surely resonate with a younger audience.  Although completely unknown to this reviewer, they nevertheless capture the familiar angst of teenage years, and are expertly sung by the young actors, all of whom have years of vocal (and stage) training.
Hidden in plain view, centre stage behind the set, the band (Cale Penny, Evan Hillier, Dougal McLean and Ryan Steel) is in fine form. Congratulations to music director Kale Penny and technicians, working with the confines of a space that can be challenging acoustically—the sound levels for this production were perfect to my ears.
Humourous moments abound—trash-talking tough guys Tweedledee (Kevin Kruchkywich) and Tweedledum (Jacob Richmond), a lisping White Knight (Kruchkywich), Jacob Richmond as the Red Queen—channelling Miley Cyrus, a dyspeptic Door Mouse (Khalil Tuff) tumbling out of a shopping cart.
The affirming grand finale sees the Alices reunited to proclaim in song, "I want to stand out, I want to be real".  Perhaps that's the enduring charm inherent in this story, for isn't it what we all want, regardless of our age?
Alice vs Wonderland by Brendan Shea,
Directed and choreographed by Sara-Jeanne Hosie, with Sylvia Hosie
Blue Bridge Repertory Theatre (at the Roxy in Quadra Village)
November 25-December 14, 2014
Tickets: $20-$45 through Ticket Rocket, online, in-person (#2-1691 Blanshard St at Fisgard) or by phone 250 590 6291.
Special pricing for students and children.
Creative
Director/Choreographer Sara-Jeanne Hosie
Assistant to the Director/Choreographer Sylvia Hosie
Music Director/Piano/Guitar Kale Penny
Set/Costume Design Brian Ball
Lighting/Projection Design Bryan Kenney
Stage Manager Rebecca Marchand
Assistant Stage Manager Drew May
Cast
Molly Lydon Mary Ann, Caterpillar 1
Grace Vukovi Alice 1, Alice 4
Shauna Baird White Rabbit, Caterpillar 1, Two of Hearts
Amy Martin Door1, Duck, Caterpillar 2, Five of Hearts
Gabrielle Rutman Door 2, Black Dahlia, Lory, Caterpillar 1, Seven of Hearts
Khalil Tuff Door 3, Door Mouse, Pat, Caterpillar 2, King of Hearts
Zoe Maloughey Alice 1, Alice 2
Jacob Richmond Dodo, Caterpillar 2, Queen of Hearts, March Hare, Tweedledum
Kevin Kruchkywich Mouse, Tweedledee, Mad Hatter, White Knight
Angelina Robertson Alice 3
Josie Tamburri Alice 3/Dance Captain
Tayler Avery Guy Alice 5
Brooke Turner Alice 6
Band
Drums Evan Hillier
Guitar Dougal McLean
Bass Ryan Steel
Further reading:
Brendan Shea's notes on Alice vs Wonderland
http://americanrepertorytheater.org/inside/articles/alice-vs-wonderland-program-authors-note
 Disclaimer: I was graciously provided with a complimentary ticket to Alice vs Wonderland.