Alice's Gift by Elisabeth Wagner, November 3-12, 2016. A review.
Taking 110 years of a person's life and distilling them into a fascinating solo show complete with musical interludes is a daunting task—one that Elisabeth Wagner has accomplished with quiet flair and brio.
Alice Herz-Sommer, who passed away in 2014, was the world's oldest Holocaust survivor—an accomplished concert pianist who survived Theresienstadt concentration camp with her signature cheery optimism intact.
I was first introduced to Wagner at Voices From the Four Directions—celebrating the poetry and music of Dr. Stanley K Freiberg.  This salon-style evening—at which she sang–reminded me of the European salons of days gone by—a cultural event not often found in contemporary Victoria.  Then I learned that Wagner, the founder of Bell'Arte Music Drama, was also an accomplished playwright—having written several "musical dramas" in her own inimitable style, capturing the essence of a person and the music they either wrote or played.  (See the list of works in the footnotes).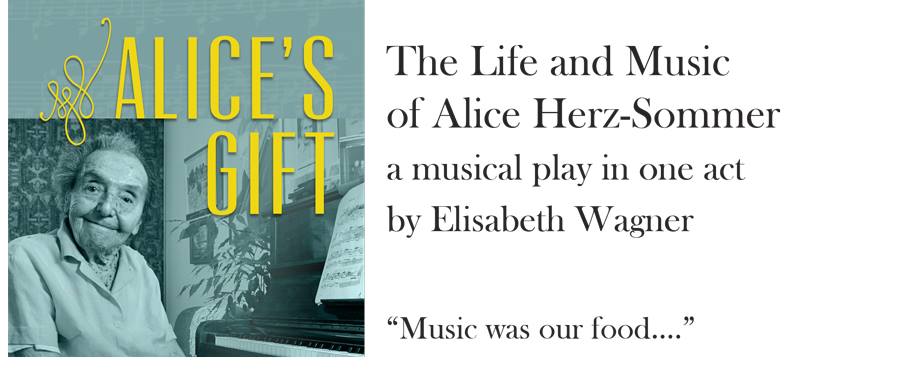 Alice's Gift (November 3-12 at the Paul Phillips Hall, 1923 Fernwood Road) is the result of two years of concentrated effort that also included director and dramaturg Kate Rubin. Along the way they recruited Lina de Guevera–respected teacher, storyteller and founder of Puente Theatre—for a return to the stage.
De Guevera shares personal attributes with Herz-Sommer—her enthusiasm for life and new projects is contagious; retirement from Puente Theatre has not slowed her down.  I can think of no better person to play Alice—there's a sense of mischief and indomitability that is quite simply infectious.
Sitting in her cosy, well-appointed living room (set décor—Kate Rubin and Carole Klemm), amid treasured knick-knacks, pictures, plants and comfortable furniture, where her piano has pride of place, she has prepared for our visit—the tea and rugelach are waiting.  Immediately, the audience plummets back to memories of visiting a favourite grandmother or revered elder.  Life slows down—the story line is not sequential, flipping back and forth from childhood to concentration camp, marriage, motherhood and life in Israel after the war before arriving back at the present day.
Over and over she repeats her lessons—music was her life; good and evil are forever intertwined; her experiences made her a richer person; it's only when we are so very old that we understand the real beauty of life.  Pianist Charlotte Ridgway intersperses musical selections—simple melodies played in the style of a six-year-old for Alice's childhood; Beethoven's Farewell Sonata for a final visit from her German neighbours; Bach—her tonic, "the master" and her "universe"–during difficult moments in the camp and Chopin, whose études her mother said would "save her".   There is a wonderful natural complicity between the performers—particularly when de Guevera perches on the edge of the piano bench; it's as if an older Alice and a younger Alice were acknowledging the nature of their amazing life across the century.
Alice's Gift is a poignant, inspiring and uplifting memoir and a beautifully crafted tribute to an extraordinary woman.
Alice's Gift, A Musical Play by Elisabeth Wagner, directed by Kate Rubin
Presented by Full Sprectrum Arts Society and Bell'Arte Music Drama
November 3-12, 2016 at the Paul Phillips Hall, 1923 Fernwood Road
Tickets $20 from Munro's Books and through Brown Paper Tickets
Cast:
Alice Lina de Guevera
The Pianist Charlotte Ridgway
Production Team
Director Kate Rubin
Producer Elisabeth Wagner
Lighting Design Paul Hilton
Stage Manager/Lights Carolynn Moon
Disclaimer: I was offered complimentary tickets to attend Alice's Gift.