As a native West Coaster, all my life I have longed for Christmas iconography and tradition that celebrates Christmas and the holiday season as I know it – surrounded by nature, and often with an absence of snow.
In creating My Gift is for the Trees: an Emily Carr Christmas, Tim Gosley has tapped into the current fascination with storytelling and trans-media.  The performance is an inventive multi-generational "play within a play within a play"; elements include shadow puppets, projections, puppet pets, live music, carolling and Christmas classical music.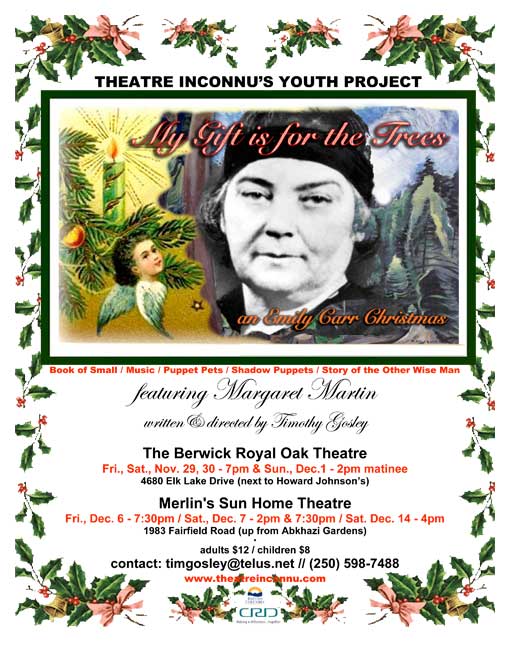 Margaret Martin, who played Emily Carr in the CBC series on the life of the artist, reprises the character with authority, and Petra Kixmöller is Maria Meuller, a feisty woman hired to help her. Students from Theatre Inconnu's Youth Project are the young Carr sisters – Small/Emily (Olivia French), Middle/Alice (Naomi Kixmöller-Gosley), Bigger/Lizzie (Julia Hensley).  Rounding out the cast are Mr Carr (Paul Bertorelli), Mrs Carr (Jessica Hedberg) and Baboo/Carol Williams (Kelsey Abbott), Carr's adopted daughter.  Heather DeRome provides accompaniment on the double-stringed guitar and Gosley's prodigious puppet skills bring shadow and live puppet sequences to life.
Youth program member Rowan Hensley  created the lighting design and his father Doug Hensley is the musical director.
The day before I saw the show, Emily Carr's painting Crazy Stair sold for $3 million, the highest price ever paid for the work of a Canadian female artist, yet, in life, she was mis-understood by the sedate Victorian society of the day.
My Gift is for the Trees touches on her irascible character and love of animals, her privileged (and strict) upbringing, and her old age.  It's a window (some of it imagined) into a bygone period. This nostalgic element works well for a Christmas-themed story – we all like to remember the Christmases of our youth, whether we're barely out of our teens or in our eighties.
The young actors are marvellous in the Christmas scene described in The Book of Small – Olivia French is a very precocious – some might say bossy – Emily. The dynamic the sisters develop onstage is extremely realistic, and the characters fully fleshed-out.  Julia Hensley's clear soprano soars in a cameo near the end. It was a beautiful moment.  Naomi Kixmöller-Gosley is a regular with the youth project and performed last year in A Child's Christmas in Wales. It's a pleasure to see the scope of her abilities grow over the years.
The Carr parents are warm and caring – Bertorelli and Hedberg possess fine speaking voices that I hope to hear onstage again soon. Kelsey Abbott performs double duty as puppeteer and performer.
With the advent of the "buy local", "shop local" and "100 mile" movements, I'm an advocate for "100 mile arts" – My Gift is for the Trees fits the description perfectly. If you're looking for a show that is suitable for all-ages, that celebrates artistic expression and what it means to live on the west coast of Canada, treat yourself and go.
My hope is that My Gift is for the Trees will become as much a Victoria Christmas arts tradition as The Nutcracker and A Christmas Carol.
My Gift is for the Trees: An Emily Carr Christmas
A Theatre Inconnu Youth Project
written and directed by Tim Gosley
featuring Margaret Martin as Emily
November 29/30 7pm and December 1st 2pm matinée
Berwick Royal Oak Theatre (4680 Elk Lake Drive)
 
December 6th 7:30 pm, December 7th, 2pm and 7:30pm, December 14th 4pm
Merlin's Sun Theatre 1983 Fairfield Road (up from Abkhazi Gardents
 
Tickets: $12 (adults) $8 (children)
Contact: timgosley@telus.net  250 598 7488