In an uneasy case of "life imitates art", George F Walker's play Better Living, currently at Langham Court Theatre, presages by 30 years the reality TV show Doomsday Preppers.
Written in 1985 as the first of Walker's more hopeful "East End Plays", Better Living introduces us to a working class world, with characters trying desperately to get by. Intended to reflect aspects of life in Toronto's poorer neighbourhoods, there is a universality to the themes in Better Living that goes far beyond laughs at the antics of this shell-shocked family.
The sounds of jackhammers and noisy sex reverberate as Father Jack (Paul Bertorelli) enters his sister Nora's run-down home to deliver some unsettling news. A mohawked and tattooed young man, Junior (Colby Weeks) tiptoes downstairs and, shocked by the presence of a visitor, scurries back up.
Better Living is off to a rollicking and somewhat eccentric start and doesn't let-up from here to the finish, with characters delivering lines at break neck speed, often talking over top of one another in displays of brinkmanship.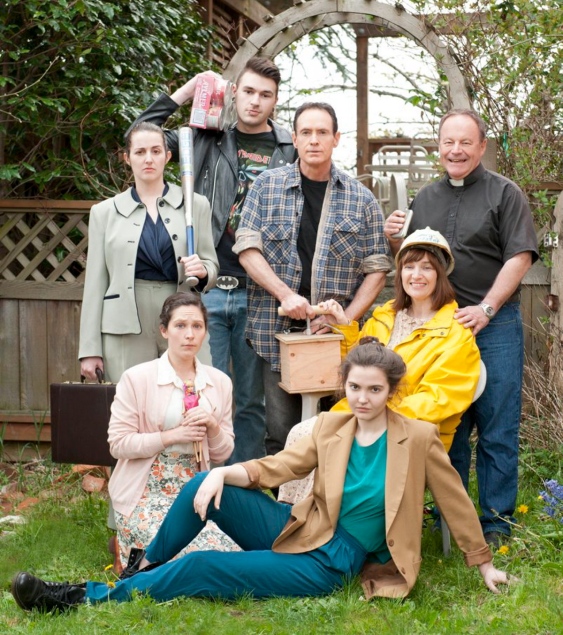 L to R – top row: Kate Harter, Colby Weeks, Wayne Yercha, Paul Bertorelli
bottom row: Michelle Mitchell, Aisling Goodman, Lorene Cammiade. Photo:David Lowes, Art Studio 21
A single mom since her husband Tom (Wayne Yercha) disappeared under mysterious circumstances, Nora is determined to make life better for her three daughters – Gail (Aisling Goodman), Elizabeth (Kate Harter) a lawyer and Mary Ann (Michelle Mitchell), recently returned home after a failed marriage. Yet, no matter how hard they try to escape, the daughters find themselves drawn back into orbit with disastrous results.
No topic is taboo in this story of a dysfunctional family unravelling – suicide, abuse, alcoholism and murder provide subjects for Walker's particularly acerbic and dark style.
Cammiade's Nora is a combination of Energizer Bunny and PTSD survivor. Against all evidence to the contrary, she refuses to accept the return of her believed-dead husband Tom (Yercha walks the razor-thin line between psychopath and ordinary Joe with chilling effect) come back to prepare his family for the "total shit future".
Paul Bertorelli is drole and displays a great gift for comic timing as Father Jack, delivering deadpan one-liners throughout, yet capable of revealing great inner strength and fortitude when necessary.  He is matched by a laconic and extremely capable Colby Weeds (in his acting debut) as Junior, the young man whose only wish is to belong.
The sisters out do one another in their neuroses and obsessive-compulsive tics – scenes between Mary Ann and Elizabeth stretch the boundaries of sibling rivalry and tip beyond comedy to broad farce. The pacing is intense, de-stabilizing, and chillingly representative of the disorientation people in abusive relationships face.  And, just as the audience, along with the characters, becomes un-tethered, Walker hits us with another quip, or comedic moment.
Fast-paced and uncompromising in its attention to detail, Director Wendy Merk's interpretation of Better Living is definitely complex – it's possible as audience member to sit back and enjoy the plentiful laughs, or, as I did, spend the next day researching Walker's style, motivations and directorial inclinations.
A particular hallmark of Langham Court Theatre productions is the quality of the creative design, and Better Living is no exception.  Kat Jeffrey's costume designs emphasize the high-waists, floral prints and wide shoulders of the 1990s, while set designer Don Keith's interior hints from the onset at the disorder in this familial situation.
From tunes of the period, to jackhammers, explosions and falling plaster, sound designers Alan Mackenzie and Kevin Stinson (with special effects advice from Tony Cain) have a field day.
Although George F. Walker is one of Canada's most prolific and produced playwrights Better Living was my introduction to his world. Thank you Langham Court for making it part of the 2012/2013 season.
Better Living by George F. Walker, directed by Wendy Merk
Langham Court Theatre
April 24 – May 11, 2013
Single tickets $21/$19 for Students/Seniors (seniors ages 65+)
Preview night Wednesday, April 24 2 for $20 for all patrons
2 for $30 Tuesdays – April 30 & May 7 for all patrons
Performance Schedule (April 24 – May 11, 2013)
April 24 to 27 – Wednesday thru Saturday nightly show time 8:00pmApril 30 to May 4 – Tuesday thru Saturday nightly show time 8:00pm   May 7 to May 11 – Tuesday thru Saturday nightly show time 8:00pm Plus Saturday matinees on May 4 & 11 -show time 2:00pm
Disclaimer: I was provided with complimentary tickets to Better Living for the purpose of writing a review. As always, I retain complete editorial control over all content published on my blog.