It's hard to imagine – Atomic Vaudeville, co-founded by Jacob Richmond and Britt Small in 2004, is now in its tenth season. The collective of new and emerging local actors, writers, musicians, artists and performers has staged over 60 cabarets and new works, winning multiple awards in the process.
With hits like Ride The Cyclone, Legoland, The Qualities of Zero, and The History of Everything to their credit, they are about to embark on another project, a brand new original production inspired by the music of singer-songwriter Anne Shaefer (Twelve Easy Pieces, The Waiting Room).
To raise funds for this ambitious project, Atomic Vaudeville is hosting the Canary Club – a Roaring Twenties-themed speakeasy event on Thursday, November 28 at Rifflandia headquarters.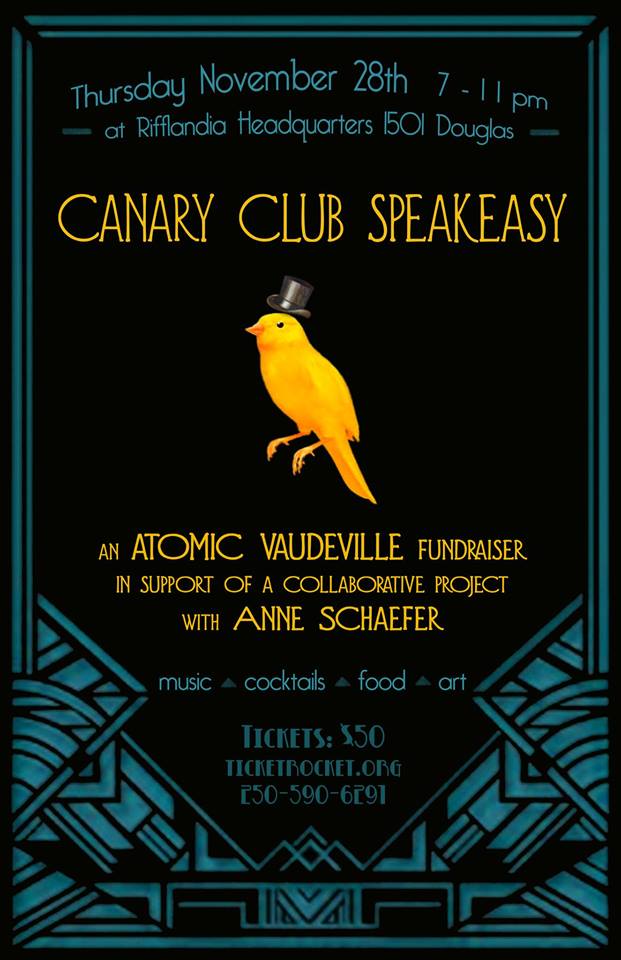 Homegrown comic star Mike Delamont will play host to a star-studded roster of performers including Brooke Maxwell, David Lang + The Twin Otters, Morgan Cranny, Kelly Hudson and, of course, Anne Schaefer herself. In addition to the live entertainment, guests will be treated to an art show and catered appetizers.
Tickets ($50) are available through Ticket Rocket and include  your first drink free, star studded live entertainment, catered small bites and fabulous incentive prizes for donors (I've contributed a gift certificate for three dozen of my hand-crafted French truffles, and there are theatre tickets too from many local companies).
On a personal note, I've been involved with Atomic Vaudeville as a volunteer and proud mom – my son Elliott Loran played the role of Ricky Potts in Ride the Cyclone.  I think back to what the Victoria cultural landscape looked like in 2004 pre-AV, and the waves of artistic expression that have spread outward from what at first appeared to be a "rag-tag" group.
Atomic Vaudeville alumni have gone on to create their own companies, stage new work, appear on stages (Fringe and otherwise) across the country and world.  They include Mike Delamont (God is a Scottish Drag Queen), Amanda Lisman (My Fair Lady, Uncle Vanya, Arms and the Man, BBRT and Stratford Festival), Victoria Dolhai (Stratford Festival), Sarah Jane Peltzer, Kholby Whardell, Kelly Hudson, Rod Peter Jr (Kitt and Jane), Ingrid Hansen (Little Orange Man, Kitt and Jane Snafu, Dance Theatre), Treena Stubel (Bounce Performance Works), Celine Stubel (National Arts Centre English Language Company), Amitai Marmostein (Brighton Beach Memoirs, BBRT), Andrew Bailey (The Adversary, Limbo, Putz, Scrupulosity), Chris Gabel, Andrew Barrett (Shattered, The Path, Damned Girl,Impulse Theatre), Gina McIntosh (Rosie), Elliott Loran (Stratford Festival), Justine Shore, Kelly Hobson, Milly Mumford (Love is For Superbeasts), Wes Borg (The Derwin Blanshard Show), Meg Braem (Blood – a Governor General's Award nominee), Chris Wilson and Peter Carlone (The Peter 'n Chris Show).
The above list is by no means exhaustive.  If you believe that the arts are important to the fabric of society, and would like to be part of bringing an exciting new project to fruition – plan on attending the Canary Club Speakeasy Thursday November 28th at RIFFLANDIA HQ 1501 Douglas Street (across from City Hall).
Canary Club Speakeasy, a fundraiser for Atomic Vaudeville
Thursday November 28th, 2013 7pm
Rifflandia HQ, 1501 Douglas Street
Tickets $50 through Ticket Rocket