Warning
: Undefined array key "width" in
/home/janislac/public_html/wp-includes/media.php
on line
1622
Warning
: Undefined array key "height" in
/home/janislac/public_html/wp-includes/media.php
on line
1623
Warning
: Undefined array key "width" in
/home/janislac/public_html/wp-includes/media.php
on line
1622
Warning
: Undefined array key "height" in
/home/janislac/public_html/wp-includes/media.php
on line
1623
A Fall of Theatre in Victoria BC 2013.
November 26, 2013. Click for  late November December shows.
Fall has arrived, and one of the busiest theatre seasons in my recent memory begins. There are 17 shows (at last count) running in October alone.  Rather than keep you waiting, I've decided to publish this post in preliminary fashion with dates up to the end of October. I'll add November and December shortly.
We barely had a chance to breathe at the end of the fabulous Victoria Fringe Festival, than Peter 'n Chris raced into town on Labour Day Monday to present 4 back to back performances, two with Vancouver-based sketch improv comics Hip Bang! and two of Peter 'n Chris Exploring Their Bodies.  This was followed up by 2 Dope Boys in a Cadillac (Shayne avec Igrec and Johnny McRae), local slam poets, with their premiere of The Anthropocalypse: A Psychidelic Talk Opera at Intrepid Theatre's YOU Show.
A slew of arts and cultural organizations (Belfry Theatre, UVic Libraries, Legislative Library, Pacific Opera Victoria, Greater Victoria Public Library) are participating in a celebration of all things Shakespeare entitled Shakespeare: Onstage  Offstage.  Check out the listings on their website. Many of them are free and extremely family-friendly.  The launch is set for Saturday September 21st at 11am.
Tying into the Shakespeare theme, the Belfry Theatre stages a reprise of Ann Marie McDonald's award-winning Goodnight Desdemona, Good Morning Juliet. I remember sitting in the balcony of the theatre 21 years ago, and laughing myself silly. I can't wait to see how the play has weathered time.
Derwin Blanshard's Extremely Classy Sunday Programme returns for a second season September 22nd (and every 4th Sunday of the month thereafter). This show-within-a-show was a clear favourite in its inaugural season, and features an incredible range of talented performers and interesting and topical guests.
New companies have arrived on the scene (Epiphany Productions, Ballet Étoile Victoria), and other emerging artists are staging new work on a more regular basis (Scrumpy Productions).  It's been two years since Island Repertory Theatre produced Glengarry Glen Ross – audiences have been waiting in anticipation for The Odd Couple (opening September 20th).
Take a look at the listings below. They'll be updated frequently. If I've missed something, please let me know. I'll happily add it!
Peter 'n Chris – Variety Show w/ Hip.Bang!, Victoria Event Centre
September 2nd and 3rd

Peter n' Chris will perform brand new sketches and improv with Hip.Bang!)
Peter n' Chris Explore their Bodies: Metro Theatre
September 4th and 5th
September 7 – YOU Show 2 Dope Boys in a Cadillac present The Anthropocalypse – A Psychedelic Talk Opera.
A unique blend of poetry and theatre, fact and fiction, surrealist satire and modern fantasy, that explores the mythical revelation of the Anthropocalypse (or humanity's self-destruction), through the stories of two young men from a community in BC's fabled Cadillac Mountains, who find themselves lost when their home is destroyed.
Goodnight Desdemona (Good Morning Juliet), Belfry Theatre
September 17 – October 20, 2013

I still remember sitting in the balcony of the Belfry Theatre in the fall of 1991, doubled over with laughter at the protagonists in Anne Marie McDonald's break-out sensation.  This wildly imaginative (and popular) re-mix of familiar Shakespeare characters and themes continues to resonate with audiences.
When a lovelorn academic – convinced that Shakespeare's Othello and Romeo and Juliet were intended to be comedies – is transported into the middle of these masterpieces, she begins a comic journey that proves that Romeo, Juliet, Othello and Desdemona ain't what they used be. And neither is our heroine!
The Odd Couple, Island Repertory Theatre Company, Metro Studio
September 19th – October 6th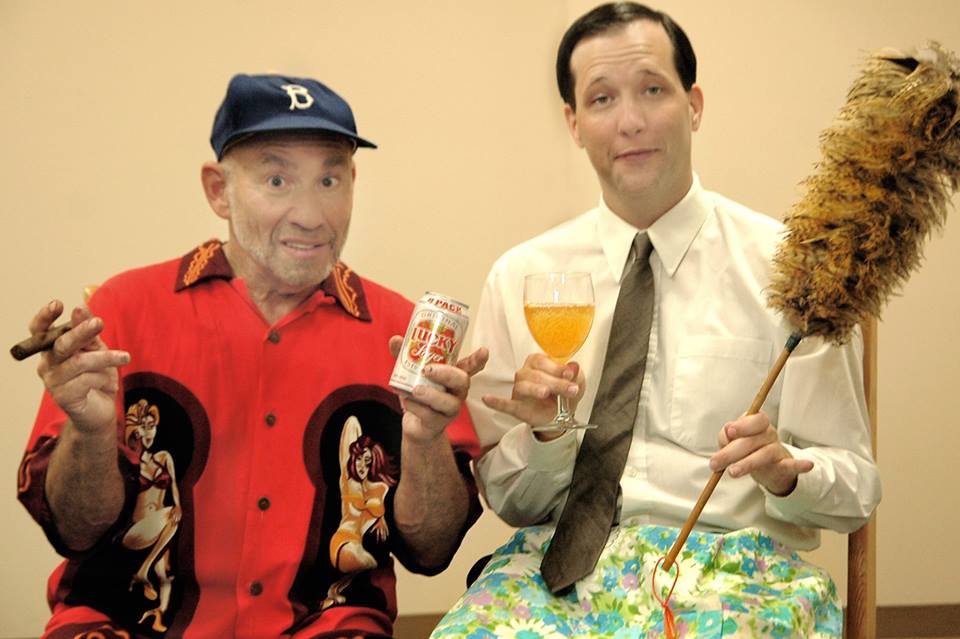 A plethora of Victoria's finest comedic talents come together under the direction of Dick Stiles to present Neil Simon's Tony-award winning masterpiece.  Laughter and situational hi-jinks are guaranteed.
A Friday night poker game in the apartment of divorced Oscar Madison. The mess is an indication, it's no wonder his wife left him. Late to arrive is Felix Unger, his wife just threw him out. Fastidious and tense, Felix seems suicidal, but as the action unfolds Oscar becomes the one with murder on his mind. The clean-freak and the slob ultimately decide to room together with hilarious results as The Odd Couple is born.
Starring: Ryan Bangma, Karen Brelsford, Wes Borg, Morgan Cranny, Jaymes Goodman, Eric Holmgren, Howie Siegel, Kisten Van Ritzen.
Fresh From the Sexy Factory, Intrepid Theatre Club
September 19/20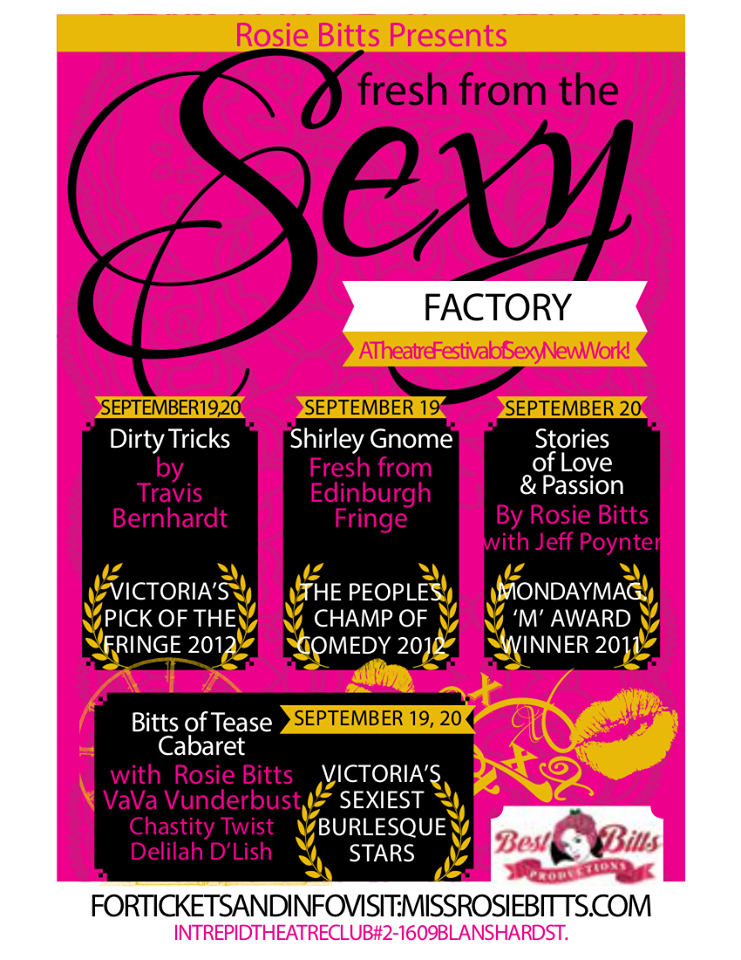 The Fabulous Miss Rosie Bitts, well known local impresario and burlesque star, has more recently taken to the Fringe Festival circuit, and in 2012 launched her own mini-festival. With burlesque and adult-related themes, and featuring award winning fringe and comedy performers, these shows are sure to entertain.
With – Shirley Gnome (Winner of The People's Champ of Comedy 2012), Travis Bernhardt (Victoria Pick of the Fringe 2012) and Rosie Bitts.
Derwin Blanshard, Season II launch, The Victoria Event Centre
September 22nd and continues monthly on the fourth Sunday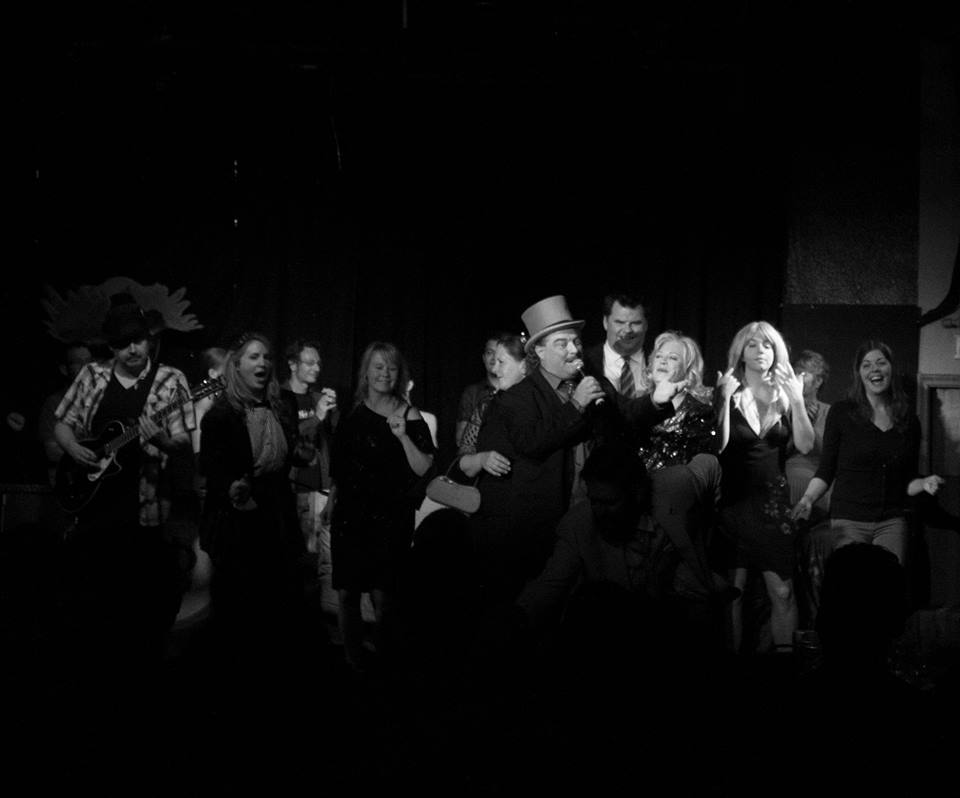 Helmed by one of the hardest working local entertainers I know, Wes Borg (Sin City, the Odd Couple, Atomic Vaudeville, the Hootenanny at Logan's, the Showdown), this meta-theatrical TV show-within-a-show features a regular cast of characters with live guests, performing for you, cast as the audience.
Past participants have included: politicians Lana Popham, Andrew Weaver, Nils Jensen and Dean Fortin (in a battle of the mayors); local cocktail impresario Solomon Seigel; CBC's Quirks and Quarks host Bob McDonald; Stephen Leacock Medal winner and local playwright Ian Ferguson (Sin City the Live Improvised Serial) and a wide variety of entertainers (Mike Delamont, Carolyn Mark, Hank 'n Lily, Jacob Richmond).
Featured guest for the launch of Season II is Rock Star Tal Bachman (She's So High) with Celebrity Mixologist Solomon Seigel, Paul Oppers, Justin Carter, Howie Seigel, Brooke Maxwell, Alain Williams, Sarah Carlé, Kelly Hobson, Amanda Lisman & the Cast of "The Real Ex-Wives of Derwin Blanshard", Charles Martin the Moose and The Derwin Blanshard Orchestra.
Put on your fanciest duds and become part of the cast of this show!
Tickets online here:
Performing Arts Party at Uptown, Canadian College of Performing Arts
September 28 (2-4pm) as part of Culture Days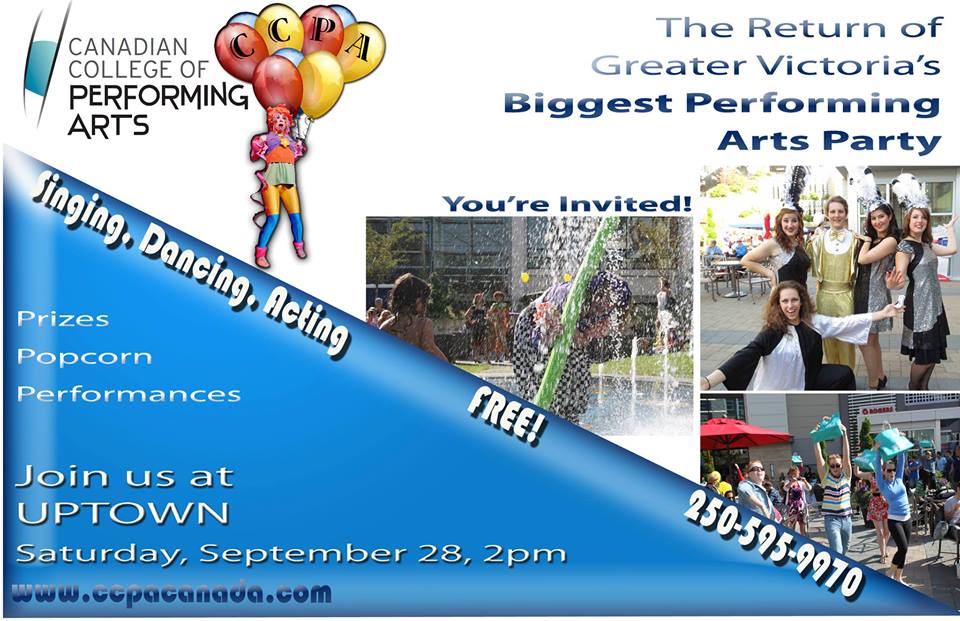 Join students and faculty of the CanadianCollege of Performing Arts for Victoria's largest singing, dancing and acting party. Take lessons (singing, acting,dance) and watch performances. This free family-friendly event is sure to be full of surprises and fun.
Interplay, Epiphany Productions, at St Mary's Church, 1701 Elgin Rd
September 28th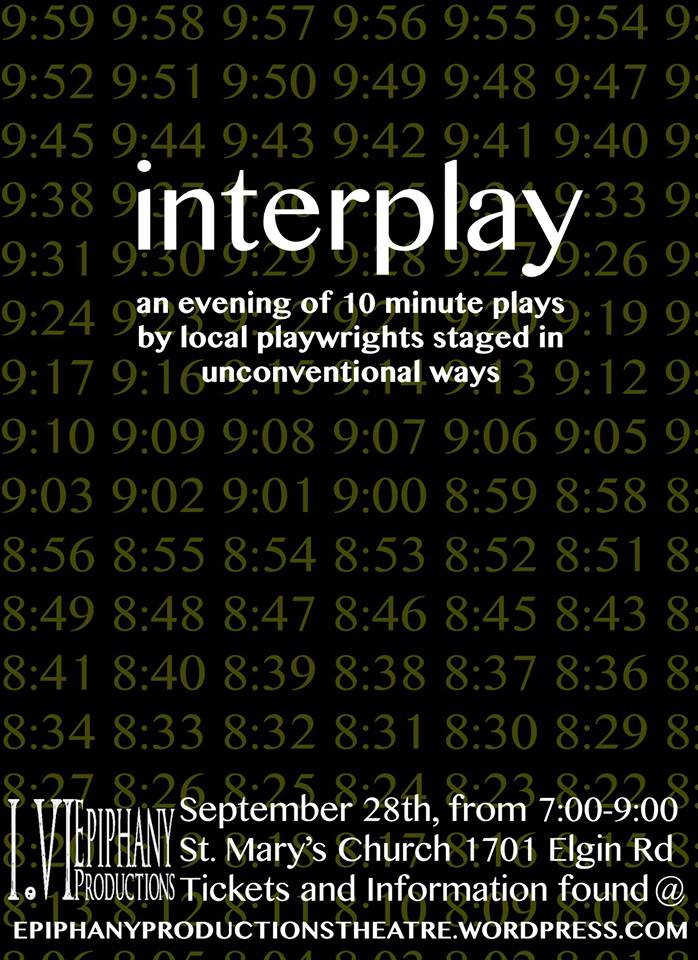 An evening of 10 minute plays written by local playwrights and staged in unconventional ways! A fundraiser for Epiphany Productions.
This young company, founded in 2013 by two recent graduates of the Canadian College of Performing Arts, Noelle Antonsen and Joseph Goble), staged a high-energy, family-friendly production of Godspell in the spring.
Their goal is to provide a stepping stone for emerging artists, promote theatre in Canada, and celebrate faith through theatre. They strive to create high quality theatre that everyone can enjoy: regardless of age, background, or belief, and give back to the community, donating 10% of every production to charity.
HARVEY, Langham Court Theatre, Directed by Heather Jarvie
October 2nd – October 19th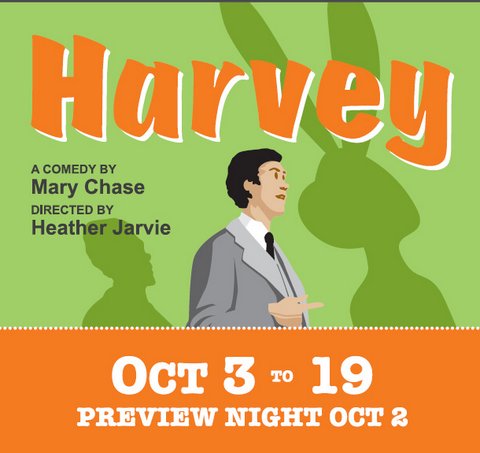 Langham Court Theatre launches its 85th season with a remount of Harvey, one of its most popular productions. Harvey is the story of disarming Elwood P. Dowd and his friendship with a giant white rabbit that only he can see. This play's whip-smart dialogue and feel-good charm has captivated audiences for decades.

"A show for the entire family, from kids to grandparents. By the end, you too may want to see that rabbit." New York Post.
Jake's Gift, Intrepid Theatre Club
October 2/3

My Dad was a veteran of World War II. I've seen Jake's Gift at least 5 times in the last 5 years and cried every time. Bring Kleenex.
Performer Julia Mackey has the uncanny ability to morph physically before your very eyes – alternating back and forth between World War II veteran Jake, a man in his 80s, and Isabelle, a curious 10 year old French girl. Her unsentimental and natural treatment does great honour to our veterans.
Jake's Gift was inspired by Julia's journey to Normandy, France for the 60th Anniversary of D-Day. Her multi-award winning play is a love letter to all veterans.
Jake's Gift is a surprisingly funny drama that tells the story of a Canadian WW2 veteran who reluctantly returns to Juno Beach to find the grave of the brother who never came home.
www.jakesgift.com
Lend Me A Tenor, Company C, Canadian College of Performing Arts, 1701 Elgin Rd
October 3-6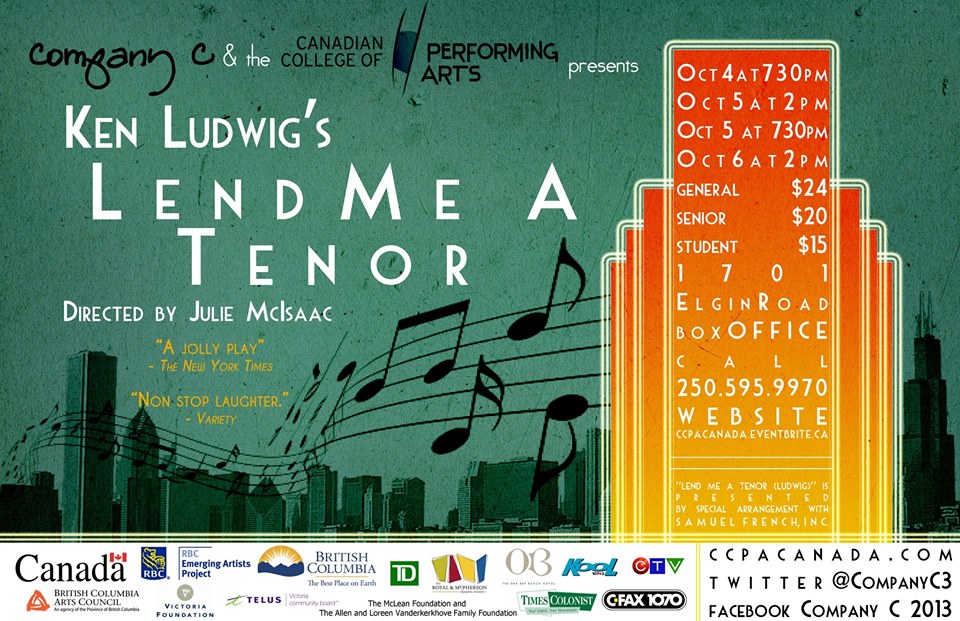 Guest Director: Julie McIsaac, by Peter Sham and Brad Carroll
Company C is formed by Year III students of the CanadianCollege of Performing Arts.  Each season they mount three shows in four months, managing every aspect of the production, from acting and stage management, to sets, costumes, lights and publicity.  This fall they kick off with Lend Me a Tenor, the smash Broadway comedy with a scheming soprano, an ambitious bellhop, a jealous wife and the Cleveland Police department!
Falstaff, Theatre Inconnu, a one man show by Clayton Jevne
October 4th – 19th
Theatre Inconnu is Victoria's oldest surviving alternative theatre company.  They consistently deliver experiences that make me think, and push the boundaries of my theatre-going.
So, you think you know Sir John Falstaff, Shakespeare's most beloved hedonist? You don't know Jack! Theatre Inconnu's Artistic Director Clayton Jevne has adapted Robert Nye's Guardian Fiction Prize-winning novel into a 90-minute one-actor romp through the life of Sir John. Fifteenth-century Britain is brought to life as Jack takes us into battles, bedrooms, and bars — sparing few details — as he relives the ecstasies of the carnal and the horrors of the carnage. Come share seven decades of decadence in an hour and a half!

Performed by Clayton Jevne.
"Unabashedly bawdy and outrageously raunchy." —Publishers Weekly
Break Contemporary Circus presents Sense;Or, Intrepid Theatre Club
October 5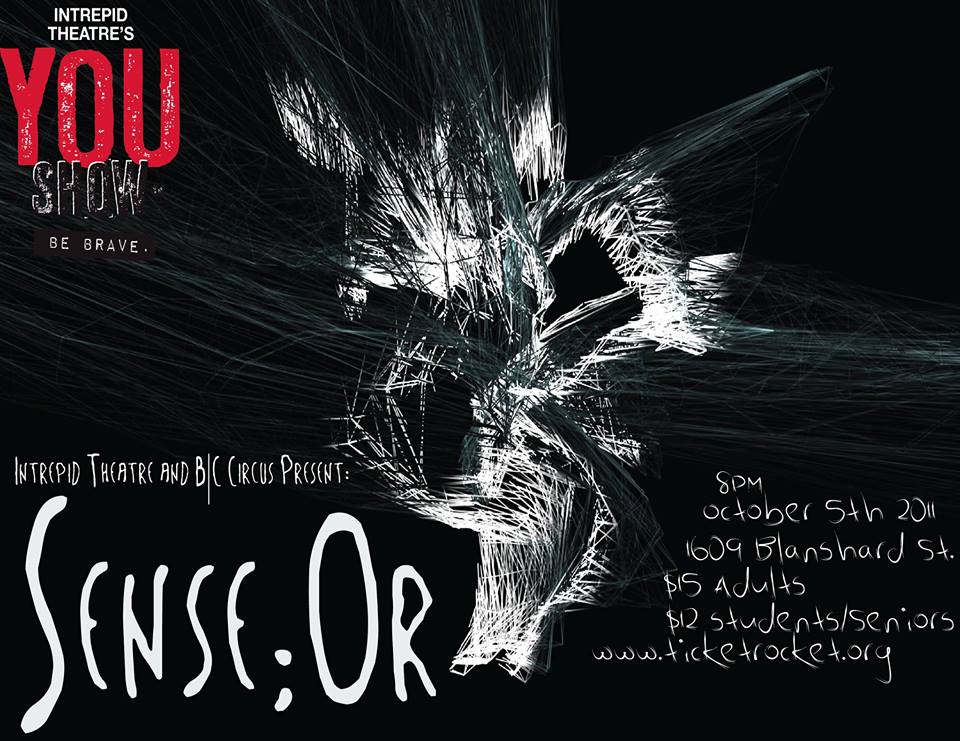 Mixing contemporary circus and projected scenography, Sense;Or takes viewers on a journey of the 5 senses, through an ethereal world that is neither here, nor there, but everywhere, commenting on humanity's connection with their senses in an increasingly digital world.
William Head Onstge (WHoS)  – Fractured Fables: THE PRISON PUPPET PROJECT
October 11th – November 9th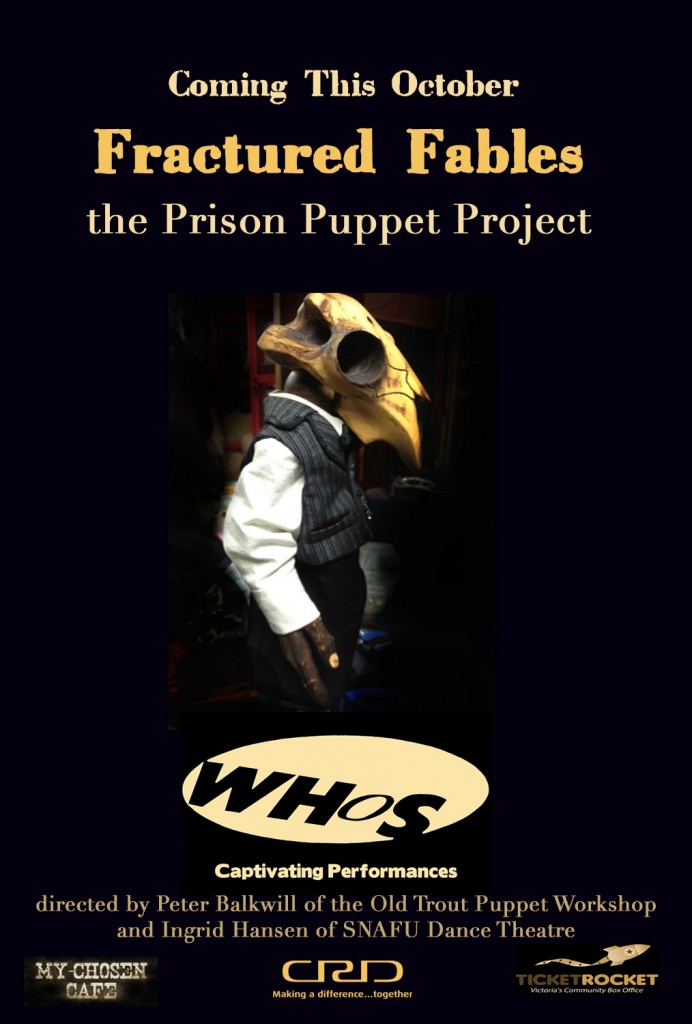 Now is their 32nd year, WHoS is an inmate-initiated inmate-run theatre company, and the only such program in the country that opens its doors to the public. This year they have joined forces with Ingrid Hansen & Anne Cirillo from SNAFU Dance Theatre, Peter Balkwill from Calgary's Old Trout Puppet Workshop, and island musician Katrina Kadoski (Cougar Annie Tales) to write, design, and perform seven original fables.
It's only in recent years that I've returned to WHoS productions, and the often haunting nature of the performances (CHALK, Gormenghast, the Hobbit) and the creative attention to detail continue to remain some of my year's highlights.
Tickets through TicketRocket – www.ticketrocket.org & MyChosen Café – www.mychosencafe.com. Must be 19+.
An Improvised Dungeons and Dragons, Intrepid Theatre Club
October 11/12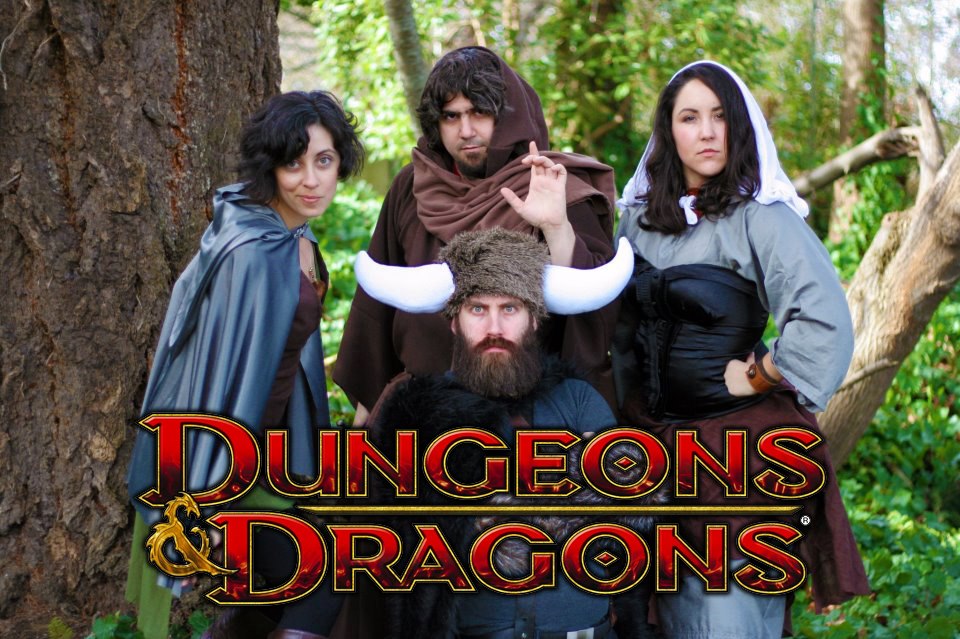 Scott Thompson, local improviser, writer and slam poet, had an idea – one that proved to provide a winning formula to a wide range of people, including fans of DnD, improv and fantasy.  When they debuted (at the YOU Show in the spring) I arrived at the theatre to a sold-out show, and long lines of disappointed people.
The audience sat rapt, erupting from time to time in cheers as players scored points, or went down in bitter defeat.  Although I have never played DnD, I am a fan of both fantasy and improv, so it was easy enough to follow along.
"Dungeons and Dragons is, at its core, collective storytelling," heralds the group's Dungeon Master, and director Scott Thompson. "We want to honour the game, and those who play it. This isn't a parody, this is the real thing. The characters live or die by the dice rolls."

Produced in association with Paper St. Theatre (Pick of the Fringe winner An Improvised Quentin Tarrantino) and featuring Dave Morris, Missie Peters, Byron Kjeldsen, and Nicole Olszewski in the roles of medieval heroes. Reprising their roles as Dungeon Masters are Scott Thompson and Steven.
Tickets through Ticket Rocket.
Bedroom Eyes: A Pyjama Party for Adults. Victoria Event Centre.
October 16th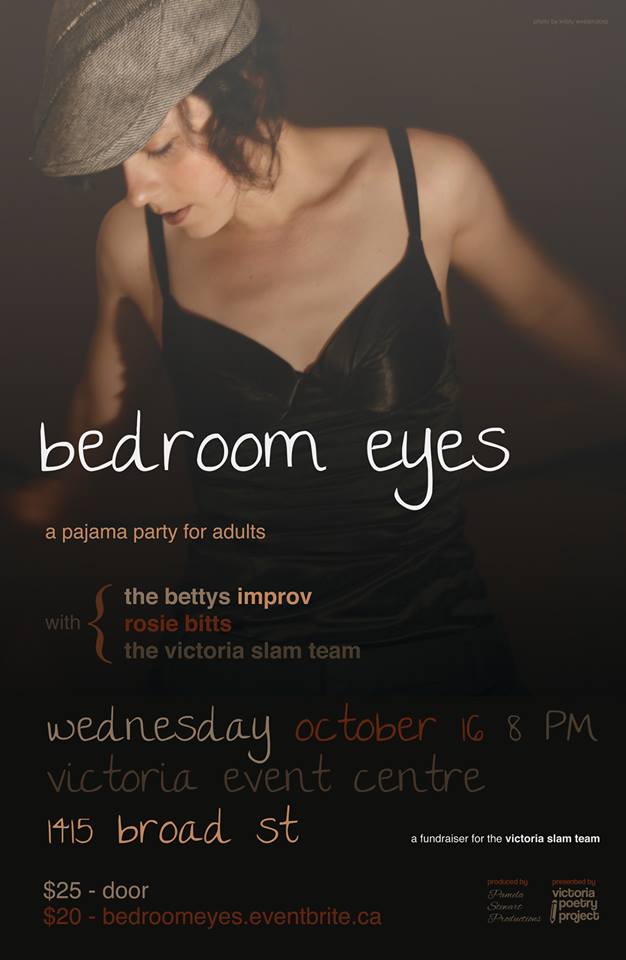 This is not technically a "theatre event" but rather a night of poetry and burlesque as a fundraiser for the Victoria Slam Team's. They are travelling to the national team slam at the Canadian Festival of Spoken Word (CFSW) in Montreal in November. There will be some special guests performing improv as well. If you come dressed for bed, there's a discount on the ticket price.
Some of Victoria's finest wordsmiths will be out in force and that is definitely cause for a celebration.
Kitt and Jane, An Interactive Guide to the Near Post-Apocalyptic Future
UVic Phoenix Theatre
October 17 – 26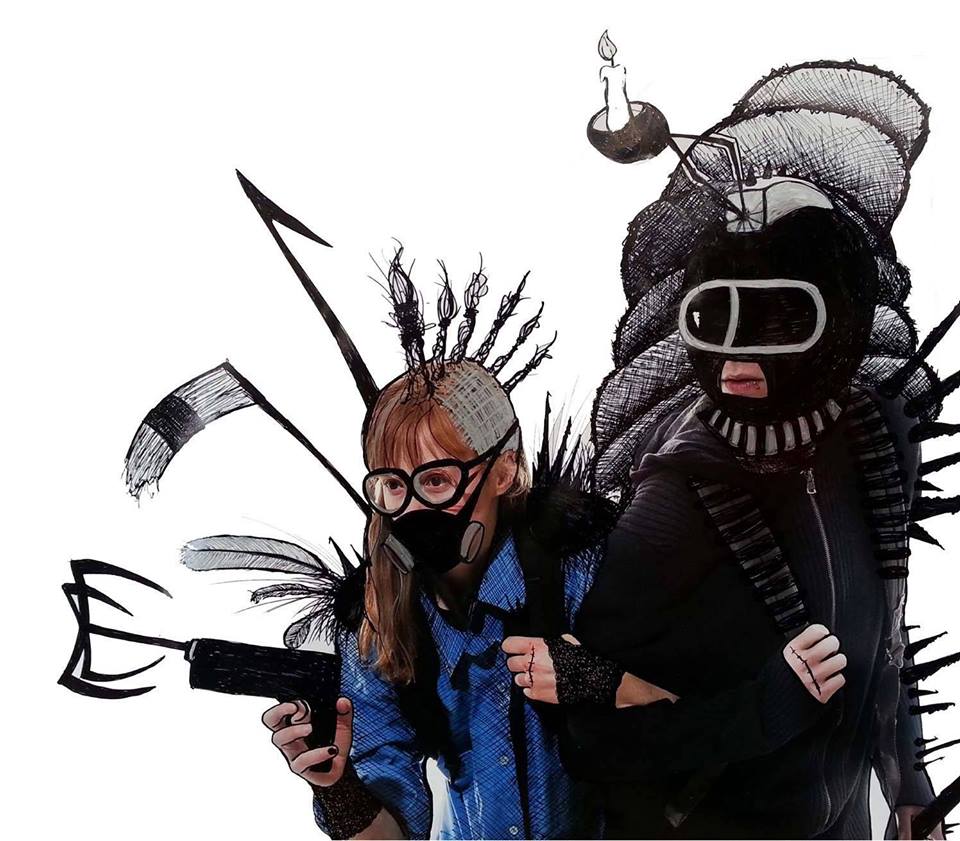 Every year, at the start of their season, UVic's Phoenix Theatre features the work of past graduates in the Alumni Showcase. This year's production is Kitt and Jane, which I've seen at least three times since it's been in development. The creators won both the Victoria Theatre Critics Best New Play award and the inaugural Vancouver Playwright's Centre New Play Prize. The judges of the latter noted "Kitt & Jane was chosen for its intelligent yet cheeky approach to difficult subject matter" and praised their rigourous commitment to development, including interviews with teenagers.
While making a presentation to their school, two socially awkward 14-year-olds hijack the event and launch into fantastical instructions on how to survive the impending apocalypse.
Read my review of an earlier production here.
Kitt and Jane truly resonates with young audiences. Please take your tweens and teens. They'll have a blast at the antics of the characters.
Cariboo Buckaroo, Theatre SKAM, Intrepid Theatre Club
October 17/18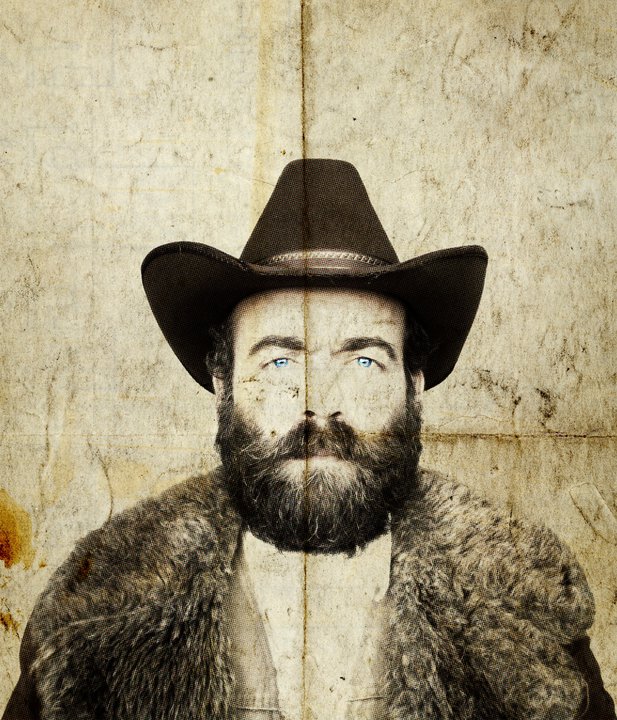 Originally performed in Victoria where I first saw it in 2009, Cariboo Buckaroo treads a careful line between education and entertainment. Matthew Payne, the sole performer, brings his prodigious storytelling abilities into play to create a tale suitable for audiences 8 and up.  Drawing on years of creating low-budget site-specific theatre with Theatre SKAM this show is quite simply a delight (and factually accurate as well).
Without spoiling it for you, look for the special effects and props including – the railway, a cattle drive and of course, the buckaroo's horse! There's even a surprise for the kids in the audience, one which I was not privy to.
This true tall tale of an 1860?s cattle drive full of surprise, magic and beans, explores three actual historical events in B.C. history, including the Chilcotin War of 1864.

Developed in partnership with the X'eni Gwet'in, this play includes epic cowboy poetry, water, and secrets for any children in attendance (recommended for ages 8+).
Tickets through Ticket Rocket.
The Laboratory, location TBA
October 18/19
A creative collaboration between CCPA students and the award-winning performance company Atomic Vaudeville.
There's a special place in my heart for both the Canadian College of Performing Arts (CCPA) and Atomic Vaudeville(AV). My son,Elliott Loran, graduated from the former, and performed with the latter (mostly recently in the hit musical Ride the Cyclone). They debuted this partnership in the spring of 2012 with AV's Spring Cabaret – Digital Sunshine and had such fun together that they decided to continue.
Cocktails with Stalin: Intrepid Theatre Club
October 22nd  – November 1st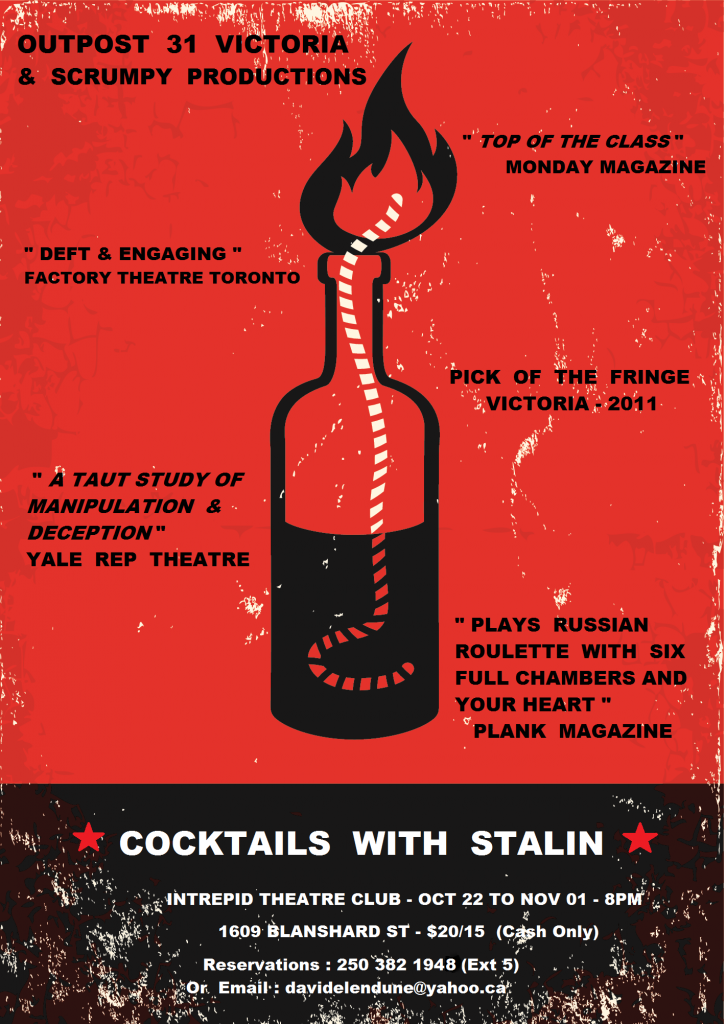 Canterbury Cocktails by Julian Cervello, and Good Night Uncle Joe by David Elendune
Local Pick of the Fringe award-winner Julian Cervello and playwright David Elendune (1.9.8.4) present a double bill of their work.
Tickets $20, cash only at the door. Reservations by email.
Dracula: The Blood is the Life, CraigdarrochCastle
October 23rd – October 31.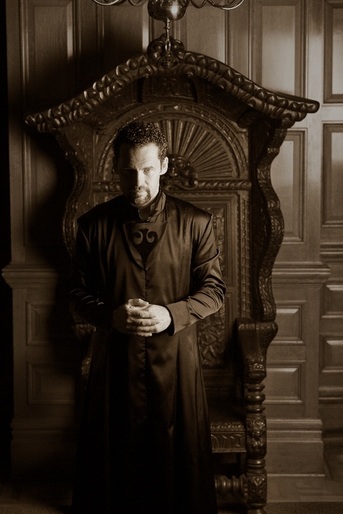 David Radford as Count Dracula -Photo by Adelio Trinidad
Launch Pad and Giggling Iguana Productions promise even more terror with this re-vamped rendition of the Bram Stoker classic. Here is my review from last year's production.
Dracula – The Blood is the Life is adapted from Bram Stoker's classic horror novel by Launch Pad's David Radford and Christina Patterson, the team that wrote the award-winning "The Strange Case of Dr. Jekyll and Mr. Hyde". Using Stoker's iconic Dracula tale as a frame, "The Blood is the Life" tells the saga of a Victorian London cursed by the undead spirit of Dracula and the heroic efforts of Mina Murray, Dr. Seward and Professor Van Helsing as they struggle to put things right.  The action puts the audience right in the middle of a terrifying and all-encompassing tale of horror.
It is well advised to get tickets early. The run sold out last year, and was longer by a week.
Tickets: www.thecastle.ca
Atomic Vaudeville Fall Cabaret, Victoria Event Centre
October 25, 26, 31 + November 2
If you're a fan of spooky, creepy and gory, get your tickets now, particularly if you are planning to go on Halloween night.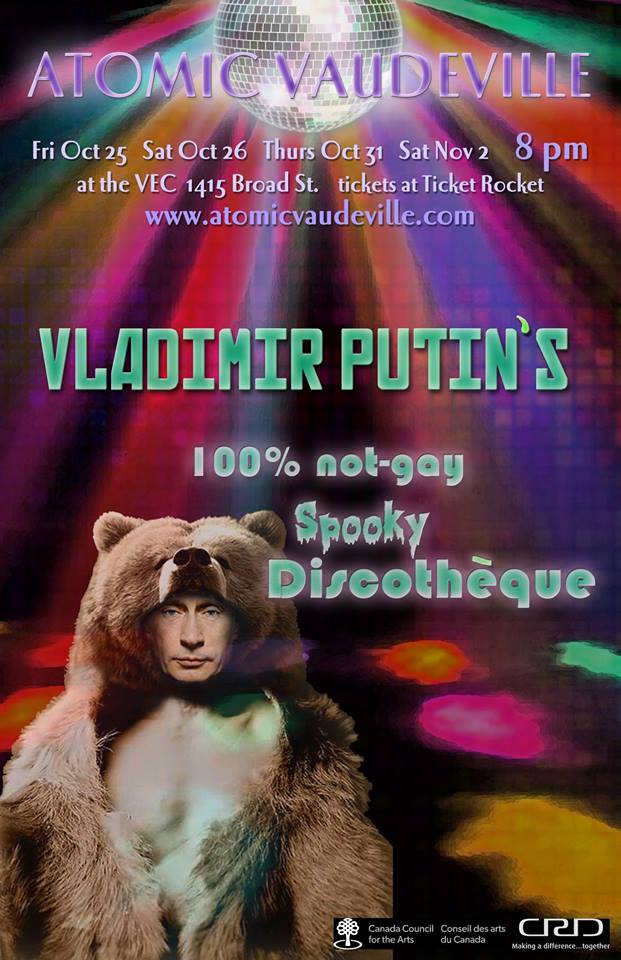 Our Halloween shows are legendary. You know you're coming.
Shakespeare in Film: Romeo and Juliet (Baz Luhrmann), Silver City Tillicum.
Sat Oct 26th10:15 am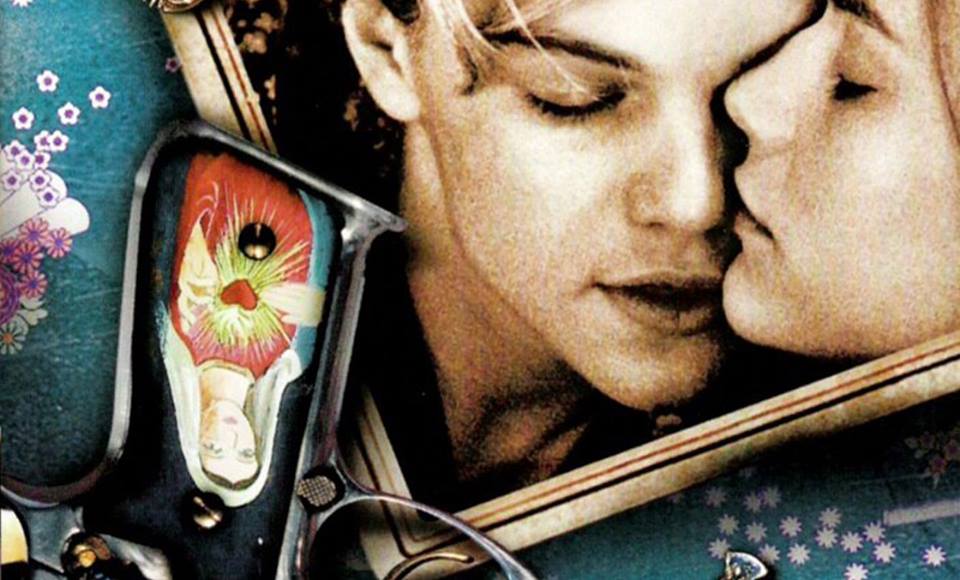 Not "theatre" but I've included it in the listings since it's a fundraiser for the Greater Victoria Shakespeare Festival (with a minimum suggested donation of $10).
Baz Luhrmann's modern classic unfolds with its heart on its sleeve and guns ablaze. In this dazzling adaptation of Shakespeare's classic love story, OSCAR® Nominee Leonardo DiCaprio stars opposite Claire Danes. They light up the screen as the original star-crossed lovers against a thumping soundtrack and a boldly imagined modern-day setting.
The Rocky Horror Show, a benefit for Kaleidoscope Theatre, McPherson Playhouse
October 31, November 1st

Can you believe that I've never seen The Rocky Horror Show? Me neither. Now's my chance.
Celebrate the 40th anniversary of the worlds most beloved cult-rock musical and get ready to do the Time Warp again!.

Made famous by the 1975 film based on the stage play staring Tim Currie, THE ROCKY HORROR SHOW tells the story of two clean cut kids, Brad Majors and Janet Weiss, who run into car trouble and seek help at the site of light down the road. Little do they know it's coming from the place where Dr. Frank N Furter is in the midst of his maniacal experiments. Part rock musical, spoof of science fiction movies, and a bizarre story of seduction and sexual confusion.
The listings below for November and December are a brief preliminary sketch of what to anticipate. I'll add more information and images shortly.
Shakespeare in Film, Shakespeare in Love, Sat Nov 2nd, Silver City Tillicum
November 2 – You Show On the Lam productions presents Snake Oil. A reading of a solo show about a woman whose career as a publicist for the oil industry takes a turn when she goes to Texas to care for her dying father and discovers the pipeline about to come through his backyard.
A Tender Thing, Belfry Theatre
November 5 – December 8, 2013
The Belfry Theatre has dedicated their 2013/2014 season to Shakespeare, presented in multiple ways for a contemporary audience. Don't miss the additional events, including B4Play with Gregor Craigie of CBC Radio, and multiple talks at the Greater Victoria Public Library. More info here.

Re-imagining the text of Shakespeare's Romeo and Juliet, British playwright Ben Power has remixed the greatest love story ever told. The premise is simple – rather than taking their own lives as in the original, our young lovers have grown old together. Now, as their lifetime of love and marriage comes to a close, they must contemplate being alone. Shakespeare's timeless poetry creates a new deeply romantic and powerful play in a strikingly different love story.
North American Premiere.
Sin City: A Live Improvised Serial, preview
November 5th
Get ready for Season Four of the live improvised serial Sin City – Kingdom of Thrones – which promises to be the most elaborately staged yet.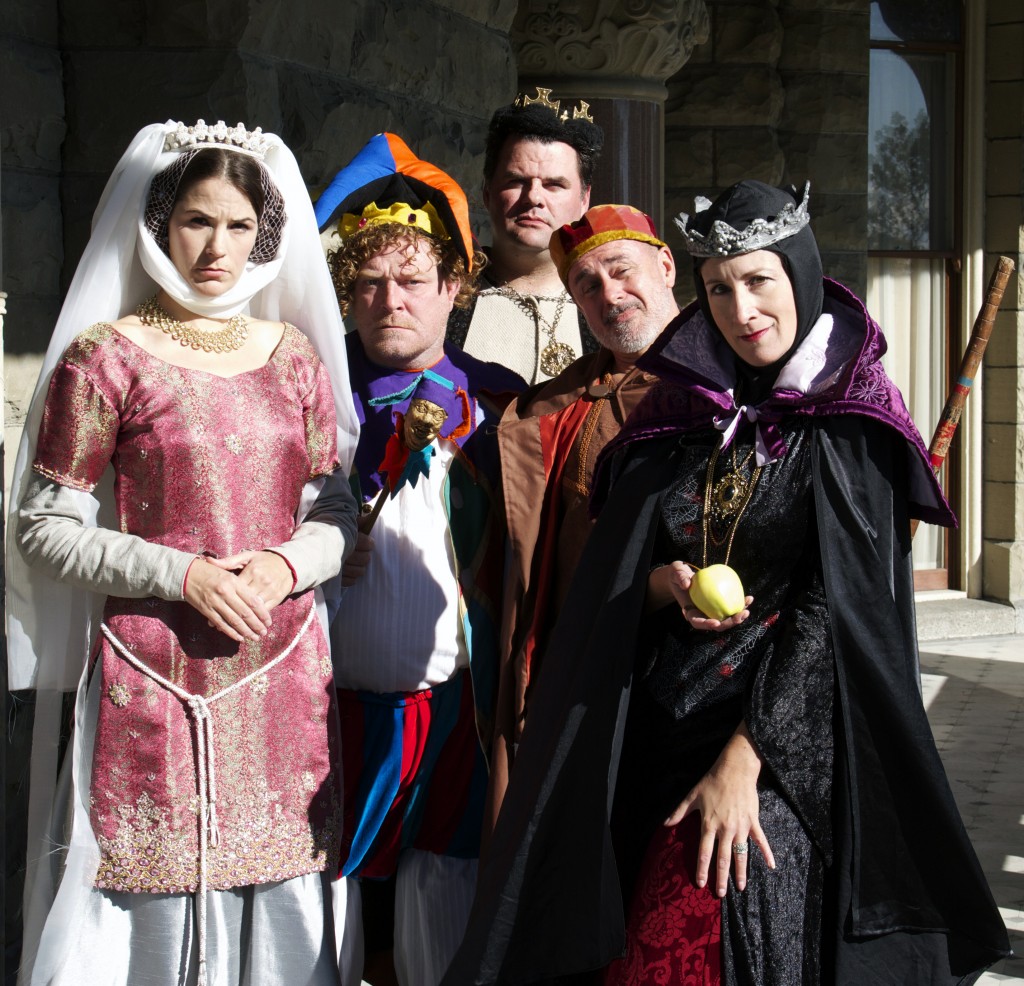 Photo: David Bruce
Travel back in time to the 14th Century and the Late Middle Ages.  KINGDOM OF THRONES takes place in a medieval castle in a small European village populated by peasants, and ruled by royalty – evoking the worlds of Canterbury Tales, the Brothers Grimm, and a touch of Spamalot.

Sin City is unscripted theatre that combines the best elements of improvisation, character comedy, and storytelling.  Each show is completely improvised and unrehearsed – and the story continues weekly in twenty-four hilarious episodes.
Twelfth Night, Company C, Canadian College of Performing Arts, Metro Studio
November 8-10  Guest Director: Darcy Evans
Join Year III students of the Canadian College of Performing Arts, Company C, as they produce and perform one of Shakespeare's most enduring plays.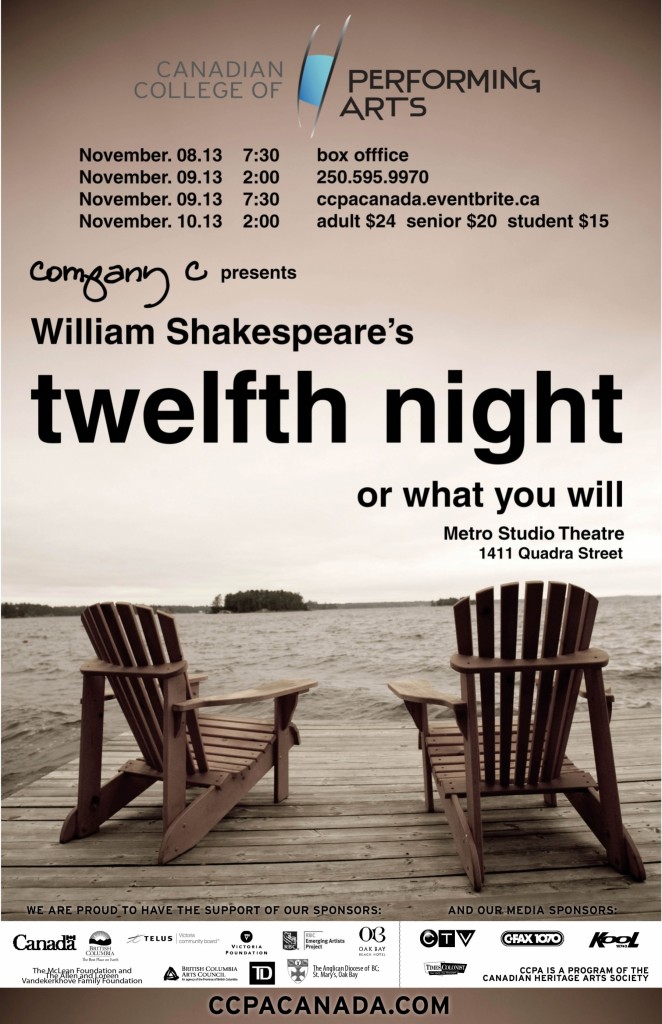 Considered to be one of Shakespeare's greatest comedies, Twelfth Night presents a tale of illusion, deception, madness, and the extraordinary things that love makes us do.
The Skin of Our Teeth, UVic Phoenix
November 7th – 23rd
A rare opportunity to experience a rarely-performed masterpiece, and a cast of 23 actors. Most people are more familiar with Wilder's Our Town.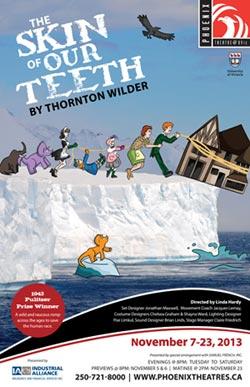 Enter New Jersey suburbia: home of the perfect middle class family, George, his wife Maggie, their children Gladys and Henry (previously known as Cain?), and their pet… dinosaurs? George is the inventor of the alphabet and the multiplication tables and he's just invented… the wheel?  If you're not sure what's happening, then welcome to Wilder's wildly revolutionary romp across many millennia, from the ravages of ice ages, global warming, storms, floods, depressions and war – and back again.

Absurdly funny and very profound, this 1943 Pulitzer Prize-winning satire from the author of Our Town takes us on a wild and raucous tour through the ages to save the human race.  Revolutionary when first written, The Skin of Our Teeth is a play for our time.
Two Person Othello, Pave the Way Theatre, Intrepid Theatre Club
Nov 8/9 and 15/16
"…When I love thee not, Chaos is come again." Starring Julian Cervello (Canterbury Cocktails) as Othello and Elizabeth Marsh (Ghosts of the Plaza, Something Like a War) as Iago and Desdemona; directed by Wendy Merk.
Tickets at the door and through Ticket Rocket.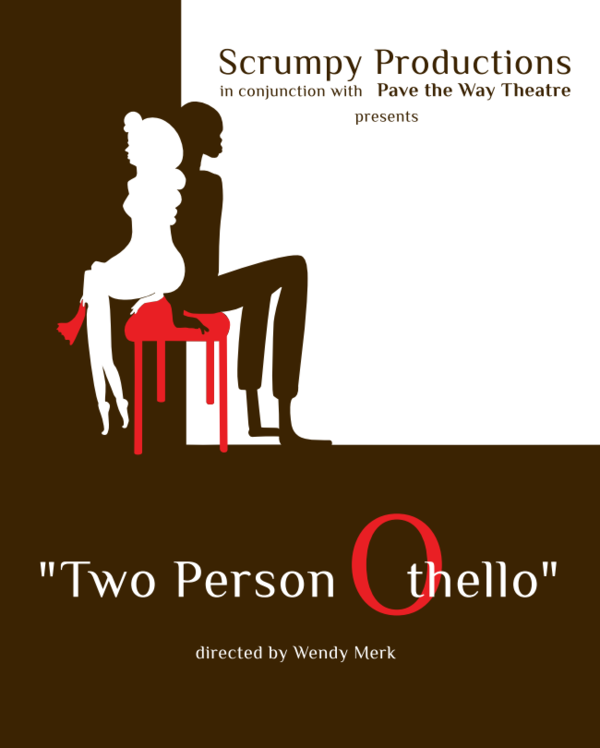 Sin City Opening, Season Four, Victoria Event Centre
Tuesday November 12
Heroes: A Dramatic Comedy, Langham Court Theatre 
November 13 to November 30, 2013
Now in their 85th season of theatrical productions.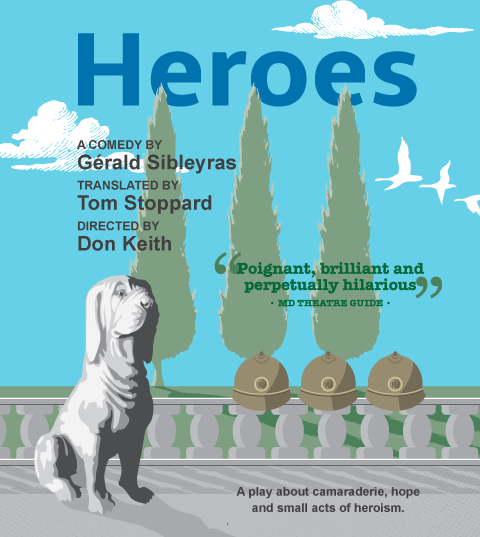 We are very proud to present the winner of the 2006 Laurence Olivier Award-winner for Best New Comedy. It is 1959 and Gustav, Phillippe and Henri are once again under siege. The three World War 1 heroes have been living for years in a home for retired soldiers and have formed an uneasy friendship. But the overbearing nuns and relentless repetition of days has them plotting one more escape. A playful character study full of camaraderie and hope. Audience Advisory: Some coarse language.
True West by Sam Shepard, Blue Bridge at the Roxy
November 19 – December 1
True West is the first production for Blue Bridge Theatre at the Roxy. I'm thrilled to have them in my neighbourhood, and can't wait to experience both their Producer's and Presenter's Series.
A "searing black comedy about sibling rivalry".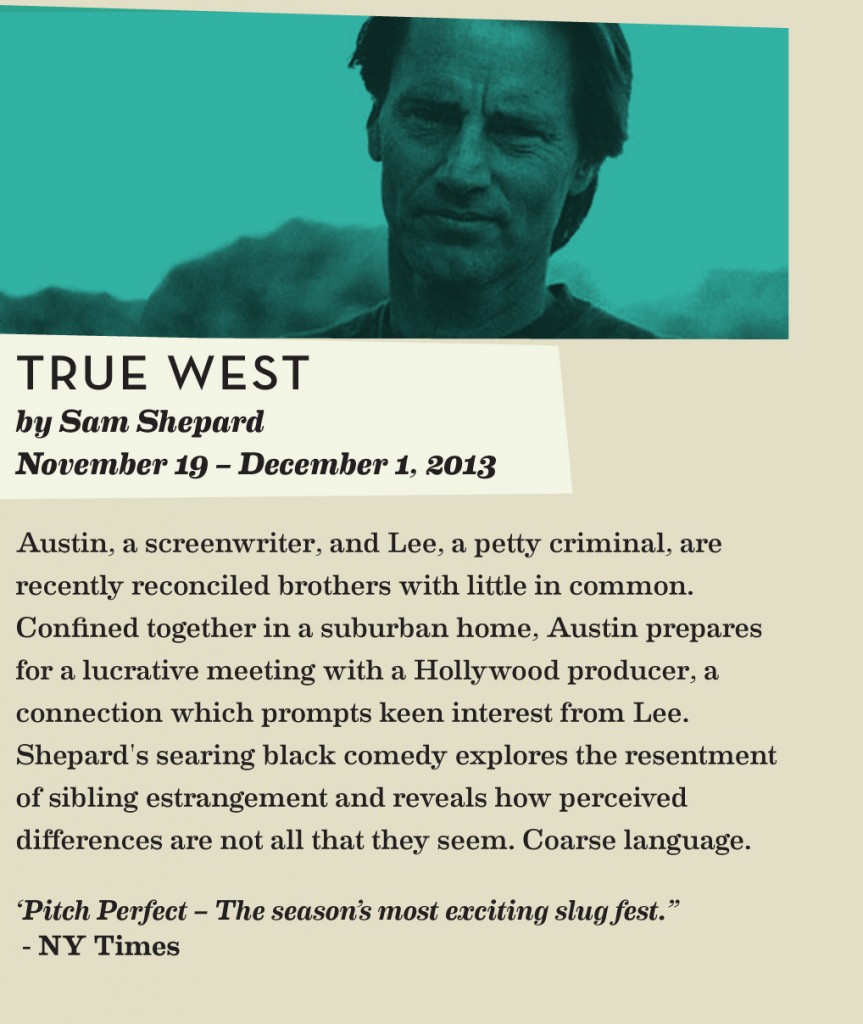 Theatre Under The Gun, Intrepid Theatre
November 24th, Metro Studio
SEVEN new plays in 48 hours!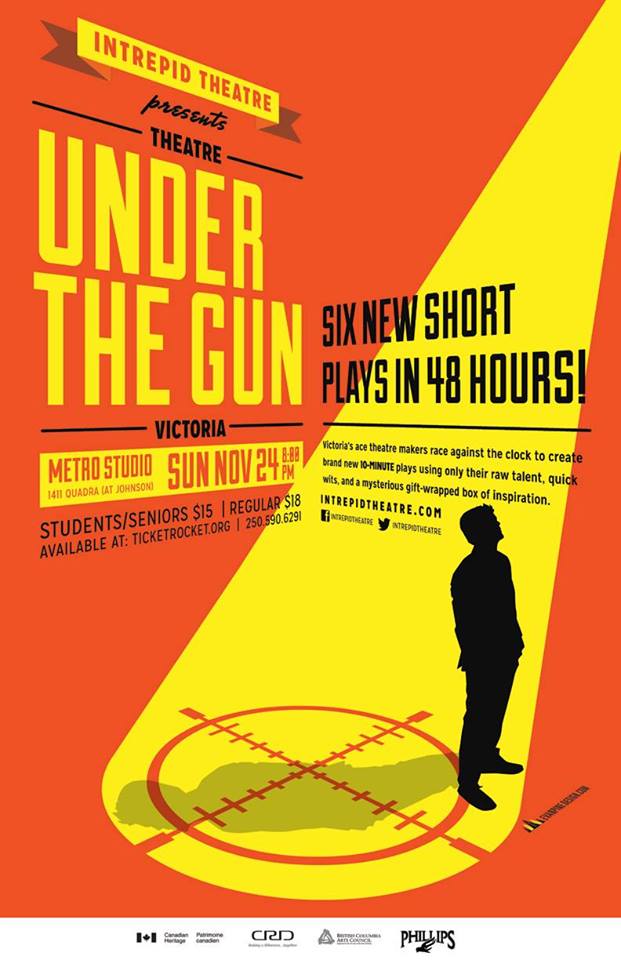 SEVEN new short plays in 48 hours! Victoria's ace theatre makers race against the clock to create brand new 10-minute plays using only their raw talent, quick wits, and a mysterious gift-wrapped box of inspiration. Join us for this daring, devious and deadline driven project, where anything can and will happen.

What will Theatre SKAM, Impulse Theatre, Broken Rhythms, 2 dope boys in a cadillac, two newly created ad hoc collectives, The P.E.K Collective and The Far Far Side Collective and a group of brave free agents bring to the stage after only 2 days of creation, writing, rehearsal and maybe a few surprises? Find out!
chorus|line|cabaret 9 – Marvin Hamlisch, Gotta Getta Gimmick
November 25th, Belfry Lobby and Studio
Since 2011, local musical theatre troupe Gotta Getta Gimmick has been quietly presenting a vocal workshop series that culminates in a night of performance, sing-alongs, diva tag and more. Tickets go on sale October 16th. This event sells out on a regular basis, so, don't delay.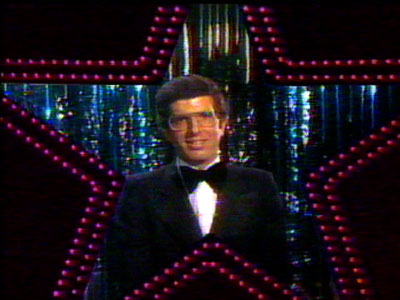 That's right! We finally get to sing some A Chorus Line at the chorus|line|cabaret – it's been a long time coming.

Marvin Hamlisch was a multi-award winning composer and conductor, as famous for his joyful spirit and dedication to the education and outreach of all Americans, as for his very popular music.  Hamlisch created the scores for four Broadway musicals including They're Playing Our Song, The Goodbye Girl, The Sweet Smell of Success and A Chorus Line.  He also wrote The Way We Were, scored over a hundred movies, and was the conductor for several of Barbra Streisand's tours.  He is one of only eleven EGOT's (if you're a 30 Rock fan, you may remember Tracey Jordan trying to become one…) which means he won an Emmy, Grammy, Oscar and a Tony.  He is one of only two (the other being Richard Rodgers) to win these awards AND a Pulitzer Prize.  He is a pretty impressive guy with some absolutely amazing music to explore.
The Collected Works of Billy the Kid,
Theatre Inconnu
Nov 26 – Dec 14 Little Fernwood Hall
I last saw this show in the 1990s, and it remains an extremely vivid theatrical memory. Written over 40 years ago, and a Canadian classic.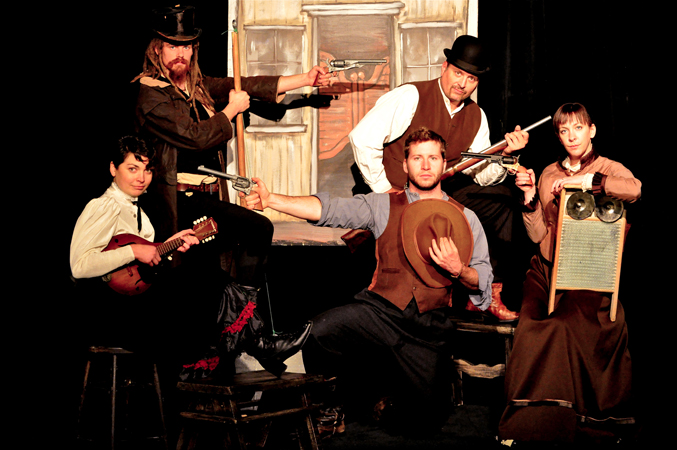 Photo: Monique Cartesan
The most notorious and mythical ghost from the American Midwest frontier is brought to life in the writing of this great Canadian writer. Through narrative, song, and poetry, this collage of theatrical magic builds an undeniable human experience from an unlikely source. This is the Canadian premiere of Quantum Theatre's (Pittsburgh) new adaptation, that was developed with Mr. Ondaatje.
2 for Tea, James and Jamesy, Metro Studio
November 28, 29, 30. Metro Studio
One of my favourite shows at this year's Victoria Fringe. Absurdist, farcical physical theatre. Some of the finest work I have ever seen incorporating audience participation. James and Jamesy create their own unique world, and draw you in completely.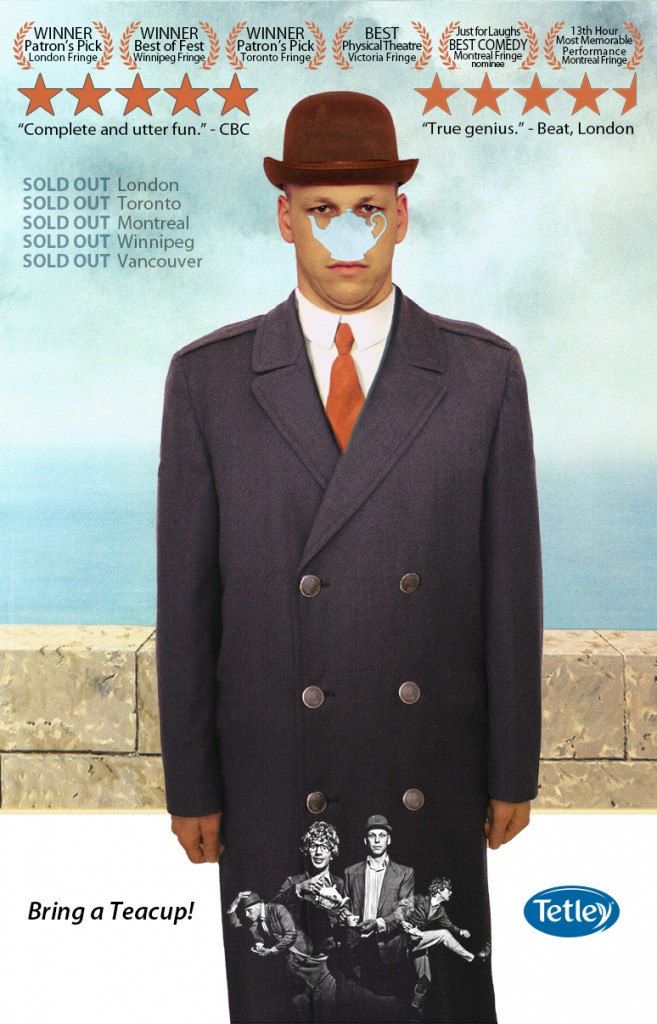 England's critically acclaimed surreal physical comedy duo lures you into their "delightfully bizarre" world with their innocence and "endearing chemistry." Their respective idiosyncrasies and the peculiar formalities of their tea rituals bring vitality to the mundane, turning an ordinary tea party into a fantastic wonderland of stimulation and play.

Since debuting at the London Fringe Festival in June 2013, 2 for Tea has quickly "blossomed as a bona fide hit on the Canadian Fringe theatre circuit" (Times Colonist), attracting sold out audiences, standing ovations, and winning theatre awards in every city.
Canary Club Speakeasy, a fundraiser for Atomic Vaudeville
November 28th, Rifflandia HQ (corner Douglas and Pandora)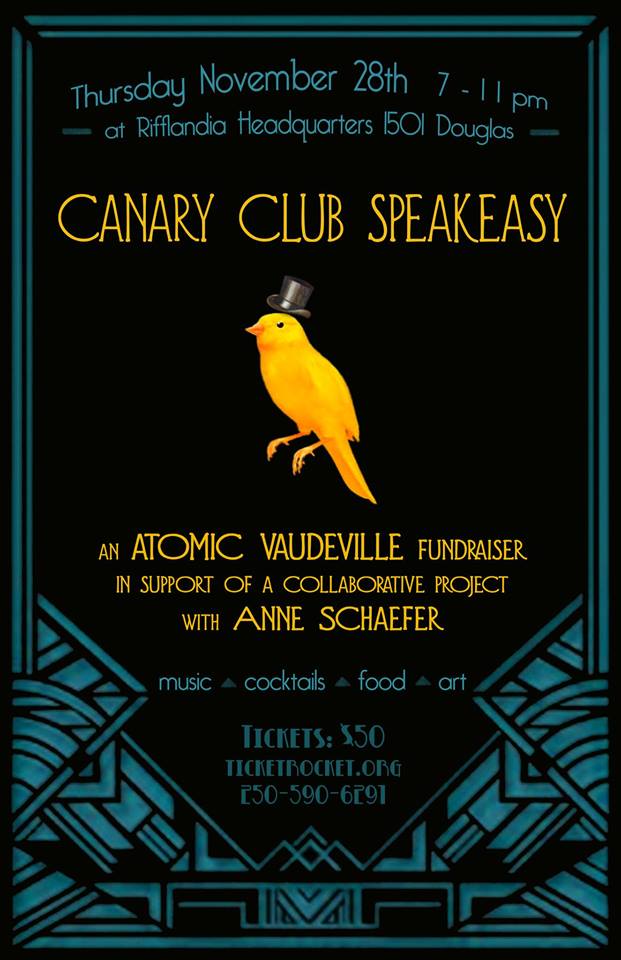 Dress up in your best 20s-era duds and head down to the "Canary Club" for a spectacular evening with music, nibblies and incentive prizes, all in support of Atomic Vaudeville's next creative venture – bringing the music of singer/songwriter Anne Schaefer (The Waiting Room), to life. Read more here:
Stories by the Glass, a fundraiser for the Victoria Spoken Word Festival
November 28, Intrepid Theatre Club
I still remember Missie Peters presenting her business case for seed-funding for the inaugural Victoria Spoken Word Festival to the Awesome Shit Club in late 2010.  Peters goal was to mentor emerging poets, providing them with workshops and collaborative opportunities outside the more competitive slam poetry scene.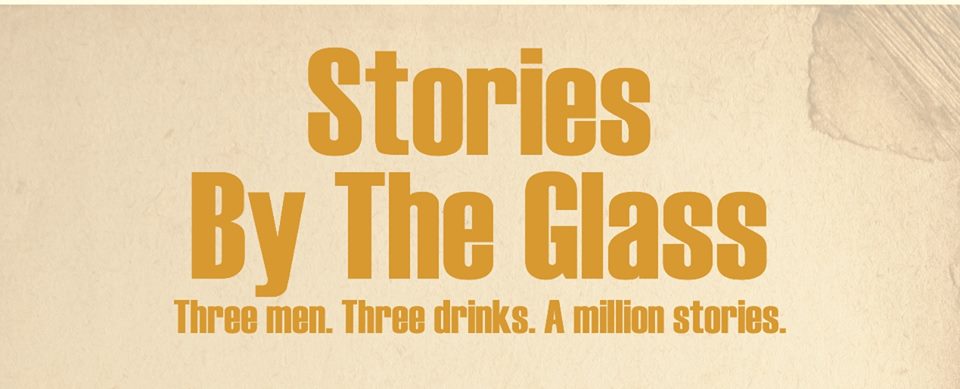 Ian Case. David Radford. Dave Morris. Three men. Three drinks. A million stories.

Enjoy an intimate evening with these local theatre favourites as they share drinks and stories on stage in a completely off-the-cuff, one-time-only show! A fundrasier for the fourth annual Victoria Spoken Word Festival (March 4-9, 2014)

Tickets include an exclusive after-party at Veneto.
An Improvised Commedia Dell'arte Scenario, Lightning Theatre
November 29, 30. Intrepid Theatre Club

Lightning Theatre presents a very interesting and entertaining improvised show based off of a very old style of italian masked theatre called Commedia Dell'Arte. An improvised plot based off of suggestions from the audience while using stock characters who are the ancestors of characters we know and love today. Although Commedia is hundreds of years old it still reflects today's society, and can be enjoyed by modern audiences.

My Gift is For the Trees: An Emily Carr Christmas
Theatre Inconnu Youth Program
November 29,30 and December 1st at Berwick Royal Oak
December 6,7,14 at Merlin's Sun Theatre
This is the perfect Westcoast play for the holidays, and a good choice if you have children.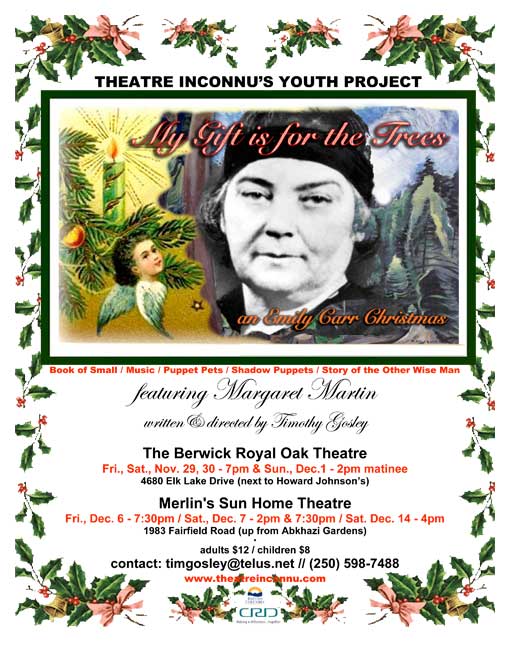 A Christmas play about alternative gift-giving: with a shadow play within the play of The Other Wise Man, Emily's Puppet Pets, an excerpt from The Book of Small and ample of music. Special guest: Margaret Martin.
Merry and Bright, a Christmas auction fundraiser for Intrepid Theatre
December 1st, the Atrium (corner of Blanshard and Johnson)
I can highly recommend this event as a phenomenal way to support a local arts organization AND do your holiday shopping.

'Tis the season! Join us for a live and silent auction, complimentary tastings and cocktail catering from Zambri's on Sunday, December 1 in the Atrium in the heart of beautiful downtown. What better way to kick off the holiday season than with your friends at Intrepid.

Raise a glass with the cast of Pick of the Fringe An Improvised Quentin Tarantino (don't worry, they're cool) and toast to the season with the cast of Grim. Theatre tickets, gift packages, and unique one of a kind experiences will be up for auction and make the perfect gift for anyone on your Christmas List…like a chef cooked dinner in your home, a private cocktail class, a night at the opera and more.
Playwrights Cabaret of staged readings, Belfry Theatre Studio A
Tuesday, December 3
Playwrights Workshop is a ten-week, user-friendly program designed for beginning and emerging writers who are developing new plays for the stage. (No screenplays, please.)
YOU Show – Salt Frog presents The Forerunner.
December 7, Intrepid Theatre Club
A solo piece that explores the universal themes of family, roots and belonging.
Salt Frog presents a staged reading of "The Forerunner". Developed in workshops and mounted as a short work for Theatre Skam's Bike Ride 2013, "The Forerunner" is written and performed by Liz Crocker. LIz's French Acadian grandmother, Grandmere, has left her a legacy of forerunners and ghost stories. But is that all? Two voices untangle the mysteries. A one woman show, or is it? A part of The YOU Show series.
An Improvised John Hughes, Paper Street Theatre, Intrepid Theatre Club
December 11-14
Fans of Ferris Buehler's Day Off, Sixteen Candles and The Breakfast Club will be excited for An Improvised John Hughes by Pick of the Fringe winners Paper Street Theatre. This is improvisation at its finest, presented live and unscripted after months of study of the film-maker's work.
I've seen every production that Paper Street has presented since their inception in 2011, and have never been disappointed. At times it's hard to convince the audience that the actors aren't working from a script or an outline – that's the level of expertise they bring to their shows.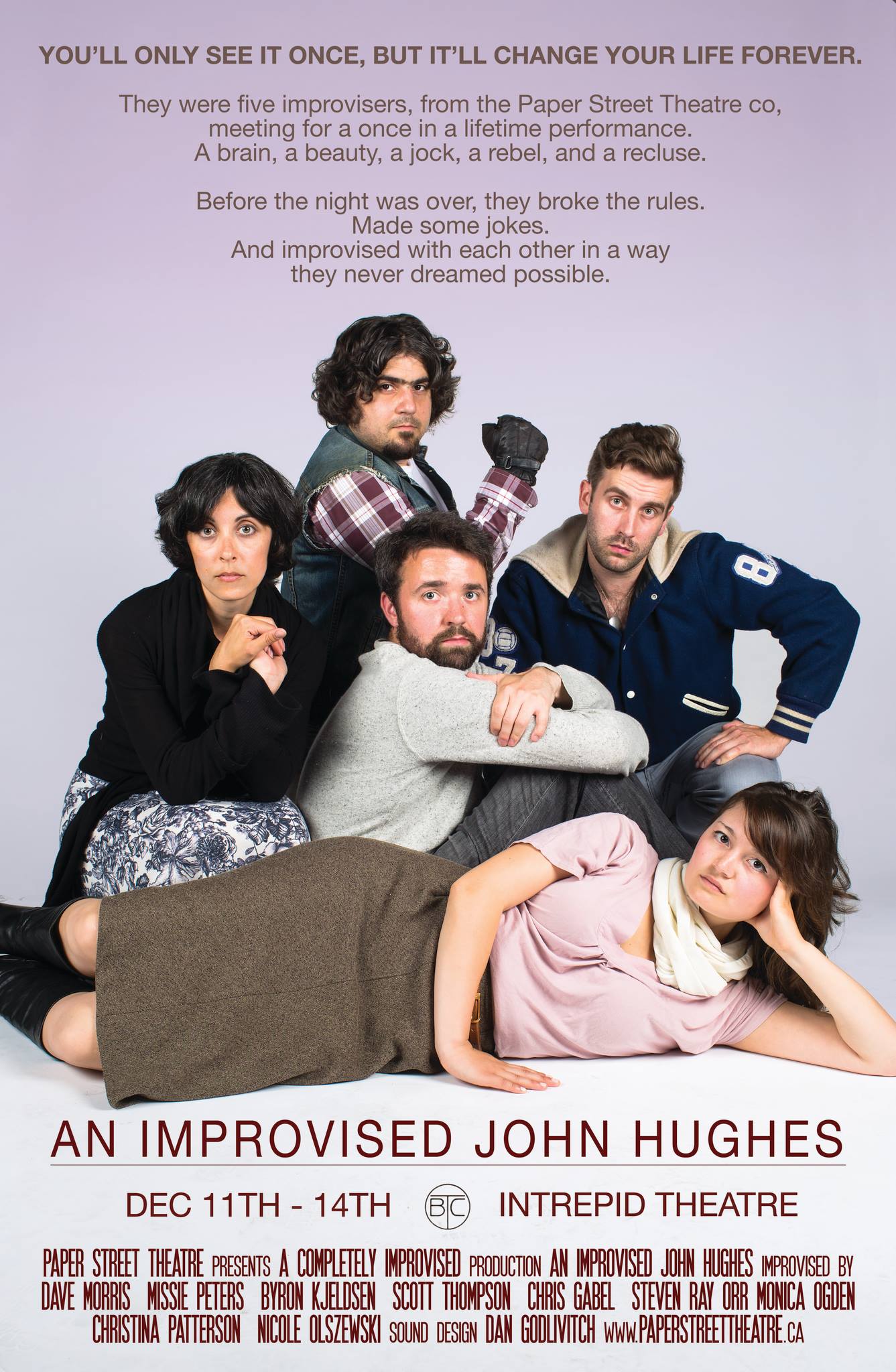 A Christmas Carol, to benefit Our Place Society
December 11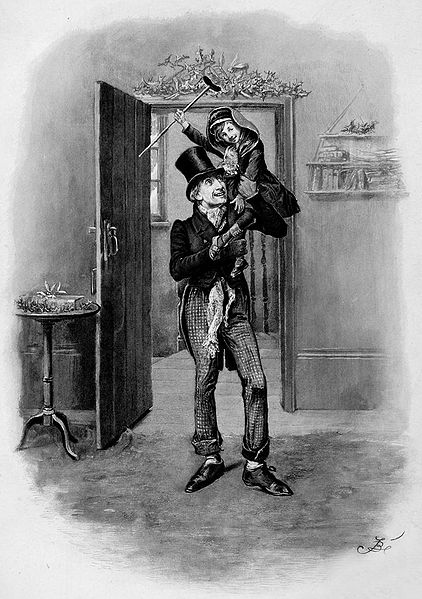 Image: Wikipedia
Celebrate the spirit of Christmas with family and friends at Alix Goolden Hall on Wednesday, December 11 at 7:00pm. Enjoy this much loved tale read by your favourite CBC personalities with music by the Open Door Choir at Our Place and The Victoria Good News Choir with Louise Rose.
Neverending Story, Kaleidoscope Theatre
UVic's Farquhar Auditorium
December 12 – 18

Based on Michael Ende's classic German novel and the 1980's film series, David S. Craig's stage adaptation is a magical exploration of character and creativity. Suitable for children of all ages!

A Christmas Carol, Craigdarroch Castle
December 12 – 20

Local actor Jason Stevens performs a one man adaptation that originated with Charles Dickens himself. NOT suitable for children under 13.

Zobra!, Company C, Metro Studio
December  13-15
Join the Canadian College of Performing Arts Year III students, Company C, as they present their last production before graduating.
Zorba, the musical by Kander and Eb, is directed by James Fagan Tait (Helen's Necklace at the Belfry Theatre in early 2013) in the traditional Greek story-telling bouzouki circle.  Actors, instrumentalists  tell this beautiful story of love, life, and loss without ever leaving the stage!  The audience is included in the circle.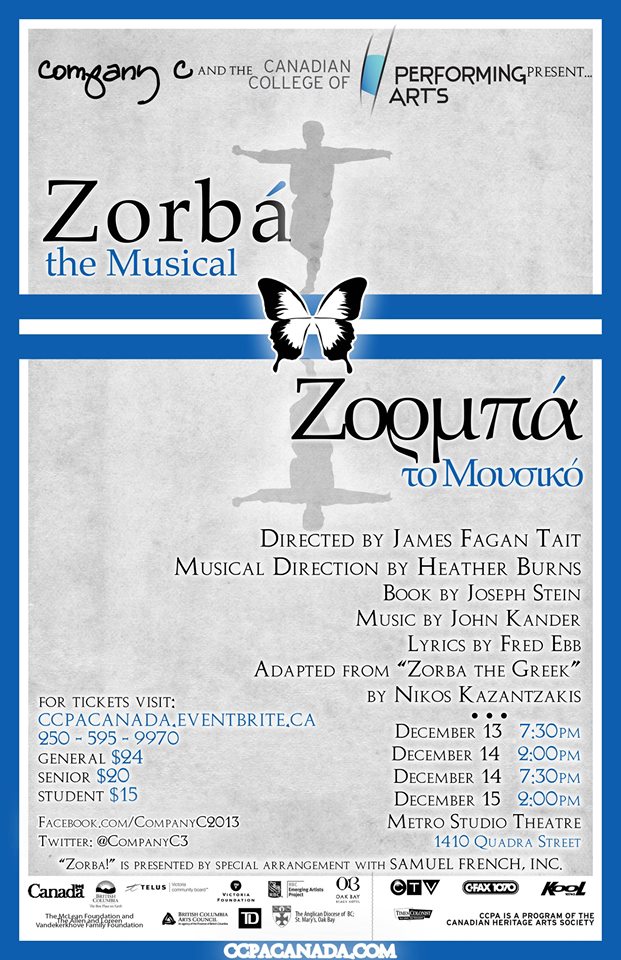 A Sentimental Christmas, CCPA with the Victoria Symphony
December 11-16

Veteran pops conductor Brian Jackson returns with a medley of holiday favourites from Broadway and Hollywood musicals, and is joined by talented CCPA singers.
Kitt and Jane: An Apocalyptic Christmas Special
December 16/17, Intrepid Theatre Club

Kitt & Jane return with a holiday special not to be forgotten! Join Kitt & Jane with substitute teacher Chase Bryer for the school's annual holiday pageant! Student and Teachers have come together to entertain you the parents! So come on down!
Puss in Boots, a Christmas pantomime by St Luke's Players
December 19 – January 1
Christmas pantomimes (panto for short) are legendary in Britain, and an established part of holiday merry-making. In Victoria, you have to act quickly to get tickets too this traditional entertainment which is very popular with families.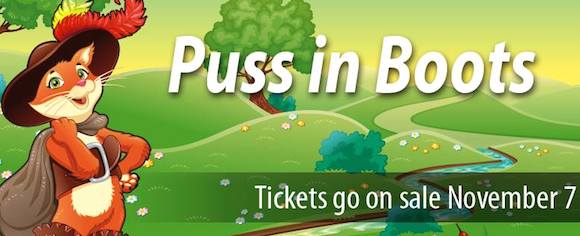 Jack, the miller's son, has been left with just the family cat in his father's will. With the arrival of Auntie Hettie and the revelation that Puss can talk (and look pretty fetching in a pair of boots), Jack, Auntie, and Puss become embroiled in a complex scheme to persuade the King and Queen that Jack (masquerading as the Marquis of Carabas) is suitable husband material for the beautiful Princess. But they will have to contend with a jealous noble suitor, a pair of dastardly henchmen, and a hideous shape-shifting ogre!
Derwin Blanshard's Extremely Classy Sunday Evening Programme,  Victoria Event Centre
December 22nd
Join the live television audience for the Derwin Blanshard Christmas Special – live from the Sydney Opera House.
This hilarious spoof of a 1950s TV variety show is whip-smart, with topical references.  The Christmas special promises to bring some of Victoria's leading performers together for a reunion just before the holidays.  Get dressed up and play your part!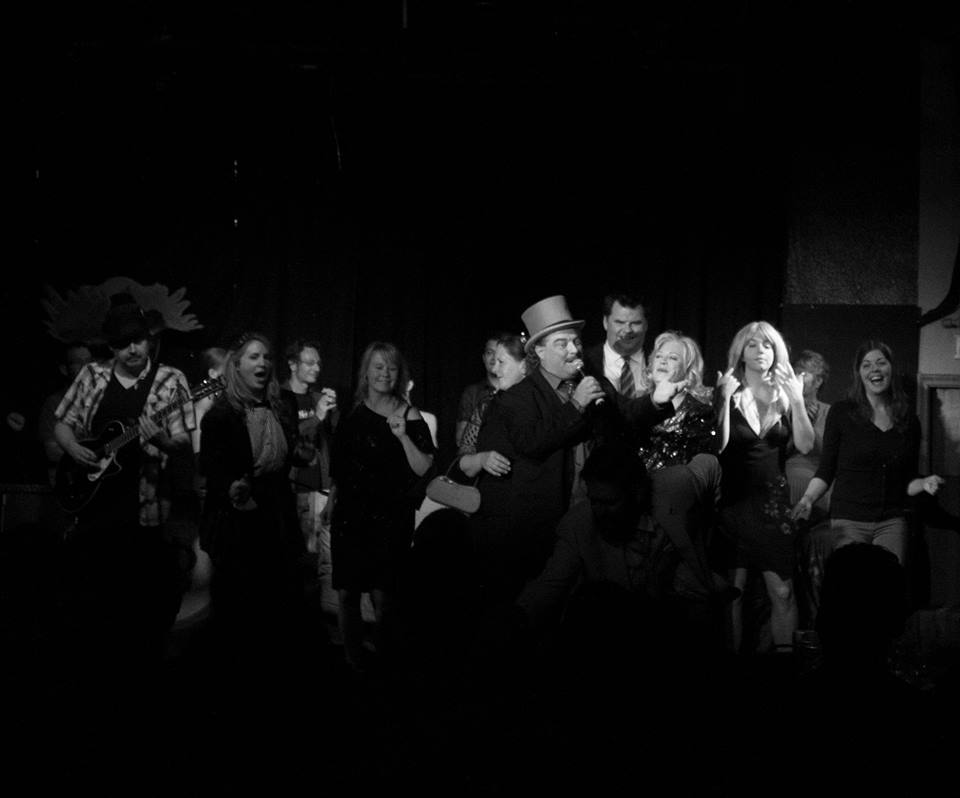 Atomic Vaudeville presents Winter Cabaret, Victoria Event Centre
December 29, 30, 31 
It's the perfect end to the year. Don't miss the legendary New Year's Eve edition of the cabaret!