Daddy Issues by Human Voltage Theatre Project. Victoria Fringe 2017. An interview with Colette Habel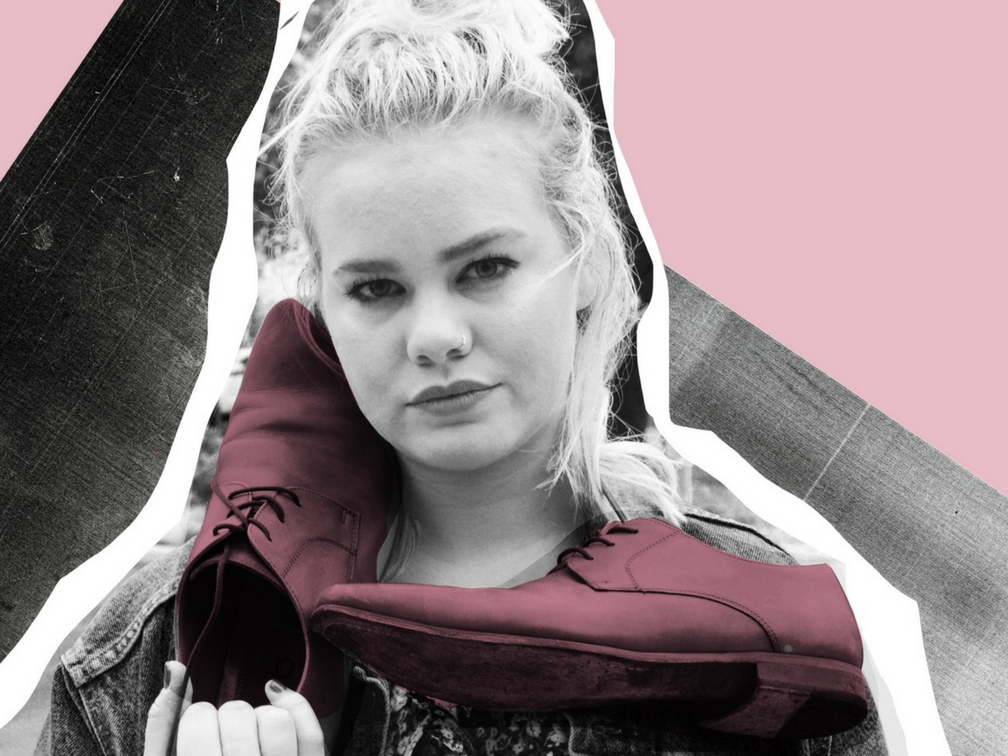 Recent UVic Theatre and Writing alumna Colette Habel is a vital part of Victoria's emerging theatre scene–as performer, creator and director.  Her new devised show Daddy Issues is "not the show you expect"
How long have you been producing work on the Fringe circuit?  As an artist/company?
This is Human Voltage Theatre Project's very first Fringe Fest, but our co-producers Vino Buono are Fringe veterans! Their last appearance at Fringe was in 2016 with Art of the Eight Limbs and Two (2015), which was directed by Human Voltage's founding Artistic Producer and Daddy Issues director Colette Habel.
Have you been (or will you be) taking the show to other Fringes?
I absolutely hope so. One of the many things I love about collaborative creation and devised theatre is the potential for the piece to continue evolving and growing. If, after this run at Victoria Fringe it doesn't feel quite ready to be let go I would love to live with this piece longer and continue creating with this incredible team of young women.
Is your show a new work, or has it been performed elsewhere?
Daddy Issues is a brand-new, never-been-seen fresh-out-of-the-womb creation dreamed up from scratch by myself (Colette Habel) as Director and lead creator, Delaney Tesch as Production Designer, co-created and performed by Arielle Parsons, Grace Le, Jesse Deuscher, and SJ Valiquette with Stage Management by Molly McDowell-Powlowski and Siena Shephard
Significant awards or accolades? (not just on the Fringe circuit)
Vino Buono has been a two-time recipient of Favourite New Play at the Victoria Fringe for Two (2015) and Art of the Eight Limbs (2016)
Can you speak to the creation process of this work?
I don't think I could stop speaking about it! It has been monumentally rewarding, challenging, and fulfilling to work with these young women. I knew I wanted to explore the idea of having "daddy issues", the male gaze, and the father-daughter relationship. I was especially interested in the perspective of young women who are discovering themselves as adults and have started to see their parents as real people instead of just parents. I started asking my friends to tell me about their dads and began collecting stories, experiences and memories, and gathered a group of incredible performers and creators to help me construct a piece of theatre.
Devising a piece of theatre from scratch has meant a lot of discussion, research, writing, improvising, and more discussing. This kind of collective creation requires so much trust and communication and vulnerability with your fellow artists, and I truly feel that that intimacy will show on stage in the finished product.
Who will your show appeal to?
Daddy Issues is for daughters as well as sons. It's for women of all ages who have felt a disconnection with their fathers, or a great bond. Daddy Issues is for the feminists, the shit-disturbers, the ones who fight the patriarchy, and challenge the system. It's for anyone who has felt that they carry baggage or pain with them and have been judged because of it. It's for anyone who has had, never had, or always wanted a dad.
What would you say to entice a potential audience member to come?
This is not the show you think it is. Come see for yourself.
What do you hope to inspire in your audience?
We hope that our audience leaves with a small bit of closure and nostalgia, we hope this show opens up a dialogue about father-daughter relationships, instigates good conversation and reflection, as well as giving you a healthy shot of empowerment. Daddy Issues is about making space for the daughters, for women that have felt the male gaze, for women that have an amazing relationship with their dads, or those who may have no relationship at all.
Daddy Issues by Colette Habel (Human Voltage Theatre Project), presented by Vino Buono Productions
Venue 3, Metro Studio Theatre, corner Quadra and Johnson
Tickets: $11/$9 at Ticket Rocket online or at the door
Duration:50  minutes
Genre: Devised theatrical drama
Rating: PG 14+: Coarse language, adult themes
Aug 24 Thursday 10:15 pm
Aug 26 Saturday 08:15 pm
Aug 27 Sunday 08:45 pm
Aug 31 Thursday 07:45 pm
Sep 01 Friday 04:45 pmSep 02 Saturday 11:00 pm
https://www.facebook.com/events/106197386744118/
http://humanvoltagetheatre.tumblr.com/
https://www.vinobuonoproductions.com/
DADDY ISSUES
Not the show you expect.


Daddy Issues is a devised theatre show coming to the 2017 Victoria Fringe Festival, described as a collage of vintage denim and classic rock fueled by real stories and experiences that dissect the male gaze and re-examine father daughter relationships. The project is the first co-production between Human Voltage Theatre Projects and Vino Buono, two companies of emerging artists dedicated to producing new work. Daddy Issues is helmed by local theatrical powerhouse, Colette Habel: founder of Human Voltage Theatre Project, director-in-residence at Vino Buono, and representative for the Professional Association of Canadian Theatre's newly formed Emerging Artist Caucus.

"As much as it is a stand-alone piece I hope it opens a really crucial dialogue" says Habel, "We're not doing this show to attack our dads. We're doing it because no one's ever given daughters space to talk about this without slapping us with the "daddy issues" label. If that's what we're going to get for talking about our dads, then let's do a show about it where we slap the label on ourselves and explore something that is much more intellectual, tongue-in-cheek, sad, or funny than you imagined it being, and explore what it means to be a daughter. I would love to take people by surprise with this piece."

The devised process is also very important to the DNA of the project, and what Habel wants to achieve with it. "This is the way we are being trained, and this is the theatrical landscape we are entering as emerging artists. In creating devised theatre you build something that doesn't necessarily have to end when the show closes. You can go back to it, it can evolve. There's potential for that in devised theatre and collective creation."

Habel has had her writing featured at Intrepid Theatre's OUTStages Festival, the Cultch's IGNITE! Youth Festival, as well as the local monthly reading series the Rabbit Hole, and has been quietly creating and producing collaborative works of multidisciplinary theatre through Human Voltage Theatre Project since 2015, including Anyone But Me (2017 SPARK Festival Mini-Play) and SCAPE: Victoria (2015 Intrepid Theatre's YouShow Series). Her directing credits include Two (Catador Theatre, Fringe 2015), Describe My Lonely (Catador Theatre, 2016) and Project Mercury (Vino Buono, 2017). Vino Buono just wrapped up its sold-out inaugural season featuring four new works of local playwrights and have had shows featured in 2017 SPARK Festival Mini-Play and Intrepid Theatre's YouShow Series, and produced Art of the Eight Limbs at Victoria Fringe Festival 2016, for which it won the award for "Favourite New Play."