O Come All You Faithful by Nicholas Guerreiro. Victoria Fringe 2017. An interview.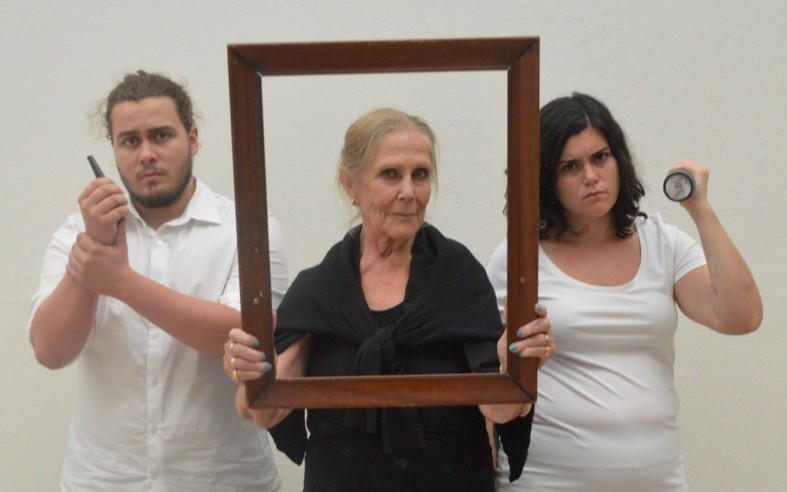 University of Victoria alumnus and UVic Phoenix regular Nicholas Guerreiro presents his first Victoria Fringe show.
NB: Note the production schedule for O, Come All Ye Faithful–five shows in a row from Fringe opening (August 24th) with a gap Wednesday-Saturday and a final show Sunday September 3rd.
How long have you been producing work on the Fringe circuit?  As an artist/company?
This is Bragi Theatre's first year in existence, and most of the team are Fringe neophytes.
Is this your first visit to Victoria?
Our whole team is Victoria resident.
Have you been (or will you be) taking the show to other Fringes?
Not in the foreseeable future, but you never know!
Is your show a new work, or has it been performed elsewhere?
I wrote O, Come All Ye Faithful two years ago, and it first produced as a SATCo (Student Alternative Theatre Company) production at the University of Victoria last September. This was a small, in house production that ran for three days, but the reception was positive and I resolved to develop the play further and try another production with actors closer to the ages of their characters, to see how that changes things. Since then, the script has evolved, and we've assembled a (mostly) new group of people to bring this new version to life.
Significant awards or accolades? (not just on the Fringe circuit) 
No.
Editor's note: Nicholas is humble. In fact, he won "So You Think You Can Write" the Times Colonist's writing contest in 2015. Not only was he the grand prize winner, he won each of the weekly challenges, writing in many different formats.
Can you speak to the creation process of this work? 
Most of the plays I'd written before I started work on Faithful were pretty out there, and I wanted to challenge myself to write something traditionally structured, with a clear arc and no gimmicky metatheatrical tricks or magic-realist elements. Coming from the outside in like that, it took me a while to understand what the characters wanted, but when I got there, this actually became pretty personal . There's a lot of me in the play—my frustrations with art, my struggle with religion, my perspective on family, my long road with neurodivergence—and the issues that Rothko and Christine and the other characters struggle with are the same ones that keep me up nights as well. And gradually the characters asked that I relax my strictures and let it get as zany as it wanted to get. So I'd say I failed at my initial goal, but in a productive way.
Who will your show appeal to?
It'll appeal particularly to art-lovers, feminists, fencers, seniors and bitter people with warm hearts, but I think there's something it for everybody, as long as you don't mind some truly prodigious coarse language.
I do want to speak to the language, because it is used with a purpose. I find that sometimes, the way art is discussed stagnates into this reserved, upper-class jargon, and I wanted to crack that open a little bit and challenge the standard art lingo. So the numerous f-bombs (63 on last count) aren't there just to be "hip'n'with-it." They've got an important role in the story's theme.
Let me put it this way—for the first production, an entire Grade Nine class saw the show, and for the most part enjoyed it. So if you've got the language tolerance of a ninth grader, come and have a good time!
What would you say to entice a potential audience member to come?
I'd probably try to win them over on the charisma of our cast. We've got two exciting young actors—Brett Hay and Anna Watts—and one incredible veteran by the name of Pippa Catling. It's hard to sell how wonderful these performers are on here, but if I had one of them to introduce to any potential audience member, they'd definitely want to come see the show.
What do you hope to inspire in your audience?
It's really easy to get dogmatic about art, especially in such a fractious age when artistic taste has become a signifier for one's stance on all sorts of issues. In Faithful, art becomes a metaphor for religion, politics, a whole host of things. The characters start out having difficulty relating because their perspectives on this major force in their lives have become inflexible, and they can't help but assign all sorts of nasty intentions to the people they see as ideological opponents. And I think, in the end, the play encourages people with different perspectives to recognize each other's humanity. There's a line in the script: "People matter more than paint." If we take that to heart and extend it to all sorts of issues, we can start to build a better society. It's much harder to see someone as an enemy when you know them as human beings first.
Is there anything I've missed asking you, or that you would like to comment on?
Yes! We have a really exciting arrangement with The Bikery, a new small business in town. They'll be providing baked props for our show, and who knows, maybe a promotion deal. Stay tuned to find out.
O, Come All Ye Faithful by Bragi Theatre; written by Nicholas Guerreiro
Venue 5: Langham Court Theatre
Tickets $11/$9 available at ticketrocket.co, the Ticket Rocket Lounge or Fringe HQ
Duration: 50 minutes
Genre: Drama
Rating: PG 14+ Coarse Language
Friday Aug 25 at 9:15
Saturday August 26 at 12:45
Sunday August 27 at 6:30
Monday August 28 at 8:15
Tuesday August 29 at 9:00
Sunday Sep 3 at 6:30
Multi-Generational Play Brings Weird Art, Cake to Victoria Fringe.

O, Come All Ye Faithful is a play about family, faith and non-representational art—and features a varied team, from students to great-grandmothers to bakers.

The plot follows two bickering museum guards—one a foul-mouthed art fan, the other jaded fencing champ—who encounter an elderly Slovenian nihilist, played by Pippa Catling. Catling is a community theatre veteran, as well as a mother of ten, grandmother of twenty-six, and great-grandmother of five.

"I knew Mara would be hard to cast," says playwright Nicholas Guerreiro, "especially since most actors I know are students from UVic or CCPA—but Pippa walked into the audition room and charmed the pants off us."

Another challenge was sourcing the cake called for in the script. Luckily, Bragi Theatre connected with Markus Spodzieja, the proprietor of new mobile bakery The Bikery. "Markus and I acted together at UVic" says Guerreiro. "It seemed like a great way to help him publicize his business."

O, Come All Ye Faithful is being produced by Bragi Theatre, a new company with one show under its belt: an adaptation of the Times Colonist So You Think You Can Write-winning story Rural Ravaillac in the local SKAMpede festival. "A one-man piece was a great place to start," says Guerreiro, "but I wanted to work with artists like our director Elizabeth Martin or our production designer Delaney Tesch, and to involve as much of the community as possible."

Bragi Theatre

Named after the Norse god of Poetry, Bragi Theatre is a brand-new company based in Victoria that is devoted to producing work by local artists in the early stages of their careers. Bragi Theatre is interested in pathfinding theatre that explores fascinating ideas and dares to sail beyond the confines of genre.

Nicholas Guerreiro, Playwright, Producer, and Bragi Theatre founder

Nicholas Guerreiro has appeared on stage in Born Yesterday (Blue Bridge), What a Nice Place to Be (Vino Buono) and Rosencrantz and Guildenstern are Dead (Langham Court), as well as at the University of Victoria in The Inspector, Wild Honey, Threepenny Opera, and A Midsummer Night's Dream. Two of his plays—Hidden People and O, Come All Ye Faithful—have been produced by the Student Alternative Theatre Company. Nicholas also wrote and directed Rural Ravaillac for SKAMpede. Nicholas' short stories and poems won every round of the 2015 Times Colonist So You Think You Can Write contest.

Pippa Catling, Actor (Mara)

Pippa has worked with various groups in Victoria over the last ten years, including Langham Court Theatre, Theatre Inconnu, and Puente Theatre.  She is delighted to be working with this talented and enthusiastic group of people.

Elizabeth Martin, Director

Elizabeth Martin is a director, writer, and lighting designer. She is currently a 4th-year student at the University of Victoria. Her past credits include director: Thread Cutters (SATCo), Girl (Ontario Sears Drama Festival), lighting designer: Project Mercury (Vino Buono). This is her first Fringe experience.

Siena Shepard, ASM

Siena is a Phoenix Theatre student going into her third year. Some of her work include stage managing The Crucible Variations (Phoenix Theatre), Define or Defy (SATCo) and Project Mercury (Vino Buono Productions).

Delaney Tesch, Set and Costume Design

Delaney is a recent graduate from the University of Victoria's Phoenix Theatre Program, with a specialization in costume and set design—a focus complementary to her intensive visual arts background. Recent credits include set and costume design for Blind Portrait (Vino Buono), set design for The Inspector (UVic), set design for What A Nice Place To Be (Vino Buono), costume design for Birdwatching (First N Last), and production design for Art of the Eight Limbs (Vino Buono).

OTHER TEAM MEMBERS

Brett Hay (Actor—Rothko), Frankie Mulder (Stage Manager), Victoria Simpson (Sound Design) Anna Watts (Actor—Christine), Matthew Wilkerson (Lighting Design)

NEAT FACTS AND STORY HOOKS

Although the main artist in the play is invented, the script mentions real works by Leonaert Bremer, Samuel Cooper, Leonardo DaVinci, Gustave Courbet, Ives Klein, Jackson Pollock, Mark Rothko, Cy Twombly, Georgia O'Keefe, Alexander Calder, Lucio Fontana and Damien Hirst.
Three of the O, Come All Ye Faithful creative team are also founding members of Victoria theatre start-up Vino Buono Productions—Nicholas Guerreiro, VB's dramaturge, Victoria Simpson, VB's marketing head, and Delaney Tesch, VB's resident designer. Vino Buono also has a show in the Fringe—Daddy Issues.
The cast of O, Come All Ye Faithful comes from all over the world. One actor hails from the Dominican Republic, one lived in Bolivia, and another grew up in Scotland.

WHO SHOULD SEE THIS SHOW?

People who like to laugh.
Artists and art lovers of all kinds
Feminists
Angry bitter people with a heart of soft nougat.