#FringeFemmes Victoria Fringe 2017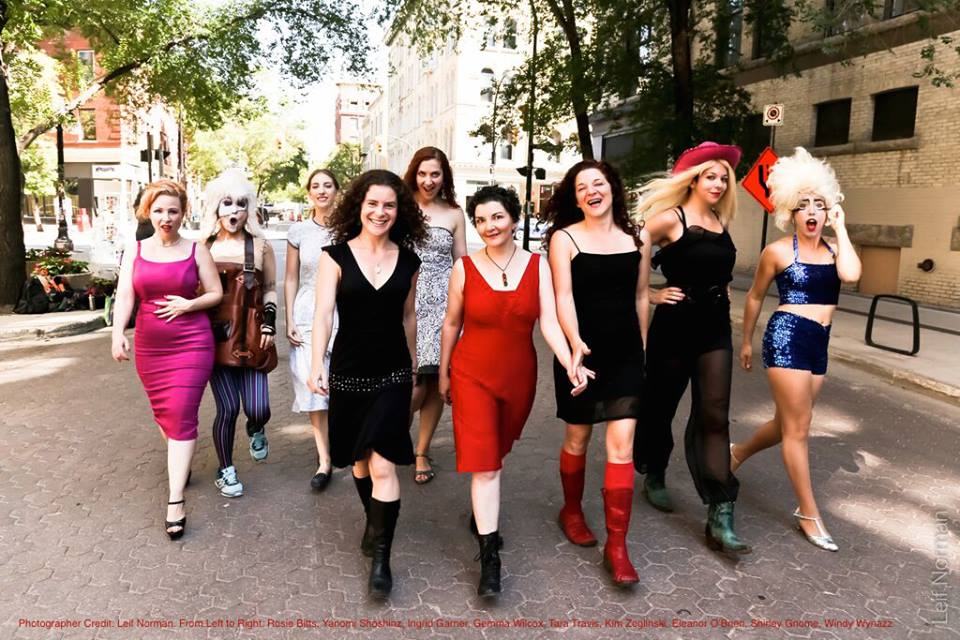 #FringeFemmes 2015. Photo: Leif Norman
This year, Victoria Fringe audiences are fortunate to have 21 shows to choose from that are written and created by women, feature an all-women cast, or, are directed by women (even if the cast comprises men and women).  I thought the last two categories might stretch the intent of the original #FringeFemmes hashtag and had the chance to ask none other than one of its originators, Lana Schwarcz, here this year in Victoria with Lovely Lady Lump, about the creation of the #FringeFemmes hashtag.
It started in 2009 when Gemma Wilcox (last here in The Honeymoon Period is Officially Over, Victoria Fringe 2015), Candy Simmons (AfterLife, Victoria Fringe 2008), Sharon Nowlan (appearing this year in Blood Countess), Tamara Ober, Susan Jeremy and I were having dinner lamenting the fact that when we compared two similar shows in the same venue with the same star rating – one male and one female performer (we won't say which ones) – the solo woman's show got half to two thirds the audience of the man's show. And we originally called ourselves "Femmes fatales on the fringe – with killer shows" but we quickly shortened it to #FringeFemmes. So it started as a solo women's thing as I believe that's where the true unconscious bias lays, because when there is a duo/group with a man the same bias doesn't seem to happen.

However as time has progressed, we've used it to include all women on the fringe, still with an emphasis on solo shows. It's about changing the unconscious bias that audiences don't know they have (hence unconscious) and getting people to become conscious about their show choices. So that's open to interpretation I guess and can be argued many ways.
You'll find comedies, dramas, musicals, and puppets, with shows about sex, surviving cancer and stroke, coming of age, social justice, the bond between women and their dads, the environment, futuristic grandmas, a historic murderess, political activism and much more.  Here's the complete list, in alphabetical order.  I've also included links to my previews (not all shows).
A Woman's Guide to Peeing Outside & Other Adventures by Holly Brinkman
Ever wondered how to perform the "Assisted Pee Over Water"? Ever struggled with a sense of self? Still grieving the death of Jack Dawson? Join storyteller Holly Brinkman in "A Woman's Guide to Peeing Outside and Other Adventures…" You'll laugh. You'll cry. You'll try not to pee your pants.
After the Beep by Pamela Bethel in association with Theatre SKAM
Pamela found cassettes from her very own answering machine she had as a teenager during the early 1990's. Despite the obvious risk of death by embarrassment, she's sharing this archive of adolescence with live audiences. Part confessional, part show-and-tell, it's an exploration of awkward times revealed by the recorded voices of BFs, BFFs, a frenemy and wrong numbers. Sold out premiere at UNO Fest 2017. www.pamelabethel.ca
Beaver Dreams/La Fièvre du Castor by Lost and Found Puppet Co.
A schtick you can to sink your teeth into. Winner of 2 and nominated for five Montréal Fringe Awards. "Nothing less than brilliant"– Savage Clown Montréal. One family. Generation after generation. AND BEAVERS! Sharing the same land, the same lake, and the same nightmare depicting commercial development threatening their corner of paradise in the Laurentians, Quebec. The best dam show! www.lostandfoundpuppets.com
http://janislacouvee.com/beaver-dreams-la-fievre-du-castor-victoria-fringe-2017-interview-maggie-winston/
Blood Countess, Prairie Fire, written/created by Sharon Nowlan
Guinness World Records describes Elizabeth Bathory as the world's most prolific murderess. Did this 16th century Countess kill over 600 girls to satisfy unquenchable bloodlust? Or was "Countess Dracula" the victim of a well-planned conspiracy to bring down a powerful woman? Meet this infamous character and decide for yourself.
Daddy Issues by Colette Habel, Human Voltage Theatre Project, presented by Vino Buono Productions
Devised from true stories and memories, Daddy Issues is a collage of vintage denim and classic rock that explores the relationships between daughters and their fathers. This is for the dads that were always there and never there; the dads we chose and those we didn't; the dads we wanted gone, and the dads who left us too soon.
http://janislacouvee.com/daddy-issues-human-voltage-theatre-project-victoria-fringe-2017-interview-colette-habel/
Gruff by Puente Theatre, directed by Mercedes Bátiz-Benét
A rollicking puppet musical about what happens when the grass really is greener on the other side, performed outdoors in a beautiful little park by the sea — created by Mercedes Bátiz-Benét (Puente Theatre), Judd Palmer (the Old Trout Puppet Workshop) and Brooke Maxwell (composer of Ride the Cyclone). Singing goats! What more do you want? www.puentetheatre.ca
Horowitz and Mrs Washington by Bema Productions directed by Zelda Dean
Mrs. Washington, a black caregiver, is hired to nurse Sam Horowitz who's been mugged and had a stroke. She's a determined tyrant and he's a bigoted Jewish widower. The two must find a mutually beneficial relationship when his daughter tries to make him leave his home. Bema offers another smart and funny play reflecting the attitudes of the 70's and illuminating the power to be found in ordinary lives. www.facebook.com/bemaproductionsvic/
http://janislacouvee.com/horowitz-mrs-washington-bema-productions-victoria-fringe-2017-interview/
Hyena Subpoena, written/created by Cat Kidd
"One of Canada's most talented wordsmiths." – Broken Pencil "Our city's newest superstar." – Montreal Gazette — Mona Morse travels through South Africa and through time. A multimedia meditation on predator and prey, and the creatures within. Nominated for prizes by the League of Canadian Poets, Quebec Writers' Federation, and Expozine. "No one phrase describes what Cat Kidd does except, perhaps, force of nature." – Charlebois Post
In Waking Life by Amped Up Theatre, written/created by Lauren Welchner & Monica Bradford-Lea
Do you seek the answers to your future? Do you yearn to learn how the stars will align? Do you want to know the meanings of your dreamings? Join the Synsk Sisters as we dig deep, dance, dream, discover… who knows what truths you will uncover? **NOT A SCAM** "Unbridled energy", "Side-splittingly funny" – apt 613 twitter.com/synsksisters
http://janislacouvee.com/waking-life-amped-theatre-victoria-fringe-2017-interview/
Inauguration Vacation, written/created by Annette Roman
Trump is president. Now what? For this child of survivors of the Third Reich, wearing a pink pussy hat isn't enough — so she heckles wealthy patrons at inauguration balls, tries to connect with the far right at violent protests, and welcomes Muslims at the airport. "A fantastic storyteller…she lulls us with humour, pain, and haunting awe." –?????CBC Winnipeg www.annetteroman.wordpress.com
Interstellar Elder, written & created by Kathleen Greenfield Ingrid Hansen, Britt Small & Emma Zablonski, Snafu Dance Theatre
From Creators of sold-out shows Little Orange Man (?????– Vue Weekly) and Kitt & Jane (????½ – Edmonton Journal). Meet Kitt, fierce lone geriatric astronaut adrift in a spaceship carrying cryogenically frozen human cargo. Her mission: protect the last of humankind. "Amazingly versatile physical comedian with the Best Ending in the History of Fringe." – Montreal Gazette. www.snafudance.com/interstellar-elder
http://janislacouvee.com/interstellar-elder-snafu-victoria-fringe-2017-interview-ingrid-hansen/
Leer, written by David Elendune, Outpost 31 Victoria, all-female case in a gender-bent adaptation of King Lear, by Shakespeare
*** WORLD PREMIERE *** Woe to you, oh Earth and Sea, for the Devil sends the Beast with wrath — Wendy Magahay (Old Lady's Guide) stars as Satan in this originally sinful, all-female, horrifyingly humorous, reimagining of William Shakespeare's twisted tale of the mother & daughter fight from Hell — Adapted by multiple award winning local playwright David Elendune (Casino Royale/Winnie The Pooh).
http://janislacouvee.com/leer-outpost-31-victoria-victoria-fringe-2017-interview-david-elendune/
Life as a Pomegranate by Dawna Wightman
A quirky woman tries to find a life that includes her own dreams while coping with children, an aging mother & a move to small town BC. Messy. Juicy. Seedy. Bitter. Sweet. http://www.dawnawightman.com
http://janislacouvee.com/life-pomegranate-dawna-wightman-victoria-fringe-2017-interview/
Please note: This show was a late replacement, so it does not appear in the Fringe Program Guide. It has replaced God is an Iron and will have the same showtimes as that show in the schedule (Pg 22/23).
lolcow, written by Robbie Huebner, directed by Karin Saari , all female cast onstage
"lolcow: (lol-ka?), n. person whose foolish behavior can be 'milked' for amusement." Sheena's boyfriend, Stan, is a lolcow. As an e-celebrity Stan is successful, but Sheena finds herself targeted by online trolls, the topic of an invasive podcast. A dark comedy that explores isolation, longing, identity, and the thinning line between public and private life in an increasingly digitized world. www.facebook.com/HawkMomTheatre/
http://janislacouvee.com/lolcow-by-hawk-mom-productions-victoria-fringe-2017-interview-robbie-huebner/
Lovely Lady Lump by Lana Schwarcz
I'm ok. I have a pesky tumour in my left jug, but I'm the luckiest person, 'cos f*ck cancer, man. Jokes, truths and poignant bits from a comic who survived breast cancer. "Hilariously honest"; "Uproariously funny, devastating, heartfelt"; "Smart… empowering — you'll fall in love with the unstoppable Lana Schwarcz." Winner: Most Outstanding Solo (Ottawa), Best Theatre (Dunedin), Best Theatre (Adelaide) www.lanaschwarcz.com
http://janislacouvee.com/lovely-lady-lump-lana-schwarz-victoria-fringe-2017-interview/
Monica vs. The Internet (Tales of a Social Justice Warrior) written by Monica Oden and Ann-Bernice Thomas, presented by Patronus Theatre
An honest account of a Filipina feminist on YouTube. Blending storytelling, videos, and comments from her own channel, Monica explores the implications of words through humor. Created by Monica Ogden, creator of Fistful of Feminism, from award-winning Paper Street Theatre, and Ann-Bernice Thomas, 2016 Youth Poet Laureate of Victoria.
http://janislacouvee.com/monica-vs-internet-tales-social-justice-warrior-victoria-fringe-2017-interview/
My Stroke of Luck by Diane Barnes
Can the good doctor become a good patient? Who are you when the 'you' you know is gone? And who do you have the courage to become? My Stroke of Luck share's Diane's rollercoaster of medical catastrophe and recovery — as physician and single mom to a frightened teenage son. A spellbinding and funny look at love, family and seemingly insurmountable odds. www.dianebarnes415.com
http://janislacouvee.com/stroke-luck-diane-barnes-victoria-fringe-2017-interview/
Naked Ugly Dancing by Tasha Diamant, the Human Body Project
Like Butoh but worse. Overweight, scarred, ageing white woman ugly dances naked with improvised collapses and conversation. Tasha Diamant is a performance artist, cancer survivor, and mother. She experiences the normalization of brutality in our culture as traumatizing. Part healing ritual, part angry protest. Awkwardness and vulnerability as art. With a backdrop picturing her Stage 4 ovarian tumour. Participation optional.
http://janislacouvee.com/naked-ugly-dancing-tasha-diamant-victoria-fringe-2017-interview/
O, Come All Ye Faithful, written by Nicholas Guerreiro, directed by Elizabeth Martin
We promise it's not about Christmas. Well, it's a little bit about Christmas. It's also about a mysterious circular painting, a security guard with an angry streak, a foul-mouthed art aficionado with a fake name, and a Slovenian nihilist on a secret crusade. It's about family, faith, and non-representational art, and the weird bonds that hold people together.
http://janislacouvee.com/o-come-all-ye-faithful-nicholas-guerreiro-victoria-fringe-2017-interview/
Olive Copperbottom: A New Musical by Charles Dickens and Penny Ashton, Penash Productions
Following Promise & Promiscuity's global successes, (Best Female Solo, Victoria Fringe) Kiwi Ashton swaps Austen for Dickens and brings orphaned hero Olive and a squalid gaggle of Victorians to pox-ridden life. A rollicking one-woman musical journey to fulfill your greatest expectations and be the best of times and… the best of times. "…very very good, very very funny." – Radio New Zealand www.hotpink.co.nz
http://janislacouvee.com/olive-copperbottom-by-penny-ashton-victoria-fringe-2017-an-interview/
The Moaning Yoni by Joylyn Secunda
A college student desperately trying to be normal resists the dictatorial pressure of her anthropomorphic vagina (or yoni). Together they cross the battlefield of Tinder, Sex-Ed, and Tantric hippies in a psychedelic journey. An absurd solo comedy about sex, identity and new age ideals, The Moaning Yoni combines dialogue, physical comedy, and song in a hallucinatory coming-of-age satire.
http://janislacouvee.com/the-moaning-yoni-joylyn-secunda-victoria-fringe-2017-interview/