Beaver Dreams La Fièvre du Castor. Victoria Fringe 2017. An interview with Maggie Winston.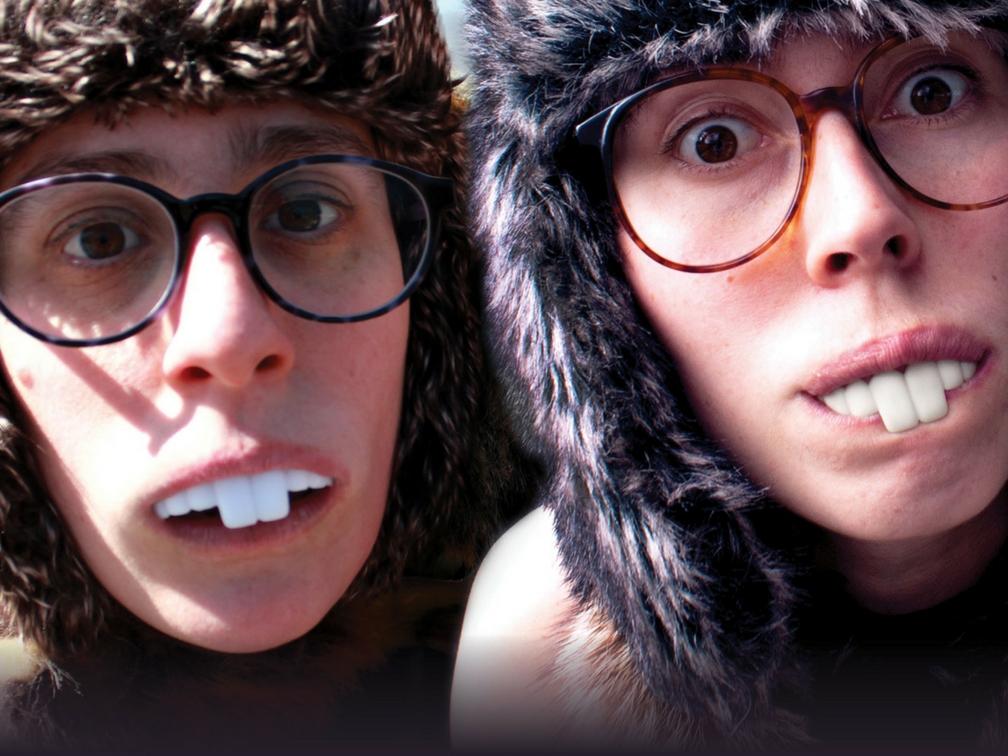 "All humans desire to connect to nature". Learn more from Lost and Found Puppet Company's artist director Maggie Winston about the inspiration for this bilingual, all-ages show, created and produced by an all-female team.
How long have you been producing work on the Fringe circuit? As an artist/company?
My first show at the fringe was in Vancouver in 2006 with Tara Travis' company Sticky Fingers production of Down the Drain. The first fringe production by Lost & Found Puppet Co. was also in Vancouver in 2008 with The Lost Sole, which was a sock puppet show that followed the life of one sock who had lost its match to a hot toonie in the dryer was sent into a world where all the lost socks go, to discover himself as an independent sock. I hadn't returned to the fringe until 2016 in Montreal with Beaver Dreams- La Fièvre du Castor.
Is this your first visit to Victoria?
Yes, this is my first visit to Victoria Fringe Festival. I've performed in Victoria before as part of the Puppets for Peace Northeast Regional Festival of Puppetry with Puppeteers of America. Produced by Tim Gosley.
Have you been (or will you be) taking the show to other Fringes?
We are currently in Nanaimo Fringe and will be at the Havana Theatre BYOV venue in Vancouver next.
Is your show a new work, or has it been performed elsewhere?
We debuted this show at Montreal Fringe last summer and since then we have performed at Mainline Theatre as part of our Creativity Award that we won at the Fringe for a 5 show run in March, 2017. We were featured during that week for one show as part of Festival Casteliers, which is the major international puppetry festival Canada, showcasing our play to presenters of puppet theatre from around the world. We also had a show at Centaur Theatre and one elementary school (Montreal). Then, I brought the show to the USA and toured to Baltimore, Philadelphia, Hazleton, Boston, and NYC this June 2017. We've recently been invited to perform at the Center for Puppetry Arts in Atlanta, Georgia.
Significant awards or accolades? (not just on the Fringe circuit)
Major accolades came from the Fringe in Montreal.
FRANKIE AWARD WINNER:
MainLine Creativity Award (MainLine Theatre)
The Montreal le Festival de Clowns Award (The Montreal Clown Festival)
FRANKIE AWARD NOMINATIONS:
Freestanding Room Award for Making Big Things Happen in Small Places
Most Promising English Company (Segal Center for Performing Arts)
Best English Production (Centaur Theatre).
In 2010, I received the Mayor's Arts Award (Vancouver) for Emerging Artist in the field of Community Arts. I've received some BC Arts Council and Canada Council grants to produce work in India with Katkatha Puppet Arts Trust and to attend the Banff Centre for the Arts Puppetry Intensive with the Old Trout Workshop.
Can you speak to the creation process of this work?
Every summer of my life has been spent with my family at a place called "Crow's Lake". It's a Canadian paradise, hidden in the Laurentian Mountains, QC, just one hour from Montreal. It features 3 non-electrified log cabins (shared only within the family), a lake all to ourselves (except for the beavers, of course), and all the peace and quiet a person needs. I have lived and travelled all over the world. As a result, I think of myself as having many homes. Yet, every summer, I return to Crow's Lake.
During the last 3 summers, while floating on the lake, a dream of a show was taking shape. To make this show, I needed to be close to the one place that was always home. Last year in January, my plan to relocate from Vancouver to Montreal, start a new life, learn french, develop whole new relationships, join the vibrant puppet community, and make a Fringe show, was in action!
I was long enamoured by the puppetry scene in Montreal, having known about Festival Casteliers, and many other great puppetry companies based there. After attending the Banff Puppetry Intensive, I was recommended to contact Anne Lalancette, a wonderful Montreal based puppeteer. She soon became the director of "Beaver Dreams" and was an invaluable asset to our show.
In true Lost & Found Puppet Co. style, I created all the props and puppets for this show. Everything you see on stage was hand made by me. Many of the sticks are authentic beaver chewed sticks collected from around my family cabin at the lake where the beavers live. Some of the sound design incorporates real sounds recorded from the actual place. The recorded dialogue is unscripted responses and memories about the place from my cousin, my mother, and my grandmother (who passed away during the making of the show last spring). The digital animations are made by my sister, Molly Winston, which features the real recurring nightmare that my mother and many other family members have.
Through the creation process, I realized my deeper reason for wanting to be closer to our family cabin. All humans desire to reconnect with nature, to live a life in which there is little technology. A simple life, in which we remember that we too are animals sharing this world with other animals.
This separation from nature creates a type of anxiety. It arises in the subconscious of many of my family members (including myself) in the form of a shared nightmare, in which the entire lake has been bulldozed and developed into a town inhabited by strangers. Beaver Dream/ La Fièvre du Castor depicts the story of Crow's Lake from the perspective of the beavers who have shared the same lake. It imagines a fantastical world in which the beavers experience the same fears as the humans, while in a battle of construction and destruction of the beaver dam.
For each run of the show this year, I have brought a new actor in to play the role of the second beaver. During the west coast fringes this year, I'm so thankful to have Mika Laulainen, graduate of the Theatre Program at UVIC and artistic director of star star theatre, joining me for this production.
Who will your show appeal to?
It really is an all-ages show! We've played to an audience of all kids, mostly kids, all adults, and mixed ages and the response we always get is that everyone of all ages enjoys it equally. My intention with this show was to make it as inclusive as possible. The kids love the puppets and clowning and so do the grown-ups. The storytelling hits the heart for adults especially. Since it is set in Quebec, and would be performed in Montreal mostly, I also decided to make it bilingual. So audiences who are comfortable in both languages will be able understand everything. It's physical, visual and auditory performance, so if your thing is realistic theatre with lots of talking, this show isn't for you. If you enjoy the silly, the imaginative, the heart warming, and a little weird, it's for you.
What would you say to entice a potential audience member to come?
Ever seen a puppet show before? Think puppets are just for kids? Think again, this show will challenge your expectations of what puppetry and clowning are while transporting you into nature.
Tired of actors on stage telling stories about people? Take a chance and see things from a beaver's perspective.
This show is impressive! You will be blown away by the set design, the sound design, the puppets and the exquisitely executed physical comedy. Not to be missed.Ever felt the need to just get away from the city, from technology, from the modern world and just relax into nature? This show will take you there, while addressing our need to keep nature from being developed.
What do you hope to inspire in your audience?
I hope that audiences will be inspired by the puppetry and clown styles in this show and that it will challenge their expectations of what puppetry is. We use many techniques of puppetry that most people don't know of. Puppetry is already the combination of all the art forms and I hope people will see that and know that storytelling/performance comes in many forms, not just actors on stage.  I hope people will be touched by the magic of these art forms and will be inspired to create their own creative work in whatever way speaks to them.
I hope that people will be reminded of our connection to nature and animals and remember how similar and different humans and animals really are.
Is there anything I've missed asking you, or that you would like to comment on?
Our show is about 55 min. and is interactive. Sit in the front row and you might get splashed.
Beaver Dreams/La Fièvre du Castor by Lost and Found Puppet Company
Venue 3 : Metro Studio Theatre
Tickets : $11/$9 at Ticket Rocket online or at the door
Duration: 55 minutes
Genre: puppetry, clown, animation
Rating: All ages
Fri Aug 25 – 5pm
Sat Aug 26 – 10:15pm
Sun Aug 27 – 1pm
Tue Aug 29 – 7:45pm
Fri Sep 1 – 8:15pm
Sat Sep 2 – 12 noon
Lost and Found Puppet Company on Facebook
Facebook event (Victoria) https://www.facebook.com/events/271655759987470/
Facebook event (Vancouver) https://www.facebook.com/events/1919230685014174/
Beaver Dreams (La Fièvre du Castor) is a meditation on a family's multigenerational war on a beaver family on their lake at the cottage, in the Laurentian mountains, Quebec, as told from their AND the beaver's perspectives. Une famille. Generation after generation. LES CASTORS!

Be a part of their daily activities; eating wood, building dams, family feuds, and dreaming. But every summer, one chore must be done- break the beaver dam. An epic battle of construction and destruction ensues. Sharing the same land, the same lake, and the same nightmare of commercial development threatening their corner of paradise.

Inspired by a real place where Maggie Winston's family spends summers. The land this story is based on is unceded traditional territory of the Khanwake people.

This multi-media puppet, physical comedy, family-friendly, bilingual, cardboard-set extravaganza is fun! Get wet at the best dam show of the Fringe this year!

Maggie Winston: Artistic Director of Lost & Found Puppet Co. Puppeteer, Producer, Designer.

L&FPCo. based in Montreal since January 2016, founded in Vancouver (2007). L&FPco explores human relationships to objects, plants, and animals. St. Ambroise Festival de Fringe, Festival desCasteliers, OUF! Festival Off Casteliers (Montreal), Vancouver Fringe Festival, Out The Box Puppetry Festival (Cape Town, SA). Beaver Dreams recently toured the Northeast USA (June 2017) performing in Baltimore, Philadelphia, Hazleton, Boston, and NYC.

Mika Laulainen: Mika is a creator, a director, a writer, and a puppeteer with a focus on ensemble driven, physical work based in Vancouver. Artistic Director of star star theatre. Graduate of University of Victoria, BFA Theatre, 2008. Artistic Associate at Axis Theatre. Directing/puppetry/acting productions includes Somebody Loves you Mr. Hatch at Gateway Theatre, Kolejka (2016) at rEvolver Festival, Pornography (2015) at Vancouver Fringe, Runaway (2015) with Theatre SKAM.

Anne Lalancette: Director based in Montreal, QC. The Erotic Anguish of Don Juan (The Old Trout Puppet Workshop), The Season (Socalled, Pop Montreal), Louis Riel: A Comic-Strip Stage Play (RustWerk Refinery), and Corbeau (Théâtre de l'Oeil). Prière de ne pas envoyer de fleurs (Radio-Canada), Robax (TV commercials), From Naughty to Nice (NFB) and Sale Gueule (Dock Films)

"A very funny, creative piece worth catching!"
Daily Hive Montreal

"Everyone was simply in love"
Montreal Rampage