Dispatches from the Victoria Fringe 2014. Day Seven. Reviews of N.O.N.C.E., Magic Unicorn Island and The Quitter.
More information at Victoria Fringe. Purchase tickets at TicketRocket, the Intrepid Theatre box office, or at the venue one hour prior to the show. Don't forget—you'll need a Fringe visa button ($6).
The final week of the Fringe is extremely busy and I would highly advise getting tickets in advance for shows you don't want to miss (or be prepared to line up early). If you like to take your chances (and that is a vital part of the Fringe experience) there are over 50 shows in 11 venues for the final five days. From puppetry to dance, spoken word to drama, comedy to solo show, magic to theatre for young audiences—there truly is something for everyone.
Read my complete Victoria Fringe Theatre Festival 2014 coverage HERE.
One person, onstage, perhaps a chair—minimal sound and lighting cues. This is the heart of the fringe experience for me.  A person and their words. With or without actions, accents and costumes.  An artist's ability to conjure worlds beyond my understanding, to hold up the mirror, to poke the painful places or make us laugh without stopping—I am in awe.
The Victoria Fringe 2014 Day Seven saw me camped out at Blue Bridge's Roxy Theatre in the heart of Quadra Village for three shows—N.O.N.C.E by Scottish performance poet Steve Larkin, Magic Unicorn Island by multi-award winning solo artist Jayson McDonald (Giant Invisible Robot, Boatload, Fall Fair, Gunpowder, Underbelly), and The Quitter by Al LaFrance (winner of Just for Laughs award Best English Comedy at the Montreal Fringe).
It's been a while (2011) since the Fringe was represented Hillside-Quadra with venues at the former University Canada West (now CDI College) and Dance Victoria, and I sincerely hope this is the beginning of a long relationship.  The Roxy is a comfortable 200 seats and is actually set up (like the Metro Studio or the VEC) as a performance venue which is a bonus.  Snacks and drinks are available onsite (no alcohol), and there are a number of restaurant and grocery store options nearby.  The number 6 bus stops right in front of the theatre and if you're walking it will take you 20 minutes tops from Pandora and Quadra. (If this sounds a bit like a sales pitch, it is, most unabashedly—I live in the neighbourhood)
In the world of prisons and offenders, the acronym N.O.N.C.E. (not on normal courtyard exercise) is code for sex offenders who must be segregated from the general prison population, for their own safety due to the nature of their crimes.
Larkin, the 2004 International Poetry Slam Champion and an Oxford Professor of Poetry, recounts his time as poet-in-residence at Britain's only "therapeutic" prison, Grendon, where nonces mix with the general prison population in his poetry workshops.

Filled with uncomfortable realizations about his own prejudices and biases—"murder is just a word"—N.O.N.C.E. provides trenchant social commentary and warm feel-good moments in this semi-autobiographical re-telling.  Identities have been changed and merged.
Larkin evokes the prison population, and outlines the methodology behind his classes, with precision. Inmates chose new names for themselves based on artists, writers and musicians they admire—Dylan Thomas, John Lennon, James Brown, 50 Cent, Paul Weller, Bertolt Brecht—names that in themselves hint at a larger erudition than stereotype would dictate.  He's assisted in this task by a group of young women students—which presents its own unique challenges, given the environment.
Against this backdrop, his personal life is in a shambles—toggling back and forth between the satisfaction and ease of his work with the prison poets, and the relationship difficulties he's facing with his girlfriend, Larkin is forced to confront his personal circumstances. In so doing, he upends many of his audience's beliefs too.
Power, sex, authority, the life-affirming nature of artistic creation, feminism—Larkin touches on themes with a clear eye and pulsating rhythm. There's an urgency to his delivery that commands attention. Never flinching from the uncomfortable truth—whether directed outward at society or inward in brutal self-examination—Larkin embodies a generation that prefers its poetry resolute.  It may not be pretty, but it is necessary.  He is a prophet-poet of the highest calibre who, despite the seemingly bleak nature of the subject, is able to paint this world in all its hurt with a generous spirit and find beauty in small victories. You'll cheer as the prison poets find their voices, and celebrate with Larkin.
N.O.N.C.E. written and performed by Steve Larkin
Roxy Theatre, 2657  Quadra, Venue 8
Upcoming performances:
Thursday August 28-9:30pm
Friday August 29-7:45pm
Saturday August 30-9:15pm
Sunday August 31-4pm
There are three other spoken word shows at this year's Victoria Fringe Festival—The Anthropocalypse by shayne avec igrec and Johnny MacRae, For Body and Light, and Jem Rolls Attacks the Silence—I would highly recommend any of them. I'm seeing Jem Rolls on Thursday night. All my spoken word reviews are HERE.

Larkin is performing TES, the show he presented at the 2013 Victoria Fringe Festival, at the Vancouver Fringe 2014. Times and location HERE.
Magic Unicorn Island, written and performed by Jayson McDonald.
Jayson McDonald first popped up in Fringe consciousness the year Giant Invisible Robot played the Intrepid Theatre Club (and promptly sold out). Since then he's become a regular not only at the Victoria Fringe Festival but also at UNO Fest. Audiences love his lanky physical presence that moves with such ease from one character to another, his sense of humour, and the dark edge to his writing. Nothing is ever quite what it seems in McDonald's shows and Magic Unicorn Island is no exception.

In a black void, inhabited by inchoate mumblings, a self-pleased God forms the universe, fills it with light, sets the stars to twinkling, and creates the planets. Life moves—in the blink of an eye—from amoeba to fishes struggling out of the ooze, to simians, Neanderthal and man.
Fast forward to a dystopian future where the bees are dying, war follows war as the world struggles to become one United Empire, and the children (led by 14 year-old Shane Rivera) flee to a secret island until the adults around them come to their senses.
Magic Unicorn Island is bleak and brilliant writing, a difficult cautionary tale that wallops with a hard gut-punch.  It cries out, "pay attention, wake up" with every vignette presented. I squirmed uncomfortably as an unnamed person taught a child to hate—everybody, including itself.  Invective poured out.
And then, the script cuts to glimpses of smarmy public relations professionals and newscaster airbrushing world events.  McDonald is wielding a scalpel carefully—probing and prodding the painful places, providing just enough levity as he launches his final attack.
In the noble tradition described by Hamlet, McDonald does indeed "hold…the mirror up to nature".  Surrounded by the magnificent beauty of Vancouver Island, secure in our peaceful existence, it's hard to be reminded that our reality is far from that of the majority of the world's population.  Thankfully, artists like McDonald hold us to account.
Magic Unicorn Island, written and performed by Jayson McDonald
Roxy Theatre, 2657  Quadra, Venue 8
Upcoming performances:
Friday August 29-6pm
Saturday August 30-noon
Sunday August 31-7:45pm
Magic Unicorn Island will also be at the Vancouver Fringe. Dates and location HERE.
The Quitter, written and performed by Al Lafrance
I ended the night on a lighter note, with Al Lafrance's début piece The Quitter. Canadian Fringe fans might know him from his Montreal arts blog Bloody Under Rated; while locals will remember his visit (as a fan) to the 2011 Fringe.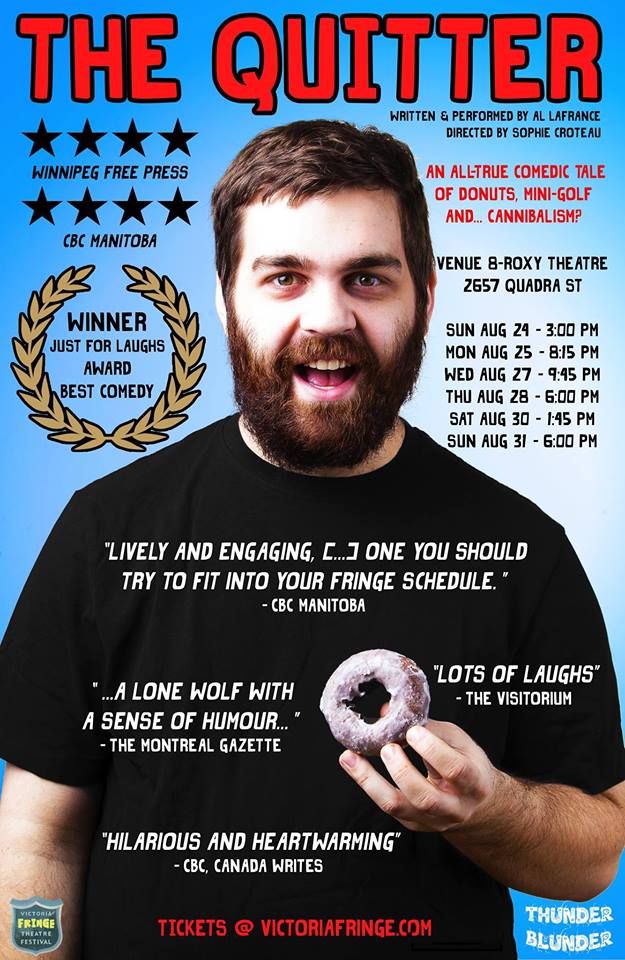 Lafrance, in his easy-going, conversational style, sets out to teach us his life's philosophy—quitting is not synonymous with failure.  From the time he was a child prodigy, and skipped grade two, he bought into the mantra of success and doing well.  Things ran off the rails when he hit college, with interesting results.
Coming of age is never easy, and Lafrance struggles outside of classes to find achievements. As a child it is mini-golf—he practices obsessively until he can claim the highest score at one of the local courses.  As a young college student—it's forming the one and only "Donut Club".  Dropping out, not once, not twice, but three times, he eventually graduates as a sound engineer, and finds, by happenstance, the world of fringe theatre.
Gently poking fun at himself (and by extension everyone who has ever been twenty) Lafrance stirs up the laughter of recognition, the brief chortle at our younger, less aware personas.
Audiences cheer at the audacity to fail forward, and pursue dreams.  Watching Lafrance perform is like sitting around with a buddy, drinking beer at the local watering hole, nodding at the similarities in our life's stories.  The Quitter is self-aware and funny.
The Quitter, written and performed by Al Lafrance
Roxy Theatre, 2657  Quadra, Venue 8
Upcoming performances:
Thursday August 28-6pm
Saturday August 30-1:45pm
Sunday August 31-6pm
The Quitter is going on to the Vancouver Fringe 2014. Times and location HERE.
Disclaimer: I am attending the Victoria Fringe Festival 2014 on a media pass graciously provided by Intrepid Theatre.