Escape from Happiness at Langham Court Theatre April 21-May 7, 2016. A review.
After the well-received Better Living in 2013, Langham Court Theatre returns to the zany, dysfunctional world—where nothing is at it seems–of the working class Quinn family with Escape From Happiness by George F Walker, one of Canada's most prolific playwrights.
Reprising roles from the 2013 production, Lorene Cammiade (mother Nora), Wayne Yercha (father Tom) and Michelle Mitchell (daughter MaryAnn) quickly enter familiar, if disturbing, territory.  Cammiade possesses a preternatural ability to convey Nora's extremely optimistic and skewed view of life—where it is preferable to re-arrange events to one's liking rather than sink under the horrific reality.  Yercha reveals the extraordinary lengths Tom will go to in order to repair the damage his past actions has inflicted on his family, with the perfect portrait of a doddering and incapacitated old-man (literally on death's door) who suddenly morphs into a take-charge action hero.  Mitchell is note-perfect as the dippy, aphorism quoting daughter, bent on her loopy journey of self-discovery—abandoning her own young family for the known realm and security of her birthplace.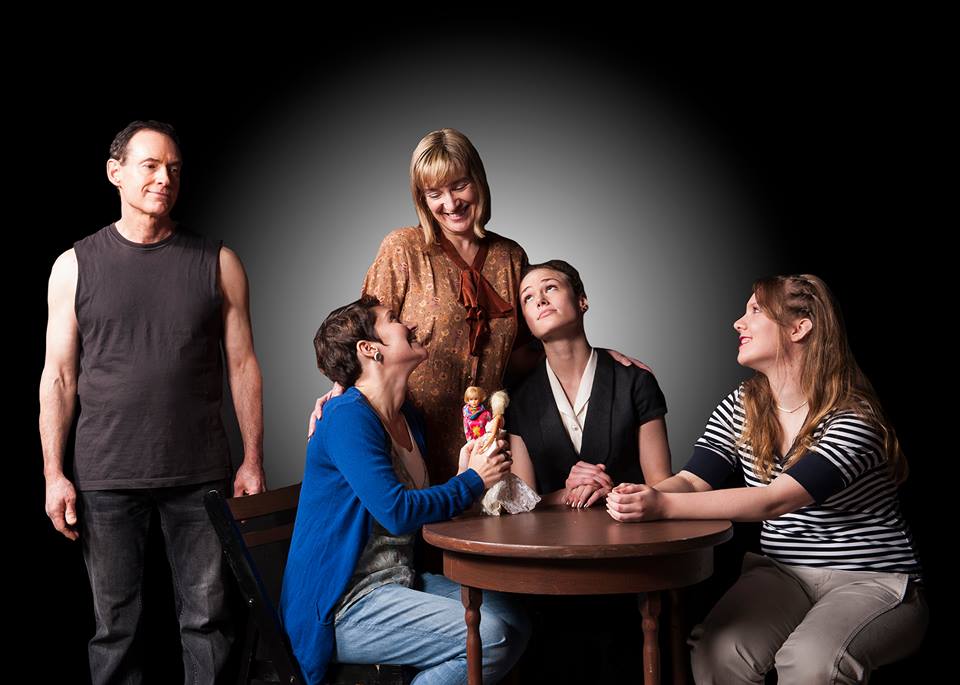 Wayne Yercha, Michelle Mitchell, Lorene Cammiade, Chilko Tivy, Natalie Shaw. Photo: David Lowes
Chilko Tivy has a formidable role in the character of eldest daughter Elizabeth—a buttoned-down lawyer who appears in control, but is terribly frayed and on the edge of breaking.  Tension runs deep below her surface—requiring incredible displays of insane behaviour.  Natalie Shaw as the youngest—Gail—is the only reasonably rational individual in a script stuffed with cops (Rosemary Jeffery—Dian Black and Andrew Pirie—Mike Dixon) and crooks (Kevin Stinson—Rolly Moore and John Manson—Stevie Moore). Her calm stage presence serves as a touchstone of normality when life begins to implode.  Matt Mathiason as her husband Junior conveys the perplexed attitudes of a man bound and determined to protect his family, and baffled when hare-brained schemes don't quite work out.
With a nod to the clumsy antics of the Keystone Cops, and physical comedy that owes much to legends like the Marx Brothers or Jerry Lewis, director Wendy Merk boosts hilarity to emphasize the satirical and farcical elements of the script.  Walker's signature style dialogue of "rat-a-tat" zingers has the audience gasping with laughter during many scenes.  The sub-text of police corruption and brutality still rings true, even twenty five years later—as unfortunately displayed by headlines in Walker's native Toronto, and indeed, North America wide.  The Quinn family's approach to the world, when viewed objectively, doesn't seem so crazy after all.  Most people would agree there are days when a retreat from reality is the preferred option.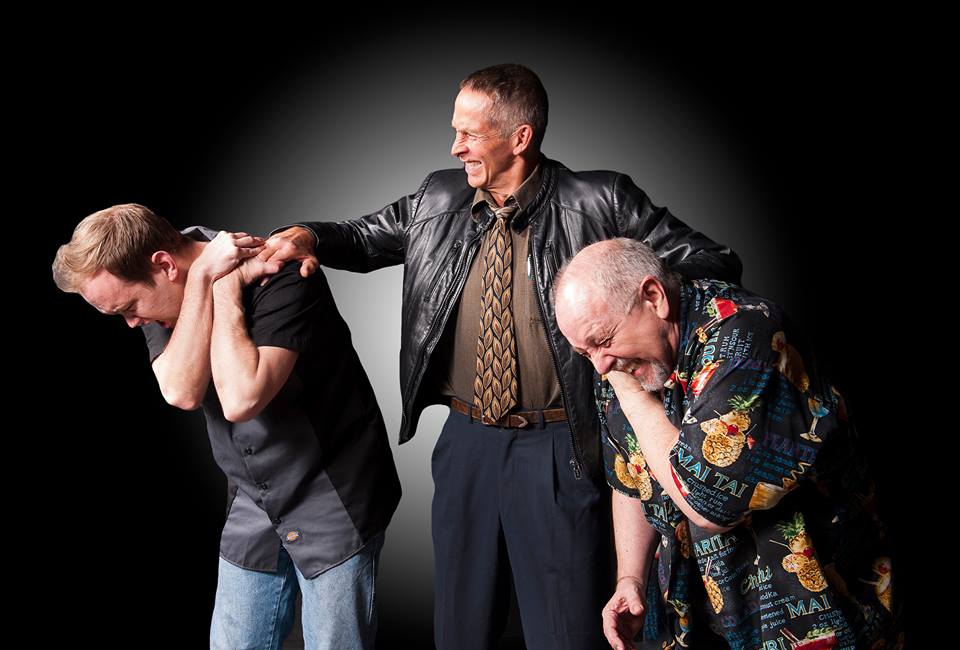 John Manson, Andrew Pirie, Kevin Stinson. Photo: David Lowes
Set design by Don Keith recreates a shabby home that has seen better days—with perfect 1990s accents (props MaryEllen Law) and a screen door that squeaks and slams to stress family arguments. Rocking hits from the era (sound designer Mitch Barnes) bridge between set changes and acts.  Lighting design by Chad Laidlaw is very effective during the dim, middle-of-the-night scenes–adding to the creepiness of the interactions. Costumes by Dallas Ashby are firmly fixed during the period with Nora's frumpy outfits being some of the highlights.
Escape from Happiness is a challenging play for both actors and audience—Walker knows the territory of Toronto's East Side intimately; the script treads a careful line between farce, comedy, political screed and love letter to a peculiar sense of community and family. Cast and production team have not shirked in their interpretation and are to be congratulated for fully embracing the playwright's vision and faithfully bringing it to life. Audiences are advised to sit back and allow this wacky world to come to them—much of what appears illogical at the outset falls quickly into place as plot points develop and motives are revealed.
This very funny dark comedy, set in working-class Toronto, tells the story of Nora, the matriarch of an eccentric, wacky family. Her daughter Mary Ann is a crazy runaway mother, her son-in-law Junior is a beat-up car thief, and her daughter Elizabeth is a hot-tempered bisexual. Nora maintains a cock-eyed optimism with a cup of tea and a firm grasp on fantasy, as the family deals with cops, drug dealers, and thugs in the basement.

According to Jerry Wasserman, Escape From Happiness is "the funniest and most accomplished" of George F. Walker's three interrelated plays of his exploration of contemporary urban life in the global village.

In 1992, Escape from Happiness received a DORA Award for Outstanding Play of the Year, the Chalmers Canadian Play Award, and the Governor General's Literary Award.
Escape From Happiness A dark comedy by George F. Walker Directed by Wendy Merk*
Langham Court Theatre, Victoria, BC
April 21 to May 7, 2016
Tickets: available online at langhamtheatre.ca or by phone : 250-384-2142
$21 Adults
$19 Students / Seniors (ages 65+)
$16 per ticket for Groups 10+
2 for $20 Preview (Wednesday, March 2)
2 for $30 Tuesdays (March 8 and 15)
$10 Student Rush Ticket (15 minutes before curtain with ID, subject to availability)
Production Team:
Director Wendy Merk *
Producer Andrea Pite
Stage Manager Sharon Sutherland
Set Design Don Keith
Sound Design Mitch Barnes
Costume Design Dallas Ashby
Properties MaryEllen Law
Set Decor Merry Hallsor, Geli Bartlett

Cast:
Lorene Cammiade  Nora
Chilko Tivy  Elizabeth
Michelle Mitchell Mary Ann
Natalie Shaw Gail
Matt Mathiason  Junior
Wayne Yercha Tom
Rosemary Jeffery Dian Black
Andrew Pirie Mike Dixon
Kevin Stinson Rolly Moore
John Manson Stevie Moore
*Appearing with the permission of Canadian Actors' Equity Association
Performance Schedule (April 20 to May 7, 2016):
April 20 – Wednesday PREVIEW, show time 8:00 pm
April 21 – Thursday OPENING, show time 8:00 pm
April 22 and April 23 – Friday and Saturday nightly, show time 8:00 pm
April 26 to April 30 – Tuesday thru Saturday nightly, show time 8:00 pm
May 3 to May 7 – Tuesday thru Saturday nightly, show time 8:00 pm
* PLUS: Saturday matinees April 30 and May 7, show time 2:00 pm
Disclaimer: I received complimentary tickets to attend the opening night of Escape from Happiness.