There isn't much to like about the real estate salesmen in Glengarry Glen Ross. And that's the challenge of the piece. How do actors get us to care about the despicable antics of a bunch of low-life sleaze balls, hell-bent on getting their name on a board, in order not to get "canned"?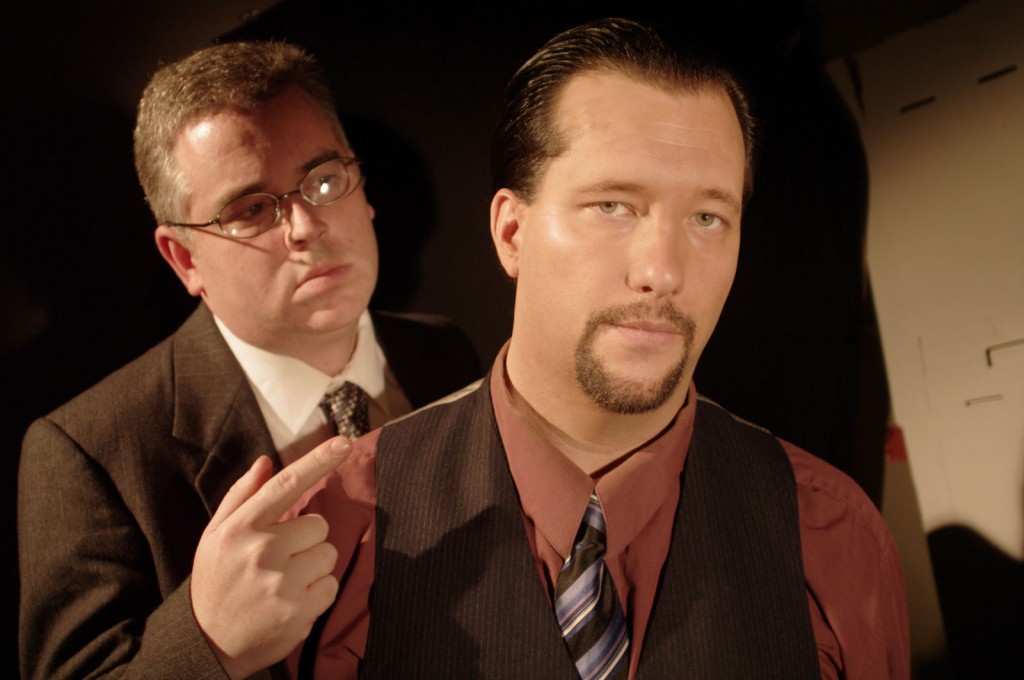 James D Goodman as John Williamson & Eric Holmgren as Richard "Ricky Roma".
Photo: Eric Lamontagne – used with permission.
Founded in 1994, Island Repertory Theatre took a chance in 1997 when they decided to move from Shakespeare to more contemporary fare.
Following this shift in focus, IRC has garnered a reputation in Victoria for producing hard-hitting, often hot-off-the-press, well produced and entertaining theatre.
After a brief hiatus (2004-2010) they produced Boys in the Band at the Victoria Event Centre in April 2010.
It's a big gamble to go from this smaller venue to the Metro Studio Theatre for a two week run. Judging from Wednesday night's opening performance, and the audience reactions, it's about to pay off.
The much larger stage at the Metro allows for a very realistic re-creation of a sales office, complete with scratched up file cabinets, mis-matched desk and chairs, and the inevitable sales leader board. A decision to place the Chinese restaurant, location of several scenes in Act One, at the front of the stage, and highlight it by lighting, was very effective.
Original music by Kenneth Goertz and James D Goodman (also playing John Williamson, the office manager) sets the tone for the action to come.
Mamet's profanity-laden script is much less shocking in 2011 than it would have been in 1984; it's a challenge these actors overcome with confidence and gusto, throwing themselves over the cliff as they proceed to rip chunks out of one another verbally, pack dogs going in for the kill.
If you've seen the movie, you may not realize that the character of Blake, the "big city man" sent from downtown by Mitch and Murray, is not in the original script. He's included in this version – a wise choice given the real sense of menace conveyed by Jason Stevens – an overshadowing of the inevitable tragedy about to be played out.
Mamet's staccato elliptical language is brought to life by Dick Newson playing Shelly Levene in the punch drunk fashion of a boxer, battle-worn and weary to the bone, desperately holding on to hope for the bell to ring and the month to end, circling round  office manager Williamson (James D Goodman) as he fends him off.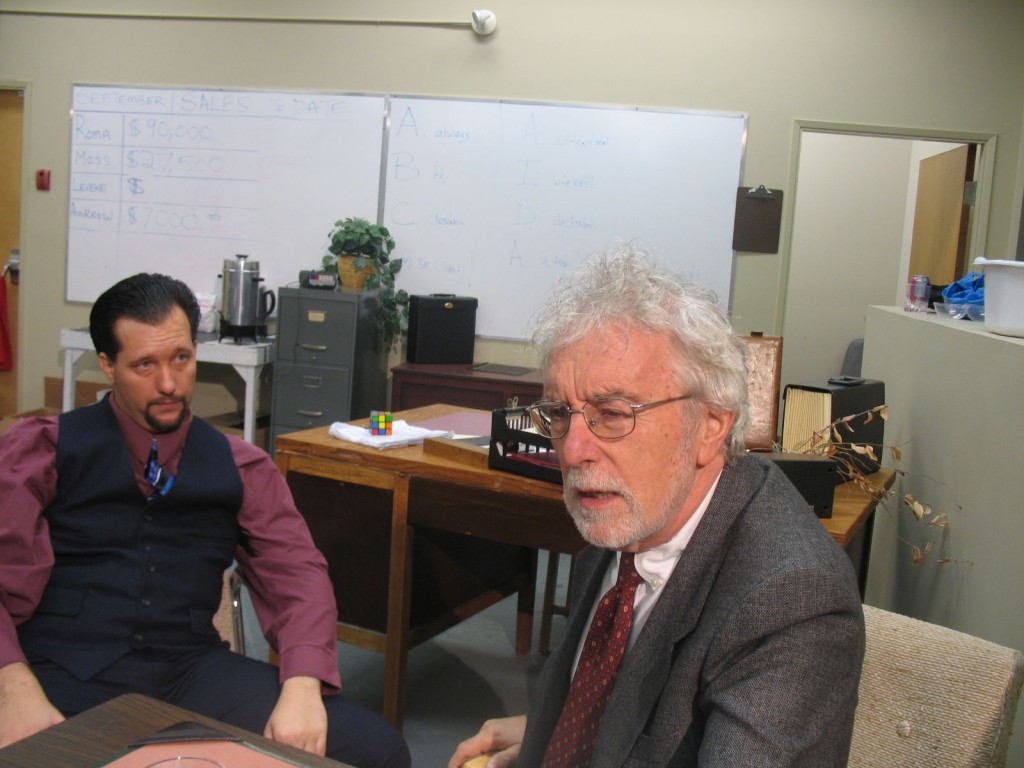 Eric Holmgren as Richard "Ricky" Roma & Dick Newson as Shelley Levene.
Photo: Eric Lamontagne-used with permission
A scene between George Aaronow (Wes Borg) and David Moss (Howie Siegel) garnered many laughs at the absurdity of debating linguistic minutiae over Chinese food, all the while contemplating burglary.
Super-salesman Richard "Ricky" Roma (Eric Holmgren) stakes out his latest victim James Lingk (Morgan Cranny) at the same Chinese restaurant, and the poor sap doesn't stand a chance.  Roma revels in his depravity; Holmgren dances his way gleefully around this role, going to places most of us would never dream of exposing.  He's proud, he's cocky, he's loathsome – and we like him!
Plays like Glengarry Glen Ross teach us much about the human condition.  We watch in horrified fascination, allowing characters onstage to act out our oft-hidden inner human dramas.
Do we secretly wish, sometimes, as does  Williamson, to be able to reply "Because I don't like you!"?
If you want to get close to the delicious action on stage, then Glengarry Glen Ross is a show to see. Lean in and let this rendering of Mamet's world carry you away. Live vicariously in a world far removed from the polite goings-on of the capital city.
Island Repertory Theatre and Stellar Jay Productions have definitely succeeded in this sophomore show.  Kudos to a fine ensemble under director Dick Stille.
Glengarry Glen Ross runs:
Nov 16 – Nov 27, Wednesday through Saturday 8pm with matinée performances Saturday and Sunday 2pm
Tickets $22 available:
In advance through Ticket Rocket online or phone 250-590-6291
Cash at the door.
Disclaimer:  I was offered a complimentary ticket to attend opening night. I was not paid to write a review nor was I required to do so. As always, I retain editorial control over all the content published on this blog.