1.9.8.4. by Giggling Iguana, currently playing at Intrepid Theatre Club until December 2nd, is harrowing, terrifying, risk-taking theatre that is definitely not for the faint of heart. Lovers of psychological thrillers and horror flicks will surely appreciate the significant work done by this ensemble, under the careful guidance of seasoned director Roger Carr.
Actors walk a constant tight rope – not only in their stage personas, but with the audience's memories of the standard-bearing George Orwell dystopian novel, 1984.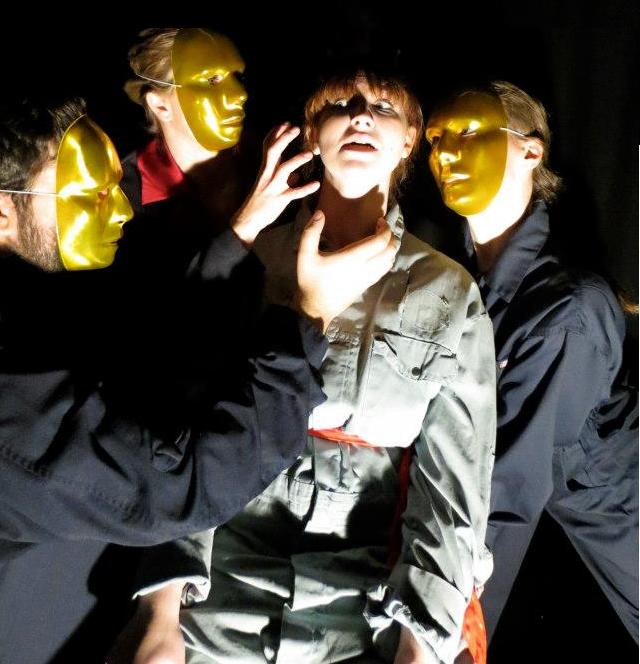 Tito Martin-Nemtin (Chorus), Christine Karpiak (O'Brien), Ariel Slack (Julia), Randi Edmunson (Chorus)
Throughout, my constant (both rhetorical and real) question was "How much is too much?" The thin line between audience engagement and tuning out is manipulated to a high degree, just as The Chorus (Randi Edmundson and Tito Martin-Nemtin) and O'Brien (Christine Karpiak) manipulate their instruments of "conversion" to extract confessions from Julia (Ariel Slack) and Winston (Eric Holmgren).
I remember remarking on Slack's composure and presence in her performance as one of the young princes in a production of Richard III for the Victoria Shakespeare Society in 2010. These qualities remain.  She is wise in stage craft and skill, well beyond her young years, and holds nothing back on this mind-numbing journey.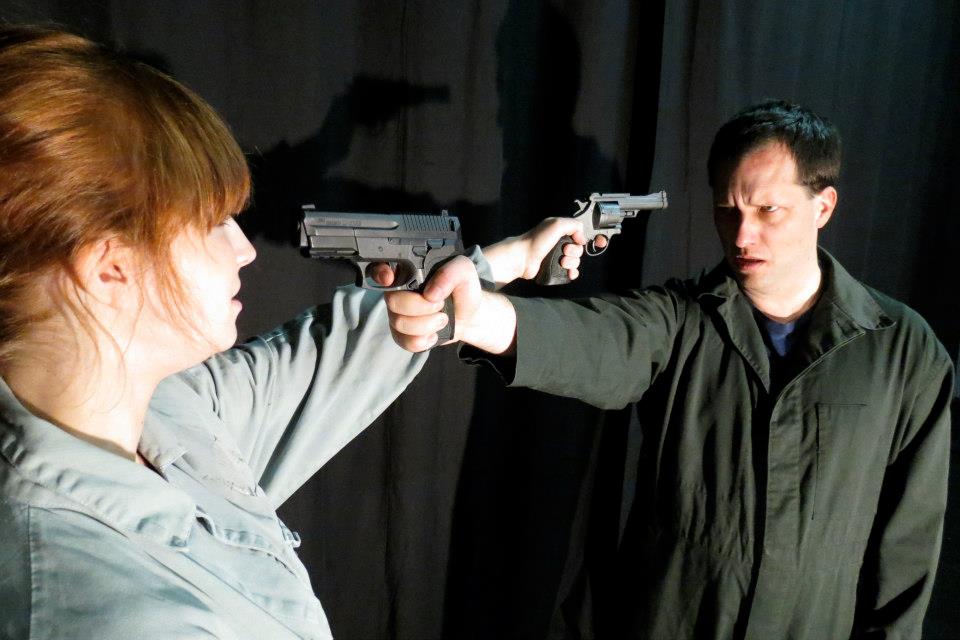 Ariel Slack (Julia) and Eric Holmgren (Winston)
Holmgren continues to seek challenging roles, moving from Glengarry Glen Ross to Rabbit Hole, and now 1.9.8.4.  Accustomed to seeing him play more ego-driven roles, it was with great fascination that I watched his transformation into the down-trodden, timid Winston, slowly machinating his bureaucratic and romantic rebellion.
Karpiak is the absolute personification of evil. If there is a redeeming quality to her character, I was not able to discern it.  She does not flinch, either artistically, or as the character, in pursuing her relentless goals in the Ministry of Love.
Edmundson and Martin-Nemtin provide some of the only moments of levity in this production, most notably as the "talking heads", the every present tele-screens that manage to put a positive spin on every news item – even announcements of further rationing. As underlings to O'Brien they are brooding and frightening.  The dichotomy is chilling.
Holmgren and Slack prove that love can flourish even here, creating tender moments among the gloom. Their budding romance hints at possibilities to come, only to be dashed in the worst possible of ways.  Despite the fleeting and time-compressed nature of their interactions, there is truth in these love scenes.
Low tech special effects are nonetheless enough to send shivers up your spine or fingers flying in front of eyes to avoid the most intense sequences. The dingy grey set (WHoS) stirs up intense feelings of dread from the very beginning, and the utilitarian costumes (by long time Giggling Iguana collaborators Hannah Case and Martha Burd) provide little relief in this totalitarian world.
Orwell wrote 1984 during a very dark period of his life, on the remote Scottish island of Jura. His death was imminent.  In a world full of optimism after the Second World War, he had one of the few dissenting voices.  How tragic it is to note just how under-stated his estimation was.  The procedures of O'Brien and minions have been played out, and continue to play out, around the world – from the salt mines of Stalinist Russia, to Abu Graib, in Vietnam,Rwanda,South Africa– the list is endless.  As a species we are not immune from mind control.  At one point O'Brien states: "There are two methods of mind control – the carrot or the stick. The stick is cheaper".
Elendune's adaptation is an important work, raising many questions. "As citizens of  a "carrot" countries, are we being manipulated? How is history being rewritten to jibe with current ideals?"
Thank you Giggling Iguana for providing a place where new work can be developed, boundaries pushed and questions asked.
Read an interview with David Elendune.
1.9.8.4. by David Elendune, presented by Giggling Iguana Productions
Intrepid Theatre Club 1609 Fisgard Street
November 21th – December 2nd, 2012
Tickets $20/$16 (senior/student)
available through ticketrocket.org online, in person or by phone 250 590 6291
Pay What You Can at the door:
November 20th (preview) & Wednesday November 28th
A portion of the proceeds from both Pay-What-You-Can evenings will go to supportLanghamCourtTheatre
Creative Team:
Producer/Sound:  Ian Case
Director: Roger Carr
Lighting Design and Production Tech: Chad Laidlaw
Stage Manager: Sylvia Linstrom
Costume Design: Hannah Case
Costume Alterations: Martha Burd
Set Build : William Head on Stage (WHoS)
Cast: Christine Karpiak – O'Brien
Eric Holmgren – Winston
Ariel Slack – Julia
Tito Martin-Nemtin and Randi Edmundson – The Chorus
Disclaimer:  I was provided with a ticket to the preview of 1.9.8.4.  I was not paid for, nor was I required to provide a review. As always, I retain full editorial control over all the content on my blog.