With its snappy dialogue and tight physical comedy, The Graduate—currently at Langham Court Theatre until March 22nd—will have you laughing appreciably at the innuendo and humming along to songs that defined a generation.
Originally written by Charles Webb (more about his story later) in 1963 and adapted into the iconic "coming of age" movie directed by Mike Nichols, the play by Terry Johnson dates from 2000.  Fans of the movie will find that Johnson has taken liberties with their cherished vision of the work, adding and subtracting scenes and, in the process, changing some of the narrative arc.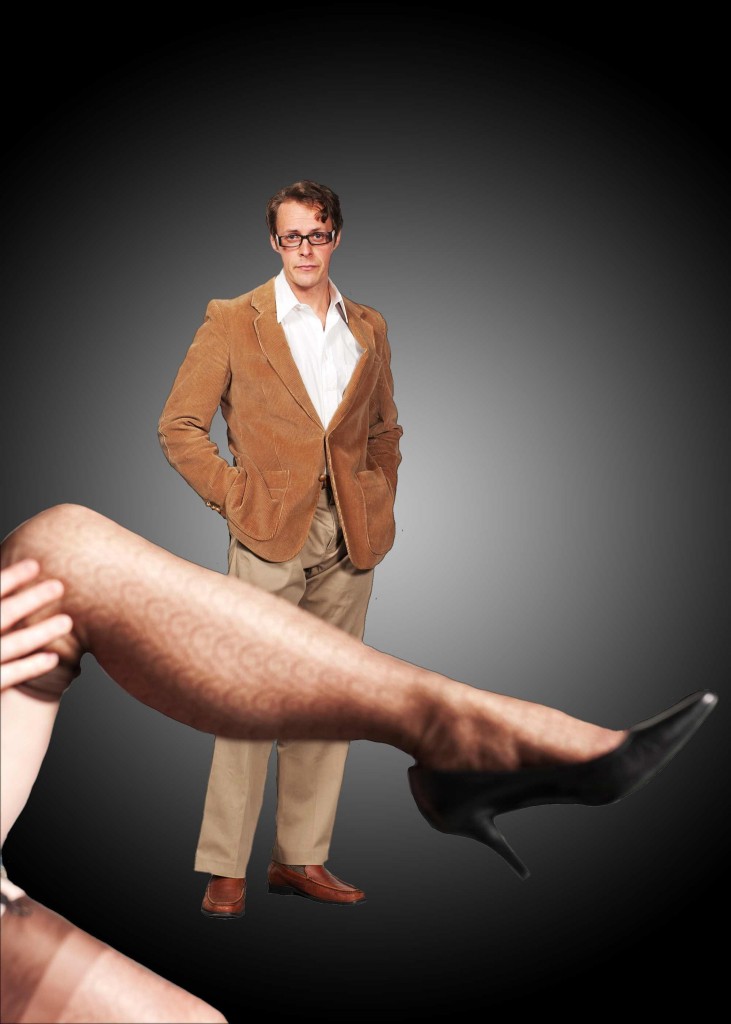 Montgomery Bjornson as Benjamin Braddock. Photo: David Lowes, Art Studio 21
Benjamin Braddock (Montgomeroy Bjornson), in a fit of childish pique, refuses to come downstairs to the guests, assembled at the family home to celebrate his graduation—with honours—from college.  His parents (a self-sufficent and hearty Wayne Yercha and frazzled Elizabeth Brimacombe) are beside themselves as they attempt to finagle and threaten him into compliance.  Petulantly he refuses.  Bjornson is dead-pan perfect as the jaded young know-it-all, striking out at all the social conventions of his parents while living happily off their largesse. Flustered at first by Mrs Robinson's (Odile Nelson) advances, he finds the gumption to accede.
The first act moves cleverly from youthful denunciation to situational comedy—territory that pleased the opening night audience greatly.
Intricate inter-locking elements of the sleekly sophisticated set by Adam Wilkinson move the action seamlessly between locations.  Beautiful projections and lighting (also by Wilkinson) clothe the minimal décor with a quintessential aura of the epoch.
Sound design by Jason King includes all the great hits from the movie—Mrs Robinson, Sounds of Silence—and other 1960s classics.  It's a challenge not to sing along, as many quite happily did.
Clothed or in dishabille, costumes by Lisa Leighton and Chris Stusek capture a time— just before the advent of panty hose when garter and stockings were de rigeur—that still gives rise to erotic fantasies.
Forced into taking the Robinson's earnest daughter Elaine (Keeley Teuber) on a date Benjamin reacts in the most odious manner possible, settling on a strip club as appropriate, and providing for a classic clash of values between idealism (Elaine) and nihilism (Benjamin).  This exchange is one of the most meaningful of the entire play, exemplifying the tremendous upheaval endemic to the period.  Michelle Mitchell (last seen in Better Living) executes a fine turn as a stripper.
The characters operate with a definite sense of remove from the seriousness and consequences of the situations at hand, which makes Mr Robinson's (Christopher Harris) coming undone all the more heart-breaking.  Harris' Robinson resonates with the despair of the cuckolded, as contrasted with the insouciance of his wife's attitude.
Benjamin and Mrs Robinson deserve one another—opportunistic and heedless until the young lover finds the perfect way of getting back at his paramour.  Here Nelson has a true chance to reveal the complexities of her character as she reacts furiously to the prospect of Benjamin falling in love with Elaine.
A sodden scene between mother and daughter is also imbued with an authentic and more dramatic tone.
It takes a sure and capable director to work with the play as written, rather than relying on the more familiar movie for inspiration.  Director Judy Treloar, assisted by Amanda  Lisman, leads an ensemble cast on a complex journey that reveals many philosophical and moral questions among the comedy.  At the end of the play we care enough about the main characters to cross our fingers for their future happiness.
In real life, Charles Webb stayed married to his "Elaine", a woman named Fred. Together they raised a family and spent decades on the run from authorities as a result of a decision to home-school their children (illegal at the time in California).  He profited little from the success of The Graduate, receiving only a one time payment of $20,000 and signing away his rights to all future profits and sequels.  In 2007, he managed to settle the copyright loophole, and Home School was published to limited success. The couple eschews financial gain and moved to England because of nationalized health care. Find out more here and here
I have only recently returned to LanghamCourtTheatre after an extremely long hiatus. Every season I've experienced has provided a wide range of plays, from thought-provoking to laugh-a-minute comedy, produced with signature flair and attention to detail.  Now in their 85th season, the Victoria Theatre Guild and Langham Court Theatre depend on a dedicated team of volunteers to provide us with the opportunity to reflect, laugh, reminisce and wonder.  (More about volunteer opportunities here.)
Audience Advisory: Nudity, Coarse Language, Mature Themes. Recommended for ages 15+. 
The Graduate, adapted by Terry Johnson
based on the novel by Charles Webb
and the motion picture screen play by Calder Willingham and Buck Henry
LanghamCourtTheatre
March 5-22, 2014. Showtime 8pm. No shows Sunday and Monday.
Tickets $19/$21
2 for $20 Wednesday Preview
March 5th, all patrons
2 for $30 Tuesdays
March 11th & March 18th
2pm Saturday Matinees
March 15th & March 22nd
PRODUCTION TEAM
Director: Judy Treloar
Assistant Director: Amanda Lisman
Stage Manager: Brett Burrow
Producer: Angela Henry
Assistant Producer: Nick Stull
Set Design: Adam Wilkinson
Properties & Set Decor: Jean de Cartier & Merry Hallsor
Lighting Design: Adam Wilkinson
Sound Design: Jason King
Costume Design: Lisa Leighton and Chris Stusek
CAST (actor / role)
Montgomery Bjornson: Benjamin Braddock
Odile Nelson: Mrs. Robinson
Christopher Harris: Mr. Robinson
Keeley Teuber: Elaine Robinson
Wayne Yercha: Mr. Braddock
Elizabeth Brimacombe: Mrs. Braddock
Michelle Mitchell: Stripper, Wedding guest
Michael Gosselin: Psychiatrist, Priest
Alex Carson: Hotel Clerk, Barman, Wedding guest
Michelle Rachel: Receptionist, Hooker, Wedding guest
Alex Judd: Man in bar, Wedding guest
Disclaimer: I was provided with complimentary tickets to The Graduate for the purpose of writing a review. As always, I retain complete editorial control over all content published on this site.