Hedwig and the Angry Inch presented by Atomic Vaudeville. July 20-29 2018. Preview. Media release.

I ended my review of last year's inaugural Hedwig and the Angry Inch presented by Atomic Vaudeville with the prescient words "with its boisterous energy and cabaret vibe it is well on its way to cult-hit status. I'm already asking when they plan next year's version."  Wait no more, loyal fans—Hedwig returns, this year to the Upstairs Cabaret for a limited engagement July 20-29. (see below for more details).
SHOW HISTORY

Hedwig and the Angry Inch is a rock musical about a fictional rock band fronted by the genderqueer East German singer, Hedwig Robinson. The book is by John Cameron Mitchell, and the music and lyrics are by Stephen Trask. The story draws on Mitchell's life as the son of a U.S. Army Major General who once commanded the U.S. sector of occupied West Berlin. The character of Hedwig was loosely inspired by a German divorced U.S. Army wife who was a Mitchell family babysitter and moonlighted as a prostitute at her Junction City, Kansas, trailer park home. The music is steeped in the androgynous 1970s glam rock style of David Bowie (who co-produced the Los Angeles production of the show), as well as the work of John Lennon and early punk performers Lou Reed and Iggy Pop.

Mitchell has explained that Hedwig is not a trans woman, but a genderqueer character. "She's more than a woman or a man," he's said. "She's a gender of one and that is accidentally so beautiful."

Debuting off-Broadway in 1998 and running for over 2 years, Hedwig and The Angry Inch has become a cult favourite the world over, having been made into a movie in 2001, and followed up with successful tours around the globe. The show experienced a renaissance in 2014 when it landed on Broadway, starring Neil Patrick Harris (complete with a small rewrite from Mitchell to explain how Hedwig landed on an actual Broadway stage), that production pushed Hedwig back out into the limelight that she sorichly deserves, creating an all new generation of devoted fans, and pushing Hedwig back into the cultural zeitgeist.

In 2017 Atomic Vaudeville brought the frenetic sense of energy that they're known for from their productions of The Rocky Horror Show and Ride the Cyclone to Hedwig and The Angry Inch, and Victoria approved. Met with solid reviews and fantastic word of mouth, the show quickly went on to generate a positive buzz and a high demand for a return. Now, following a quick preview at the VIATEC Awards, and an appearance at this year's Pride Parade, Atomic Vaudeville is proud present Hedwig and The Angry Inch at the Upstairs Cabaret.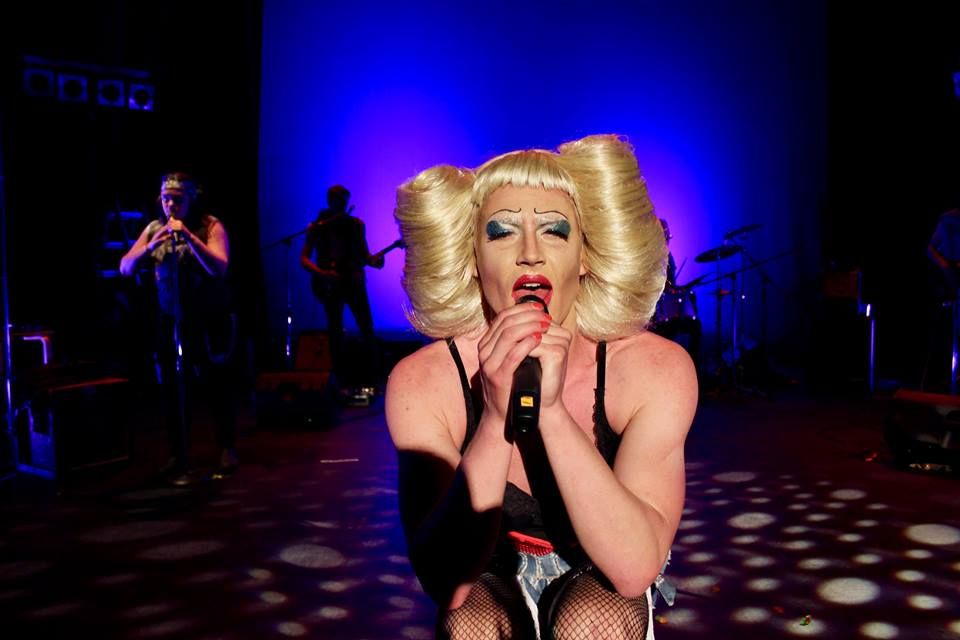 Hedwig (Griffin Lea) and Yitzhak (Jana Morrison) with the Angry Inch in 2017. Photo: Caitlin Croteau
SYNOPSIS

The concept of the show is that the audience is watching Hedwig Robinson's concert as she follows rock star Tommy Gnosis' (much, much bigger) tour around the county.

Occasionally Hedwig opens a door onstage to listen in on Gnosis' concert at the adjoining venue next door. Gnosis has been recovering from a car accident that nearly ruined his career, having crashed into a school bus while high and receiving oral sex from Hedwig. Taking advantage of her new-found notoriety, Hedwig tells her side of the story.

Throughout the evening she's joined onstage by her backup singer and husband, Yitzhak. Their relationship is quickly shown to be codependent and unhealthy, and Yitzhak is often the target of Hedwig's verbal abuse based around her jealousy of his natural talent.

Hedwig tells the story of her life – which began as Hansel Schmidt, a "slip of a girlyboy" who grew up in East Berlin. Abandoned by his father – an American soldier – Hansel was raised by his emotionally distant mother, and left to find solace in his love for western rock music. His meeting in his 20's with another American Soldier, Luther Robinson, changed everything. Luther fell in love with Hansel and the two decided to marry.

This gave Hansel the chance to leave communist Easter Germany for the capitalist West, but in order to marry the couple must consist of a man and a woman. Hansel's mother, Hedwig, gave Hansel her name and passport, and found him a doctor to perform a sex change, but the operation was botched, leaving Hedwig without a vagina or a penis, only a dysfunctional one-inch mound of flesh between her legs, "with a scar running down it like a sideways grimace on an eyeless face" ("Angry Inch").

This is a show that will subvert your expectations on what gender can be, by being at times touching, at times hilarious, but always captivating.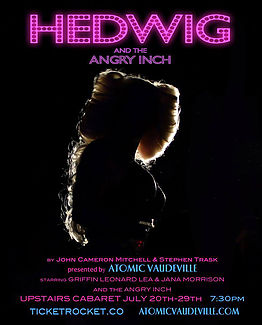 Hedwig and The Angry Inch, book by John Cameron Mitchell, music and lyrics by Stephen Trask
Presented by Atomic Vaudeville
Directed by Britt Small
Design by Jimbo
Upstairs Cabaret
July 20, 21, 27, 28, & 29. 7:30
Tickets: $22 for the preview July 20, $32 for the remaining shows
Starring:
Griffin Leonard Lea as Hedwig
Jana Morrison as Yitzhak
The Angry Inch:
Colin Weston as Skszp
Sebastian Britneff as Yacek
Blair Hansen as Krzyzhotf
John Han as Schlatko
COMPANY BIO

Atomic Vaudeville is an award-winning performance company based in Victoria, BC.

The company was founded by Britt Small and Jacob Richmond in 2004 with the production of a monthly cabaret show that has since become a beloved cult hit. Since its inception, AV has produced over 75cabaret shows in Victoria, Vancouver, Toronto, and Bellingham, and worked with over 300 local and visiting artists. Besides cabarets, Atomic Vaudeville has produced the plays Ride The Cyclone, BlissKrieg, The Qualities of Zero, Legoland, The History of Everything, and Circus Fire in Toronto, Seattle, Bellingham, Prague, New York, Victoria and Vancouver.

Atomic Vaudeville has also been commissioned to create new work for the Victoria Erotica Film and Arts Festival, the Monday Magazine Awards, the Victoria Art Gallery, the Luminara Festival, the Vancouver International Burlesque Festival, the BC Film Commission Conference, and the VIATEC Awards.

The importance of live music. All too often theatre companies choose to use pre-recorded tracks instead of live musicians to accompany their productions. This may be for financial or logistical reasons, but nothing can ever replace the feel and sound of a live band on stage. Atomic Vaudeville is committed to employing live musicians for all our productions. We are passionate about this approach as it ensures a rock concert atmosphere but, perhaps more importantly, furthers our support of local artistic talent.