Theatre SKAM recently celebrated 18 years of producing alternative theatre in Victoria, and for the first time, they've announced a complete season.  Founded in 1995 by 4 UVic grads (Sarah Donald, Karen Turner , Amiel Gladstone and current Artistic Producer Matthew Payne) – hence SKAM, they are well known for their site specific work in alleys, parks, cars and loading docks. More history here.
I'd seen a handful of productions over the year's prior to School House Rocks in 2008, and when Bike Ride was announced in 2009 I became an active volunteer and SKAM supporter. The 2013 season includes another edition of Bike Ride, and a reprise of Smalltown the Musical (Fringe 2011) and Cariboo Buckaroo (last performed locally in 2011).
Hello Baby! will resonate with parents, or soon-to-be parents, but other productions are family and kid friendly.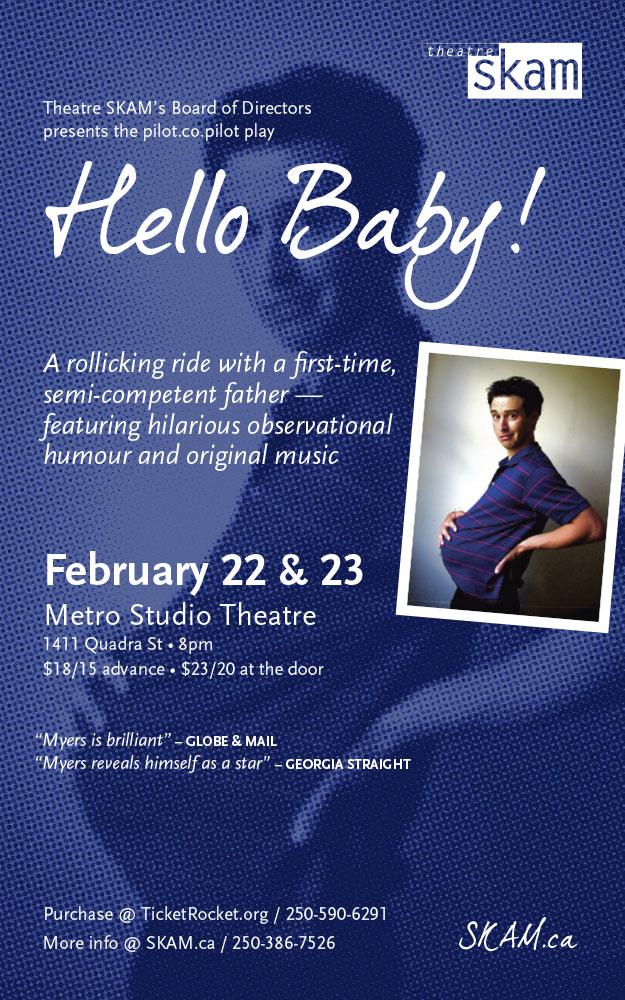 Presented by the SKAM Board of Directors, the show is a nod to Artistic Producer Matthew Payne's recent foray into parenthood. This instructional lecture by a first-time semi-competent father answers the burning question of what happens when a self-involved man-child becomes a new father, as well as providing helpful hints for other fathers-to-be such as:  "Is your life as you know it really over?" And "Can you safely operate a fax machine/belt sander/breast pump on two hours sleep?"  And "Is it really possible to become so obsessed with bowel movements and nipples that you a make up little nicknames for them? Like 'Jerome'?  Or 'Kathy?'"

Featuring original tunes What If, Nobody Warned Me Bout the Drool, Time Management Blues, and Yes-Honey-I'd-Be-More-Than-Happy-To-Make-Dinner-And-Hand-Wash-All-These-Cloth-Diapers-As-Soon-As-I-Finish-Giving-You-A-Back-Rub-And-Vacuuming-The-Floor-Again-Because-You-Are-Hyper-Paranoid-About-Germs,-Really-I-Would,-No,-I'm-Not-Just-Saying-That-Because-I-Think-It's-What-You-Want-to-Hear,-I-Want-to-Do-It,-Look,-I'm-Doing-It-Right-Now,-See?

For anyone who is going to be a Dad, is a Dad, has a Dad or knows a Dad.

Lucas Myers is a professional actor, songwriter and playwright and has appeared in many productions in major theatres across Canada as well as touring internationally to Europe, New Zealand, Mexico, Central Asia, and Ymir.  He has been involved in the creation of many new plays with Theatre SKAM, including as co-writer on the upcoming Smalltown: A Pickup Musical premiering August 2013. He has also written and performed his own one-person shows EAST, DRESS, and The Amazing and Impermeable Cromoli Brothers (chosen as the Best Comedy at the New Zealand International Theatre Festival).  Currently based in Nelson, BC, he runs pilot.co.pilot, a theatre company dedicated to creating new plays and touring them nationally and internationally.
The 2013 Season includes:
Hello Baby! Written and performed by Lucas Myers
Theatre SKAM's Board of Directors presents a pilot.co.pilot production
February 22 & 23, 2013 8pm– Metro Studio Theatre
Fashion Machine
A preview of our gallery installation where kids make your best outfit better
April 28, 2013 7:00pm– Open Space Gallery
Bike Ride
SKAM's fifth annual mobile feast of live performance
July 6, 7 & 13, 14, 2013 3:30pm–CeceliaRavinePark
Smalltown: A Pickup Musical By Amiel Gladstone and Lucas Myers
Directed by Matthew Payne, Musical Direction by Brad LeCuyer
August 6 to 25, 2013 7pm
The World Premiere of a show on the back of a truck in parks throughout the Capital Region.
Locales TBA
Cariboo Buckaroo  Written and performed by Matthew Payne
One Victoria show only – TBA!
Directed by Ross Desprez
National Coast-to-Coast Fall Tour
And for the first time ever buy a Single Ticket for all 4 Theatre SKAM events with a savings of up to 55%.
Season Ticket holders may also receive other surprise benefits throughout the year!
Season tickets: Adults $50 Students/Seniors $45 (available until April 26th)
Ticket Rocket.   ticketrocket.org  |  250.590.6291