John Hughes may have dropped out of the spotlight in 1991, long before his untimely passing in 2009, but the teen films he crafted continue to resonate with a younger generation, if this week's An Improvised John Hughes, by Paper Street Theatre Company, is any indication.
The audience bopped to the beat of the 80s montage laid down by master musical improviser – and erstwhile DJ – Dan Godlovich and laughed out-loud to recognize the many archetypes first made popular in films like Sixteen Candles, Ferris Bueller's Day Off, Breakfast Club and Pretty in Pink
Founded in 2011 by master improviser Dave Morris, Paper Street Theatre is "dedicated to producing quality experimental improv", extending the boundaries of the genre, and expanding the limited idea most people have of this art form.  Even the youngest troupe member (still in her teens) has a decade of experience.
To prepare for a show the actors diligently research the style (film noir, fairy tale), author (H.P. Lovecraft, Jane Austen), playwright (Tennessee Williams, Samuel Beckett) or film maker (Quentin Tarantino, John Hughes).
An Improvised John Hughes is their most complex work to date with characters developed in fine detail – we meet the brain, the slacker, the beauty, the rebel, the nerd, the prom queen, as well as the teachers.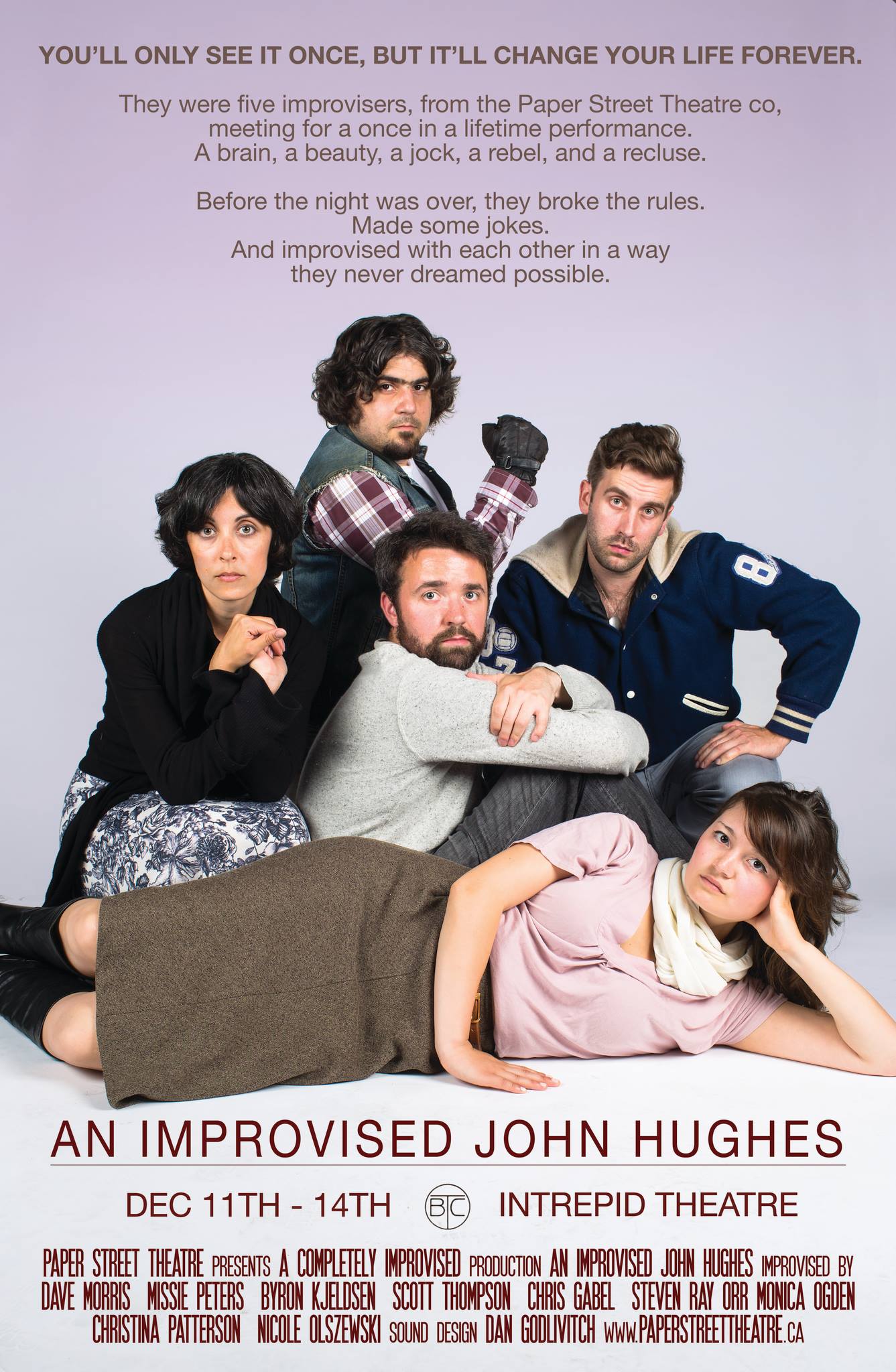 Based on suggestions from the audience, and working with a title –The Last Locker -, a location (the lockers), and a feeling (left out) the actors set off to recreate a typical day in the life of your average high-schooler.
It's the last day of school at Shermer High, and Jackson (Steven Ray Orr) is trying to work up the courage to ask Jessie (Monica Ogden) to the dance.  His best friend forever, Jen (Christina Patterson) the "girl-who couldn't care less" is full of advice.
Breaking the fourth wall, and narrating the action, a device seen in Ferris Bueller's Day Off, Orr provides the basic background and motivation for his character.
All he has to do is get through the day and graduate.  In typical Hughes style, there are considerable impediments. He's late for first period and has to crib the answers from Jessie.  Fellow class-mate Stewart (Scott Thompson) really doesn't think he'll pass so hands over his exam paper.
Rebel Ritchie (Dave Morris) has been hanging around Shermer High for a decade and is determined to disrupt the day. Surprise – there's a "rager" in third period with a keg.
Along the way there are tiffs, misunderstandings, a dance contest in the middle of town, surprise announcements from teachers (Nicole Olszewski and Chris Gabel), plenty of tête-à-têtes, locker room chats, and a dramatic dénoument.
The costumes are sublime – from Paterson's Cyndi-Lauperesque big hair, jean jacket, skirt and bobbi-sox, to Ingrid's (Missie Peter) funky hat, vest and pearls combo and nerdy Toby's (Byron Kjeldsen) braces and too-short pants.
Perhaps the reason this particular show resonates well with a wide demographic is the time period it encompasses. As spectators, we may not be privy to the particular songs, styles or jargon of the mid-1980s, but we have all lived through high school.
Paper Street transports us back, and creates engrossing and very entertaining off-the-cuff scenes and transitions that have us transfixed as to outcome. Logically I understand each episode of a production is completely 100% improvised and that the actors have not worked-up scenes, scenarios or plot lines before-hand, yet the flow they create and the complete rectitude of their words and actions have me convinced otherwise.
From their début in 2011 I have watched the company dedicate considerable time and resources to perfecting their craft. Originally planning to study playwrights, they branched out to genres, hit their stride in 2012 with An Improvised Film Noir and haven't looked back since.  I knew they were on to something when we almost didn't get seats last December to A Carol for Christmas: An Improvised Charles Dickens, and predicted well in advance that An Improvised Quentin Tarantino would be a hit at the 2013 Victoria Fringe Festival (for which they won "Pick of the Fringe"). Along the way, there have even been spin-offs, with Scott Thompson staging several very successful An Improvised Dungeons and Dragons. Paper Street now has such a following that this show was scheduled for 4 nights, rather than 2, and was sold-out on several even before the opening.
"You look at her like I look at homework" – Toby to Jackson.
Paper Street is teaming up with Launch Pad Productions to bring you The Half Time Show January 17/18  at Intrepid Theatre Club.
Stay tuned for an Improvised Science Fiction Thriller in April 2014
An Improvised John Hughes by Paper Street Theatre
December 11-14, 2014 at Intrepid Theatre Club, 2-1609 Blanshard Street (at Fisgard)
Tickets $12 through Ticket Rocket, online, in person or by phone 250 590 6291
The Company:
Chris Gabel
Byron Kjeldsen
Dave Morris
Missie Peters
Monica Ogden
Nicole Oleszewski
Steven Ray Orr
Christina Patterson
Scott Thompson
Dan Godlovich – musical director
Company History
An Improvised John Hughes, December 2013
An Improvised Quentin Tarantino August 2013, Pick of the Fringe, Victoria Fringe Festival
Yes and Yesteryear, An Improvised Jane Austen, April 2013
A Carol for Christmas, An Improvised Charles Dickens, December 2012
The Horror Within, An Improvised H.P. Lovecraft, October 2012
An Improvised Fairy Tale, Theatre SKAM's Bike Ride, July 2012
An Improvised Film Noir, March 2012
An Improvised Samuel Beckett, November 2011
An Improvised Tennessee Williams, June 2011
 Disclaimer: I was provided with complimentary tickets to An Improvised John Hughes for the purposes of reviewing. As always, I retain full editorial control of all content published on this website.