Intrepid Theatre YOU Show February 2018. Tusk Turns One! and Awkward Hug. Interviews with creators.
Tony Adams and Cory Thibert (May Can Theatre) first came to the attention of Victoria audiences at the 2016 Victoria Fringe Theatre Festival when they performed their hit satirical show Happiness TM.
Soon after, Adams moved to Victoria permanently and has been performing with Monica Ogden as NicklePumpernickel. Now, they embark on another round of creation with not one, but two YOU shows (see details below for dates and times), and were kind enough to answer questions about their process and their work.
Tusk Turns One! Interview with Tony Adams.
How long have you been producing work?  As artists/companies?
May Can Theatre has been producing work for 8 years now. Which feels absurd, because everytime we start a project I am still overcome with a feeling of "how the heck do we do this?"
Our first production was Howard Korder's A Boy's Life in the fall of 2010. Performed in our theatre department's studio to a total of 50 people over our 4 day run. We recently found the poster for it and, wow, what an endearing piece of marketing that is.
As an artist, I have no idea. It took me a long time to consider myself an artist. I can trace roots back to making videos with Cory at his cottage when we were 13. So maybe since then.
Do you have any plans to tour Tusk Turns One! ?
No plans to tour Tusk Turns One! yet. A big part of doing this YOU Show is to obtain footage and get feedback so we can shop the piece around to some curated festivals hopefully.
This is a new work and the first performance—correct?
Tusk Turns One! Is a new piece, but only sorta-kind-of. In the fall of 2014 we performed a 20 minute version of it in Ottawa at the Fresh Meat Theatre Festival. We have always wanted to revisit it and flush it out. We are super excited to be working together again.
Significant awards or accolades? (Fringe circuit and beyond)
All the exact same as Cory (see below), except I was not nominated for Outstanding Performance.
Can you speak to the creation process of this work?
Tusk Turns One! was initially supposed to be a solo show for Cory, but I accidentally wrote myself in. Which is okay, because he went and made one on his which is way better than what I would have written for him.
The content of the piece is inspired by a bunch of shitty men I grew up around and, more importantly, by the strong and beautiful women I lived with- my twin sister and mother. My mom, sister, and I were hurt by the people that came into our houses as patriarchs. So the piece became a bit of a love and appreciation letter to my family, and it was a way for me to explore cycles of abuse, and how they are imparted to us as victims, and how we perpetuate them. In the piece we see Tilly (played by Cory) confronting the parts of himself that are ingrained from his father, and how he wants to stop enacting these things on his cousin, Tusk (played by myself).
It's a dark piece to some degree, but it's also full of joy, celebration, and so much love. Love that often looks violent, or strained. Love that comes from a lot of hard work and honesty.
Who will your show appeal to?

EVERYONE.
If you were a fan of our piece Happiness™ that we performed here in 2016 (the one where we have the hooks in our mouths and wore super sweaty suits) I think there will be a lot for you here. The humour is dark, the energy is high, and the environment is very present, interactive (only to how much you consent to of course!).
What would you say to entice a potential audience member to come?
Hopefully everything above did some of that. But if you need more:
We have had an amazing team that have been instrumental to getting this piece to where it is. We have had directorial and dramaturgical contributions from Monica Ogden (of the Pick of the Fringe award winning solo show Monica vs. the Internet, and creator of Fistful of Feminism on YouTube) Linnea Gwiazda (Vancouver dancer and choreographer, recent MFA grad form SFU, and the director of Awkward Hug), and Dustin James Allen (part of an awesome band That Dog Was A Band Now, performer, director, and was in Victoria Fringe in 2016 doing a piece called In the Trenches). AND! Dustin is even coming from Edmonton to work on the piece. If he can make it across the Rockies, hopefully you can walk down from Fernwood.
Also, be a part of something new! It's by donation! Give us nothing, I don't care! We just want your presence!
What do you hope to inspire in your audience?
A chance to reflect on toxic masculinity, and how they may be able to foster more softness and sensitivity within their own beings.
We do recognize with this work, depicting abuse, speaking explicitly about familial abuse, it can be extremely effecting and could be damaging for some to witness. We have content warnings set in place to try and enable people to make the decision best for themselves.
Tusk Turns One! produced by May Can Theatre
Intrepid Theatre YOU Show
Intrepid Theatre Studio (Fisgard at Blanshard)
February 2 and 3 at 7:30pm
By donation
Writer, Creator, Performer – Tony Adams
Creator, Performer – Cory Thibert

After 30 some odd years of being alive, Tusk, is having his first ever birthday. Come celebrate with him and cousin, Tilly, as Tusk goes from zero to something more. Tusk Turns One! is a look at family and cycles of abuse that is equal parts birthday celebration, bruises, and apology (with dancing, violence, and cake, respectively).

Content Warning: Graphic Violence/ Depictions & Mention of Familial Abuse…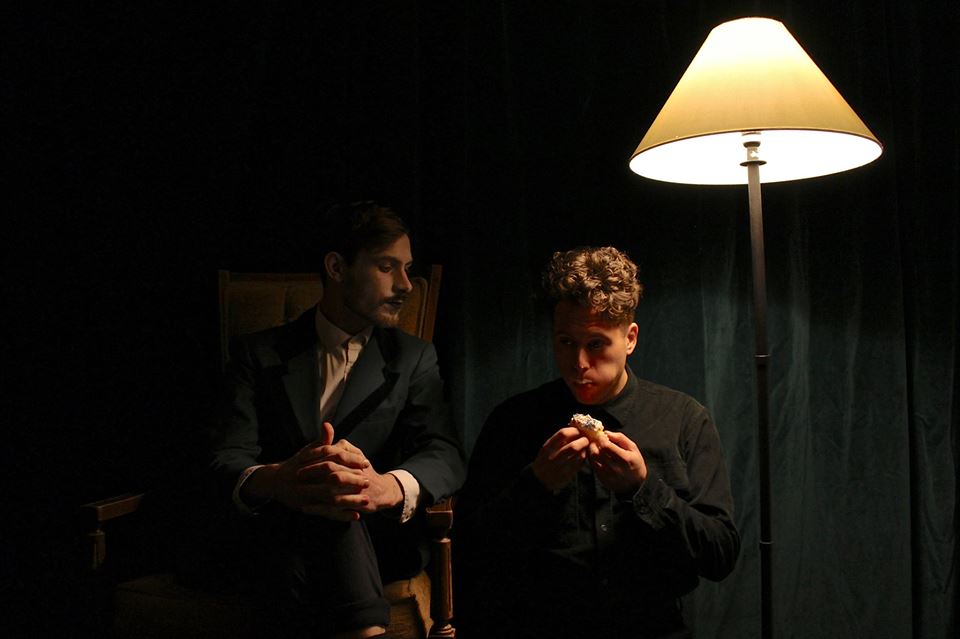 Cory Thibert and Tony Adams. Photo: Miroslaw Gwiazda

Awkward Hug, interview with Cory Thibert and Linnea Gwiazda
How long have you been producing work?  As artists/companies?
Cory: Linnea and I have individually been producing work since 2009. We met on the 2014 Fringe Tour, and since then have collaborated to varying degrees, on many of each others projects. Awkward Hug is the first show that we have created and produced together under the company name O Albatross.
Which Fringes will you be taking Awkward Hug to?
Linnea: We were fortunate enough to win the elusive CAFF lottery this year which has secured us spots at 8 Fringe Festivals! Awkward Hug will be in London ON, Montreal QC, Toronto ON, Winnipeg MB, Saskatoon SK, Edmonton AB, Victoria BC & Vancouver BC.
This is a new work and the first performance—correct?
Linnea: This will be our first ever staging of Awkward Hug. We are eager to workshop the piece in front of an audience and go back into the studio with the discoveries that you can only make once there's been an audience in the space with the work. We are very excited to get it up and on its feet.
Significant awards or accolades? (Fringe circuit and beyond)
Cory Thibert
2017 Vancouver Story Slam Championships – Second Place
Outstanding Male Performance – Cory Thibert – Happiness™ – Prix Rideau Awards
May Can Theatre – Winner
Outstanding Duo Award – Wolves > Boys – Ottawa Fringe Festival
Outstanding Design – Happiness™ – Prix Rideau Awards
8 Prix Rideau Award nominations including Outstanding Production – Happiness™
Collaborations – Winner
Future of the Fringe Award – The Tragical Historie of Nick Wade (and other fuck-ups) – Ottawa Fringe Festival
Outstanding Ensemble Award – GARY – Ottawa Fringe Festival
Can you speak to the creation process of this work?
Linnea: This show has been in the works for awhile. Cory has spent the last couple of years writing and diving into this material; compiling stories from his past, doing storytelling events and working to form the show that has become Awkward Hug. He asked me to come on board as a Director and we have worked with TJ Dawe as a Dramaturg. Due to the personal nature of a storytelling show and specifically this storytelling show, much our work in the studio comes through conversation; discussing events, feelings, emotions and motivations behind actions and reactions. We are always finding new things, making new connections and having new perspectives on past events.
Creating Awkward Hug has been an extremely rewarding and motivating process. Though Cory has been working as a theatre-maker for nearly a decade, this is his first storytelling show, his first work of nonfiction. For myself, as a Director who primarily works in choreographic and movement based performance, this show brings me into brand new territory as well. TJ's breadth of knowledge and expertise in crafting and performing a story, has been invaluable to us in this process as we discover new ways of creating in this context.
At this stage of the process, the work is fully formed and ready for an audience. The term "workshop" only acknowledges the fact that we feel there is still much work to be done, which is an exciting moment for a piece. Its raw, its new.
Who will your show appeal to?
Cory: Hopefully after our first show in front of an audience, we will have a better sense of how people connected to it, in varying ways and from different perspectives. My best bets going in are people who like storytelling shows, people who have had awkward sex and like loud music, and/or people who can relate to navigating complicated relationships with their parents. Hopefully the show is relatable and enjoyable to people of all backgrounds, ages and abilities.
What would you say to entice a potential audience member to come?

Cory: As excited as we are to present this work, I am also terrified. This is my first solo show and my first storytelling show. It's personal, funny, hopefully engaging and impactful. I would love to have some people in the house for it's first ever audience and really appreciate anyone who does make it out.
What do you hope to inspire in your audience?
Linnea: The show is a coming of age story that contains many situations that will be relatable to audience members, but it is also a story that centres around a type of family that is underrepresented in art, media and public discourse. We hope that audiences will come away from the show with a broadened view of what a family can look like, what constitutes (dis)ability, and how we set standards for "normal" in our world. Cory's writing is funny, nuanced and vulnerable. I think the audience will connect to his honesty and feel like after an hour, they know him and are his friend.
Is there anything I've missed asking you, or that you would like to comment on?
Linnea: We are very excited to be sharing the space with Tusk Turns One! Even though the two shows are very distinct from one another, this is a great opportunity to be able to explore these new works together.
Awkward Hug
February 3 at 8:30pm
Intrepid Theatre Studio (Fisgard at Blanshard)
Tickets:
Director & Stage Manager: Linnea Gwiazda
Writer & Performer: Cory Thibert
Dramaturge: TJ Dawe
Produced by O Albatross

When Cory was 19-years-old, he found life pretty confusing.

Did he really lose his virginity to his girlfriend?

Who is that man that walks out of all of his plays?

How does a pet mouse represent true love?

And how does he still not know the specifics of his Mom and Dad's disability?

Awkward Hug is a storytelling show that explores the discomfort of sifting through life's clutter in order to move forward. Taking place in a countdown to a big move, Cory juggles with the messiness of a first relationship, the consequences of his own passivity, and the looming presence of things unsaid that hangs over his family.

Funny and heartfelt, uncomfortable and (briefly) loud, join us for the FIRST EVER workshopped performance of Awkward Hug, before an eight city cross-Canada tour.