Les Liaisons Dangeureuses at UVic Phoenix Theatre November 8-26, 2016. A Review.
In the seemingly limitless space of the Chief Dan George Theatre, majestic rivers of drapery—lighting playing enticingly upon surfaces (Eryn Griffith)—adorn the back wall, alluding to the sumptuous and excessive manner in which the rich, idle and bored French nobility live. By focusing on a small selection of furniture pieces—a chaise longue, a table, benches and chairs—all beautifully distressed with curved lines—to create intimate rooms without the presence of walls—set designer Barbara Clerihue allows the focus to remain firmly on the actors.  In a sense they remain, as if caught in amber, creatures of their time and milieu.
Luxurious costumes by Graham McMonagle further amplify the sense of wanton extravagance—elegant designs embossed on rich overcoats and soft bodices; layer upon layer of petticoats, bustles and capes; ruffles and ruching—and move with a gracefulness that belies their weight. Delicate notes of Baroque music (Aidan Dunsmuir) surround the players. In a nod to the pretentiousness of life, director Fran Gebhard has the servants engaged, between scenes, in the fussy moving of furniture that underlines the pointless nature of days spent playing cards, reading novels, taking walks in the park and—undermining one's rivals.
"Revenge is a dish best served cold"—which, while credited to de Laclos, cannot be found in his epistolary novel, upon which Christopher Hampton's play is based—perfectly describes the cruel, careful manipulations of La Marquise de Merteuil (Adriana Marchand) and her confidant Le Vicomte de Valmont (Aidan Correia) as they plot to meddle, perniciously, in the lives of two young and inexperienced women—Cécile Volanges (Emma Grabinsky) and the virtuous Presidente de Tourvel (Pascal Lamothe-Kipnes). Marchand is an absolute revelation—in her first Mainstage Phoenix production, she exhibits a clear and authoritative command of the stage with a vocal quality that entices and entrances (Vocal Coach Linda Hardy)—and a most suitable opponent for the despicable roué Valmont. This is a cage match—an elegant one, no doubt, but a cage match nonetheless—and the question throughout "will anyone be left standing?"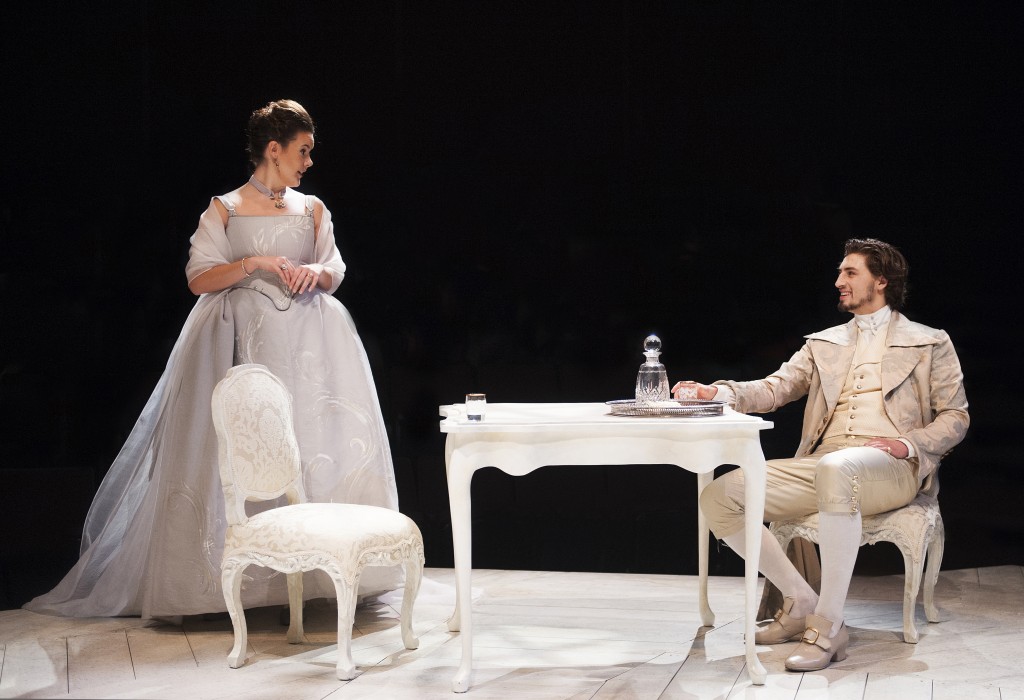 Adriana Marchand as La Marquise de Merteuil and Aidan Correia as Le Vicomte de Valmont. Photo: David Lowes
As Cécile Volanges, a wealthy young woman only recently returned from the convent and affianced to the Comte de Gercour, Merteuil's former lover who cast her off ignomiously–thus triggering this latest round of reprisals–Emma Grabinsky is kittenish in her devotion to Le Chevalier Danceny (Julien Bruce) her tutor and in her nascent carnal desire for Valmont. For Valmont, she is the easy play thing—her seduction a means to an end of spending a night, once again, with Merteuil—a distraction as he remains steadfast in his attempts to seduce the virtuous Madame de Tourvel. In this role, Lamothe-Kipnes succeeds remarkably at conveying fragility with a core of steel as she refuses to submit to the Vicomte's advances, and then dissolves in a frightened and despairing heap when the inevitable happens.  Correia's Valmont possesses a deep current of danger, kept barely in check—waiting to erupt.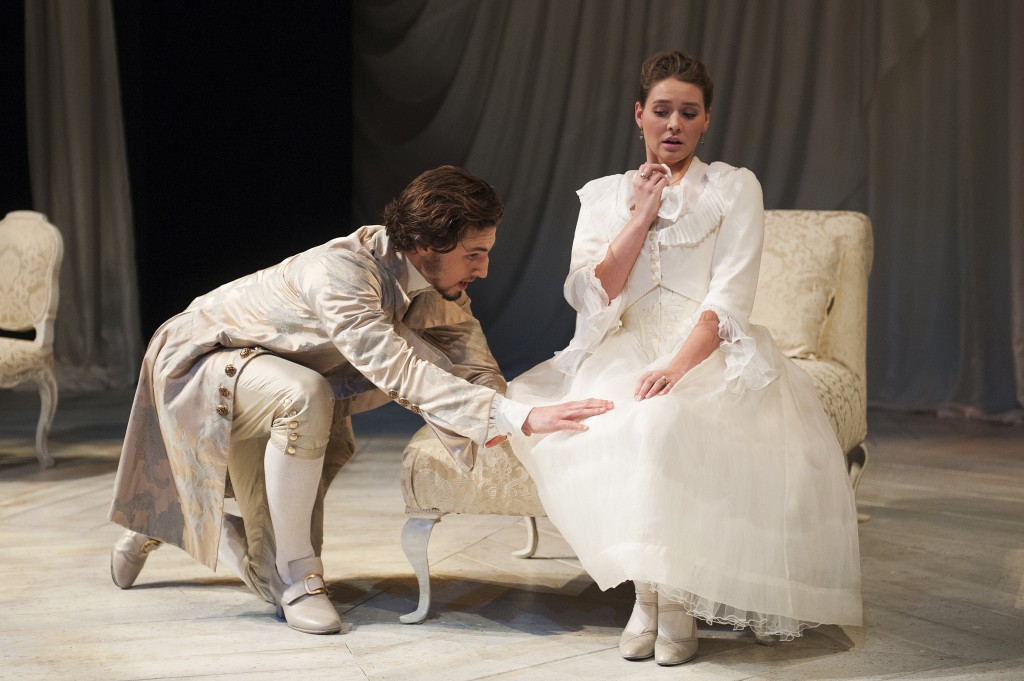 Aidan Correia as Le Vicomte de Valmont and Pascal Lamothe-Kipnes as La Presidente de Tourvel. Photo: David Lowes
Bruce portrays Danceny as a carefully mannered young man who falls under the spell of Merteuil as her latest plaything—then drawing upon a deep sense of morality to avenge the honour of Cécile, firm is the justness of his cause. Tension fills the air as he duels with Valmont—with unexpected results. Fight choreography by Jacques Lemay is dangerously real—sword tips zinging close.
Mme. De Rosemonde (Alexa D'Archangelo) and Mme. De Volanges (Jessie Johnston) round out the ranks of the nobility with their sense of propriety and predilection for meddling. These young actors rely on movement and posture to convey the age of much older women; their inane action providing notes of humour.
Les Liaisons Dangeureuses is a surprisingly relevant and brilliant set piece that comes to life under the inspired direction of director Gebhard; throughout the emphasis is on language—its implications, nuances and deliberate capacity to beguile and wound—and gesture—the exquisite flip of a coat tail, the firm flutter of a fan, the careful placement of a card.  Everything is codified.
A shocking reveal for the final act leaves the audience gaping at its boldness. Stark unforgiving lighting illuminates the proceedings.  All is upended, the players caught as victims in their own game–tragedy manifest.
Congratulations to all involved for a magnificent beginning to the 2016-2017 Phoenix Theatre season.
To the rich and bored French aristocracy, seduction is a sport and sex a weapon. When Merteuil challenges her former lover Valmont to prove his seductive powers, an innocent bride-to-be and the virtuous Madame de Tourvel are caught in the middle. But while these aristocrats sabotage others' hearts and reputations, their own are even more fragile. This award-winning play, adapted into the Oscar-winning film, tells a chilling tale of sensual decadence and revenge played as a high-stakes game of life and death.
Les Liaisons Dangereuses by Christopher Hampton from the novel by Choderlos de Laclos
Directed by Fran Gebhardt
University of Victoria Phoenix Theatre
November 10–26, 2016
Tickets: $15-$26 in person, or charge by phone: 250.721.8000
Box Office is open Monday to Saturday: 12:00pm – 8:30pm
Preview Nights: November 8 & 9
Director Fran Gebhard*
Set Designer Barbara Clerihue                
Costume Designer Graham McMonagle
Lighting Designer Eryn Griffifth
Sound Designer Aidan Dunsmuir
Vocal Coach Linda Hardy
Fight Director Jacques Lemay**
Stage Manager Anna Anderson
CAST:
Adriana Marchand Merteuil
Jessie Johnston Madame de Volanges
Emma Grabinsky Cécile de Volanges
Brendan Elwell Major Domo
Aidan Correia Vicomte de Valmont
Sheldon Graham Azolan
Alexa D'Archangelo Madame de Rosemonde
Pascal Lamothe-Kipnes La Presidente de Tourvel
Emma Leck Emilie
Julien Bruce Le Chevalier de Danceny
Kieran Dunch Footman/Fight Captain
Sophie Chappell Julie
Michelle Fortier Adèle
Note: Mature subject matter. Appropriate for ages 16+
Les Liaisons Dangereuses is presented by special arrangement with SAMUEL FRENCH, INC.
* Appears with permission of the Canadian Actor's Equity Association.
** The participation of this Artist is arranged by permission of Canadian Actor's Equity Association under the provisions of the Dance Opera Theatre Policy.
Disclaimer:  I was offered complimentary tickets to attend a preview of Les Liaisons Dangereuses.