Life as a Pomegranate by Dawna Wightman. Victoria Fringe 2017. An interview.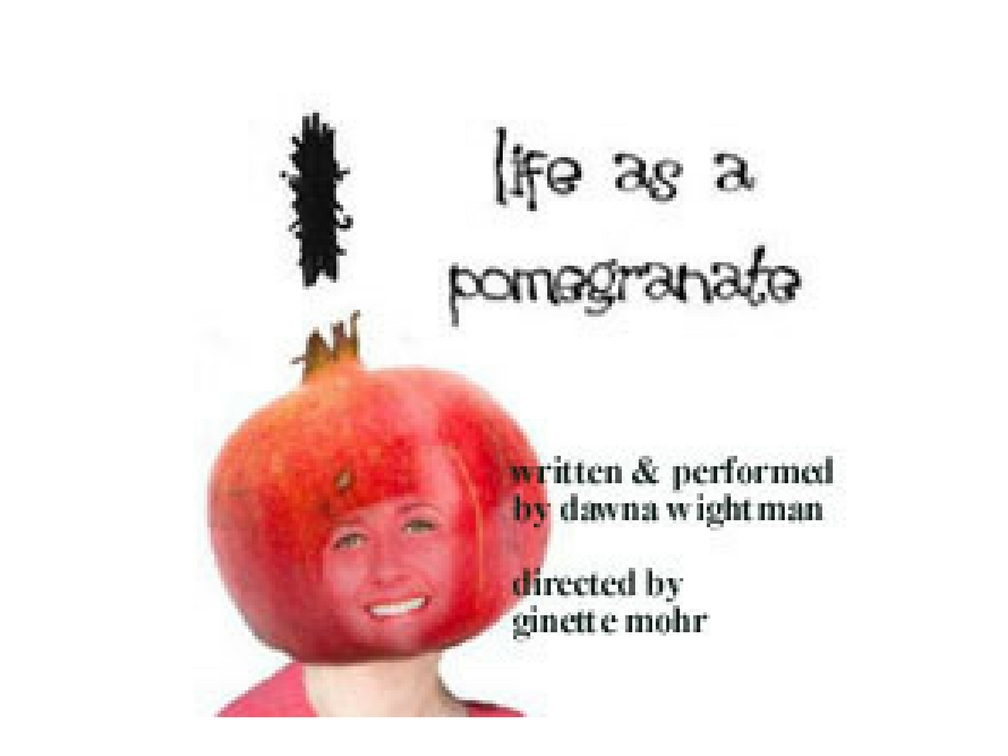 When given the opportunity to be a last-minute replacement for a show at the Victoria Fringe, Dawna Wightman grabbed it.  "There's a part of you that has a goal, a dream so big it scares you".
She writes, "there are few things in life we can be certain about. I'm certain I'm a chubby, middle aged, average looking woman who took time away from doing the thing I love to do most (acting) to stay home & raise three children because I love them even more.
Now, many years later – I'm back to acting AND I write plays so I can tell stories to help people.
I'm still chubby and average looking.
Maybe the world expects middle aged women to sit back and …scrapbook or play euchre or wait for retirement but that's just not good enough because I've only just begun because, chubby or not, I believe my stories empower people.
In my plays there are no car chases, violence, blood or sex or swearing
I accept every opportunity life offers, and so when Victoria Fringe emailed me 3 days ago, informing that my show was next on the waiting list, I grabbed the chance."
How long have you been producing work on the Fringe circuit?
Since 2013
Is this your first visit to Victoria?
My husband went to UVic (BSc) & we visited Victoria in 1992.
Have you been (or will you be) taking the show to other Fringes?
No, but this show is being produced by Alamo Improv Theatre all of Feb 2018.
Is your show a new work, or has it been performed elsewhere?
This show has been performed Off Broadway (Produced by Alan Baxter & Mike Strozier) , Island Fringe (PEI), TaDa! Festival (Wakefield, Quebec), Guelph Fringe, in a mattress store in Toronto.
Significant awards or accolades? (not just on the Fringe circuit)
BEST ACTRESS AWARD Mid Town International Theatre Festival, NYC
PEOPLE'S CHOICE AWARD (The Hush Baby, playwright & actor), Stratford's SpringWorks Festival
Can you speak to the creation process of this work?
You live a hard life, you write it down & throw it on a stage along with your head, heart & hips.
Who will your show appeal to?
Mothers
People sandwiched between children & aging parents
Anyone who has a BIG dream
What would you say to entice a potential audience member to come?
There's a part of you that has a goal, a dream so big it scares you. If you come to this show you'll have wings to make baby steps towards your goal.
What do you hope to inspire in your audience?
Yes, hope.
Is there anything I've missed asking you, or that you would like to comment on?
This is not just me on stage, Life as a Pomegranate is a team, including Louise Lupo, who went out of her way to arrange this. Thanks Louise! Thank you for giving our team a chance. Please read audience reviews. Please come see Life as a Pomegranate & bring friends.
Life as a Pomegranate by Dawna Wightman
Venue 7, Roxy Theatre
Tickets: $11/$9
Duration: 55 minutes
Genre: comedy, drama
Rating: adult themes
Aug 24 6:15pm
Aug 26 4:45pm
Aug 27 5:30pm
Aug 28 8pm
Sep 2 8:15pm
Sun Sep 3 2:15pm
Reviews from previous productions:
https://www.mooneyontheatre.com/2015/09/13/review-life-as-a-pomegranate-dawna-j-wightman/
http://www.huffingtonpost.ca/dawna-wightman/life-as-a-pomegranate_b_1776623.html http://lifesnippetsbykimsnyder.blogspot.ca/
Tour de Force Solo Play Fills Victoria Fringe Festival Void

Award winning Life as a Pomegranate has been picked up last minute by Victoria Fringe Festival. Directed by Ginette Mohr, with original score by David Mesiha, the comedy is written and performed by Dawna Wightman, winner Best Actress Award Midtown International Theatre Festival, NYC. Life as a Pomegranate is the cathartic story we all want to experience: a woman jammed between children, aging parents and making her own dreams happen does something drastic to change things up. Though set in small town BC, Life as a Pomegranate has never been performed farther west than Quebec, the main reason Wightman took up the invitation. Wightman's energetic plays use dance, song, and multiple characters (Wightman plays nine characters) to tell fast, feel -good stories with a fiercely sharp edge.