If you've ever been to a performance at Intrepid Theatre's Metro Studio, you have probably seen the work of Holly Vivian, one of the organizers behind Light on Our Feet 4.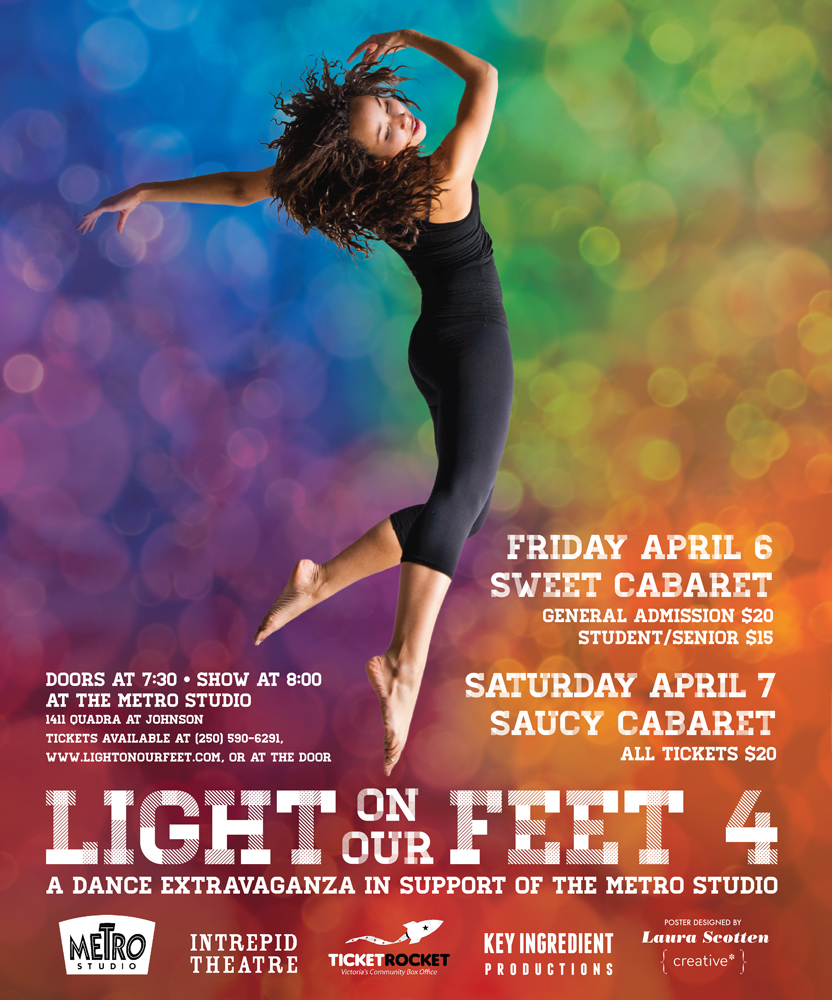 Holly is the Metro's technician.  In this role, she's met many people in the dance community, since the Metro is a very popular venue, particularly for studios' end-of-year shows. She noticed, as she helped to put together lighting designs, that there was one critical element missing – lights at the level of the dancers' feet.
The Metro Studio was opened in 2005, and technical improvements were incremental, as budgets and fundraising allowed.
In 2009, Holly conceived a fundraiser for the lights and named it, aptly and playfully, Light on Our Feet.
It's become a fixture in the yearly dance calendar, and has sold out every year.  This year Light of Our Feet 4 is Friday April 6th and Saturday April 7th. The programme features a wide variety of dancers and genres – including ballet, modern, belly dance, salsa, musical theatre, burlesque, tap, flamenco, and more.
Light on Our Feet has been called "tapas for dance." It promises to be an accessible evening with something for everyone.
Proceeds will go towards new technical equipment and upgrades at the Metro Studio, where many of the dancers perform on a regular basis. Last year funds went towards improvements to the dressing room, lobby, and concession areas. This year, they will be used to purchase new audio equipment, including monitors and a wireless microphone package.
Although I have very eclectic tastes when it comes to theatre, I have never really developed my "dance watching muscle".  I appreciate the nature of Light on Our Feet.  The pieces are short and varied enough to capture my attention.
Friday April 6 – Sweet Cabaret: (in no particular order – more to come)
Yanik Giroux Performing Arts Studio
Island Dance
Dylan Northover
Moondance
Asmira's Bellydance
VSC Dance
Mahaila Patterson
Dahab Dance Ensemble
Boston Dance Collective
Stages Dance
Red Hot Swing
Canadian Pacific Ballet
Salsa Calienté
Nath Keo & Sacred Centre Dance
Saturday April 7 – Saucy Cabaret: (in no particular order – more to come)
*Audience is encouraged to come dressed in cabaret attire – there are prizes for best dressed audience members!
* This is a licensed event
Nicole McSkimming & Co
Rachel Oates Tribal Fusion
Alma de España Flamenco
Ballet Victoria
Arthur Murray
Stages Generation X
Ocean Rain Chinese Arts Academy
Jay Holman & Nine to Nine Studios
Passion & Performance
Impulse Theatre
ZarYevka Ballet
Candace Aldridge – (Harmony BellyDance Company)
Tickets:
Sweet Cabaret Night, Friday, April 6th ($15/20),
Saucy Cabaret Night, Saturday, April 7th ($20).
Doors7:30pm
Show at 8:00pm. 
Ticket Rocket online, in person, by phone 250-590-6291
At the door if any left
Do you wonder how to watch dance?  Here are some resources:
Utah's Repertory Dance Theatre:
A General Study Guide for Dance http://www.rdtutah.org/artsedustudyguide.html#watch
Isabel Putinja:
How to Watch Contemporary Dance http://www.narthaki.com/info/articles/art253.html
Treva Bedinghaus:
How to Watch Dance http://dance.about.com/od/reviewsandrecommendation1/tp/How-To-Watch-Dance.htm
Gesel Mason (dancer) and Cheles Rhynes (narrator) offer a hilarious, but true, primer
"How to Watch a Modern Dance Conert or What in the Hell are They Doing on Stage?"
[vsw id="KnX76ZfN-Yw" source="youtube" width="425″ height="344″ autoplay="no"]