There's nothing better, on a lazy and damp winter weekend, than to head out into the country for a ramble that involves art, food, and perhaps hiking.  Fortunately, living in Victoria, you can accomplish all three by travelling to Metchosin for a visit to the new contemporary, non-profit, Metchosin Art Gallery, created by the Metchosin Arts and Cultural Association.
Curator Haley Finnigan (a UVic Visual Arts grad) has been extremely busy since the gallery opened in August of 2012, and is always searching for innovative ways to involve the larger community.  I first had the chance to see the gallery during the Stinking Fish Artists exhibit (normally a studio-to-studio tour), and came back soon after for the Massively Mini Art Show in December.  The space is light, bright and spacious, with ground level entrance that makes it easily accessible.
The current exhibit, Next Course, opens Saturday February 2nd and will include a balsamic vinegar and olive oil tasting.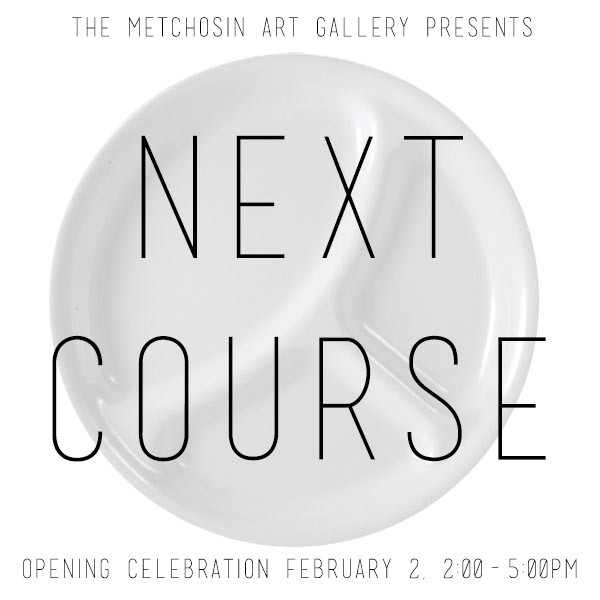 Artists inspired by food issues exhibit at the Metchosin Art Gallery

Food and art are both passions people like to share with their friends, now both can be found at the Metchosin Art Gallery for the month of February. Next Course is a multimedia group show featuring art inspired by food and food issues. This exhibition is designed to raise questions about what people eat, what drives a passion for food, and where our food comes from.

All are invited to bring a big appetite for art.

Featured artists include Lyle Schultz, Rachel Wilmshurst, Debbie Jansen, Jennifer McIntyre and Marlene Jess.

Opening celebrations will feature a balsamic vinegar and olive oil tasting hosted by the fine folks at the Tuscan Kitchen and WestShore Village Cobs Bread.
The Next Course
February 2 – 24, 2013 with opening Sat Feb 2nd 2-5pm
The Metchosin Art Gallery,4495 Happy Valley Road
Thursday to Sunday 12:00–5:00pm.
For more information contact:
Hailey Finnigan, Curato
250-478-9223
info@metchsoinartgallery.ca
www.metchosinartgallery.ca
Before or after, be sure to check out the many parks and trails on the way. Some personal favourites include Witty's Lagoon, Devonian Park and Matheson Lake. Here's a map with others you might not know about.  And, if you're still hungry, you can't go wrong with a visit to My-Chosen Café.