They've been busy at Puente Theatre recently, and are about to get even busier.  Coming up (Friday February 28th) are A Party To End Seasonal Depression with the premiere of a puppet adaptation of Judd Palmer's book The Umbrella and music by Bucan Bucan, followed by the next Analogue Launch and the closing night of WorldPlay, their series of play readings from around the world (Sunday March 2nd).  You'll want to be at either, or—hopefully—both of these lively cultural events.
Next up for Puente will be Lágrimas Crueles/Cruel Tears, a co-production with Blue Bridge Theatre April 29th – May 11th.
A Party To End Seasonal Depression. Friday February 28th, 2014, 8pm at the White Eagle Hall, 90 Dock Street (in James Bay).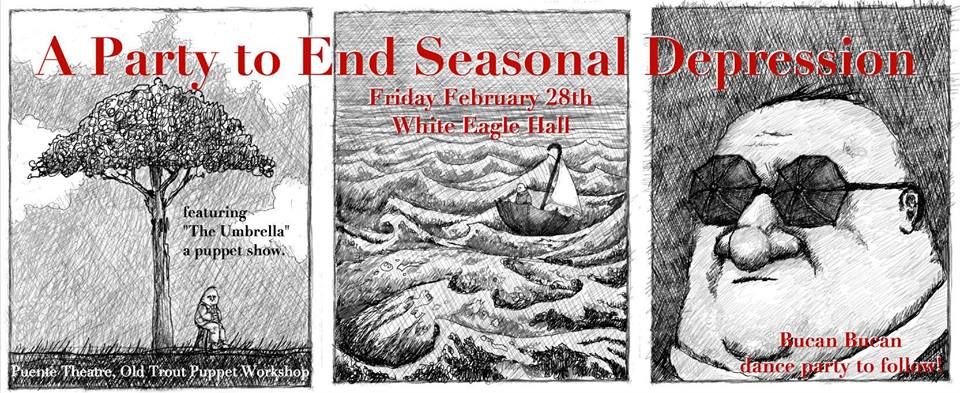 Presented by PUENTE Theatre, The Old Trout Puppet Workshop, and Bu?an Bu?an, this is the night to chase away your winter woes. Bringing together Victoria's Music, Theatre, and Literary Scenes in an exciting evening of food, drinks, dancing, and yes… puppets!

Sit back, sheltered from the rain, and enjoy the premier performance of Mercedes Bátiz-Benét & Judd Palmer's puppet show, "The Umbrella," followed by a night of dancing and debauchery with Victoria's #1 Balkan Party Band, Bu?an Bu?an!

19+
Advance Tickets $20
Available at Phillips Brewery and Larsen School of Music.

Refreshments and Tasty Treats from Phillips Brewing Company, Melt Truck, and Cold Comfort!! Cash only.

Plus Round 2 of the Pickle Fishing Photobooth!!

The Umbrella – A puppet show by Mercedes Bátiz-Benét & Judd Palmer with music by Bu?an Bu?an.

Based on the book The Umbrella written & illustrated by Judd Palmer, short-listed for the Governor General's Award

Written & directed by Mercedes Bátiz-Benét & Judd Palmer
Original Score by Julia Wakal of Bu?an Bu?an
Performed by Mercedes Bátiz-Benét & Judd Palmer
Puppets designed & built by Judd Palmer, Mercedes Bátiz-Benét & Pityu Kenderes
Set designed by Judd Palmer, Mercedes Bátiz-Benét & Andy Graffiti
Set built by Andy Graffiti
March Launch of Analogue Magazine, followed by a staged reading of Way to Heaven, part of Puente Theatre's WorldPlay series. Sunday March 2nd, Belfry Theatre (lobby and studio A)—6pm for the Analogue launch, 8pm for WorldPlay (by donation). The reading will be followed by a talk-back.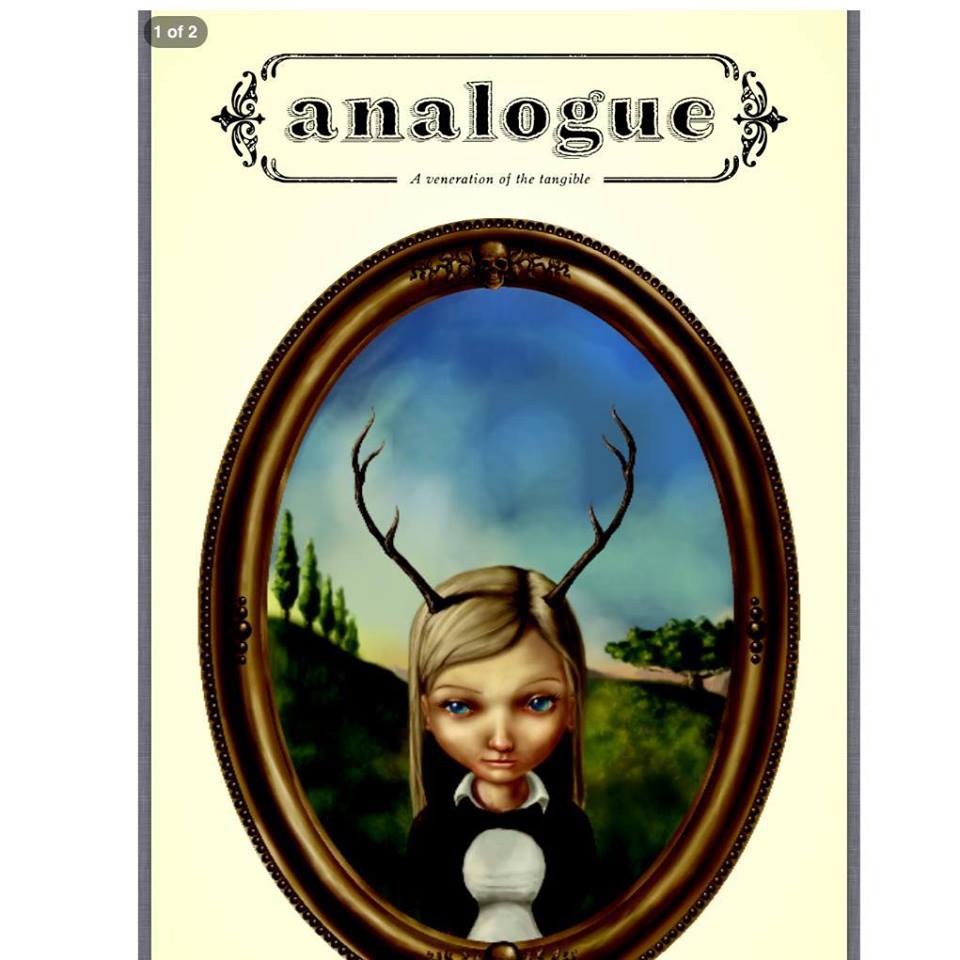 Please join us in launching the March analogue at 6pm in The Belfry Theatre lobby for drinks, readings, and the opportunity to get your hot little hands on this month's issue.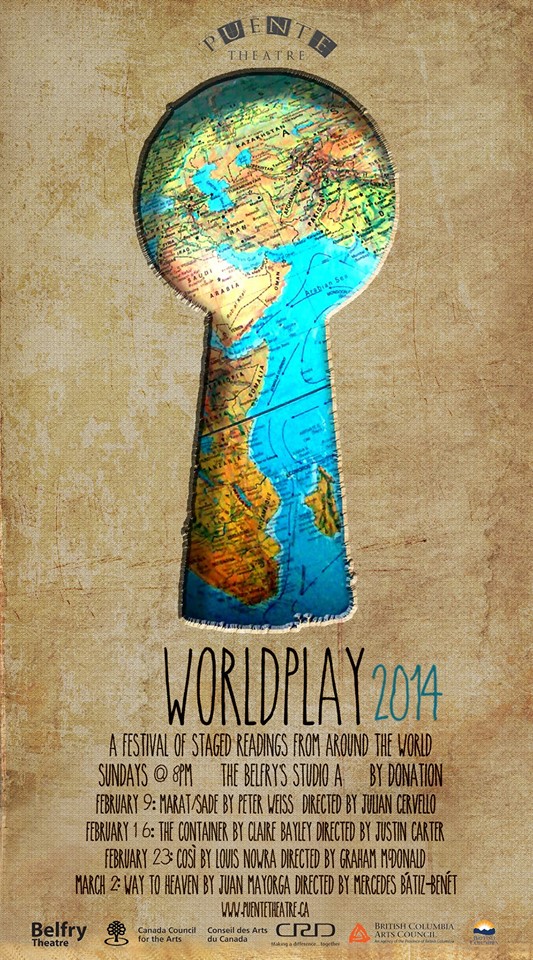 Then at 8pm we move into Studio A for PUENTE Theatre's Staged Reading of Way to Heaven (Himmelweg, Camino del Cielo) (Spain) by Juan Mayorga. Translated by David Johnston and Directed by Mercedes Bátiz-Benét.
"Way to Heaven" explores the terrible phenomenon of Jewish complicity in covering up the reality of the Holocaust. It is based on the compulsory acting that played out in the "model camp" of Theresienstadt, located near Prague. The play is a historical amalgam; combining aspects of the infamous show camp and the famous July 1944 Red Cross visit to inspect the camp, as well as its subsequent approval by the Red Cross. This awesome "dress rehearsal" is played out in the shadow of the Nazi death machine, which is evoked by the trains arriving promptly at 6 a.m. every morning, and the ever-present ramp leading to the death chambers and crematorium. As the play makes relentlessly clear, the façade of normalcy – children playing, a balloon seller, a mid-day meal and the petty drama of young lovers – all serve to mask the grim reality of what was really a transit labor camp on the way to Auschwitz. Starvation and disease was the norm at Theresienstadt even though the Nazis lauded the camp as the safe haven for the Jewish cultural elite of Germany, Czechoslovakia and Austria. Indeed there was an amazing amount of art, music and theater produced by the inmates, before they were shipped East to their deaths. Hence the tragic irony played out in Way to Heaven.

In German, it's 'Himmelweg'. In English, it's 'Way to heaven'. Such beautiful expressions in either language. Yet they mask a deadly reality – cynical euphemisms for the ramp that leads Jewish concentration camp inmates to their deaths. They are linguistic disguises, just as performance becomes a disguise in Way to Heaven to conceal the horrors of concentration camp life from a Red Cross Representative. Rather than gas chambers and cruel guards, the Representative sees nothing unusual, as the Jewish inmates are forced to perform 'normality' for their visitor. Duped by what he sees, the Representative goes away satisfied that the rumours of inhumane Nazi death camps are untrue.

Yet how much power does a performance have to deceive? Was the Representative really duped or was he happy to believe in the superficial pretence of reality in front of him? When faced with the bombastic and intimidating theatrics used by governments today to conceal atrocities, are we – unlike the Representative – prepared to speak out?

Juan Mayorga is one of the most important Spanish playwrights of his generation. His first play, "Siete Hombres Buenos" (Seven Good Men), was awarded second place in the Marques de Bradomin Prize in 1989. Since this first accolade, Mayorga has won a series of national awards, most prominently, Spain's National Theatre Prize, which he was awarded in 2007 for services to Spanish theatre. Mayorga's work has been translated into many languages and performed widely throughout the world. In addition to his role as playwright, Juan Mayorga has adapted versions of classical dramas for the Spanish stage. In January, 2007 he provided a version of Ibsen's "An Enemy of the People" for Madrid's Centro Dramático Nacional (CDN), for which he also adapted "King Lear" in February, 2008. He was a founding member of – and continues to collaborate with – the El Astillero theatre company that was established in 1993. In 1998 he began teaching dramaturgy, history of thought, and sociology at the Real Escuela Superior de Arte Dramatico in Madrid.

Mercedes Bátiz-Benét is a multi-diciplinary artist and writer. She was born and raised in Mexico and in 1997 she moved to Canada. Productions of her work include "Faust: Ignis Fatuus", at the international festival "Faustfest," "Shining Through", "With Open Arms", "El Jinete, A Mariachi Opera", and as co-writer, "The Secret Sorrow of Hatchet Jack Macphee" for The Caravan Farm Theatre, "The Erotic Anguish of Don Juan" with the Old Trout Puppet Workshop, and "Gruff", for Kaleidoscope's Family Theatre Festival. Mercedes' upcoming productions of her plays are "The Umbrella", co-written with Judd Palmer with original music by Bucan Bucan (February 28th), and "Lágrimas Crueles/Cruel Tears", a Blue Bridge Repertory Theatre and Puente co-production (April 29th – May 11th). Her latest film credit, camera and cinematography, is for the feature-length documentary about the singer/songwriter Feist, "Look At What The Light Did Now" (Revolver Films 2010). Mercedes is the poetry, fiction, and non-fiction editor at Bayeux Arts, and the artistic director of Puente Theatre.