Kerploding Theatre presents WordPLAY March 1st at the Intrepid Theatre Club as part of Intrepid Theatre's The YOU Show series.
I first met Mollison Farmer, Kerploding Theatre's Artistic Director, during the Victoria Fringe Festival in 2013, where they presented Trunk! to enthusiastic young audiences as part of the Fringe Kids line-up.  In the fall, I had the opportunity to see another show she directed—Amelia and the Dwarves—which was part of SATCo (Student Alternative Theatre Company) at UVic.
Coming up next for Kerploding is a fundraising performance of WordPLAY on Saturday March 1st at the Intrepid Theatre Club (2-1609 Blanshard at Fisgard).
Farmer and a group of other Applied Theatre students are off to Tamal Nadu, India in the fall of 2014 to work on an inter-generational theatre project.  You can read more about the project here. Their Indiegogo campaign is over, but the students have many more fundraisers (among them WordPLAY) planned.  They hope to bring the concept of inter-generational theatre back to Canada for further collaboration with peers in India.
WordPLAY is a show for young audiences that explores the importance of self expression, passion, and individuality.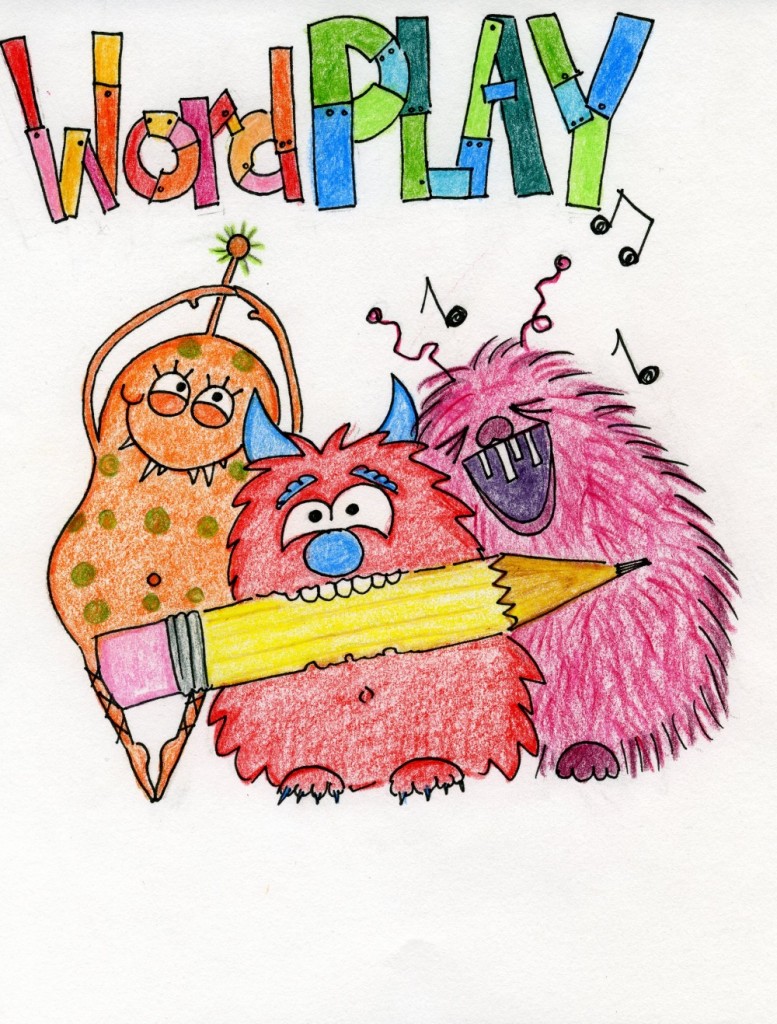 Pick of the Fringe winner Kerploding Theatre is back with WordPLAY, a new work for young audiences that follows three fuzzy monsters on an inspiring journey filled with friendship, fears and fur.  Meet Willa the monster, she is starting to become scary because she can't find her talent! Luckily, her friends are determined to help her ward off her scary side. Featuring original choreography, music, poetry, and stories galore, these three loveable monsters are sure to delight and inspire children and adults alike.

WordPLAY features the original music of Kaeden Derksen, a local multi-talented artist who has written music for children's programs. Also featuring Colette Habel, a ballerina who has trained professionally for over at a decade, including stints at the National Ballet School and as an apprentice at the Arts Umbrella. Rounding out the cast is Kathleen O'Reilly, a captivating performer who has delighted audiences in TRUNK! and The Skin of Our Teeth (Phoenix Theatre, 2013). WordPlay is written and directed by Kerploding Theatre Artistic Director, Molison Farmer, creator of Trunk!  (Fringe 2013) and director of The Daughter of Turpentine and Amelia and the Dwarves (SATCO, 2013-14).

All proceeds from this performance go to support an Intergenerational Theatre project in Tamil Nadu, India. The project aims to inspire community through theatre and storytelling with the ISHA School Foundation and the Tamaraikulam Elder's village.

Theatre, expression, and storytelling can have an enormous impact on young people, and we want to share this importance with the children of Victoria and connect them to their Global peers.
I had the opportunity to interview Farmer about her budding career, and about WordPLAY.
How did you come to focus your playwriting on children's theatre?
I have always had a passion for working with youth. I worked at a summer camp for 4 years, the latter two of which I ran a summer theatre program. I went into the UVic theatre program to study acting, Shakespeare in particular, and although I enjoyed doing that, I found that I had the most excitement for creating my own work and running kids programs at camp and at the library. At some point last year I decided to combine these two passions and create TRUNK, which was based off of a story that a group of campers helped me write in 2009. As soon as we were workshopping the script with different groups of kids, I was hooked. I've always loved kids movies and stories; I count down the days until the next Pixar and Disney film comes out and still watch them over and over again. It just made sense to try creating it myself!
How do you hope to impact your audience through theatre—is it entertainment, or is there a "lesson" or educational component?
I think our main goal, especially in WordPLAY, is to inspire. We don't necessarily see ourselves as "teachers," although there is definitely learning involved. Instead of spreading a 'message' or 'lesson' we strive to ask questions and get the kids thinking creatively, critically, and empathetically. It should be give and take, and the kids hopefully feel like they've had an important role to play in the experience.

Entertainment is also a huge part of it! The best part of TYA is when you see the smiles on their faces, hear their giggles, hear them singing the songs when they leave the theatre, or even taking on the characters in their own pretend-play. That is when we know we have done our job- we have inspired them to continue to think about the piece after they've left the theatre and incorporate our questions into their creative play.
What is your ideal audience for this play?  And as an aside, I saw Amelia and the Dwarves and loved it!
We aim to make theatre for ages 3-10, which is a pretty ambitious age group. We're a new company comprised mostly of  students, so we're still learning and trying to figure out what is appealing to a 3 year old, what is appealing to a 10 year old, what is too complicated for a 3 year old, and what is too "babyish" for a 10 year old, so we can create theatre that doesn't limit our audience range too much. But we also strive to make theatre that is engaging and entertaining for parents and adult theatre go-ers.
What else is in the works (besides the trip to India) for Kerploding Theatre?
Next up for Kerploding Theatre is another Fringe Festival piece, this time for all ages, not just kids. Similar to our fall SATCo piece, Erin Shields' Amelia and the Dwarfs, we want to make something that is just as exciting for a 5 year old as it is for a college student, working adult, senior, everybody. We haven't decided on a story just yet, but I know that I my inspiration for this play is the young girl who wrote a letter to the lego company asking them to let the girl legos go on cool adventures like the boy legos (if you haven't read this yet, you have to look it up). (Editor's Note –see the letter here.)  I want to make a piece that focuses on a strong female character who gets to go on a great adventure.

We also have the opportunity to remount our last Fringe project TRUNK! at the Gabriola Festival in August and we cannot wait. We will be looking for other opportunities to perform and workshop this piece over the summer as well.
WordPLAY presented by Kerploding Theatre
As a part of Intrepid Theatre's The YOU Show series
March 1st 201411:30am, 1:30pm, 3:30pm
The Intrepid Theatre Club  2-1609 Blanshard St (at Fisgard).
Tickets ($10/$7) at Ticket Rocket online, in person or by phone 250.590.6291
Disclaimer: I'll be attending WordPLAY as a guest of Kerploding Theatre.