A Spring of Theatre 2015 in Victoria BC. March-May.
Spring is a busy time in the local arts calendar.  It's book-ended by two festivals—SPARK in March and UNO Fest in May—and features works by emerging and well-established companies—local, Canadian and international.
There's a chance to experience the classics (Waiting for Godot, Hedda Gabler), Shakespeare (Macbeth), musicals (Chorus Line Cabaret, Bye Bye Birdie, The Mystery of Edwin Drood, Amadeus, Smokey Joe's Café, SHREK), solo shows (Call Mr Robeson, UNO Fest, ), full length improv (Sin City—SPACE, Wanted: An Improvised Western), variety shows (Geez Louise, Derwin Blanshard), new play readings, and theatre for families (The Kaleidoscope Family Theatre Festival).
Peek into a different culture (WorldPlay by Puente Theatre, The Fish Eye Trilogy at the SPARK Festival, An Evening with Fidel), learn tidbits about little revealed Canadian history (Cougar Annie Tales), be part of a fashion-experiment-turned-theatre (Fashion Machine), choose your own ending for a mystery (The Mystery of Edwin Drood), and celebrate new work (New Play Reading Series, Agency and Empathy, Waiting, My Father to Whom I Am Not Related, World's Greatest Dad). Explore the work of celebrated and currently topical playwrights—Tracey Letts (August: Osage County), Mike Bartlett (Cock) and Christopher Durang (Vanya and Sonya and Masha and Spike) and come back to old favourites (Fred Carmichael-Victoria's House).
The information is current as of February 25, 2015 and will be edited and updated as necessary.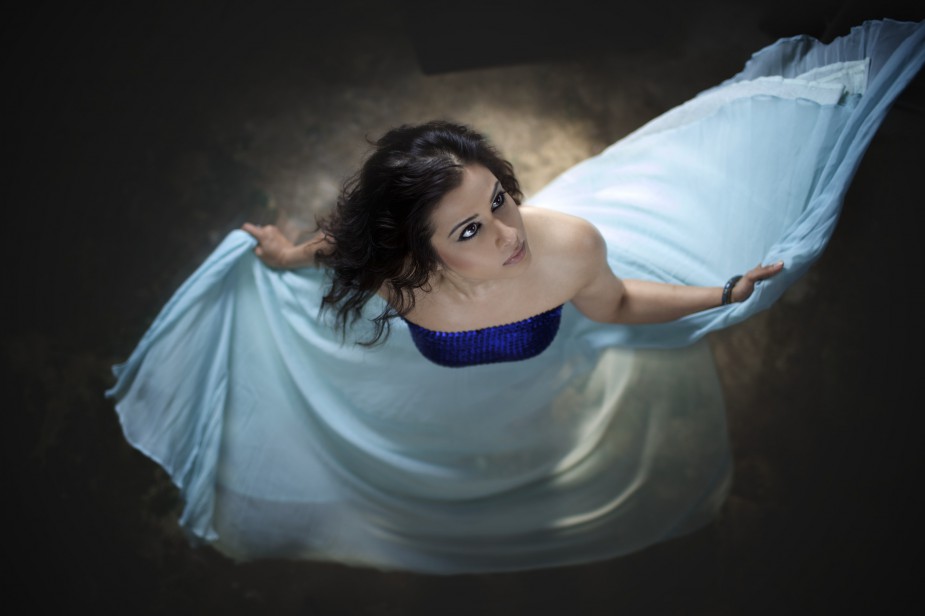 Anita Majumdar appears in The Fish Eyes Trilogy during the Belfry Theatre's SPARK Festival March 10-15, 2015
 MARCH
ONGOING:
City the Live Improvised Serial presents Season Five–SPACE
Tuesdays in March (March 3, 10, 17, 24, 31).
Follow the adventures of a band of intrepid space explorers from the USS Kucamonga as they dock with the USS Apollo to find a destroyed space station with only one surviving crew member.
Season Five: Space is off to a rocketing start but there is still time to enjoy the shenanigans of this superlative space-age adventure.
It's sexy, sultry, smart, suggestive, scintillating, scandalous, silly–SPACE, the funniest frontier. Buckle up and enjoy the ride.  Come expecting to get hooked.
Lieutenant Nun by Elaine Avila
Part of WorldPlay play reading festival by Puente Theatre, March 1, Belfry Theatre (Studio A)
 Lieutenant Nun is based on the true story of Catalina de Erauso who lived, loved, and fought as a man, a Conquistador, on the frontier of the New World.
Elaine Avila is a Canadian/American playwright of Azorean descent, with a passion for exploring untold stories, from the true account of a female conquistador (Lieutenant Nun) to Portuguese migration (Lost and Found in Fado, Kitimat). Frequently incorporating music, politics and humor, her work has been described as "bold, intelligent, forthright, spirited, compassionate…inviting, wide-ranging" (Caridad Svich), "open, generous" (Erik Ehn) and with "Loads of talent…a wonderful writer, tremendously gifted, reliable, and innovative." (Suzan-Lori Parks).
Lieutenant Nun will be presented by Puente Theatre as part of Theatre SKAM's ReMixed project at the Victoria Fringe Festival August 27-September 6.
chorus|line|cabaret 13 Charles Strouse
Gotta Getta Gimmick at the Belfry (Studio A) March 2
Advance tickets a must as this event sells out!
GGG's chorus|line|cabaret 13 will explore some of the composer's big hits including Bye, Bye Birdie, Applause and Annie along with some of his unlucky flops like Rags, All American and of course Annie 2. That's right. There's an Annie 2. Two different ones, actually…
The first act features selected pieces form the musical theatre canon. Act 2 of the cabaret kicks the party into high gear! Beginning with a rousing Sing-a-Long, the evening becomes a casual New York style Cabaret – bring your favorite party pieces, flip through the scores and find a duet partner – interspersed with musical theatre games including the infamous "Diva Tag". Compete for prizes, relax and listen to the music, have a drink and meet new people.
Bye Bye Birdie
By the students of Glenlyon Norfolk, March 3 – 7 (shows start at 7pm)
801 Bank St. (parking off Richmond and Maddison)
Tickets: $8 for preview; $10 students/seniors and $14 adults
For tickets and info: Please call the school at 250-370-6800 or visit in person.
It's all poodle skirts, bobby socks and pompadours! Bye Bye Birdie, Glenlyon Norfolk's upcoming student production, from March 3-7 at The Hall, is a stage musical and romantic comedy set in America of the late '50s during the draft. The original 1960-61 Broadway production starring Dick Van Dyke (who reprised his stage role in a 1963 film adaptation) won several Tony Awards. On the GNS stage in March, the story will unfold of a young teacher whose fiancée grabs a chance to make it big on the Ed Sullivan show, as well as a rock star Conrad Birdie whose life is rudely interrupted by his conscription notice.
Director/choreographer: Jessica Hickman
Musical direction: Marvin Regier
Assistant director: Adrienne Smook
New Play Reading Series at the Intrepid Theatre Club
The Wonderful Naked Man
Written by Sandi Johnson
Tuesday March 3 at 8pm
Admission by donation. Limited seating.
The Mystery of Edwin Drood by Rupert Holmes
Langham Court Theatre March 4-21
Directed by Roger Carr, Choreography by Sylvia Hosie, Musical Direction by Donna Williams
Return to the grand ol'days of the music hall and be drawn into a play within a play. The unfinished final work of Charles Dickens offers a shadowy, intricate plot with a bonus: the audience votes on the ending! A brooding, sinister, brilliant music teacher obsesses over the young Rosa Bud, who is betrothed to Edwin Drood, who disappears amidst a colourful cast of characters. Who is the villain?
Waiting for Godot
Blue Bridge at the Roxy Theatre (Quadra Village) March 5-15
Directed by Jacob Richmond
Waiting for Godot has been called the most significant English language play of the 20th century. Written by the great Irish playwright Samuel Beckett in 1949, first in French and then translated by the playwright into English, it had its premiere in 1953 at the Théâtre Babylone in Paris. A "tragi-comedy", it was one of the first absurdist (or Theatre of the Absurd) plays. Becket himself is heralded as the father of the movement.
Under a tree and under their bowler caps, two clown-like men, Vladimir and Estragon, wait for the arrival of the mysterious Godot and wait….and wait… and wait….and wait.
Agency and Empathy by Ian Simms
Theatre Theatre March 7at the Intrepid Theatre Club, an Intrepid Theatre YOU Show
What makes a man become a Men's Rights Activist (MRA)? Agency and Empathy is the journey from loneliness to confusion to misogyny. But as the anger rises between MRAs and feminists, there are those who rather see war than resolution.
Cougar Annie Tales by Katrina Kadoski
March 8 at Intrepid Theatre Club
Famed for killing 70 cougars and outliving four husbands in the remote and wind-swept Clayoquot rainforest, the indomitable spirit of west coast pioneer Cougar Annie lives on in Katrina Kadowski's musical one-woman show. Annie's stories, letters and photos from her long and fascinating life are interwoven with original songs (on guitar and banjo) by this delightful Vancouver Island performer.This is a musical tribute to a legendary pioneer woman.
'It's hard to say which is the best part of Katrina Kadoski's Cougar Annie Tales — her heartfelt song cycle about this fabled West Coast matriarch, or simply hearing Kadoski is back in town.'  Monday Magazine
SPARK FESTIVAL 2015
Belfry Theatre, March 9-22
The Belfry's Annual Festival of New Plays
The SPARK Festival is two weeks of celebration and includes new plays, workshops, free play readings and performances of mini-plays.
The Fish Eyes Trilogy by Anita Majumdar
Fish Eyes, Boys with Cars & Let Me Borrow That Top
March 10-15
Boys With Cars, Let Me Borrow That Top & Fish Eyes all use music and dance to tell the coming-of-age stories of three young women in small town Canada. In Fish Eyes, Meena is an accomplished classical Indian dancer who would trade it all for a chance at true love with her crush Buddy, the most popular boy in school. Boys With Cars tells the parallel story of Naz, who is accepted into Buddy's clique but soon realizes it's not at all how she imagined it would be. Finally, in Let Me Borrow That Top, we hear directly from Candice, Naz's nemesis and the perceived obstacle in Meena's path to Buddy. Inspired by so-called honour killings, hip hop and teenage heartache, Anita's tour de force performances celebrate the joy and awkwardness of youth while slyly tackling issues of colonialism and cultural identity.
Through the Gaze of a Navel by Chop Theatre
March 10-15
A performance in the form of a yoga class led by self-proclaimed pop psychology expert Emelia Symington Fedy, a woman who has consumed every new-age pop-psych medicine she could get her hands on, from swimming with cosmic dolphins to crystal bowl regression therapy to vaginal weighlifting classes. Emelia's take is irreverent but the darkness she encounters is real
The God That Comes
created by Hawksley Workman & Christian Barry
live music and performance by Hawksley Workman
March 17-21
The God that Comes is a collaboration between 2b theatre company and Juno-winning rocker Hawksley Workman. This one-man live performance fuses the chaotic revelry of a rock concert with the captivating intimacy of theatrical storytelling. The God that Comes tells the story of Greco- Roman god of wine Bacchus (or Dionysus) and uses Euripides' classic The Bacchae as a primary source
Savage in Limbo and Waiting (double bill)
Working Class Theatre, March 11-21, at Intrepid Theatre Club
WAITING (by Tristan Bacon)… pits three stories against each other set in one downtown apartment. Hilarious and touching, you'll wonder just what else might have happened in your house?
SAVAGE IN LIMBO by John Shandley: 6 men and women in a seedy bar with strict rules. Tony wants to be someone he's not. April wants to escape. Murk wants her to stay. Yearning and Quick witted, and written by the man who brought you DOUBT.
Victoria's House by Fred Carmichael
St Luke's Players, March 11-22
Neil and Victoria Bannister have returned from their honeymoon to Victoria's House. All should be bright in the new couple's life but Victoria has fallen ill and even though her husband administers her special medicine, her health worsens.When Victoria dies, the house seems to come alive to seek revenge.
The play is intricately woven and features some fine moments of theatrical surprise, both real and unreal. With chills and thrills this play recaptures the fine art of the turn of the 19th century Gothic romance and mystery
Amadeus by Peter Shaffer
UVic Phoenix Theatre, March 12 – 21
Directed by Chari Arespacochaga (MFA Candidate)
Wolfgang Amadeus Mozart is often considered the greatest musical genius the world has ever known. To his 18th-century contemporary, Antonio Salieri, he was vulgar, boorish, and unforgivably brilliant – thus an enemy to be eliminated. Seen through the envious eyes and maybe-skewed memory of the aging Salieri, the play chronicles their tumultuous rivalry, and Salieri's devious efforts to destroy Mozart's career, even while recognizing the genius of his music. But is this final confession Salieri's last attempt to escape his own insignificant artistic legacy? The winner of seven Tony Awards, including Best Play, Shaffer's masterpiece also inspired the much-loved Academy Award-winning movie.
Action Review: Where's the Rest of Me, Atomic Vaudeville and the Super Secret Girls Club
March 14, Metro Studio Theatre
A work in progress. Last year Atomic Vaudeville asked people to fill out online questionnaires about being a man and interviewed them for a secret project.  This is the premiere performance. Featuring work and support from SarahJane Pelzer, Heather Elle, Sarah Murphy, Kelly Hudson, James Insell, Kelly Hobson, Mily Mumford, Kass Case.
Broadway Lights
Canadian College of Performing Arts CCPA performs with the Victoria Symphony, March 20–22
Giuseppe Pietraoria, conductor
CCPA was first invited to perform with the Victoria Symphony a decade ago.  That initial concert was a resounding success and the biennial "Broadway" concerts have become audience favourites.
BROADWAY LIGHTS journeys along the Great White Way with the music of legendary composers Rodgers and Hammerstein, Stephen Sondheim, Cole Porter, Andrew Lloyd Webber and others. The singers and dancers of the Canadian College of Performing Arts join the orchestra in selections from Oklahoma, The Light in the Piazza, Phantom of the Opera, and Beauty and the Beast.
Atomic Vaudeville Spring Cabaret
March 26-28, Victoria Event Centre
Now in their 11th year, the cabarets of Atomic Vaudeville are legendary.
An Evening with Fidel 
March 27, Metro Studio
Presented by Victoria Friends of Cuba.
An original play in two acts, incorporating historic film footage and mixed media design. Tim Perez gives a bravura performance, recreating scenes from the life of one of the most complex characters of our times, using his own words, gleaned from interviews, speeches and personal recollections.
Fashion Machine
by Theatre SKAM and the Makehouse at the Royal BC Museum March 28-29
Fashion Machine is a one-of-a-kind performance/gallery/visual art experience where kids take select attendees' outfits and remake them into new works of wearable art, with an impromptu fashion show closing the evening.  The Royal BC Museum plays host to this event and provides inspiration to the young designers with our large Modern History collection of clothing.
Get there early and grab an "I'm In" sticker at the door, and you could be one of the lucky few to step into the Fashion Machine and have your outfit changed forever…(Don't panic — we'll have "chicken" stickers for if you DON'T want your clothes altered.)
During the evening young designers will also lead fun and surprising tours of the clothing collection in Century Hall and Old Town.
The New Play Reading Series at Intrepid Theatre Club
Writing as a Kind of Magic
Written by Joy Fisher
Tuesday March 31 at 8pm
Admission by donation. Limited seating.
APRIL
The Resistance Improvised by Lightning Theatre
April 3/4 at Intrepid Theatre Club
2015… 99.9 percent of the population is being oppressed. Luckily throughout the world are people who fight for justice. These heroes are THE RESISTANCE. However these bands of freedom fighters have been infiltrated by spies with hostile intent. It is your job to discover who is and is not a spy, choose and support the side you are on, and have and overall good time watching this improvised play.
WANTED: An Improvised Western by Paper Street Theatre
April 8-11 | Intrepid Theatre Club, 1609 Blanshard
Family matinée Sat April 11. $20/family. Tickets at the door.
Stick 'em up! Escape to a time when the tumbleweeds rolled through town and dusty cowboys roamed as Paper Street Theatre goes back to the Old West.
Paper Street Theatre creates improvisation that feels like theatre. By studying great artists and theatrical styles then performing them with no script, the ensemble creates award-winning performances that have been enjoyed around the world.
There will be a workshop offered on the style on Saturday April 11th from 11am-1pm. The workshop costs $25 (or $20 if you came to the show). For more information on the workshop visit paperstreettheatre.ca
Vanya and Sonya and Masha and Spike by Christopher Durang
Belfry Theatre, April 14-May 17
Winner of the 2013 Tony Award for Best Play, Vanya and Sonia and Masha and Spike is Durang's cheeky homage to all things Chekhov. The bucolic bliss of siblings Vanya and Sonia is thrown into disarray when sister-turned-movie actress Masha returns home with her new, rather dimwitted, lover in tow, sparking a fiery bout of rivalry, lust and opportunity.
Call Mr Robeson
April 16 at the Victoria Event Centre
UK actor Tayo Aluko brings back his multiple award-winning one-man show, Call Mr. Robeson.
The play chronicles the life of Paul Robeson, the African American actor, singer and civil rights campaigner whose appeal proved so worrisome to the US and Canadian authorities that his passport was cancelled and for a while he was prevented from exercising his right to travel to Canada. He famously held a number of concerts across the border between Washington State and British Columbia in the early 1950s. Piano accompaniment  by Victoria's Karel Roessingh.
Mama's Boy
a new play by Mike Delamont, April 17/18, Intrepid Theatre Club
A story of family, addiction, love and music. Mike shares his heartwarming, funny (and true) story of growing up in a small town with a single mother.
Canadian College of Performing Arts (1701 Elgin), April 16–25
Director Darold Roles
A smokin' revue of Broadway classics brings New York to Victoria and showcases the singers, dancers and actors who will become some of the country's top emerging stars.
August Osage County by Tracy Letts
Langham Court Theatre April 22-May 9
Directed by Keith Digby and Cynthia Pronick
This Pulitzer Prize and Tony Award-winning play exposes a large family in a spectacularly entertaining meltdown during a hot August in Oklahoma. A missing father, an alcoholic, pill-popping matriarch, three squabbling sisters and relentless revelations of indiscretion catapult the viewer into a riveting theatre experience.
Hedda Gabler by Henrik Ibsen
Working Class Theatre, at Craigdarroch Castle April 28th – May 6th at 7pm.
Penned even prior to Freud's groundbreaking analyses. Hedda Gabler thrusts us headfirst into the trials and tribulations of George and Hedda Tesman's new marriage. Bound by the social restrictions of Europe in the late 1890s, and beset by financial restrictions Hedda finds herself trapped in a house that's too small and no where to go. Ibsen is quoted as saying "What I principally wanted to do was to depict human beings, human emotions, and human destinies, upon a groundwork of certain of the social conditions and principles of the present day." his depiction paints a stark portrait indeed as Hedda's games and snares catch up with her in the end.
Set in the gorgeous architecture of Craigdarroch Castle, Hedda Gabler's crisp dialogue, high drama and dark undertone will delight lovers of Downton Abbey or The Tudors and will leave you wondering just what you would do if you were locked in a gilded cage?
The Lab Remixed
Theatre SKAM April 30–May 9 at the Intrepid Theatre Club
Originally written by SKAM's Matthew Payne, the 2014 SKAM interns Colette Habel and Chase Hiebert will re-write and re-mount The Lab (originally performed by one actor in a semi-trailer) as part of the "SKAM Remixed Series." Inside the lab, technicians work to grow and culture embryos. When a new arrival joins the team and breaks the strict rules under which embryos are grown, surprising results emerge.
MAY
Speakeasy: An Evening in Support of Kaleidoscope Theatre (with Sarah Carlé & Brad l'Écuyer)
May 1 at the Guild.

It's 1920 — prohibition has hit the country and there's nowhere to party…. until now. Kaleidoscope Theatre invites you to don your pearls and fringe, break out your fedora, and polish up your shoes for a night of dancin', entertainment, and frivolity in the splendour of The Guild.

Live Music | Dancing | Canapés & Desserts | Cash Bar | Door Prizes | Silent Auction And More!
Family Theatre Festival
Kaleidoscope Theatre, May 2-3
Presenting family-friendly work by Puente Theatre with Old Trout Puppet Workshop (The Umbrella), Theatre SKAM (Runaway by Mika Laulainen), Intrepid Theatre (I Have Seen Beautiful Jim Key) and Kaleidscope's Teen Performance Ensemble (Pinkalicious: The Musical)
My Father to Whom I Am Not Related and World's Greatest Dad
May 2, Victoria Event Centre
Justin Carter and Morgan Cranny share tales of family and fatherhood in two back to back one man shows. In MY FATHER TO WHOM I AM NOT RELATED, Justin Carter, adopted at eight years old, shares the laugh out loud story of his first impressions of his adopted family, and in WORLD'S GREATEST DAD*, Morgan Cranny hilariously stumbles through parenthood in pursuit of the holy grail of fatherhood, a WORLD'S GREATEST DAD mug.
A Visit from Sir John A MacDonald, Salon Theatre
May 3, Ross Bay Villa
Celebrate the 150th Anniversary of Ross Bay Villa and Sir John A.'s 200th Birthday with an afternoon of music, theatre & history underneath the apple trees.
Sir John, Eh? The Road Show comes to Victoria as part of Salon Theatre's Sir John A. Bicentennial Conversation a year-long project aimed at drawing attention to our National Identity and Canada's first Prime Minister with a unique blend of heritage and the arts.
Proceeds raised will be put towards Ross Bay Villa Society's Ownership Fund and Salon Theatre's travel expenses.
Cock by Mike Bartlett directed by David MacPherson
Theatre Inconnu May 5-23, 1923 Fernwood Avenue

Mike Bartlett is one of most exciting and acclaimed new British playwrights. He examines with wit and sensitivity the confusion around sexual identity. The main character, John, has been in a stable relationship with his boyfriend for years. But when he takes a break, he accidentally falls in love with a woman. He doesn't know which way to turn. His boyfriend is willing to wait for him to make a decision, but so is his girlfriend. John must decide who he is, and what he is. This award winning play tackles head-on, a subject that is gaining wider public discussion.
"A terrific comedy…Hypnotic and utterly contemporary."  NY Times
Last of the Red Hot Lovers, presented by the Peninsula Players
May 8-10 at Berwick Royal Oak
May 15-17 at the Charlie White Theatre in Sidney
Middle-aged and married, overworked and overweight, Barney Cashman wants to join the sexual revolution before it's too late and arranges three seductions: the first, Elaine Navazio proves to be a foul-mouthed bundle of neuroses; Bobbi Michele is next, a 20-ish actress who's too kooky by half; finally comes September and Jeanette Fisher, a gloomy, depressed housewife who happens to be married to Barney's best friend.

Macbeth
Blue Bridge at the Roxy May 7-24
Considered one of Shakespeare's darkest and most powerful tragedies, Macbeth dramatizes the corrosive psychological and political effects produced when evil is chosen as a way to fulfill the ambition for power. Using the same text first approach that he has used to create all of Blue Bridge's award winning dramas, Artistic Director Brian Richmond will be drawing together the best of the company's acting ensemble to bring this timeless Scottish historical fable to life.
Uno Fest presented by Intrepid Theatre
Canada's oldest running festival of solo shows
May 8-24 2015 at the Intrepid Theatre Club and the Metro Studio Theatre
complete schedule available March 1st
Artist line-up:
Sea Sick (Alanna Mitchell / The Theatre Centre, Toronto
Me, Myself & Eye (Stéphanie Morin-Robert, Montreal)
Half Girl / Half Face (by Zoe Erwin Longstaff, performed by Arlen Aguayo Stewart, Toronto)
The Rendez-vous (Krin Haglund/Le Radiant, Montreal)
Dissolve (Shameless Hussies, Vancouver)
eatingthegame (Hong Kong Exile (HKX), Vancouver)
6 Guitars (Chase Padgett, Portland OR)
Fylm (Simon Munnery, UK)
God is a Scottish Drag Queen II (Mike Delamont, Victoria)
Real Mature (Shirley Gnome, Vancouver)
Porn & Pinochet (Andy Canete, Vancouver)
The Lion, the Bitch and the Wardrobe (Sharon Mahoney, Victoria)
Suitcase Stories (Maki Yi, Vancouver)
Magic Unicorn Island (Jayson McDonald, London ON)
Slick (Karen Lee Pickett, Victoria)
The Incompleat Folksinger (Other Guys Theatre, Victoria)
UNO WORKS
The Antigone Project – Jess Amy Shead (Vancouver, BC)
The Year of Falling Down  – Meg Braem (Lethbridge, AB) & Britt Small (Victoria)
Barely Heirs by David Lassig
St Luke's Players May 20-31
Jane is about to inherit a fortune. The only stipulation is that she has to be married for six months before inheriting. All would have gone without a hitch had Jane really been married. With the help of her neighbour's husband, Tom, she just needs to keep the truth from the lawyer; Tom's wife, Claire; Jane's ex-boyfriend; Jane's mother and a cop. It sounds as if things are about to get a little complicated…!
Shrek, the Musical
Four Seasons Musical Theatre May 22-31 at Isabelle Reader Theatre (Spencer Middle School)
To celebrate their 40th season, Four Seasons Musical Theatre has assembled an award winning production team for its most ambitious project to date.
In a faraway kingdom turned upside down, things get ugly when an unseemly ogre – not a handsome prince – shows up to rescue a feisty princess.  Throw in an overly talkative donkey, a bad guy with a short temper, a cookie with an attitude, and a dozen other fairy tale misfits, and you've got the kind of mess that calls for a real hero.  Luckily, there's one on hand…
…and his name is Shrek.
Full of all-new songs, great dancing and breathtaking scenery.  Shrek is part romance, part twisted comedic fairy tale and all irreverent fun for everyone!
Readers' Theatre Festival
Langham Court Theatre, Saturday May 23, 7pm
Presenting 3 short plays including: Monterey Middle School Drama Group, with Mitch Barnes directing, will perform an old-time radio play accompanied by live sound effects; Target Theatre, directed by Madeleine Mills; and The Steam Room,, a world premiere, written & directed by Pippa Catling. Admission is free!
Gotta Getta Gimmick's chorus|line|cabaret 14
May 25, Belfry Theatre (tickets advised in advance)
Gotta Getta Gimmick is welcoming in spring at The Belfry Theatre with our chorus|line|cabaret number 14. The composer of choice is Leonard Bernstein. As always we will gather a group full of some of Victoria's best talent, learn the material carefully chosen by GGG's Artistic Director Brad L'Écuyer over the course of 7 sessions, do a little light staging and bring a coach in, and then perform what we have on the 8th session for an audience. Come and watch our curated Act 1 in the Belfry Studio Theatre, then stay for Act 2 where we really get the musical theatre party started in the lobby! Sing alongs, bring your music and jump up, play some Diva Tag and do some musical theatre mad libs or just sit back and take it all in! Only rule-all musical theatre, only musical theatre!